COLUMBIA — A sprawling 60.81 acres of wild grass and stream lie adjacent to the Gates of Columbia, a large subdivision being developed in the booming Route K corridor on the city's south side.
Protecting the land adjacent to the Gates of Columbia will provide a buffer for Little Bonne Femme Creek, which flows through the property, and access to the future Little Bonne Femme Trail. It's also a potential site for a neighborhood playground and walking trails.
Michael Tompkins, former owner of the Gates of Columbia and president of Tompkins Home and Development, said there were a few reasons he wanted to sell part of his land to the city.
"Open space mixed with housing is desirable for residents," Tompkins said. "I could have fit more houses and potentially increased profit, but the lots would have been devoid of trees and nature."
Mike Powell, Greenbelt Land Trust of Mid-Missouri's coordinator for the agencies working on the natural legacy initiative, said there were multiple factors that made the Gates of Columbia property attractive.
"One of the key underlying principles of 'Our Natural Legacy' is that conservation has to respect the way that many natural systems, including humans, are interconnected," Powell said. "That's what makes the Gates property valuable. It provides public benefit in many different ways, and it provides them in an area that's developing rapidly."
While the parks department has been creating recreational spaces in Columbia for years, the natural legacy mission focuses more on maintaining a connection between residents and nature through conservation.
The Gates Park land, for example, "provides quality habitat for a variety of wildlife in a quantity larger than is usually found in an urban area and in a location that works in conjunction with wildlife corridors like the trail system and Little Bonne Femme Creek," Powell said.
"The Gates property is a great addition to Columbia's parks because all of these amenities increase the value of the others," he said. "It is greater than the sum of its parts."
Tompkins, who contacted the city and sold the land for $360,000, said helping meet the vision outlined in the natural legacy plan was another deciding factor. He also donated about five acres that will connect the subdivision and natural area.
"The city of Columbia parks department has done such a great job in the past of using land wisely," Tompkins said. "They are really making Columbia a great place to live. I am glad to be a part of our town's future. Preserving land like this will continue that."
Potential land acquisitions are chosen with the help of the Greenbelt coalition. Choices are based on factors such as quality of landscape, proximity to streams and opportunities for recreation.
There were originally 10 properties the department was considering for purchase as part of the plan financed with the 2010 sales tax for parks. Three properties totaling 155.6 acres were sold and are no longer available, Columbia Parks Director Mike Griggs said.
The second of the three properties acquired, 24.8 acres in The Vineyards subdivision south of Route WW near El Chaparral subdivision, was purchased for $33,728. It will preserve a formerly private 15-acre lake.
An additional 18 acres donated includes South Fork Grindstone Creek and future access for a trail.
The third property, 15.88 acres that cost $317,600, is at Lake of the Woods Golf Course and will mostly be used as a driving range.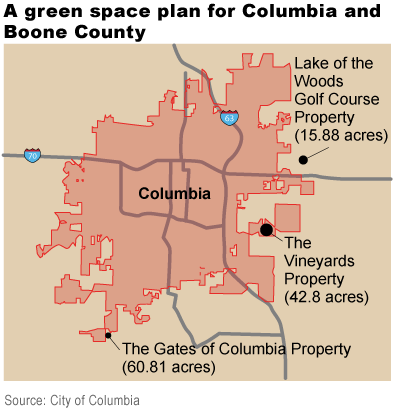 "While this is not your typical natural area park, it does preserve this land from being developed, and we will have it planted with significant tree buffer and do some native plantings along the perimeter," Griggs said.
The city also is considering a lot on Orr Street in downtown Columbia as part of the plan. The city has been interested for some time in the site owned by Ameren Missouri and has plans to turn at least part of the space into a park, Griggs said.
The land cannot be used until it receives federal approval that all presence of coal tars left in the soil years ago from a coal gasification plant has been removed.
Powell, for his part, said the initiative has gotten off to a good start.
"As with any good plan, we've set the bar pretty high," he said. "Even though we didn't really kick the plan into gear until January 2015, we've still been able to do a ton of work with the land conservation piece of the plan. When we have the opportunity to run with a ball, we're running with it."