Brenna Reed is the City of Columbia's Sustainability Educator. She coordinates the city's efforts in the Georgetown University Energy Prize.
Unless you have a job similar to mine, it's likely you don't think about energy all too often. And I don't blame you. Talking about how much energy you use at home or how you can save energy can quickly turn into a technical blur with terms like kilowatt hours, phantom loads and lumens being thrown around carelessly.
But it doesn't have to be that way. Energy is what makes our everyday lives possible. It's what makes surprise parties a surprise and bedtimes less scary and dark. Even better, taking control over how you and your home use energy can mean lower bills, healthier indoor air quality for your family (Hint: It's not only air that creeps in through those leaky doors and windows) and feeling more comfortable (Goodbye breezy drafts and hot and cold spots!).
Right now, Columbia is one of 50 communities across the country competing for the Georgetown University Energy Prize. We're competing to see if we can reduce the most energy per person for two full years, and we're calling our campaign the CoMo Energy Challenge. The winning community, the one that saves the most energy and does so in an innovative and replicable way, will take home $5 million from Georgetown University! Yes, you read that right, I said $5 MILLION dollars.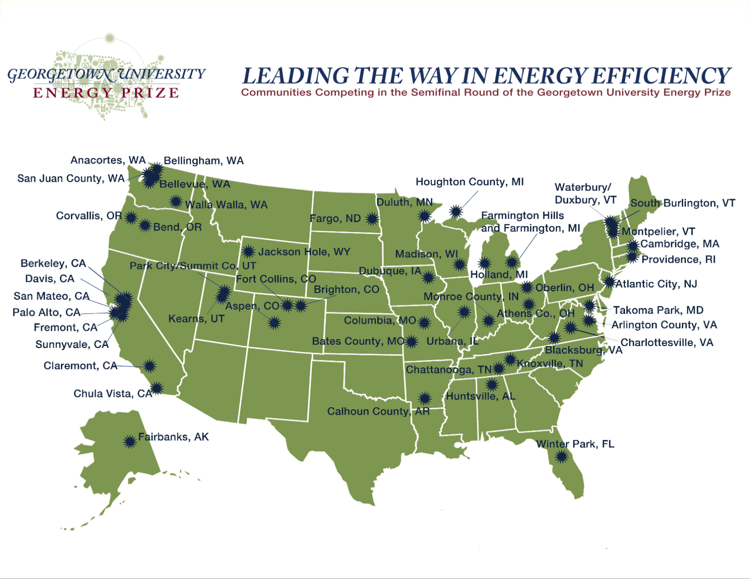 Energy efficiency does not mean going without. We're not asking you to break out your flashlights, sit in the dark or to never take a nice hot bath again. To help us win the CoMo Energy Challenge, all we're asking is that you become more efficient. (And tell your friends, too!). Energy efficiency means doing the same things you normally do while using less energy.
Here are some no/low cost tips that can make your home or apartment more efficient this summer:
• Change your HVAC air filter … and change it often
Just like you get your car's oil changed to help it run better and use gas more efficiently, you should change your air filter on your HVAC system. The general rule of thumb is to change it every three months. Here's a tip: Set yourself a calendar notice for when it's time to change, or sign up for a subscription service like FilterEasy,  which will deliver it right to your door.
• Program your thermostat to "home" and "away" times and temperatures
Program your thermostat to change temperature when you're away from home and sleeping. The general rule of thumb is to set the temperature up 7℉ in the summer and back 8-10℉ in the winter. Here's a tip: Set your thermostat 3℉ higher in the summer, and use a ceiling fan to make you feel just as cool as you would have without adjusting the temperature.
LED bulbs are the most efficient and long lasting bulbs you can buy. They are much more affordable than they used to be; most are dimmable, and they can save you as much as $75 per year by replacing your five most frequently used bulbs. If you have outdoor lighting, consider switching to solar or motion-sensored lights to save even more. Here's a tip: If you're a renter, save the old bulbs and put them back in when you leave so you can take your energy efficient LEDs with you.
• Unplug! Unplug! Unplug!
In a world of connectedness, we can often forget how "unplugging," both literally and figuratively, feels. Take time this summer to read a book or visit a park instead of your usual screen time. Unplug appliances and electronics overnight or when they're not being used. Did you know 75 percent of an electronics energy is consumed when it's in standby mode (aka turned off, but still plugged in)? Here's a tip: Smart power strips and outlet timers can help you save if you often forget to unplug.
While you're at it, have some fun! See if you can make a full meal without using the oven or stove. Is a five-minute shower really possible? Try it out! See how long your TV and DVR can stay unplugged. Open a book, or take a walk instead. If you're up for the challenge, share it with us!
Now through June 30, we're hosting a #savingenergy2win contest where you could win prizes like gift cards to The District, Sparky's, Bright City Lights and Columbia Parks and Recreation — and did I mention the grand prize? Two weekend passes to Roots n Blues n BBQ! For more information on the contest, visit www.gocolumbiamo.com/comoenergy/win  or friend us on Facebook and follow us on Twitter.
This story is part of a section of the Missourian called From Readers, which is dedicated to your voices and your stories. We hope you'll consider sharing. Here's how. Supervising editor is Danielle Dieterich.