COLUMBIA — What's the key to a positive interaction between a citizen and a police officer?
It's a question that has, until recently, troubled non-white people more than whites because of the history of police violence toward minority communities. With recent highly publicized police shootings of black people and this summer's violence against police, the question is more important than ever.
Unarmed African-American men are more than three times as likely to be shot by the police as unarmed white men, a 2015 study found. The discrepancy could not be explained by community crime rates.
African-American and Latino men are not more likely than white men to be shot by police after they have already been stopped, a 2016 study found. It did find that police were more likely to use non-lethal force against minority men.
The Columbia Police Department offers some guidance on police stops via a bookmark-sized flier that it started distributing through community and student resource officers more than a year ago. It states, first and foremost, that the key to avoiding conflict is "simply to stay out of trouble."


To ask an officer why you have been stopped, in a non-confrontational manner.
You have the right to remain silent.
To not "bad mouth" officers.
To "control your emotions."
To avoid provoking officers.
The flier does not address police conduct, except to say that:
Law enforcement will not always clearly define your basic rights and responsibilities.
Citizens should make a note of officers' names and badge numbers.
Citizens should report when things go wrong — or well— with an officer and provides a website and phone number for doing so.
The emphasis on the citizen's obligations to police troubles some local community activists, who just recently became aware that the flier has been distributed at local public high schools.
Activists say the flier is symbolic of a serious problem. Instead of acknowledging equal responsibility on both sides of the interaction, the flier reflects an authoritarian stance activists say the police department is accustomed to taking.
"Everybody knows that the policeman is the one with the gun," Steve Calloway, president of the Minority Men's Network, said. "The guy with the gun, in my opinion, has a greater responsibility to exercise restraint."
Calloway thinks the police force's flier has everything to do with race. It mirrors "what I tell my African-American sons... for reasons of not being killed," he said. "What's the other side of this? Is it if you don't comply with everything here, you might get shot? I hope that's not the message. Given recent events, there's no guarantee that if you do everything on there, you won't get shot."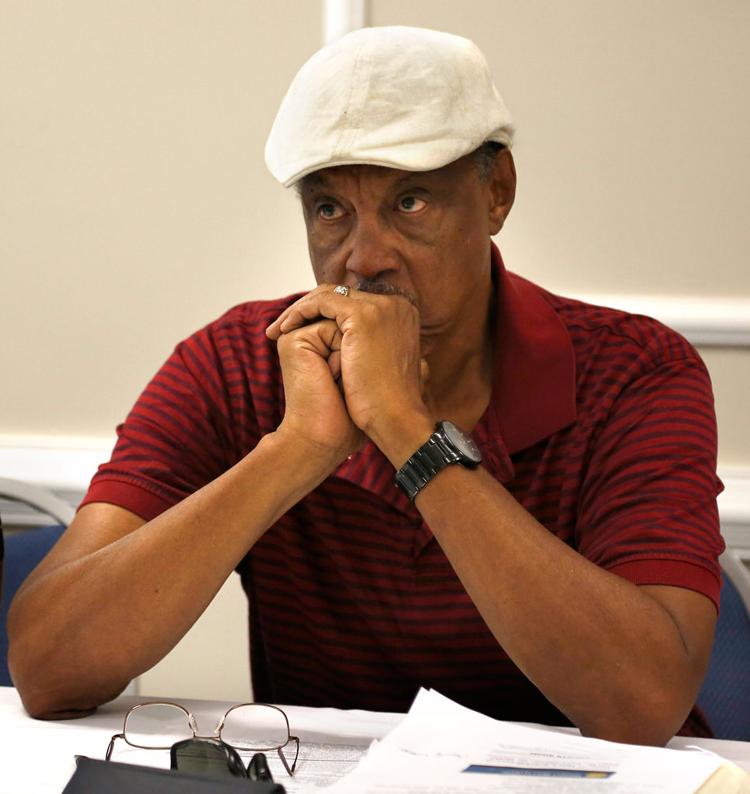 Police officers use different de-escalation tactics on the basis of race, said Doug Simmons, a member and former president of Minority Men's Network. "Did he provoke the officer? Well, what provokes the officer? The color is the provocation."
Traci Wilson-Kleekamp, president of Race Matters, Friends, an organization that is pushing for community-oriented policing in Columbia, just learned about the existence of the flier in the past couple months. Wilson-Kleekamp said it illustrates the police department's "total cultural incompetence." She and Calloway both said the department consistently avoids addressing race, exacerbating historical animosity.
Discussion gets heated
It's not the first time the department has been criticized for failing to address concerns of the African-American community, especially on the topic of traffic stops. In July, Police Chief Ken Burton's response to comments about the most recent racial profiling data sparked a walkout at a City Council meeting. For years, African-American drivers in Columbia have been pulled over at a much higher rate than other drivers, a racial disparity that is higher than it has ever been.
In response to the Attorney General's most recent report on that discrepancy, Burton questioned the validity of the statistics. He said they don't show racial profiling by the department and that the data needed to determine if the police force engages in racial profiling could not be collected, saying, "the only way I can see to fix it is if every officer wrote a short novel about every traffic stop they make."
Later that month, Burton met with members of the Race Matters group. One of them, Lynn Maloney, said the meeting left her with the feeling that police do not have the resources to address race-related issues. She shared that sentiment in a public comment at the council's Sept. 6 meeting.
Burton did not respond to email or phone requests for an interview for this article.
"(Police) don't think race has anything to do with anything," Wilson-Kleekamp said. She said because the police department is unwilling to talk about race, people of color are negatively impacted by police policies.
Lorie Fridell, associate criminology professor at the University of South Florida, said the traffic stop disparity does not necessarily show bias. Instead, it shows that African-Americans experience a greater impact. Fridell is also the founder of Fair and Impartial Policing, a police training program, and former director of research at the Police Executive Research Forum. Fridell said measuring bias is difficult, but when disparity is not easily explained, "maybe the police should explore further." 
Fridell trained Sgt. Michael Hestir in 2013. He, in turn, trains Columbia police officers on a yearly basis. All sworn officers were trained on fair and impartial policing this spring.
The police department is holding a public training session to give the community a close-up look at what police are learning at 10 a.m. Nov. 5, in the City Council chambers.
In Jefferson City, Sen. Maria Chappelle-Nadal, D-University City, has sponsored the Fair and Impartial Policing Act each of the past two years. The act would require police departments to also report pedestrian stops and adopt policies on race-based traffic stops. The 2016 version was heard in a Senate committee and went no further. Sen. Jamilah Nasheed, D-St. Louis, sponsored similar legislation.
Mustafa Abdullah, lead organizer of the American Civil Liberties Union of Missouri, helped draft the bills. He said it would help improve police data related to racial profiling, to the benefit of both the police and the public.
Community-oriented policing
Wilson-Kleekamp said the police department has been unresponsive to efforts to create meaningful dialogue between African-American Columbia residents and the police force. She cited a meeting between Race Matters, Friends members and Assistant Chief John Gordon, in which he declined to address their concerns.
"They'll talk about hostage situations but not about race," she said, in reference to the meeting.
Wilson-Kleekamp said the department's failure to institute community-oriented policing elevates the impact of white perspectives in policing neighborhoods that are not always white.
The Justice Department office of Community Oriented Policing Services states that community-oriented policing hinges on trust, collaboration and respect between communities and police departments. The final report of the President's Task Force on 21st Century Policing, born of the fall 2014 unrest in Ferguson, states that community policing means "officers enforce the law with the people not just on the people." It entails active engagement between police departments and the communities they serve to achieve the same goal: public safety.
Calloway said the history of animus between African-Americans and police requires a different approach than might be taken with whites. Wilson-Kleekamp agreed, saying police historical oppression of minorities has resulted in distrust. She compared historical oppression to a domino effect, one the police department is now trying to ignore.
"These are the remnants of no reconstruction and no racial reconciliation," she said.
The department's current approach to policing is geographic, though the six-officer Community Outreach Unit takes a community policing approach and serves three neighborhoods, two of which abut the Business Loop. 
The police department recently presented to the City Council a "focused deterrence" method of policing borrowed from police in High Point, North Carolina. It tries to link first-time offenders with social services as a diversionary method. If the same person re-offends, the police begin cracking down.
Wilson-Kleekamp said that her organization's input should have been sought before instituting a new policing method. The lack of discussion, she said, indicates police "don't understand the difference between being a community partner and an authoritarian entity."
But Columbia Police Sgt. Bob Dochler, supervisor of the public relations unit, pushed back. The police department must be more authoritarian in some situations, he said.
"This is a police force charged with enforcing laws. It's not always as pretty as some people want it to be."
Building relationships
Hestir, who leads the Community Outreach Unit, said his unit has the luxury of being able to invest time in building relationships with community members. These relationships help officers connect residents with social services, in response to recommendations by the Mayor's Task Force on Community Violence.
After the November 2014 issuance of task force recommendations, Hestir was assigned to lead the unit in early 2015. The unit was launched with four officers in October of that year. This April, the unit expanded to six officers. The Community Outreach Unit spends most of its time on foot. Officers from the unit park their vehicles and walk around neighborhoods.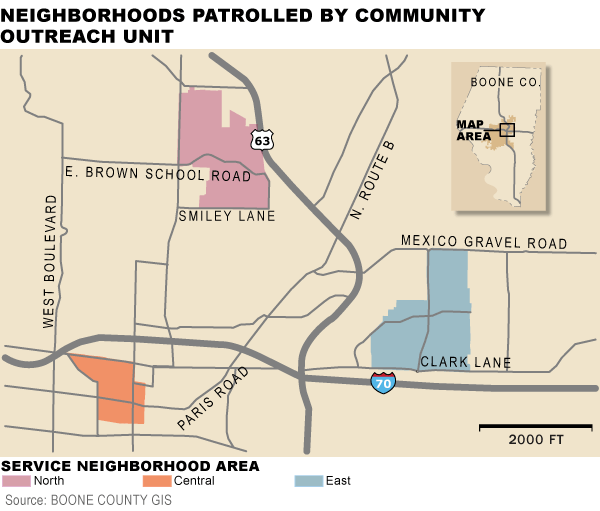 On Tuesday evening, officers Gamal Castile and Justin Anthony patrolled the central neighborhood, which covers about 50 square blocks between Ash Street and the Business Loop. Over three hours, they handed out a bike light, reported tree branches hanging into the roadway, clarified a city ordinance for several residents and spoke with the manager of a restaurant who was worried about possible drug dealing in the parking lot of her business. They had many conversations and made zero arrests.
On a recent Saturday, Hestir and a couple of other officers from the unit arrived early to help set up a free basketball clinic in Douglass Park put on by MU men and women's basketball in partnership with the Rev. James Gray of Second Missionary Baptist Church. Even Hestir was keenly aware that at that moment, as outreach officers watched MU basketball players play knockout with local kids, a total of 14 police officers were patrolling the rest of the city.
Instead of having to rush from call to call, as more traditional patrol assignments require, officers "start to be a part of the landscape," Castile said.
The entire department should ideally function as his unit does, Hestir said. But that would require doubling the number of police officers in the department.
An alternative flier
A document distributed by the Phoenix Police Department takes a very different approach to giving citizens guidance about what to expect from an interaction with the police. Among other things, it says police will:
"Provide his or her name and serial number upon request."

Tell you why you are being stopped.

"Only use the force necessary" in arresting suspects.

"Only arrest a person for a crime committed in the officer's presence, or when the officer has probable cause to believe the person has already committed the crime."
It's a reflection of how an accountable department operates, Calloway said. Phoenix's handbill outlines expected police conduct in addition to offering advice for citizens.
"Overall, when it comes down to it, these fliers were made with good intentions," said Public Information Officer Bryana Larimer. She said dissatisfaction with the flier was the result of miscommunication.
Columbia's fliers were an initiative of Gordon in response to nationwide demands for more transparency from police departments. He adapted it from the Akron PeaceMakers, an Ohio anti-crime youth group. Larimer said the police department had also received requests for something like the flier when running the now-defunct Citizens' Police Academy. The total cost of the fliers was just over $1,200. 
Eleven-thousand were printed: 2,000 for Hickman, Rock Bridge and Battle high schools with corresponding school colors and logos; and another 5,000 printed in black and gold for the community outreach officers that were meant to be distributed at MU football games. Neither Dochler nor Larimer could specify how many had been distributed to date. Larimer said that each school had received their fliers, and about 2,000 of the generic fliers had been given to officers to pass out.
Rock Bridge High School Student Resource Officer Keisha Edwards said the fliers were no longer being distributed at the school due to an issue with the logo.
Dochler said that the police department is working on another flier to be distributed at the junior high school level.
Meanwhile, Race Matters, Friends, is continuing to push for a community-oriented policing philosophy. Tara Warne-Griggs, of Race Matters, Friends, has suggested collaborating on an analysis of police stop data to Deputy Chief Jill Schlude.
"While I appreciate and respect the attempts to improve relationships between police and the African-American community, (the flier) ain't it," Calloway said.
"The community should be able to say what kind of policing we want," Wilson-Kleekamp said. "And they should listen."