COLUMBIA — The ivory keys on the 1904 piano were black with soot. It took 4 gallons of wood-cleaning solution to remove the dirt.
As old as the piano is, Kristopher De Tar, a part-time piano rebuilder, questioned even starting the project.
The ivory on the keys had to be milled down and replaced with a plastic covering. It was the oldest piano keyboard De Tar ever worked on.
"I had to give it some TLC," De Tar said. "It took longer than normal to do a good job."
The inside of the piano was a similar story.
"I almost said, 'It can't be fixed,'" Steven Fair, an independent piano technician and a member of the Piano Technicians Guild, said. Fair's job was to make sure the piano could be playable. He worked on the moving parts, tuning, replacing strings, and raising the pitch, he said.
The piano was one of Boone's practice pianos. A photograph inside the house shows the piano in the background with Boone sitting at his Chickering grand piano, now at the Walters Boone County Museum, said Clyde Ruffin, president of the John William "Blind" Boone Heritage Foundation.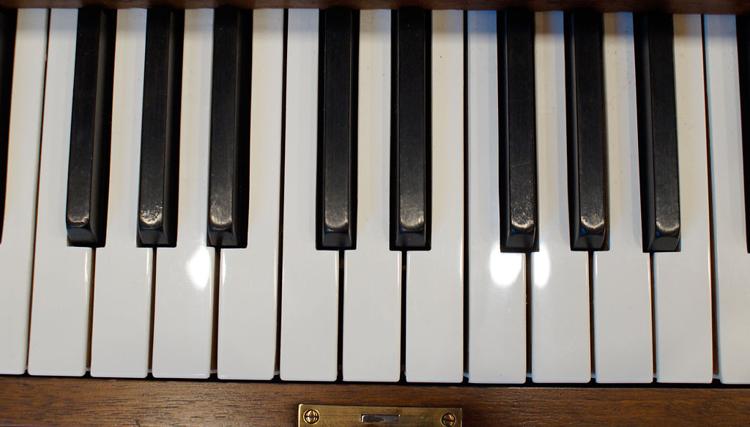 The Haines Brothers piano needed a total restoration before it could be the focus of the John William "Blind" Boone Home, 10 N. Fourth St., that will open to the public from 2 to 4 p.m. Sunday for the first time since renovations that date to 2001.
The event will start in the gardens where the Boone County Historical Society will present a plaque marking the house as historic. The Sharp End Heritage Committee will also recognize the house as part of the African American Heritage trail, Ruffin said. It will be the second site on this trail in Columbia.
There will also be special entertainment and light refreshments, Ruffin said.
Boone was born in Miami, Missouri, grew up in Warrensburg and became a celebrated pianist and ragtime composer. He lived in the Columbia home from 1889 until his death in 1927. 
The Heritage Foundation will manage the home, and it will be available for the community gatherings and small private events.  
The cabinet of the piano in the house reflected the piano's long life. "It was dark and dingy and had lots of layers of the past," Ran Sheller, owner of the Finishing Touch, said of the piano's outside cabinet.
In addition to mending the cabinet, Sheller also restored the bench.
He said working on the piano was a proud moment for his company and hopes the public receives it well.