Art is undoubtedly one of the staples of Columbia, with the events and activities of various art galleries having helped form a unique culture and identity for this city.
The pandemic has, of course, changed the way the art community has been operating and will continue to operate as the city emerges from COVID-19 restrictions.
Although Columbia and Boone County began to allow businesses to reopen last week, many galleries are remaining on the cautionary side.
Sager Braudis Gallery is one of the locations that will stay closed through May. According to an email from the gallery, the decision was made "in order to continue to limit transmission of and exposure to COVID-19."
However, the gallery managers seem to be optimistic about upcoming months, informing those wanting to use Sager Braudis as an event space that it is still open for booking this fall and winter.
Artist John Fennell has been going to his art studio in Orr Street Studios regularly, but he doesn't know whether the studios will be opening their doors to the public just yet, as the board has not met yet.
Fennell said that many artists, himself included, are turning to social media these days to showcase their artwork.
"I'm looking at ways to expand in some ways, like doing a professional a Facebook page as opposed to doing a normal Facebook page," Fennell said.
While Fennell has gotten some attention online with his artwork, the sales portion of his work isn't flourishing as much.
"Selling paintings, or selling any kind of artwork, is not always an easy task," Fennell said. "I think (COVID-19) is doubling the difficulty of both being an artist and trying to earn a living from it."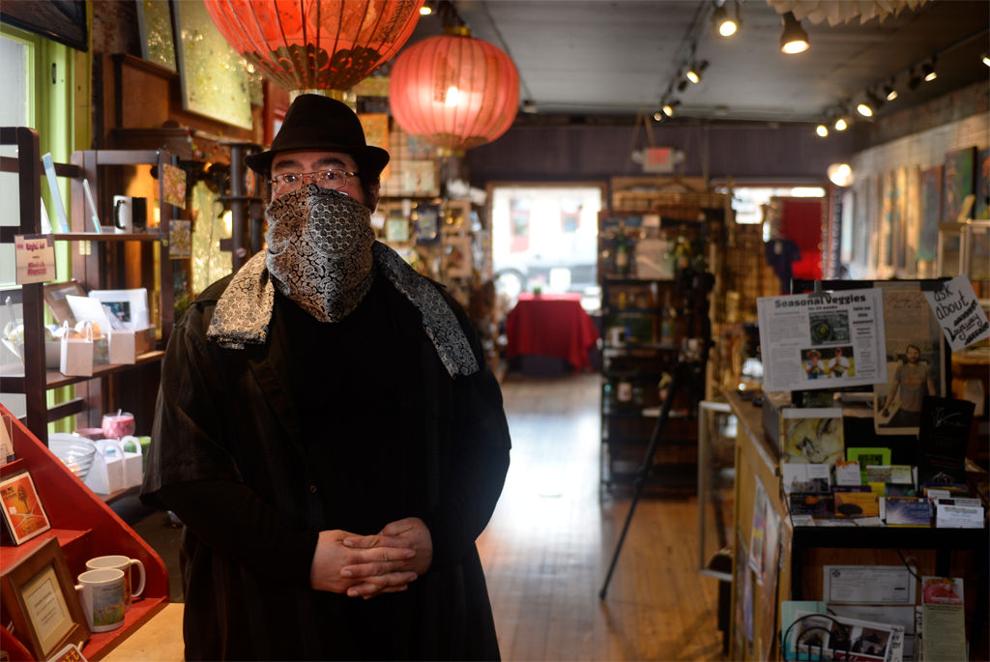 Business for Lisa Bartlett, artist and owner of Artlandish Gallery, has also been slow despite the gallery offering curbside pickup. The gallery has been organizing virtual sales on social media.
"Many of our artists posted four images of different artworks, and they ranged from pottery, glasswork, jewelry, paintings, and we all put that out there," Bartlett said.
Bartlett said that Artlandish Gallery also will remain closed until June.
"I'm skeptical about this reopening, so I'm just playing it safe," Bartlett said. "We want to protect our artists and the customers."
Montminy Gallery at the Boone County History & Culture Center also will not reopen until June, according to an email from Chris Campbell, the gallery's executive director. 
The Columbia Art League is also keeping its gallery closed for now. According to Executive Director Kelsey Hammond, the league is looking to physically reopen in June. For the time being, the gallery is holding gallery shows virtually, with two such shows online right now.
Though the CAL's signature event, Art in the Park, has been canceled, the gallery is still looking forward to promoting artists who were to be featured in that event on its website and social media outlets throughout June.
"We will still host the Emerging Artist Exhibit thanks to Commerce Bank and the Veterans' Pavilion Exhibit thanks to the Veterans United Foundation," Hammond said. "Those exhibits will go into our virtual gallery space, and the participating artists will be awarded as they would have been at Art in the Park in person."
Another big event that the local art community organizes is First Fridays, where people come together on the first Friday of each month to enjoy food, art and music.
There has been uncertainty about whether First Fridays, a beloved tradition in Columbia, will make a comeback in June.
Lisa Bartlett said the North Village Art District board met Monday and decided to hold First Fridays in both June and July in a different way.
"We're talking about a drive-thru art experience," Bartlett said. "A little live music would be lining the street, with some art exposure. … Not real sure about how that's going to look.
"We won't be giving out wine and snacks, and we won't be able to sit and hang out, which is, you know, really the fun of First Fridays, seeing your friends … . It's not set in stone yet, but it's something we're working toward," she said.
The board is still working on the logistics of the event, as it wants to make sure its plans comply with city regulations.
There's no denying that it would be different to see art through a car window.
"Art is a very tangible thing," Bartlett said. "Unless you can see it, touch it, feel it, smell it, you know, it doesn't — it doesn't have the same impact."
However, not all galleries are keeping their doors closed. According to an email from Melissa Williams Fine Art and Douglas L. Solliday Antiques, which share a gallery in downtown Columbia, they are opening their gallery but will limit the number of customers. They also suggested making an appointment before visiting.
"From the conversations I've had so far, my customers are eager to take a few safe steps toward rebuilding the vibrancy of our downtown," Williams said in the email.
"Doug and I are talking everyday about how we want to safely reopen and we would appreciate your input."