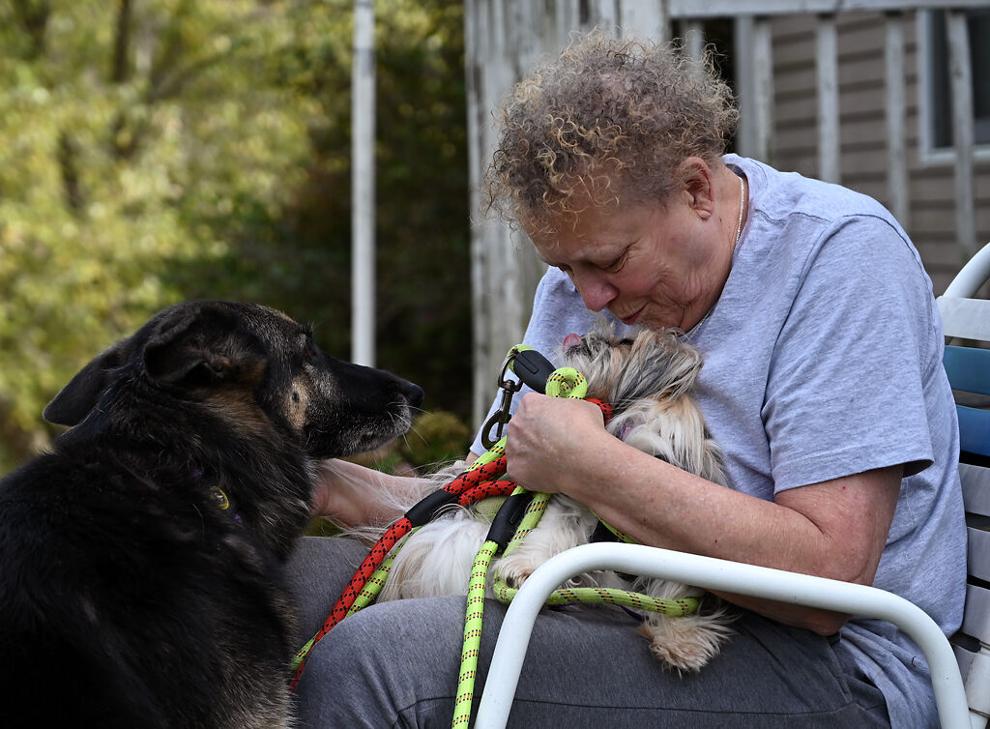 Just hearing the word "isolation" brings Karen Schams to tears.
Schams, 70, lives alone in Ashland. When the pandemic struck, her daughters were immediately concerned and asked her to stay home. That meant no more weekend trips to visit her grandchildren, no more hugging her grandson.
"He's not a phone talker," Schams said. "As he runs past his mom, he'll holler he loves me or something, but you know, he's a boy, 7 years old. So if I get that much out of him, I'm happy."
Her friends know the virus scares her, so Schams doesn't get any in-person visitors. She does see her neighbors, meeting to chat across a fence on her 4 acres of land.
Schams retired in December 2019 as the flu season worsened. In May, she underwent lung cancer surgery that left her cancer-free, though the disease damaged her lungs. That, combined with a history of asthma and a chronic cough, has made Schams isolate for her own safety. She doesn't think she'd survive COVID-19 if she contracted it.
Two weeks later, the pandemic struck, and isolation measures to curb the spread of the virus deepened the loneliness many seniors already felt.
Social isolation can have grave physical consequences for older adults.
Dr. Colleen Galambos, gerontology expert and committee member for the Academy's report, said isolation significantly increases a person's risk of mortality. It's worse than the risks from smoking, obesity and lack of physical activity.
It's so important to be socially connected that older people with other people in their lives have a 50% greater likelihood of survival.
Social isolation and loneliness are intertwined. Social isolation is the objective state of being alone. Loneliness is subjective — the feeling of suffering and distress that comes from being separated from others.
"It's lots of feelings of abandonment and not understanding why people aren't there like they used to be," Marilyn Rantz said. "(Older people) just know that it's not right."
Rantz is the executive director of the Aging in Place Project, which is affiliated with the Sinclair School of Nursing. She said loneliness intensifies feelings of sadness and confusion, particularly for people living in nursing homes.
'Why get up?'
More than 650 Missouri long-term care facilities have reported at least one COVID-19 case among staff or residents since late March, according to a September news release from the governor.
On March 12, the Missouri Department of Health and Senior Services released visitation guidelines for long-term care facilities. The department instructed facilities to restrict visitation.
The restriction helped curb the spread of COVID-19. It also left some residents feeling abandoned.
Galambos said long-term care facility residents are reporting being more depressed, and she is hearing the same from health care workers about their patients.
The Quality Improvement Program for Missouri provides training on how to improve care delivery for nursing home residents.
Crystal Plank, the program's clinical consultant, said loneliness exacerbates the mental health struggles of nursing home residents. The depression and anxiety that sets in decrease motivation to get out of bed or get dressed. Some people hold on to visits from family.
"So imagine having somebody come visit you every day or every other day, then all of a sudden it stops," Plank said. "Why do I want to get up?"
The latest guidelines from the governor and the Missouri Department of Health and Senior Services have loosened visiting rules.
Under these guidelines, facilities that have not had any cases of COVID-19 among staff or residents, or those that have not had a facility-acquired case in the past 14 days, are able to allow general indoor visits for residents who do not or are not suspected to have COVID-19, or those who have been released from isolation.
Outdoor visits to residents who don't have — or aren't suspected to have — COVID-19, or who have been released from isolation, are allowed.
Guidelines dictate that five visitors may be designated for each resident, with two allowed to be present at a given time by appointment and with social distancing being practiced.
Former MU Chancellor Richard Wallace, 84, is experiencing the isolation on two fronts: He lives alone in his Columbia home and is isolating himself to stay healthy while looking after his daughter, Sandra, 61.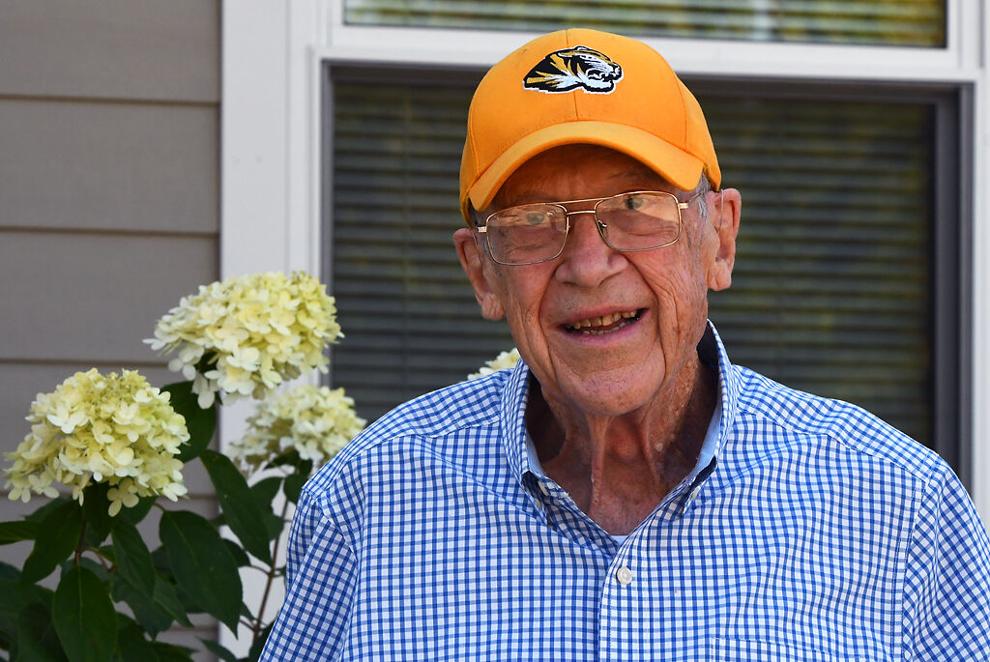 Last year, she was diagnosed with a blood contagion that left her blind in both eyes. After she was discharged from the hospital, she moved into Lenoir Woods Senior Living Community in Columbia.
Her father said he hasn't been able to visit her in her room. Woods Central, her area of the community, has been closed to all visitors since March.
Fortunately, he has been able to see her for 30 minutes at a time outdoors in good weather or with a "plastic plate" between the two of them. But he's worried about her ability to live and move around alone.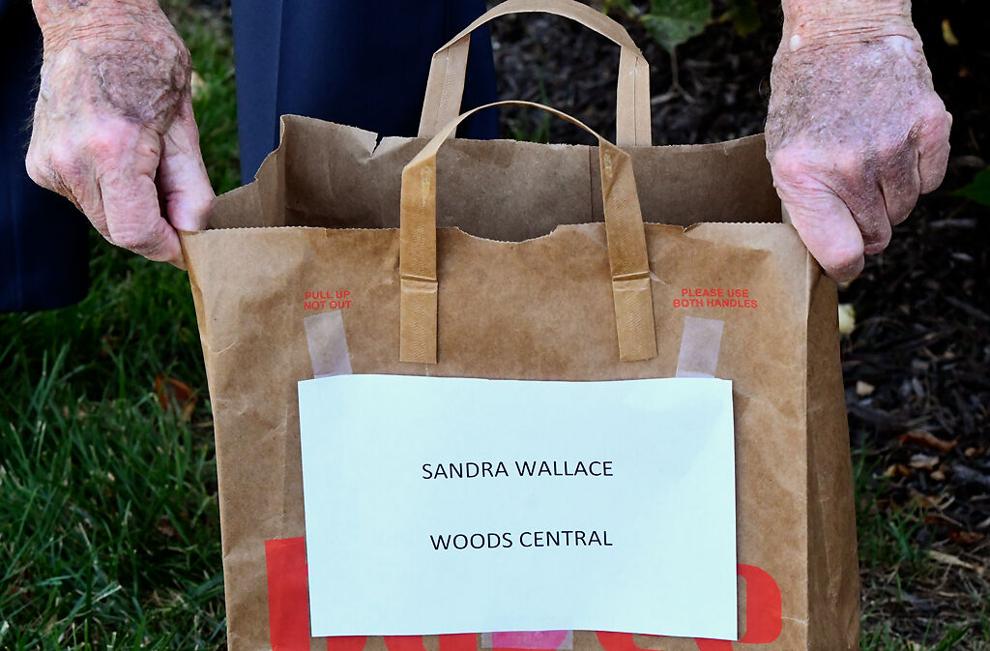 He brings her groceries when he can, but she's had no training in independent living with blindness, Wallace said. Yet, she strives to remain mobile and leave Lenoir Woods to be as independent as she can.
"Is she lonesome? Does it seem strange? Is it depressing at times?" Wallace said. "It has to be, but she's coping with it pretty darn well."
Ranshell Harrington, director of nursing for The Bluffs, works with activity staff to keep life engaging in the homes, even without visitors. But it's visitors who make the home a vibrant place.
"As an employee, I go home every night, but I cannot imagine being locked away from my family and my friends," Harrington said. "They can't even go on separate sides of the building because everyone's supposed to be in their room."
'I want my life back'
A June 2020 University of Michigan National Poll on Healthy Aging surveyed a national sample of U.S. adults ages 50 to 80 and compared the results with a similar 2018 study. The poll revealed a substantial increase in loneliness among older adults from before the COVID-19 pandemic to the period between March and June 2020.
The increased loneliness was more common among women, people who lived alone and those who are unemployed, disabled or not working — people like Schams. People like David Armstrong.
Armstrong, 70, is homeless and lives in his truck. He says his happy days are few and far between. When they come, he knows they won't last. He doesn't feel there's anyone he can talk to anymore.
"It feels like it's getting worse," Armstrong said. "It may sound stupid, but I want my life back."
Armstrong was struggling with depression before the pandemic hit. Now, the loneliness and depression are almost constant. He wants to be around people but feels like a hermit as he tries to protect himself.
"All I wanna do is make it like anybody else," Armstrong said. "I almost feel like I don't exist."
Armstrong has a chronic cough and breathing problems. He isolates to protect himself, only visiting grocery stores in early or late hours — that way he can avoid wondering what people are thinking when they see him. Rather than experiencing smiles and "How are you's?" on the street, Armstrong says people treat him like he's the plague.
"If I'm gasping for air, people shy away and think that I have the virus," Armstrong said. "It makes me want to be away from people."
Rep. Chuck Basye learned about these issues as he looked after his mother.
Joanne Basye, 85, had congestive heart failure and tested positive for COVID-19 in early September. On Oct. 1, she was transferred to Columbia Post Acute.
She was confused at first about why no one could come and see her. That brought Basye a new understanding of what isolated COVID-19 patients experience.
"When people are in a lockdown situation and they end up expiring, you know, you think about all their loved ones who didn't get to go in there and hold them or talk to them," Basye said in early October.
His mother, Joanne Basye, died Thursday due to complications from COVID-19.
Technology, pro and con
While some seniors have the means to try to bridge the loneliness gap with technology, Galambos described its use as both helpful and harmful.
If an older adult has the bandwidth and internet connection, it can help seniors connect to family, support and interest groups, provided the connection is positive and supportive. On the other hand, it can increase feelings of isolation.
"Sometimes (social media) can make people feel lonelier," Galambos said. "Maybe they're getting not a lot of feedback on Facebook, or they're not making the friends that they want to make on Facebook."
Seniors are placing hope in a COVID-19 vaccine's arrival, which they hope will bring case numbers down enough to bring life back to something like normal.
Rantz, 70, and her sister, who is 75, have been separated since May. Both are at higher risk of contracting COVID-19, so they haven't risked visits.
"Some days, I feel like 'Ah, screw it, let's just go,' and then reality kicks in," Rantz said, "I've had heart disease for 30 years now. And I've managed to live through it, post-bypass ... it's like, oh, heck, I should wait a few more months, we'll get a vaccine."
Schams in Ashland says she fights depression daily. But on the advice of a friend, she sets a goal for herself, even if it's only to vacuum or dust. Her animals are her motivation to wake up in the morning. She lost two dogs, two cats and two horses this year, but taking care of her remaining six dogs and three cats keeps her going. They need her, and she needs them.
"They have to be fed. They have to be loved. They have to go outside," Schams said. "If I didn't have them, I think I'd be curled up in a ball someplace."
The only close human contact she gets is physical therapy for some pinched nerves in her shoulder.
"It's strange, but my favorite part of the therapy is when they hold my arm and move it around," Schams said. "It's the only touch I get. It just feels nice to have somebody touch you. And you don't think about those things."
This is the first article of two exploring the problem of elderly isolation in the pandemic. The second installment will look at solutions.