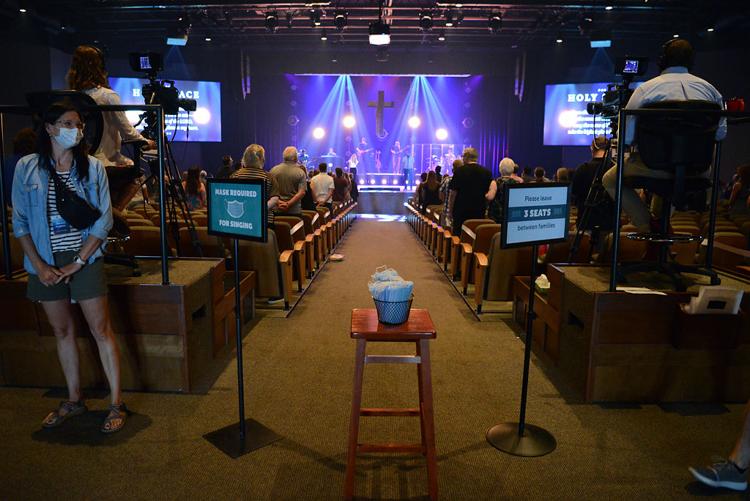 Until Sunday, it had been more than three months since many Columbia churchgoers gathered together in their houses of worship. Many congregations moved online using Zoom, YouTube and smartphone apps.
But just because congregations can meet in person doesn't necessarily mean they're ready for it. And for those who are reopening, it hasn't been service as usual, what with seating restrictions, hand-sanitizer stations, temperature-taking and mask-wearing.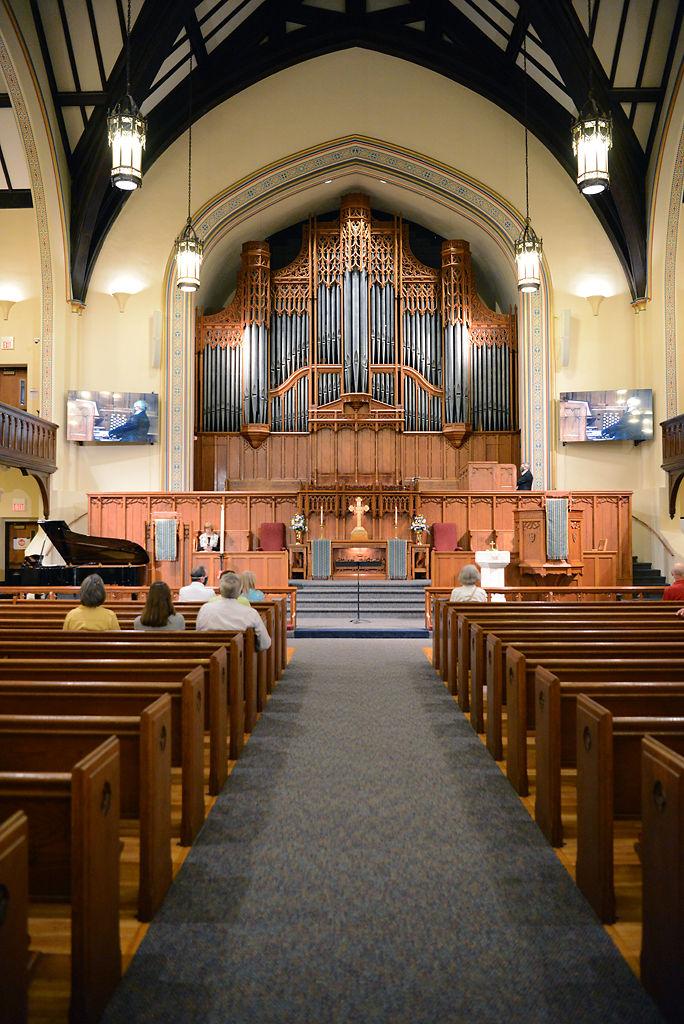 "I was honest with people," said the Rev. Fred Leist of Missouri United Methodist Church, which reopened June 21 when the number of people who could gather was still limited. "I told them to lower their expectations and raise their commitment level. ... Don't expect it to look and feel like it did before."
The church's decision to open its doors was made following county public health guidelines and advice from members, including health care workers at University Hospital. The advice shaped what in-person services looked like, including designated entry and exit points. Masks and gloves were provided, but Leist said most brought their own.
About 25 people attended the 8:30 a.m. service Sunday.
"I think the numbers are an indication that people are being wise and cautious, and we think that's a good thing," Leist said. The church will continue to livestream and record the services.
Careful starts made in May
"Even that was not full," the Rev. Francis Doyle said.
Now, under phase two of the reopening plan, 50% of seats are blocked to maintain distance between each family. "And it's still not been completely full," Doyle said.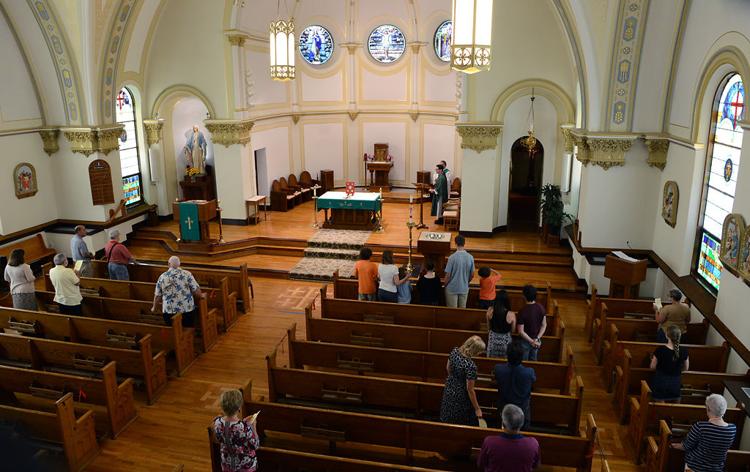 People older than 60 or who have underlying medical conditions are advised to stay home. Between Masses, volunteers wipe all the seats and door handles.
"I even have to wear the mask when I'm giving communion to the people because they come so close to me," Doyle said.
Still, many are staying home.
"We can tell by our numbers, we're gradually getting more and more people, but we're still not close to what we normally have," Doyle said. "Usually, we have four services on the weekend — Saturday night and then three on Sunday. And before this happened, it was really full. All four of those were full."
This past Sunday, about 50 people attended the 8:30 a.m. Mass, and about 35 were at the 11 a.m. A sign taped to the front doors reminded everyone entering to wear a mask. Individually packaged holy water was available rather than dipping fingers in a common font. String blocked off every other pew.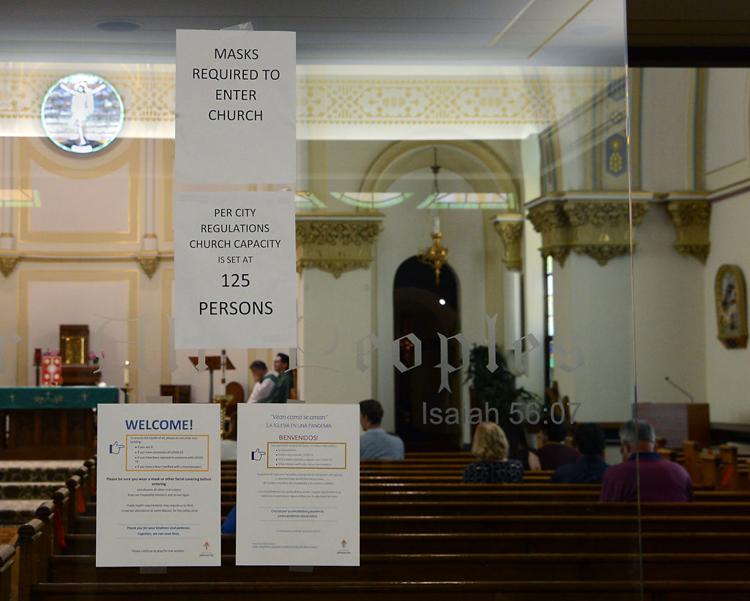 Among the parishioners at 8:30 a.m. were Deborah Carr and Josh Smith. Carr said she will continue to go if attendance remains low because her history of cancer puts her at greater risk for COVID-19. Smith said he attends regularly because it's important to him to receive the sacraments.
Doyle told the gathering he was pleased with the turnout and motioned to the back of the sanctuary, where several people took advantage of the extra chairs set up as a kind of socially distanced overflow seating.
However, the church will continue recording services for those who prefer to stay away for now.
The Columbia Korean Baptist Church reopened May 15. The church offers three rather than two services, and congregants are required to wear masks and have their temperatures taken before they can go inside.
A maximum of 25 people are allowed into the building now, versus 100 before the pandemic started. Ten people attended the 10 a.m. service Sunday.
"When you come to your faith, actually being in the church building is a little different from just worship at home," Deacon Seungkwon You said. "Especially for our Korean congregation, it's quite important to worship in a building."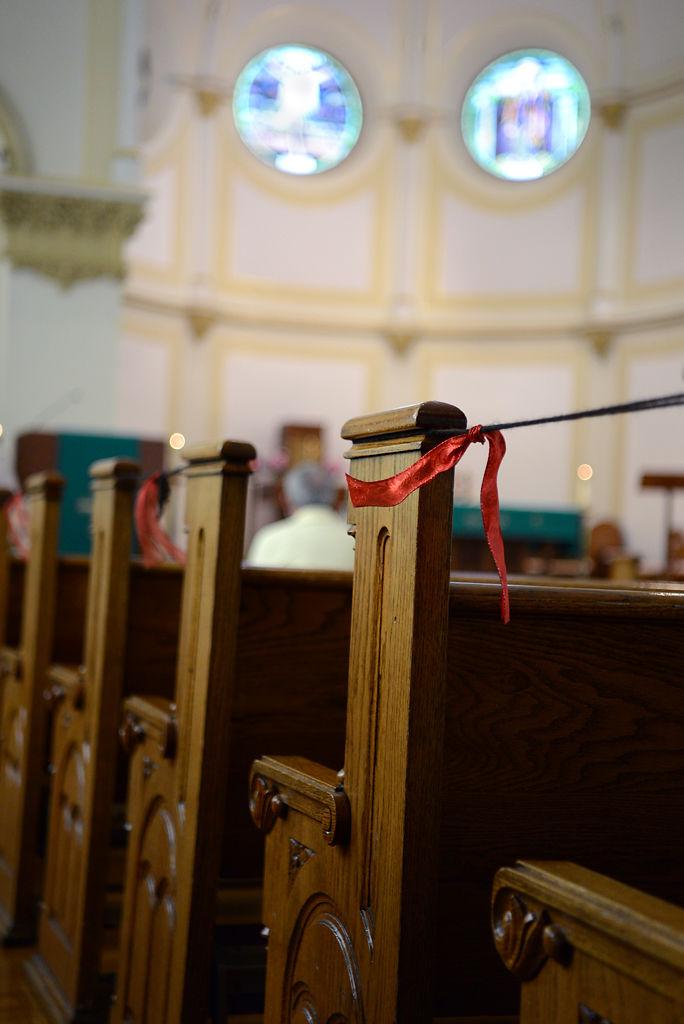 'It's good for us to be together'
The Crossing welcomed back congregants Sunday for the first time in about three months. Only 350 were allowed in the auditorium that can seat 1,500 worshipers. As the alternating rows of seats filled up, later arrivals were guided to a tent outside, where they could watch the service livestreamed.
Kermit Summerall, small-groups pastor, spent the past three months meeting with his group over Zoom. "You know, it's not ideal," he said, "but it's better than nothing."
On Sunday morning, though, Summerall caught up with people as he ushered them into the church.
People attending together were asked to sit three chairs apart from other singles and groups. Masks were provided, and hand-sanitizing stations were set up. Wearing a mask was optional, but members had to wear one if they wanted to sing.
"I'm glad you are here," Co-lead Pastor Keith Simon told the congregation. "Whether you're in person or watching online, it's good for us to be together wherever we are."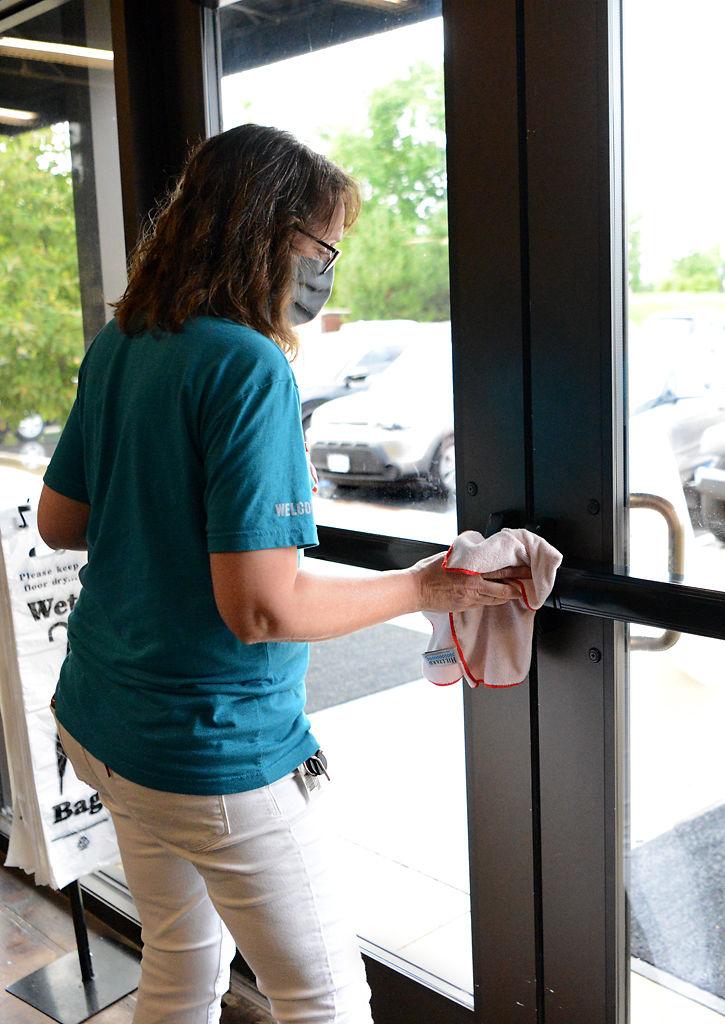 In deciding whether to open, The Crossing, like many congregations, followed Centers for Disease Control and Prevention guidelines as well as its own committees. The church planned to reopen about a month ago but reconsidered because leaders didn't feel ready yet to provide the safest environment possible.
"And we had interviewed a lot of doctors in our church and asked them for protocols that they would recommend," Co-lead Pastor Dave Cover said. He said he hopes they "found a way to provide a way for people to be connected relationally with others while not risking too much."
Luke Gleaves said his family is confident about the reopening plan.
"It's good to be together with other people who believe the same way we do," Gleaves said.
Discoveries of online worship
For some churches, it's just too soon to reopen in any form.
Forum Christian Church will continue to hold virtual services indefinitely, until it feels safe. The decision was made by the church's staff, board of directors, team of deacons and missionary team in light of the recent rise in COVID-19 cases and awareness of their relatively small worship space.
Bradley Williams, lead pastor, said they are following city guidelines and their goal is to "go above and beyond, just as a way to communicate to the community that we're doing everything we can and then some to promote safety."
This includes providing remote work options, allowing only staff and a cleaning crew in the building, shutting off water fountains, cleaning high-contact surfaces and bathrooms often, having a plexiglass wall for the receptionist and supplying hand sanitizer at "what seems like every two feet," Williams said.
Forum Christian will continue to provide Sunday services through its app and an online children's ministry. Williams said he's proud of the way his members have been "super adaptive" — such as small groups who have met for Sunday morning watch parties since restrictions were eased.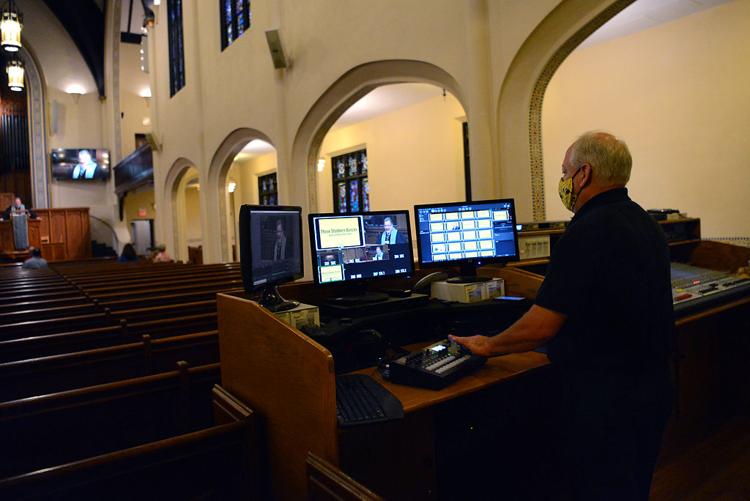 Still, he said gathering as a full congregation has concrete value. Listening to the teaching online versus in person, he said, "is kind of like the difference between watching your favorite band and seeing them live."
The Rev. Molly Housh Gordon of Unitarian Universalist Church said the church will continue worshiping online for quite some time. Housh Gordon said the church, which has a mission of "radical welcome," believes gathering in person would limit its ability to offer a broad welcome to all.
"We believe that we are actually better able to achieve that mission by creating really high-quality online services," she said.
"There are some nice things that we've discovered through online worship," Housh Gordon said. "We're able to create a pretty intimate experience and a more interactive experience than we're often able to create in person because people can use the chat to interact."
"We've also discovered that people are joining us from a lot of different places, who wouldn't have been able to join us actually in person anyways, because of maybe being too long of a drive or being homebound," she said.
Although Housh Gordon has missed in-person services, she said it's not safe to hug each other and sing together right now, especially for medically vulnerable people.
"I'm feeling really convicted about our decision to protect folks," she said, "even though I can't wait for the time when it's safe for us to gather in person again."