Last week, the Health Department stopped providing hospital metrics on the COVID-19 Info Hub as it worked with local hospitals on a more accurate metric. The new metrics and indicators — red, yellow or green — were posted Tuesday.
The county is at "yellow" level, indicating that hospitals are "operating within standard capacity and meeting any of the following criteria:
Delaying non-emergency patient transfers from referring hospitals due to capacity for greater than two (2) days, or
Delaying non-emergency patient transfers from referring hospitals due to staffing for greater than two (2) consecutive days, or
Delaying non-urgent procedures and operations to provide additional inpatient capacity."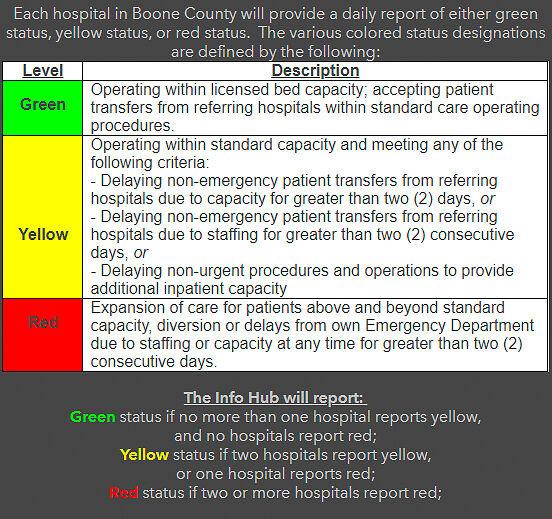 In a joint statement describing the new metrics, the county's hospitals also announced they've begun implementing surge plans in response to the recent spike in cases and hospitalizations in the county. The three hospitals are Boone Hospital Center, MU Health Care and Truman Veterans' Hospital.
Hospitalizations because of COVID-19 reached an all-time high of 142 inpatients Monday, 49 of whom were in the ICU and 21 were on ventilators, according to the Health Department's COVID-19 Info Hub. Only 27 of the people hospitalized were Boone County residents, and the rest likely from the 20-plus counties served by the hospitals.
Active COVID-19 cases in the county have almost doubled in the past week. The most recently available positivity rate for Oct. 30 through Nov. 5 was 21.3%, the highest it's been in Boone County.
"Each healthcare system has had to divert patients, defer referrals from other hospitals or issue bed holding status in response to this increased capacity," according to the hospitals' joint statement. "Our staff continues to be stretched thin as they respond and provide care for both patients with and without COVID."
The hospitals' individual surge plans increase capacity, which may include changing policies on staffing, elective surgeries or visitor procedures.
Boone Hospital Center said Monday it would add 12 beds to its COVID-19 unit to increase capacity, according to previous Missourian reporting. The hospital has had to turn away and transfer patients in past weeks due to lack of bed space.