People who've been watching Boone County's COVID-19 dashboard during the pandemic have seen the "hospital situation" stay green. As in, it's a go. Nothing to see here, folks.
For all of the metrics — floor, ICU and step-down beds, PPE, staffing, blood products and ventilator availability — the message has been, "no issues."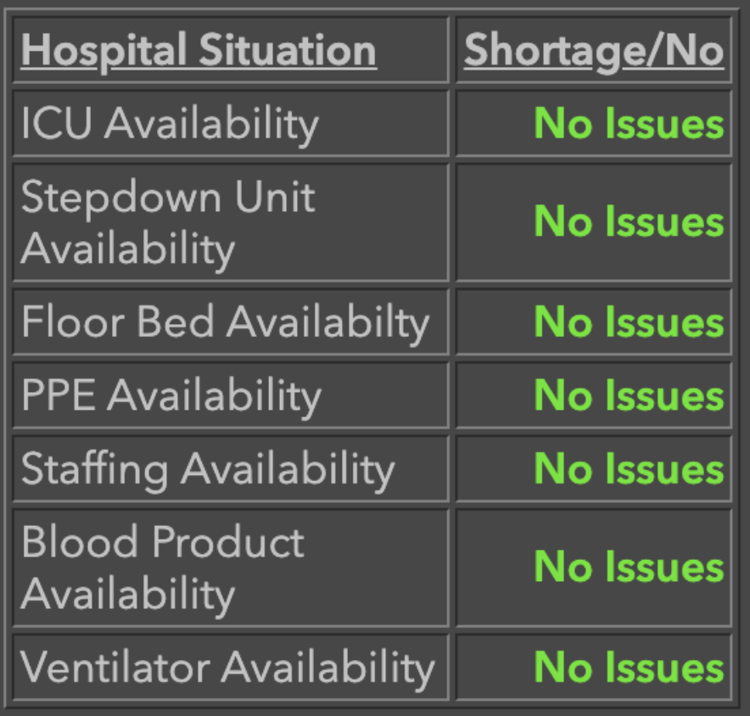 Yet for months, and especially in the past few weeks, the number of inpatients in Boone County hospitals has risen. A number that had just barely broken into double digits in late spring has now passed 100.
To better reflect the actual situation in the hospitals — Truman Veterans' Hospital, Boone Hospital Center and University Hospital — medical directors are talking to Columbia/Boone County Public Health and Human Services to come up with metrics that more accurately indicate the capacity for patients in the hospitals.
"We were hearing that the situation in the hospitals is worse than what our metrics would indicate," said Health DepartmentAssistant Director Scott Clardy.
"We have hospitals that are going on diversion at different times of the day, taking patients from other places," Clardy said.
According to University Hospital, a diversion is when it cannot accept a patient from another facility, either because the hospital doesn't have the specific kind of bed available at the specific time the patient needs it, or because the patient requires a service the hospital can't provide, such as a lung or heart transplant.
Diversions have occurred on and off for several years at MU Health Care, depending upon bed availability to maintain flexibility to take care of patients with urgent, life-threatening illnesses, said Dr. Stevan Whitt, chief clinical officer for MU Health Care and a critical care and infectious diseases specialist.
What is needed on the county's COVID-19 dashboard is something that conveys: "Look, folks, hospitals are getting full," Whitt said. "If there's something you can do right now, please do it, to keep down the numbers of COVID-19 down."
'We're worried'
Missouri is one of 13 states in the U.S. that doesn't have a statewide mask mandate. Boone County has no such mandate, while the city of Columbia does, along with several other regulations designed to reduce infections and, ultimately, hospitalizations and deaths.
The impact of growing case numbers around the county on local hospitals and everyone who works in them is growing.
"We're worried," Whitt said. "There's nobody not getting care right now, and there's no immediate danger (of that happening)."
But, Whitt said, the hospital is being contacted by health care facilities "farther away than normal."
The hospital has always taken patients from outside the state. Plus, its "catchment area" includes an hourglass-shaped region of central Missouri not served by Springfield, Kansas City or St. Louis hospitals. The cities all have robust health care systems, Whitt noted.
Alongside that problem, county health directors in Missouri are not required to have a medical background, Whitt said. So they may lack the "clinical knowledge" a medically trained public health director leans on in decision-making and working on a coordinated response.
MU Health Care has tried to get the message out beyond the county's borders through public service announcements and via social media to try to raise awareness about the importance of mask-wearing, hand-washing and social distancing.
"I know the message has been delivered and heard," Whitt said. "And not always listened to."
Meanwhile, the flu
The looming worry, as Missouri set a troubling record Thursday of 1,774 COVID-19 inpatients, is the impact a bad flu season could have.
It could be more than hospitals can bear. So far, the signs from the southern hemisphere are that it might not be a terrible year for flu, said Ted Willmore, an emergency physician at St. Mary's Hospital in Jefferson City.
But much depends on whether people will wear masks.
As it is, he said, "bed holds" are getting common when he's looking for somewhere to send a patient for intensive care in Boone County. A "bed hold" means there's no available bed of the type needed to transfer a patient. These can happen in a bad seasonal flu year, and often do.
"Even with just regular flu, probably every other year ... it can be hard to find a bed anywhere," Willmore said.
He and his colleagues' biggest concern right now is what the holidays will bring. People want to go see their families for Thanksgiving and Christmas. But, he said: "Someone there might have COVID and not know it and spread it, and that's how it happens."
Whitt said he's been encouraged by how many people have already been immunized for the flu.
MU Health Care administered roughly 33,000 shots between July 1, 2019, and June 30, 2020. Since July 1 this year, the system has given 34,500 flu shots — already exceeding last year's total.
That's the best uptake in the flu shot the hospital has seen in a decade, Whitt said, adding that MU students were lined up this week to get the shot.
He urged people to keep taking precautions because we have a long way to go. "People are whupped," he said. "And we're not even through the worst part of this."
It's not just the doctors and nurses, he said; it's housekeepers, secretaries, nutrition workers. MU Health Care is grateful for what Boone County residents are doing to help avert a crisis, Whitt said.
Clardy said he hoped the new hospital status tab would be active next week so the Health Department can share the information with the public.