For foster children, firsthand hugs, kisses and emotional support from their biological families are impossible at this time.
The state Children's Division has moved in-person visits online in response to the COVID-19 pandemic. The virtual visits are hard not only for the children but also for the parents — both foster and biological.
Amanda Wooden is a new foster mother living in Columbia. She said virtual meetings with her foster children's biological families — reunification is the goal in most foster situations — are one of the biggest challenges.
"(Foster children) have a specific routine … , weekly meetings with their case manager or their parents or even siblings that are now stopped," Wooden said. "That has been extremely hard."
Wooden has two foster children, ages 3 and 4. She said virtual meetings are challenging for younger ones.
"Everything's done through Zoom, but it's hard for toddlers," she said. "It's hard to get a little, little one to want to sit and talk to somebody through an iPad … . They would rather go play Barbies or cars or go ride their bike … . They just don't want to sit there for a long time."
Becoming foster parents in a pandemic
Wooden and her husband, Jeremy, accepted the foster children March 22, the day before the state's social distancing order took effect.
With just 24 hours to go before the shutdown in Columbia, they rushed to the health department to get immunizations while calling around to line up day care.
"We did have to physically go into work, so we were a little nervous because these were younger kids that would need preschool or day care," Wooden said. "It's been crazy because we weren't fully aware of how much was going to be shut down."
Wooden said they didn't expect to accept foster children during a pandemic when they started training in January. Having decided to take on the responsibility, their goal is making sure the children are in good physical and mental health.
"We tried ... a very specific routine. And because of all the changes with the foster children and then coming to a new home, we've made sure to keep them entertained," Wooden said.
The Woodens run a family farm in addition to their full-time jobs.
"Parks and everything are shut down," Wooden said. "So the kids get quite a bit of outside time in a farm setting, and they can play with the farm animals and ride their horses."
The Woodens were excited the children called them "Mom" and "Dad" on the second day and say they have adapted well. Wooden said she worries about the virtual communication with their biological parents.
"A lot of our foster children are in therapy, and it's hard for people to do therapy through a phone call or through Zoom," Wooden said. "Most people want to do those things in person so they feel like they're connecting."
Foster care agencies move training online
The Woodens were licensed as foster parents through Coyote Hill, a nonprofit service organization in Harrisburg that has a licensing office in Columbia. Wooden said they are continuing foster training during the pandemic to keep their license active.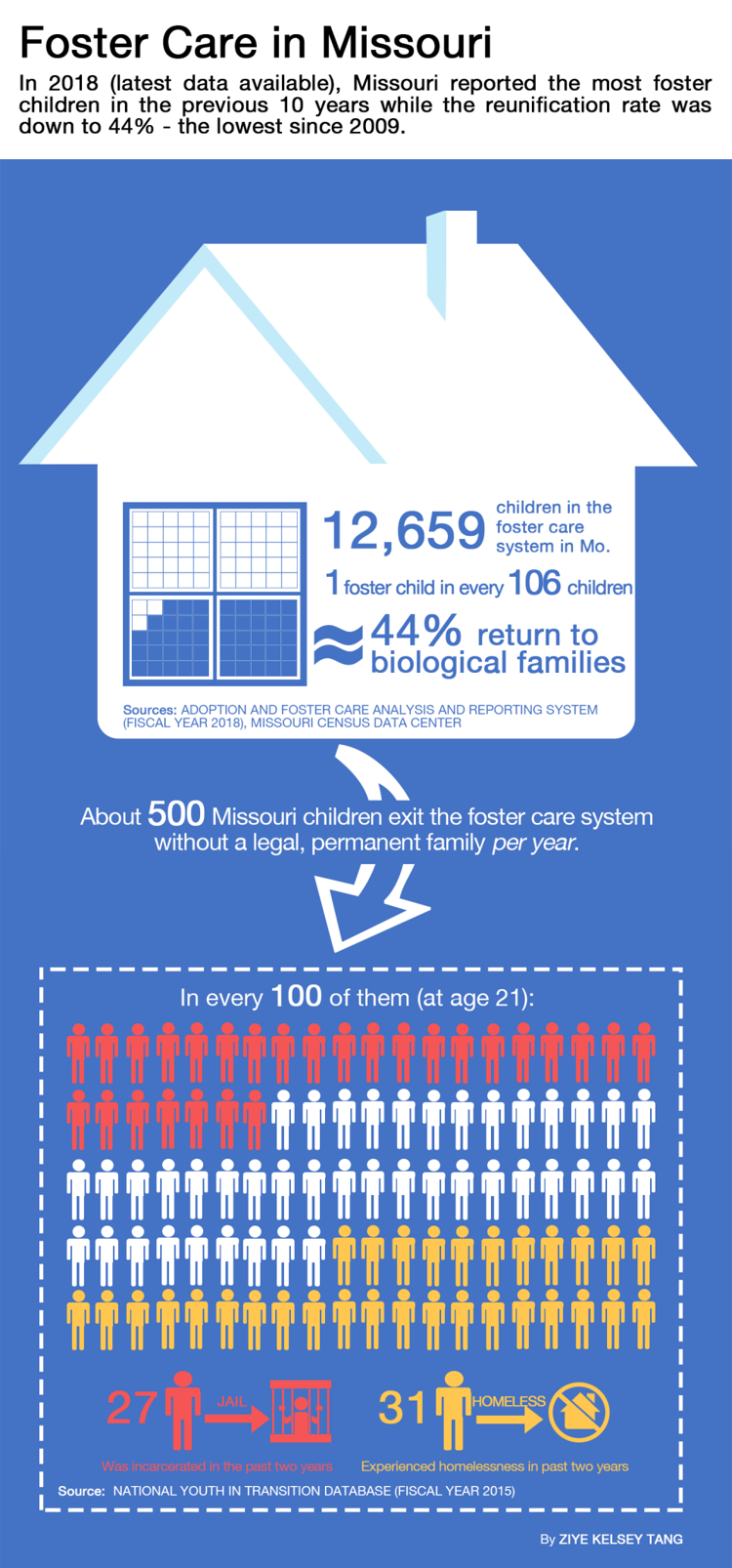 Aubrey Ash, director of the Coyote Hill foster care program, said that the organization started online foster parent training April 14 and that the number of parents in basic training has remained steady at about 20.
Ashley Grant is the Missouri program director of COMPACT Family Services, an organization based in Arkansas with an office in Springfield, Missouri. She said it is more difficult to build relationships through a computer screen.
"If you're in a class, you can build off each other's ideas," Grant said. "You can also develop relationships. I've seen a lot of foster parents become friends and exchange numbers, and they can kind of support each other."
Coyote Hill adapted its online programs to meet families' communication needs.
"Most of the class is all together in one big kind of room. But there are times … we go into smaller (virtual) rooms," Ash said. "They get to know each other a little bit better with those small discussions."
State calls for community awareness
Rebecca Woelfel, communication specialist for the Missouri Department of Social Services, said the state is focused on the safety of foster children during the pandemic. The state has seen about a 50% drop in child abuse and neglect reports via hotlines.
Because of social distancing, mandatory reporters for child abuse and neglect, like teachers, aren't seeing children in foster care.
"Many children are no longer in school or in a child care setting on a regular basis, and families are becoming increasingly isolated and stressed with COVID-19," Woelfel said.
This May, National Foster Care Month, DSS is using social media to raise awareness and to recognize the commitment of Missouri foster parents.
Clark Peters, a social work professor at MU, said this is the first time the American foster care system is facing a pandemic. To address this challenge, Peters believes support from the public can make a difference.
"Because the families couldn't care for them … , the state legally becomes a parent," Peters said. "Which means anybody who … pays taxes in Missouri is now the parent of this child, and we have to make sure that we are good parents."
Wooden said that even though the pandemic has been extremely stressful, they have received a lot of support — such as clothes, shoes, toys and car seats.
"People call and check in, constantly asking us if we need anything," she said. "You may have a venting moment about what you're going through. But then you may have 100 more comments after that and people saying you're not alone."
Ash said becoming a foster parent can be time-consuming and tiring, and the drop-out rate for fostering is high.
"In Missouri, 50% of people that start fostering quit in the first year," Ash said. "The more people are supporting (foster parents), the easier that journey will be for them."