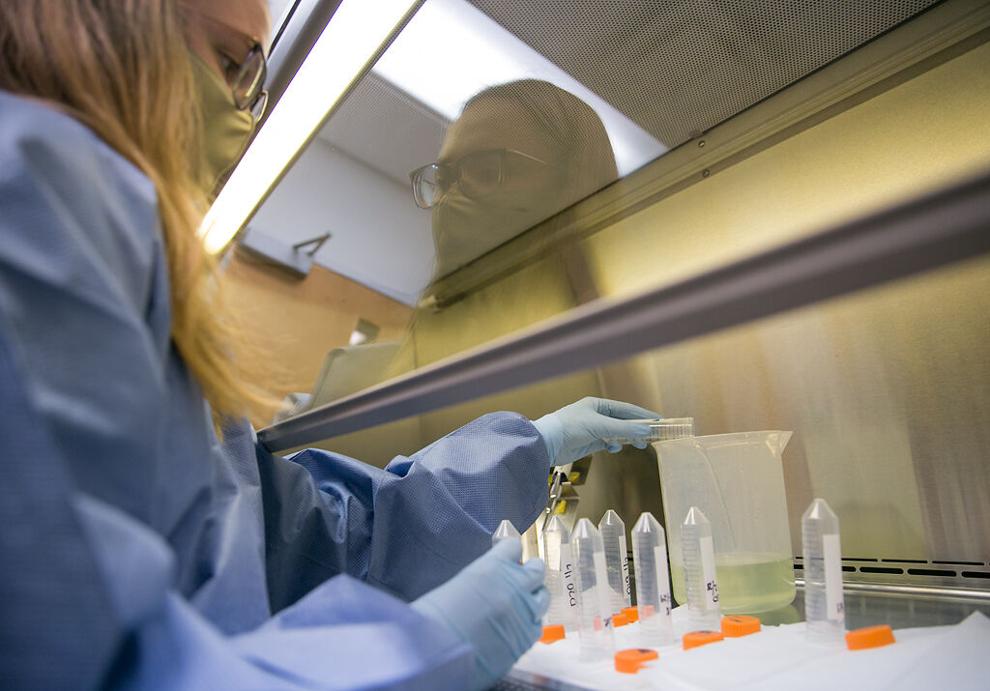 MU scientists have been analyzing wastewater from across the state for more than six months to help track the spread of COVID-19 in Missouri communities. Even with the arrival of the COVID-19 vaccine, they don't plan to stop anytime soon.
What started as a small project now includes over 50 Missouri sewersheds and around 140 samples a week. It also carries a myriad of implications for communal living facilities, variant testing and helping communities know when they've truly kicked COVID-19 to the curb.
A strong correlation exists between the amount of RNA, or genetic material, from COVID-19 in wastewater and the number of reported cases in a community, said Marc Johnson, professor of molecular microbiology and immunology at the MU School of Medicine and one of the scientists leading the wastewater testing effort at MU.
"The numbers we're seeing in the wastewater, they match exactly what's happening in the clinics. Whenever we see an increase in RNA, we see increases in patients," Johnson said.
Every week, Johnson and Chung-Ho Lin, research associate professor and lead scientist in the bioremediation program at the MU Center for Agroforestry, run teams to test samples from 59 community wastewater facilities from across the state.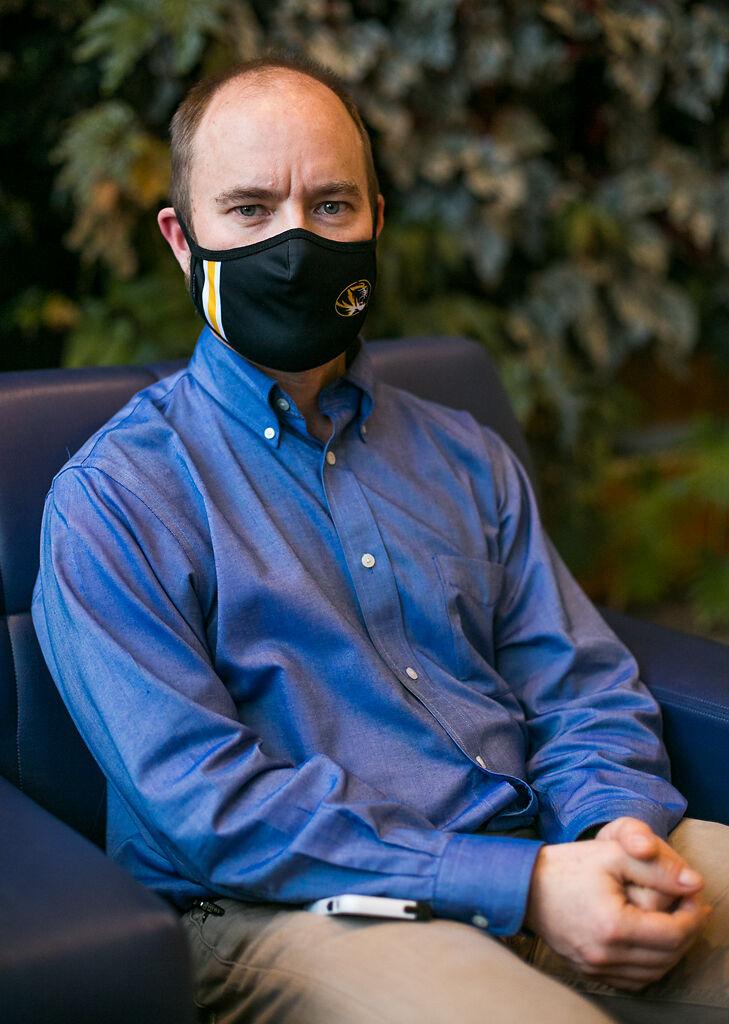 These efforts are part of Missouri's Coronavirus Sewershed Surveillance Project, a collaboration between MU, the Missouri Department of Health and Senior Services and the Missouri Department of Natural Resources to track the spread of COVID-19.
An increase in genetic material, also known as the viral load, in a given sewershed of either 40% or more in a single week or of 25% of more for two consecutive weeks predicts a 25% increase in reported COVID-19 cases with around 70% accuracy, according to a press release from DNR announcing an interactive map where people can track changes in participating sewersheds.
This means that if those increases are recorded by the lab at MU, there's a seven in 10 chance a 25% increase in recorded COVID-19 cases will soon follow.
"It's not specific; it doesn't tell you about a specific patient. But it tells you in a completely unbiased way everything that's going on with COVID-19 in a community with one sample," Johnson said.
Moving forward, Lin and Johnson hope to get to the point where the data can be used for more than just trends. They'd like to be able to identify how many people are sick, not just if more people are getting sick in general.
"We're getting better at being able to know what the numbers mean," Johnson said. "We hope to get to a point where we can say, 'this is how many patients you should be finding.'"
How it started
Wastewater analysis for COVID-19 tracking first emerged in the Netherlands before gaining traction in the U.S. Testing around 140 samples a week, Johnson said he'd be surprised if there was another lab in the country doing more analyses than MU.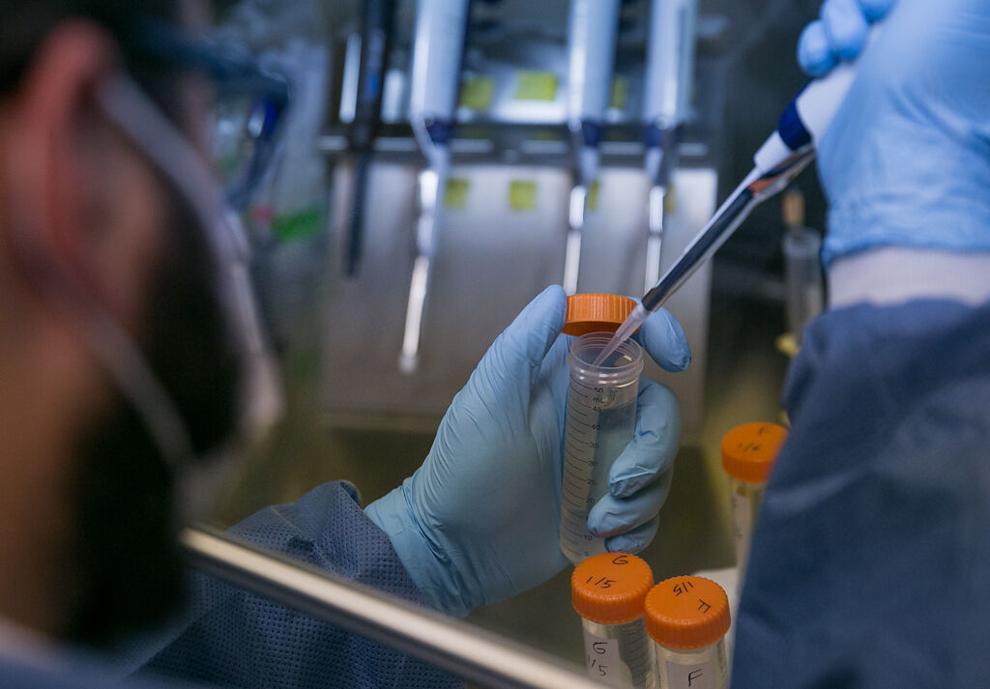 The state had the capacity to collect and transport the samples, but with state labs overrun with COVID-19 tests, they needed to find someone to do the actual analysis.
"They just started emailing around and somehow it ended up in my inbox," Johnson said. "I was like 'I don't know how to do this, but maybe I can find someone who can.'"
So Johnson emailed around 10 MU scientists who he thought may have the technical know-how to analyze the samples. All of them replied, but Lin was the one who had the technology needed to run the analysis.
Lin and Johnson filled the gaps in one another's knowledge. While Johnson had never worked with wastewater before, he had extensive experience studying viruses. Lin was the opposite, with plenty of wastewater testing experience but little time spent looking at viruses.
Johnson said the lab has benefitted not only from their complementary scientific backgrounds, but also from their complementary sleep schedules.
"I'm a morning person, and he's a night owl," Johnson said. "The lab runs a 14-hour day between the two of us."
Lin joked that Johnson will sometimes send him messages when he wakes up at the same time Lin is preparing to go to sleep. The lab typically closes around 8 p.m., but Lin said there's been times the lab runs until 2:30 in the morning.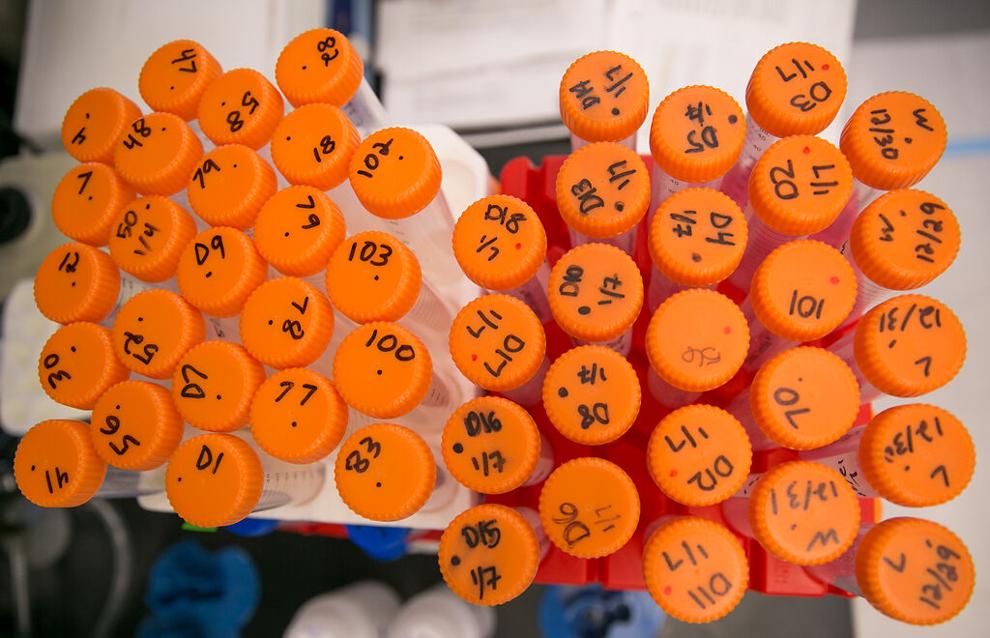 Looking forward
Neither Lin nor Johnson view the arrival of the COVID-19 vaccine to be any reason to slow their efforts. In fact, both scientists said wastewater testing was even more important now that people are beginning to get vaccinated.
Lin called the data they collect a "powerful tool to alleviate anxiety" for a community. By looking at the data from the wastewater, people can see if COVID-19 cases are truly going down in their area even as people seek out less testing as vaccinations increase.
"If there's one thing that can get me to take off my mask, it's the data from the wastewater," Lin said. "In terms of alleviating that anxiety, for peace of mind, ... this is probably the only solid evidence."
A day in the lab
The samples from DHSS arrive at Johnson's lab around 8 a.m. for purification. Each sample is only 50 milliliters, but that's all that is needed to run the analysis. Johnson emphasized that while the virus material is intact, it isn't infectious. To date, wastewater is not a known transmission pathway for COVID-19.
Once unpacked, the samples are filtered to sift out anything larger than a virus particle. It sorts out solids from the wastewater and bacteria like E. coli. A chemical and salt mixture is then added, which Johnson said acts as a sort of "chemical sponge" to suck up all the water, leaving only a concentrated solution behind.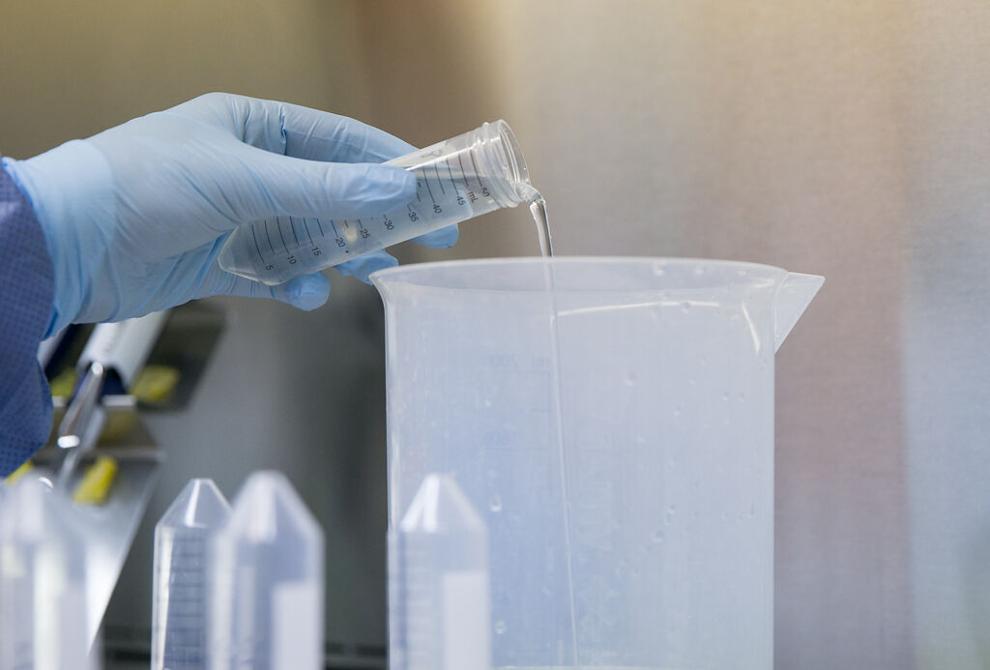 The samples are then spun in a centrifuge, drained and the genetic material extracted. The samples are then frozen at -84 degrees before Lin's analysis. The samples are kept cold to ensure the stability of the samples. It's the same reason the Pfizer COVID-19 vaccine is kept so cold.
"Once it's purified, RNA is notoriously unstable because there's these little proteins around called nucleases that love to digest it," Johnson said. "Your skin is covered in nucleases. If you took RNA and put it on your skin, it would be gone in a minute."
Once purified by Johnson's team, the samples go through a very similar process that a COVID-19 nasal swab from a human patient would go through at a state testing lab. But instead of just giving a simple positive or negative, Lin's analysis can tell exactly how many COVID-19 virus particles are present. This is all done using a qPCR machine to amplify the genetic material.
"Most of the clinical labs, they give either positive or negative," Lin said. "Ours is absolutely quantitative, we know exactly how many copies (of COVID-19 are present)."
From the amount of virus particles in the sample, Lin and Johnson can tell certain things about community spread of COVID-19 in a given watershed. Say, for example, a sample from the Columbia Regional Wastewater Treatment Plant shows a stark increase in the number of viral particles from the week before, that means there's likely an increase in reported cases soon to follow.
"All we're really providing for communities is a reality check," Johnson said. "Most of the cities that we are finding to have infections already know they have infections, but ... we can say whether it's trending up or down."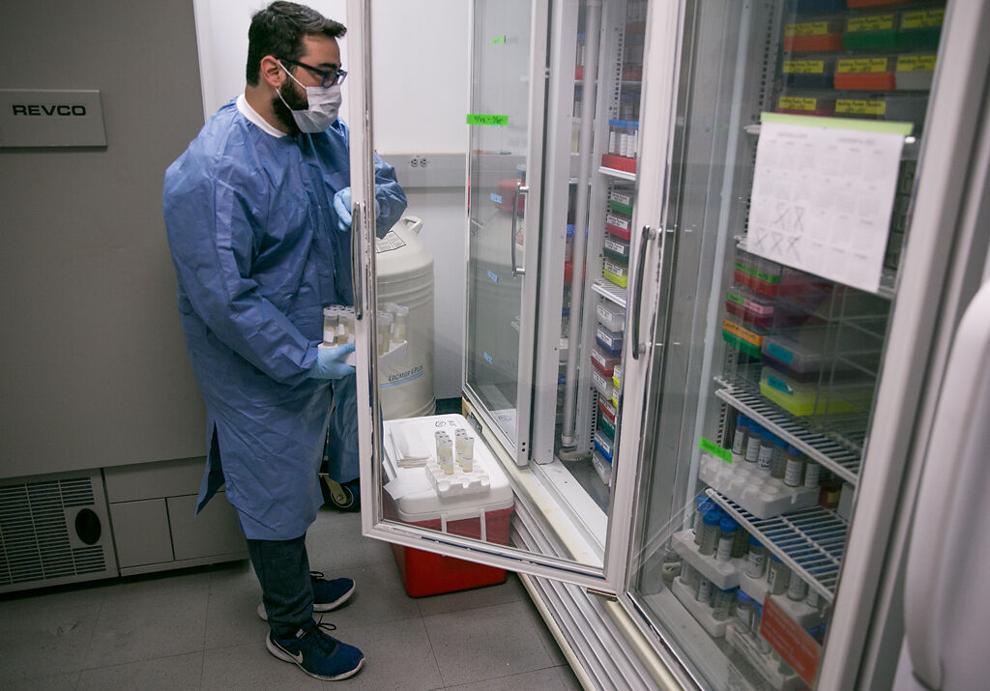 Testing prison populations
The sewershed surveillance project is helpful for congregate living facilities, like prisons and veteran's homes, which operate on their own septic systems.
Johnson said the project screens all the prisons in the state and can act as an early warning for potential COVID-19 outbreaks, even if prisoners aren't entirely forthcoming with symptoms. At times, prisoners may not want to acknowledge they're sick to avoid the debilitating mental side effects that can accompany isolation in the prison setting. By testing the wastewater from the prisons, the project can help the state know how to direct their testing supplies most efficiently.
"Wastewater doesn't lie," Lin said of how wastewater analyses can detect community behavior even if individuals wouldn't admit to that behavior themselves.
Because wastewater from a communal facility can't be tracked back to any one individual, Johnson said the project doesn't present any privacy concerns or HIPAA violations. It just gives an overview of the community as a whole.
'A dream job for scientists'
Johnson said he'd never imagined one could learn so much from wastewater.
"It's like discovering a microscope again," Johnson said. "It's like 'oh, here's an apple peel.' But then you look at it under the microscope, and you see it's so much more. ... I never thought a second about wastewater, but there's so much going on that I just never knew about."
Lin called the project a "dream job for scientists." He said working in academia can sometimes make him feel like his discoveries aren't always reaching the general community.
"But not this one," he said. "I can immediately benefit to the community just by generating information in my lab."
Lin and Johnson both said they hope the project serves as a reminder for how important higher education truly is. Both Johnson and Lin continue their usual jobs, and while they both find the community impact to be rewarding, neither have received a pay increase for the extra efforts of running the analyses.
"I always want to look at the bright side," Lin said. "I see the present opportunity to convince the general public how important science and education are."