Every morning at Blue Ridge Elementary School used to begin with the breakfast show at 8:20 a.m.
"Fifth-grade students would do it every morning. ... They're in charge of it," Blue Ridge Principal Mark Burlison said. "And what's cool is that they take it on with pride."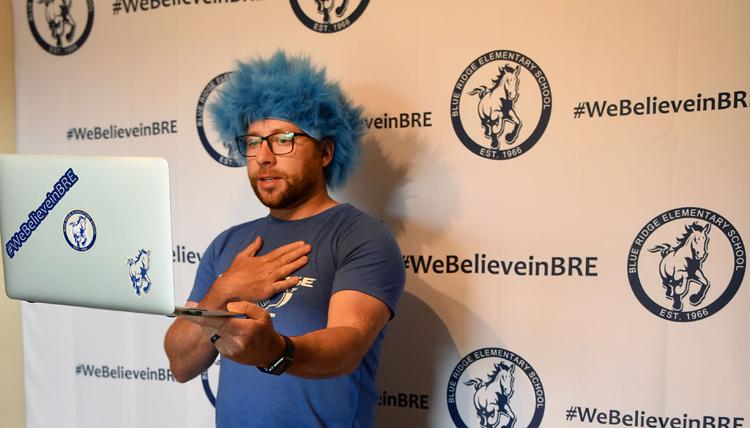 Like Burlison, staff and students across the district are without the regularity of a traditional school environment. Along with alternative learning, teachers, administrators and students are finding other ways to connect, whether that be through spirit weeks, the TikTok app, postcards or virtual book clubs.
For Blue Ridge, that meant finding a way to continue morning announcements.
Burlison and Assistant Principal Kristina Contrades now host the show; they share the weather forecast, the lunch menu at district Grab-and-Go lunch stops, fun facts and jokes for the day. The videos are posted on YouTube and Twitter and sent out to all families in a text at about 9 a.m.
"They get to see us being ridiculous," Burlison said, flaunting the fluffy blue wig he wears on the show.
"The main goal is to keep kids remembering and wanting to be in school," Burlison said. "We have to give grace to everybody and just have a little fun and really enjoy what we can control. So what we control is the morning show."
Terrence Walker, a Blue Ridge school counselor, created a TikTok for students for "rainbow day" of spirit week. He said TikTok was out of his comfort zone, but he knew it would make students feel good.
"This dude is probably one of the best counselors I've ever met my entire life in a school setting," Burlison said.
"We know that our school is their safe place. ... Getting our face out there as much as possible is not only keeping that relationship but also showing them that we still care about them," Walker said.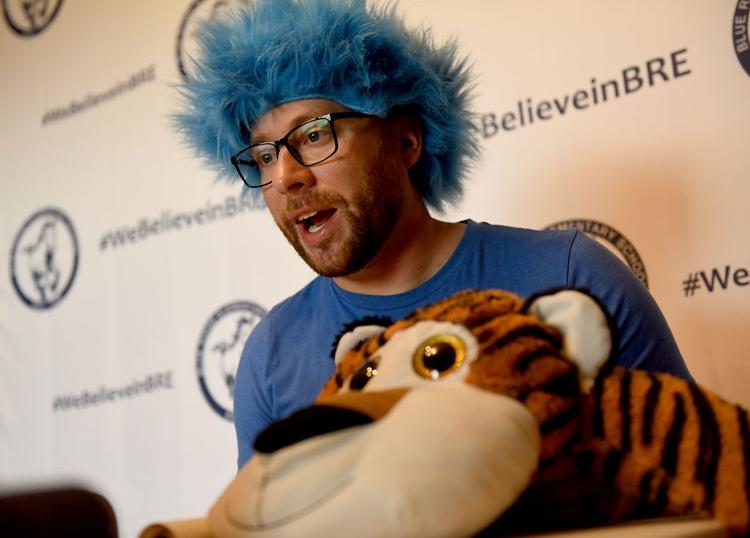 Virtual spirit days are conducted on Twitter
Smithton Middle School, which regularly hosts Friday spirit days, found its own way to keep students and staff connected through virtual spirit days, something other schools across the country are doing on Twitter.
"A lot of the connections really happen like in those unstructured times ... when you're talking to a kid in the hallway or you're, you know, doing lunch duty or before school," Smithton Principal Chris Drury said. "I think (the spirit week) is kind of capturing that in a little way, you know?"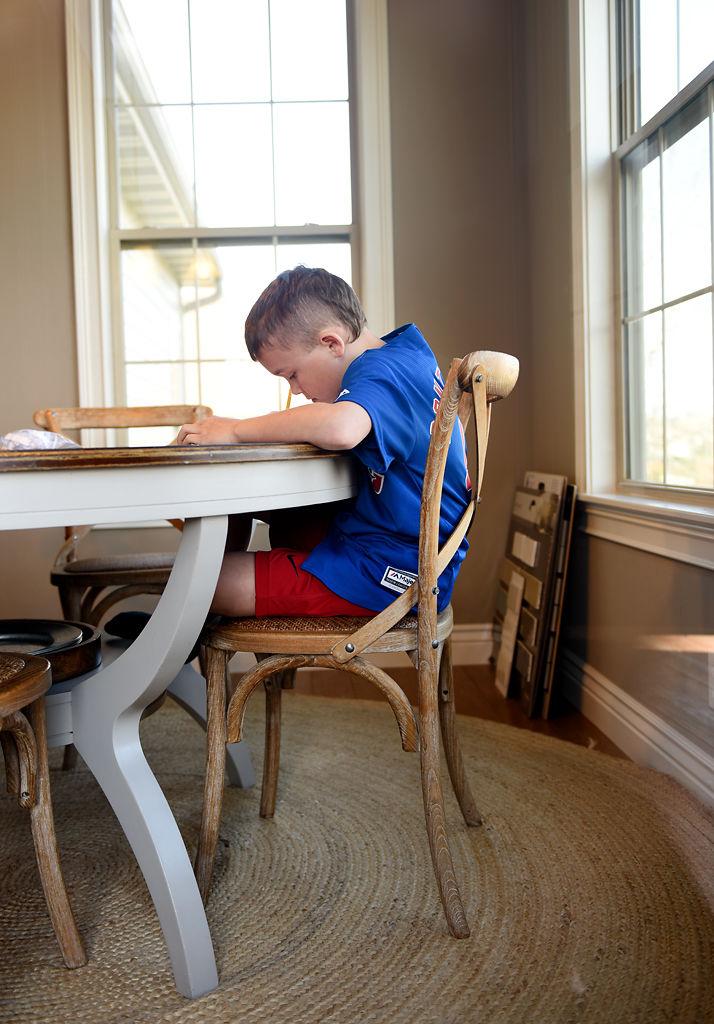 Smithton made it a competition, and the other five district middle schools joined. Hickman High School and district elementary schools have also conducted their own virtual spirit weeks. Drury said the purpose was to "promote some connection across the district."
Each day, teachers and students post pictures to Twitter with themes like "bored" games and pajama day, tagging their school.
Gentry Middle School Assistant Principal Alyssa Galbreath said participation would remind students that teachers were there for them.
"When you don't get to physically be in somebody's presence, you forget that they are a shoulder to lean on," she said.
Brianne Noltie, an eighth-grade English teacher at Gentry, said as cheer coach and student council supervisor, students expect a lot from her when it comes to spirit week. Each day, Noltie has tweeted a different picture of her dog, Callie, in accordance with the day's theme.
"My kids know that my dog is a big part of my life," Noltie said. "To add that piece into the pictures has been cool."
Garyt Kurowski, a sixth-grader at Gentry, said he goes all out for spirit weeks. He was eager to participate when he heard about the opportunity and said he liked seeing "how everybody's doing at their house."
Book clubs, bingo games, letters fill gap
Teachers across the district have written letters and created virtual book clubs, video discussion boards and bingo learning games, all in an effort to stay in touch with students.
McKenzie Skoog, a Parkade Elementary School learning specialist, sent postcards to her students to remind them she was thinking of them.
Many connections between students and teachers are happening on social media. We found some examples from various schools.
"I don't know how many second- and third-graders get a ton of mail anyway, these days," Skoog said.
She tried to include details about the students "so that they felt known and seen," she said.
The website features academic and counseling support, community resources, games and digital field trips to pass the time.
Tranna Foley, a library media specialist at Hickman, moved QPLit, a book club that typically meets over lunch in person, to Zoom. Now, the students talk about what books they're reading at home.
"It was kind of fun and hilarious because we were talking about what we wanted to read ... , and they go, 'Hold on,' and they run over to their bookshelf in their room and they bring it back and hold it up," Foley said.
Burlison said the opportunity now is to give students the same attention, just in a different way.
"We're still here," he said. "We care, and we want to be around you."