COLUMBIA — It was 39 lashes for Tony, a slave who served as a janitor at MU.
One day in early 1861, he was brought to a meat market near the county courthouse, where a constable stripped him to the waist, bound his hands with rope and raised him up.
Tony had been charged with dousing a set of mules with acid, causing severe burns. The mules belonged to a man who had accused Tony of stealing a hog. The acid was traced back to the university's chemistry lab, and only Tony and a professor had the key.
In the 1850s and 1860s, the university used at least two slaves as janitors. Both were owned by relatives of MU President James Shannon, an ardent supporter of slavery.
MU has come a long way since slaves labored in its halls. Integrated in 1950, it now has more than 2,000 African-American students. It has had a black president and is home to a Black Studies Department and a black cultural center.
"We are a lot farther along than in past years," said MU Deputy Chancellor Mike Middleton, who was greeted with a racial slur shouted from a car when he arrived at MU as a freshman in 1964. "People grow, become more aware."
But no one can recall the university ever issuing a public apology for exploiting slaves or for taking tens of thousands of dollars in donations from slave owners, including most of the money that raised its iconic columns. It's possible that MU wouldn't be in Columbia if not for the wealth generated by slave labor, an examination of letters, speeches, books, government records and newspaper articles suggests.
The man who brought the university here, James Sidney Rollins, earned the moniker "father of the University of Missouri" for his tireless promotion of MU in the state legislature. He was also one of Boone County's largest slave owners. Now, his great-great-grandson, Clay Mering, is on a quest to atone for the enslavement of 34 people forced into labor on Rollins' farm in Columbia.
In 2008, Mering created the James S. Rollins Slavery Atonement Endowment to fund research in MU's Black Studies Department. He had to argue with the MU News Bureau to keep the reference to slavery in the endowment's name because employees were worried it would draw bad press.
For Mering, a 58-year-old nursing assistant and former architect from Tucson, Ariz., the whole point was to start a conversation about his ancestor's role as a slave owner.
"I don't know if anything I set up could right the wrong, but I guess the idea is to get people talking," he said.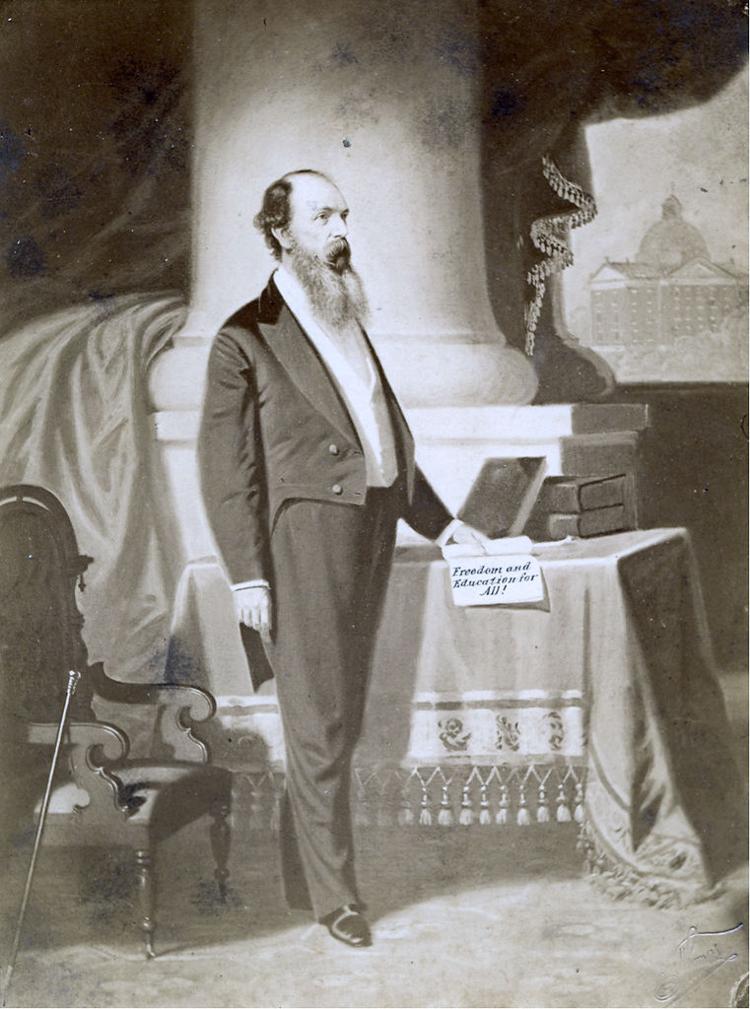 The Mering children grew up with constant reminders of their famous ancestor. Their house was full of artifacts from Rollins' life: his stately portraits, books from his personal library, a handwritten autobiography he never finished, a set of rocking chairs with elaborate stories behind them.
Three generations after his death, Rollins was still a frequent topic of conversation, especially with Mering's grandmother. She idolized him, holding grudges against his political enemies from the mid-19th century.
"This guy lives on. It's sort of oppressive sometimes," said Ellen Mering, Clay Mering's sister, who works as a nurse in Tucson. "Our house was sort of a museum."
It takes an extraordinary person to leave such an impression so long after death. Rollins was such a person, with a sterling career that included several terms in the Missouri legislature, four years as a congressman and 16 years as president of the MU Board of Curators.
In all those positions, he pursued a mission to transform Missouri from a frontier territory into an educated, modern state crisscrossed with navigable rivers, telegraph lines and railroads. A key part of his vision was a strong public university that would act as a force for development, training engineers to build bridges and railroads, teachers to spread education across the state and farmers to introduce modern crop-growing methods.
"It is our system of education, embracing both the elementary and the higher, that is to make us a great and intelligent people," he said in a speech to the Missouri legislature.
After his election as state representative in 1838, Rollins sponsored a bill awarding the university to whichever county raised the most for its construction. That county, he decided, would be his own Boone County.
Rollins and his father led a campaign for donations, ending up with $117,000. According to census records, at least 384 of the 872 contributors were slave owners, with 1,836 slaves among them. They gave more than $61,000 of the total — probably much more because the list of donations didn't specify the amount of most of them.
Boone County it was. The cornerstone for Academic Hall was laid in 1840. Three years later, students were walking through its columns on their way to class.
Rollins promoted the university relentlessly in the legislature. A bill for a teacher's college. A bill for an agricultural school. A bill making the school free for all Missourians. A bill to bring it back to life after four years of neglect during the Civil War. Bill after bill for more funding.
After his retirement from the legislature, he served as the university's rudder in 16 years as president of the Board of Curators. Over the decades, he supported it with gifts of land, donations of thousands of dollars, and hundreds of books.
It's no wonder that, at a ceremony in 1872, a professor gave him the title he's been known by ever since. It's etched in Latin on a bronze plaque at the north entrance of MU's campus: "father of the University of Missouri."
Rollins' contributions were a point of great pride in the Mering family. Growing up, Clay and Ellen Mering heard all about it. But there was another aspect of Rollins' life that wasn't talked about as much around the dinner table: the 34 slaves he owned.
When the topic came up, their grandmother would brush it off. "Well, he never had a black mistress," she would say.
The Mering children got a different point of view from their father, a professor who taught classes about African-American history. They carried some guilt from Rollins' ownership of slaves.
"He had slaves, and I think our family has probably indirectly prospered from that," Ellen Mering said.
For all the talk of slavery in Rollins' letters and speeches, there's almost no record of what kind of master he was — except his own description of himself as  a "kind master" here and there in his writings.
There's just one written account from a slave, Hamp Harney, Rollins' carriage driver. It offers the opposite view.
In 1897, Harney was having trouble getting a pension for his service in the Civil War. He served as a cook in the Union Army — earning Rollins a $300 bounty — but 30 years later, he was struggling to prove it.
He sent a letter to the U.S. Pension Office to clear up the matter. In it, he explained there were no records of his service because Rollins made him change his name to "James." Thus, his service records list him as "James Harney."
Harney described how his master became enraged when he resisted the new name.
"He beat me for two years until I would answer by the name he gave me," Harney wrote. "The last beating he gave me about my name was in the garden. He beat me with a pole and would have killed me but for my mother."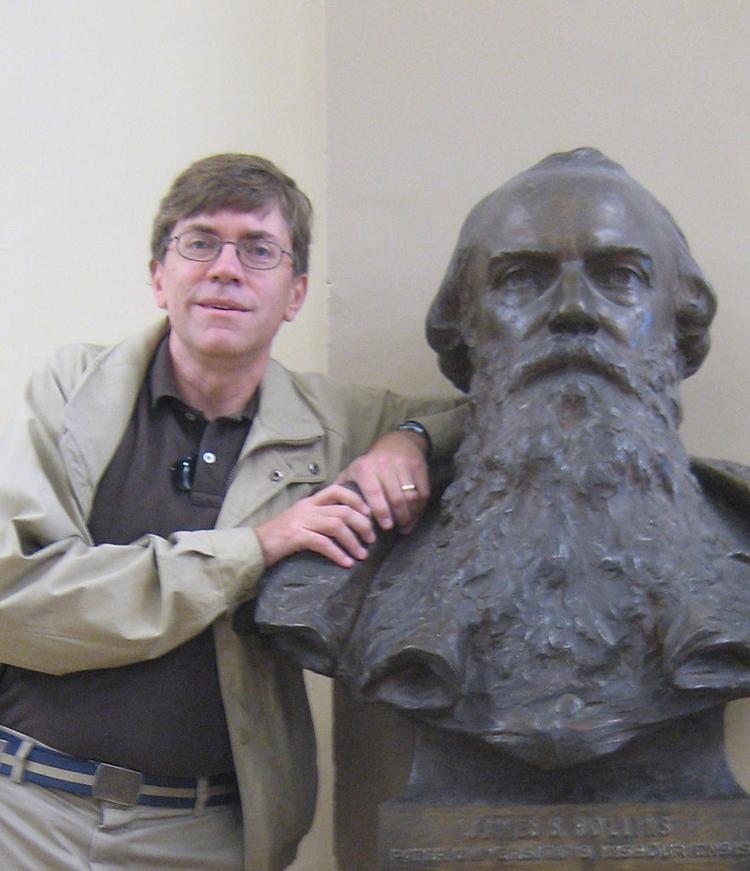 A humdrum workday ended with a momentous decision for Clay Mering.
In early 2007, he was reading the news on his computer at the Tuscon architecture firm where he worked when he spotted two articles about slavery. Al Sharpton had learned that his ancestor was owned by Strom Thurmond's ancestor. And the Virginia legislature was considering apologizing for the state's role in slavery.
The articles took hold of Mering's thoughts. His mind started humming with reflections on his great-great-grandfather, slavery and atonement.
"I thought, you know, I'd like to think about some action," Mering said.
After some contemplation, he decided that the best way to do that was to create an endowment fund at MU to draw attention to his ancestor's ownership of slaves.
He called the university to set it up. Its proceeds, he decided, would go to the Black Studies Department to be used in research about slavery and other African-American issues.
Mering pledged $25,000. Ellen Mering gave $5,000, and another sister, Sally, chipped in a couple thousand.
"I was just celebratory. It spoke to me, right off the bat," Ellen Mering said.
The name chosen for the endowment made its purpose clear: "The James S. Rollins Slavery Atonement Fund."
That didn't sit well with the university. Employees at the MU News Bureau asked Mering to remove the references to slavery and atonement in the name. They also wanted to limit distribution of the news release, bypassing most Columbia news outlets and publicizing it only in Mizzou Weekly, the black-studies newsletter, MU's website and an African-American newspaper in St. Louis.
"Unfortunately, often our local media tend to focus on the negative or sensational aspect of any news story," news bureau Executive Director Mary Jo Banken wrote in an email to Mering. "I think it is highly likely that if we were to include your reason for donating your gift in a press release, the media would focus on the fact that the university's founder at one time owned slaves."
Clay and Ellen Mering were flummoxed by the university's request. In a series of emails and phone calls, they threatened to withdraw the endowment unless it kept its name and was promoted in Columbia.
"They wanted a little blander name for it," Ellen Mering said, adding that she would not have contributed to one that disguised its purpose.
In the end, the news bureau complied with the Merings' wishes. The name stayed the same, and it was promoted in a news release.
Five years after the exchange, Banken said she was just doing her job. She was also concerned about the media's portrayal of Clay Mering and Rollins, she said.
"Our mission, of course, is to promote positive news stories about the university so we get positive coverage," she said. "If I had the same thing in front of me today, that's what I would do."
The endowment has funded 24 research projects since its creation. It isn't a large one, Mering acknowledges. When he created it, he donated the minimum amount necessary. It raises about $1,500 a year for the Black Studies Department.
Students have used it to research a wide range of topics: the experience of black soldiers in the Civil War, the role of music in rebuilding New Orleans after Hurricane Katrina, U.S. foreign policy in the Congo, the influence of Richard Pryor's stand-up comedy on African-American politics.
Often, students use the endowment for airfare to present their findings at conferences, fulfilling Mering's mission to create conversation.
"It's a way of making a gesture to address my family's involvement in slavery and to continue the examination and the conversation — to acknowledge that the problem of slavery didn't end in 1865, but there were and continue to be after-effects," Mering said.
One of the recipients, Angellar Manguzo, grew up in a small village in Zimbabwe. When she came to study at MU, she said, she found it hard to assert her identity as an African and was the victim of negative stereotypes about Africans and African-Americans.
"When I came to the U.S., one thing I realized was that I was black — something I had never put into consciousness," Manguzo said.
She decided to apply for the endowment to study how African students adjust to life in the U.S. She discovered, among other things, that the experience led the students to see themselves as Africans, while they previously associated with a particular culture on the continent.
In the Aug. 8, 1856, edition of the Missouri Statesman, James Rollins placed an advertisement for slaves he would sell at the county courthouse.
The mob slipped a noose around Hiram's neck and marched him down Broadway to the end of town at Flat Branch. Rollins followed, cutting off the noose on the way only to have the mob replace it with another.
They stopped at a wooded grove near the creek, where Rollins and other prominent citizens tried to calm them down. In a stroke of luck, the noose broke during an attempt to hang Hiram. Finally, the mob relented and returned him to jail. Two days later, after he confessed, the mob returned and lynched him.
This is one of at least two instances in which Rollins defended a slave in court.
Rollins' views on slavery were complex. In one letter, he said he had the "misfortune" of being a slave owner. As a politician, he opposed the spread of slavery into new states and didn't hesitate to pick the Union side in the Civil War.
"Slavery cannot be defended either upon moral or religious grounds, or upon principles of natural right or political economy," he once wrote.
Rollins' conflicted stance made him a major player in the story of the 13th Amendment, which abolished slavery. When the amendment came to the House of Representatives in 1863, Rollins voted against it. By January 1864, the Senate had passed it, but President Abraham Lincoln was two votes short in the House.
Lincoln set his sights on the slave owner from Boone County.
"This is my chief hope and main reliance to bring the war to a speedy close," Lincoln wrote Rollins. "It is going to be very close. A few votes one way or the other will decide it."
When, at their next meeting, Rollins gave his support for the amendment, the president jumped out of his chair to give him a hearty handshake. Rollins shared his knowledge about the views of other Missouri congressmen and promised to try to change their minds.
In an impassioned speech to the House explaining his change of heart, Rollins stressed that ending the war and preserving the Union were the reasons for his vote.
"If I could save this Constitution and this Union by preserving the institution of slavery in its present status in the various states, I would do it most cheerfully," he said.
James Rollins was an educator. A lawyer. A politician. A father. A slaveholder. A good man?
He created an institution that has educated hundreds of thousands. He devoted his life to building a prosperous Missouri. He also held people in bondage for decades of their lives. He might have performed acts of striking cruelty.
Taking it all into account, Rollins' great-great-grandchildren have conflicted views of him. Ellen Mering takes pride in his efforts in education, but she feels guilty about his ownership of slaves.
"He had slaves that contributed to the wealth of his generation that filtered down to ours," she said. "It feels mixed to me, complicated and yucky."
Even after putting so much effort into atoning for Rollins' sins, Clay Mering admires his ancestor.
"He was a good man, but he was a slave owner," Mering said. "He was a complicated man."
Mike Middleton, who believes he is descended from slaves, offered a generous assessment of Rollins' character, refusing to judge him for following the ethos of his time.
"If you blame an individual for not standing up to that sort of system and not rejecting it wholeheartedly, it would sort of be expecting too much of human beings," he said. "I don't think everyone participating in slavery was a bad person. Perhaps I could say they didn't know any better, they were going along with the crowd."
Middleton has a lot of experience defying the crowd. He stood up against racism while an undergraduate at MU and as its first black law student. He said he doesn't like to think about the way African-Americans were treated here a century before he arrived.
"I try not to dwell on that ugly history," he said. "I try to move forward and make this society one that's fair in how it treats human beings."
He added, "Looking back is always good, but looking forward is more important."
Clay Mering keeps looking back.
When he has free time from his nursing school classes and his part-time job at a nursing home, he continues his exploration of his family's past. He's spent hours researching the descendants of Rollins' slaves using genealogical websites and government records.
He doesn't know much about them — mostly just their names, occupations and addresses. Some of them stayed in Missouri; others moved to Florida, Michigan, Colorado. They became laborers, farmers, cooks, truckers. A military man. A teacher.
In a giant Microsoft Word file, he has drawn their family trees. Some branches reach all the way to the 1980s and 1990s, but none to the present day.
His search is limited by a lack of records. The names of most of Rollins' slaves are nowhere to be found, and the most recent census records available are from 1940.
He dreams of tracking down some who are living. But what would he do if he found them?
"That's a good question. I haven't worked that out," he said. "I might call them up, and they wouldn't want to talk to me. I'm guessing they would, though."