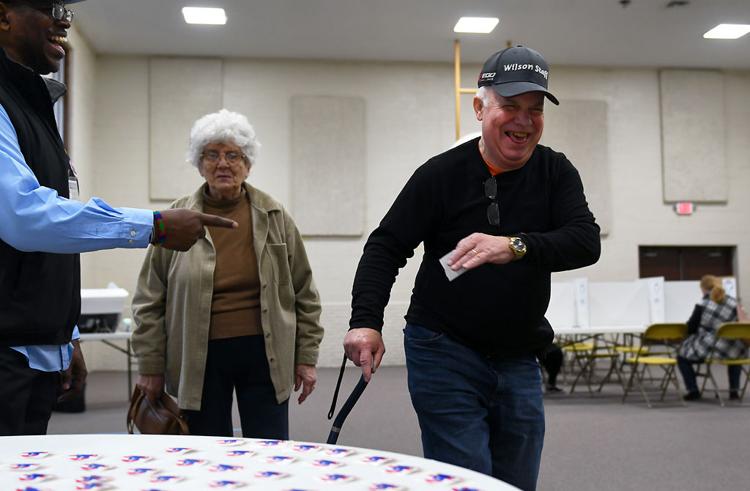 Tuesday marked Missouri's turn to help choose party nominees for U.S. president, and steady streams of voters in Columbia and Boone County were turning out to do so.
Missouri ballots featured five Republican and 22 Democratic candidates. The Green Party fielded three candidates, the Constitution Party two and the Libertarian Party one.
President Donald Trump was the clear favorite to win the Republican vote in Missouri and across the country, and the Democratic race has essentially become a two-man contest between Vermont Sen. Bernie Sanders and former Vice President Joe Biden.
Five other states — Idaho, Michigan, Mississippi, North Dakota and Washington — were holding primaries Tuesday.
Missouri is allotted 78 Democratic delegates, and Tuesday's vote will determine how the 68 unpledged delegates will be divvied up. The state is allotted 54 Republican delegates.
Here's what Columbia and Boone County voters had to say at the polls.
MU Memorial Union
"If you want to do something about catastrophic environmental disruption, then you have to make choices about your transportation, about what kind of food you eat, about how you keep yourself comfortable with temperature ...I have a garden. I bicycled here today even though I have a car. I don't consume anything more than I really, really need or want. Not because I'm self-sacrificial. I enjoy my lifestyle. My vote (for Bernie Sanders) is consistent with my lifestyle and belief."
— David Owens, 67, retired from KOPN community radio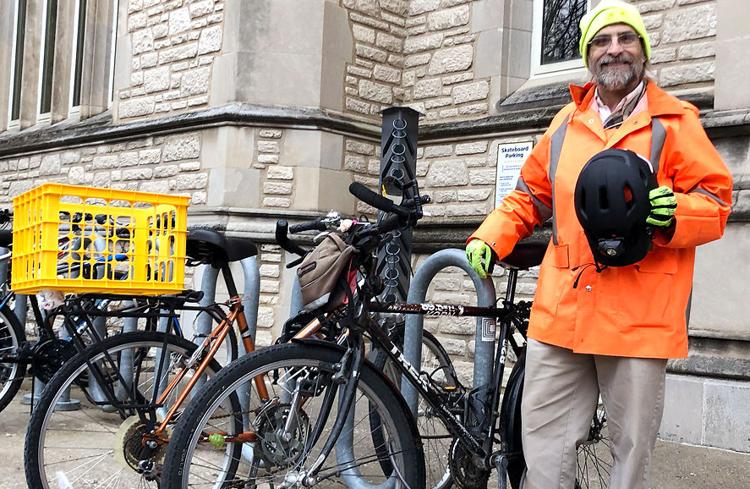 "I don't campaign for anyone. I'm just a supporter. I think, a lot of times, Donald Trump supporters, conservatives on campus, are told to be quiet. I think today is a day to be proud of who we are and proud of who we support."
— Will Shafer, 20, MU student
"There are only two options. I chose the one that was less extreme."
— Michael Buikus, 32, MU graduate student and Biden supporter
Most of my beliefs align with Bernie, progressive beliefs like health care for all.
— Taya White, 22, MU senior
"Regardless which way Missouri goes, it's still important to vote based on your beliefs."
— Mikala Cessac, 22, MU student
"Overall, (Bernie Sanders) has the most qualities that I wanna see, like in terms of health care, climate change … A lot of issues he has a stance on, he has had that stance for decades."
— Lauren Freiburg, 21, MU student
"I feel like last (time) it was a lesser of two evils. I feel like it's turning into that again, and that deters people from voting."
"I think who you vote for also depends on your occupation. For example, if you are in heath sciences, Trump doesn't do anything for health care, and if you are in business you are most likely to vote for Trump because you care about the economy. "
— Kayla Traxel, 23, data analyst at Missouri Health Connection
"I voted for Bernie reluctantly. Bernie makes more sense because I think young voters won't vote for Biden. I think Bernie will carry the Democratic election."
— Donovon Moore, 19, MU civil engineering student
"I just voted for Tulsi Gabbard, and Democrats are mainly voting for two candidates. There has been a big shift towards the left in the Democratic Party since Trump's election ... The economy will have a lot to do with Trump's reelection."
— John Paulman, 21, MU student
"I was really hoping to vote for a woman that could make a difference, and now that is not going to happen. It's about who is going to make an impact for the next generation."
— Jordan Durham, 29, academic advisor for the MU College of Education
"There are members of my community that sacrificed a lot to be able to vote, and it's important that minorities and underrepresented communities vote. There has been a lot of people saying, 'My voice won't count,' but that's not true."
— Ciara Small, 29, MU student
"I just voted, and it took three minutes, and there is no one in there, which is a good and a bad thing. People get really discouraged because politics is very money driven. But with that mindset nothing will ever get done."
— Olivia Hunt, 21, MU student
"It has whittled down to nondiverse Democratic candidates, but I am planning on voting as progressively as possible. All of the candidates are most likely too elderly to offer sustained presidential leadership."
— Tom Nordberg, 67, Asian Affairs instructor at MU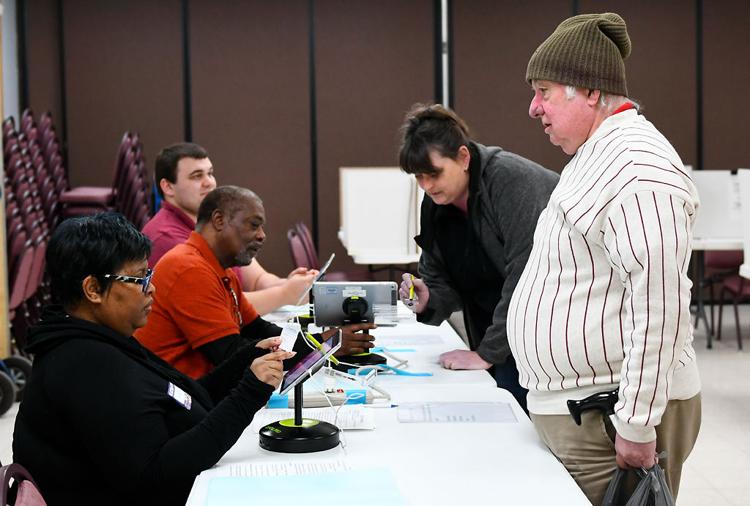 Revolution Church
"I vote because there is still a part of me that feels like this is part of my civic duty, you know, as a member of a civilized society, even though I don't completely agree with this."
— Ben Prichard, 33, assistant branch manager at a Columbia bank
"I've seen on the news that there's been a downfall of my age group not voting, that's why for the past two months I've been really active on Snapchat talking all about it."
— Jack Harding, 19, painter for Keven McCartney Painting
Fairview Christian Church
"I'm trying to support Bernie Sanders. I really like his policies, and I'm voting for things that are good for workers and people."
— John Mark Schooley, 56, works at Meyer Electric
"It's important to have a voice in the election. I'm really hoping that Biden gets our electoral votes here in Missouri."
— Cindy Hobbs, 57, teacher, Columbia Public Schools
"We all have a voice, and if we want the government to be for the people, we have to tell them what we want. So, I think this is a very important and practical place to do that. I think the president has a big influence and a lot of power, as well as other elected officials we have the opportunity to vote for at other times. I think it's really important so that we can advance in society, really support each other as human beings and make sure we work towards equality and equity for all people."
— Grace Wildenhaus, 25, Refugee and Immigration Services of Catholic Charities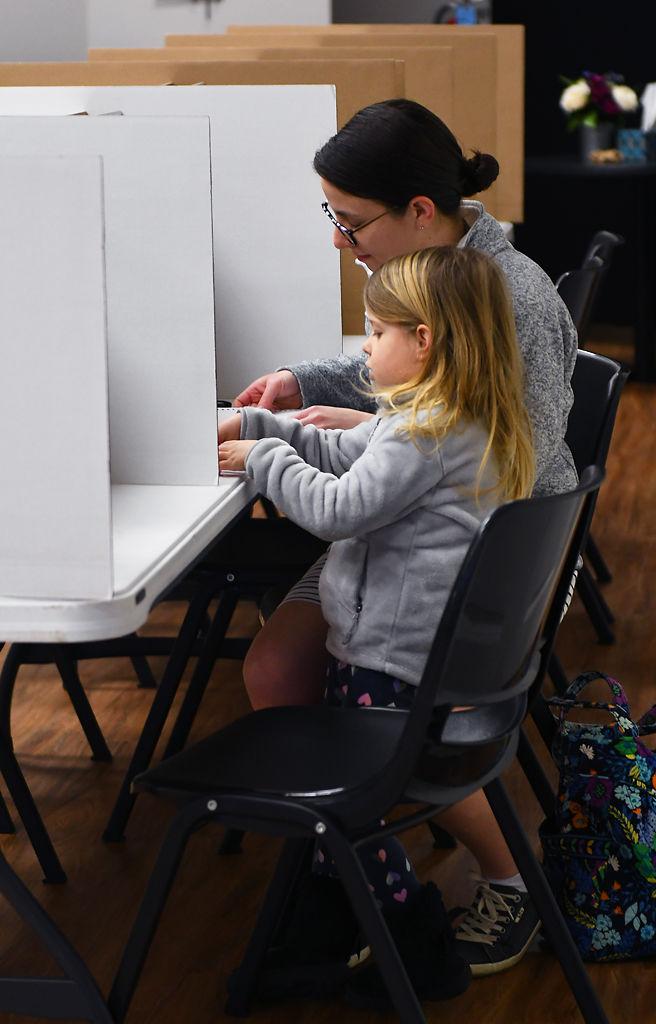 "If you don't vote, you don't have any right to complain about the results, and I feel strongly about trying to have my voice heard."
— Tom Elliott, 68, dentist, Nivens Family Dental 
"I've voted in every election since 1984. I think it's important for people to have their voices heard."
— Robert Rucker, 58, counselor, Truman Memorial Hospital
"A lot of people sacrifice a lot to allow me this opportunity to have a voice. So, I think it's a disservice to not come out and vote. It's one of the most patriotic and American things you can do, so to choose not to do it is kind of a slap in the face to those that have fought to protect our freedom and also serve the country."
— Steve Sowers, 36, manager, Mizzou Sports Properties
"I feel like it's my civic duty (to vote), and if you want change you have to put the time in and come out and vote."
— Chance Mullins, 35, loan officer, Veterans United Home Loans
"I grew up in a country where people don't have the same opportunity to vote freely and peacefully. So, I always try to vote because it's an opportunity we have as Americans."
— Abdoulaye Bah, 66, professor, Lincoln University 
Ashland Optimist Club
"I try to vote in every election possible because of a sense of duty. As a social worker, it's important to get your voice heard for people who can't."
– Kate Watson, 43, social worker
"(Voting) has been something that's been engraved in me since I was able to be past the voting age. You get out, get your voice heard, get your two cents in."
– Courtney Glascock, 34, stay-at-home mom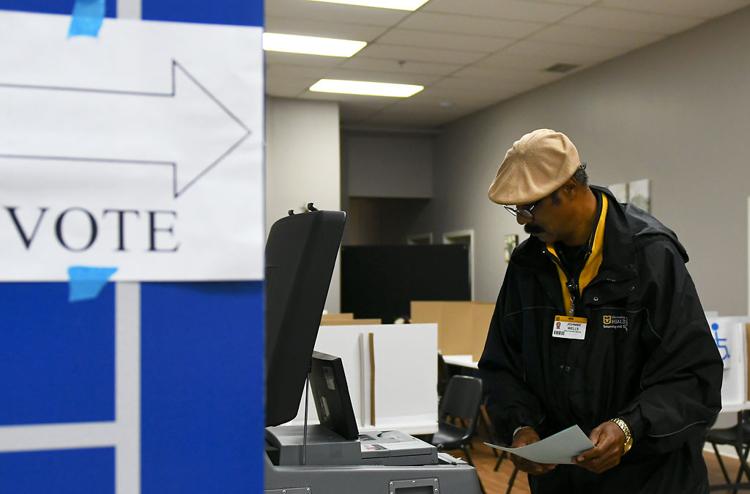 "With the way the country's going, you want to make sure that the decisions are being made that benefit the people."
– Neal Slattery, 59, engineer
"(I'm here) to vote for Bernie Sanders. He's my man. He's the only one I think has a viable chance to take down Trump and institute some real progressive change."
– Satchel Gaddie, 34, air quality specialist
"The civic thing to do is to come vote so you have a choice in your government."
– Newman Stark, 60, engineering technician
"I'm here to make a change. I don't like the current administration, so I'm just trying to do my part to see what I can do to change it."
– Katy Lammers, 40, nurse
"I just want to make a difference. I think everyone should vote, I'm just hoping everyone can cast their vote and change things for the better. That's really it."
– Lexie Skiff, 26, laboratory technician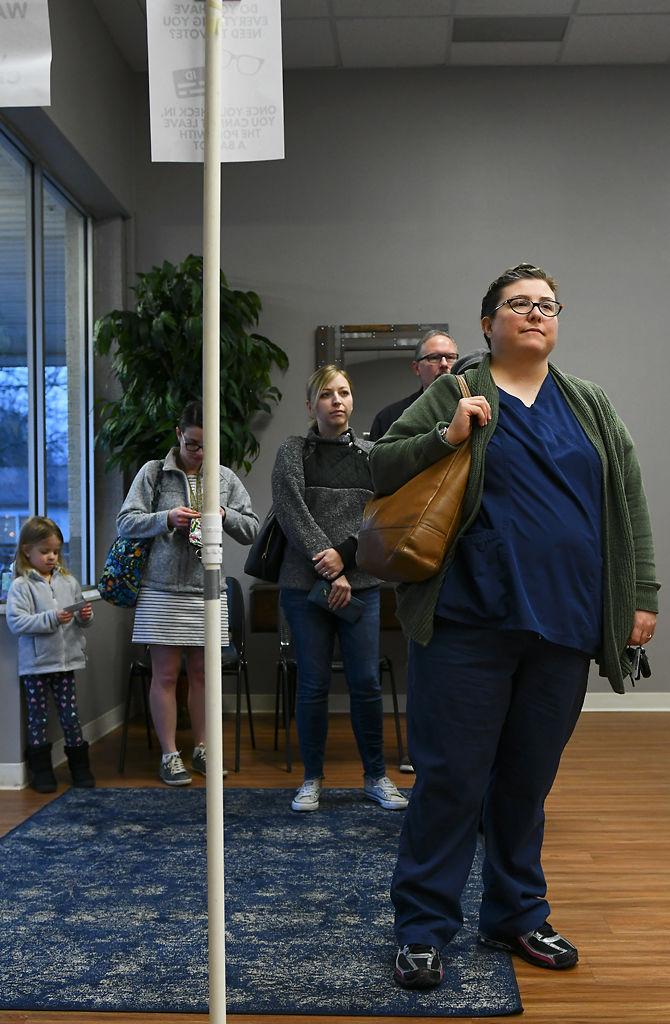 "To me, that's the main thing: If you don't vote, then you shouldn't complain."
– Gary Henderson, 83, retired
"I think (the current administration)'s a mess. I don't like being left in the dark, I don't like being lied to, and I feel like that's what's going on. I don't feel like we're getting the truth on anything. Whether that be politics or whatever, I don't know, but I'm just not happy with the current situation."
– Tom Walsh, 54, business owner
"If you don't vote, your voice doesn't count. I think it's absolutely important to vote. I vote every time."
"This is certainly, probably, the most important election in my lifetime, 55 years. I think another four years of the current administration would be a disaster for the country. I think either of the leading candidates for Democrat would be much of an improvement over the Trump administration. And even though Missouri's probably not gonna make much of a difference in the overall grand scheme of things, even in the primary, I still think it's important just to exercise your right to vote."
– Leanne Tippett Mosby, 55, Truman School of Public Affairs career and alumni services director
"I'm feeling the Bern, although my main candidate was Elizabeth Warren. I just never understood why she didn't do better."
– Dave Mosby, 58, environmental scientist
Activity and Recreation Center
"(I support) Biden because I agree with a lot of his views and I think that he would be a good opponent for Trump. That's my importance today."
— Bailey Gorden, 25, nurse at University Hospital
"Bernie Sanders. It's not that I agree with everything he does, but he's the most environmentally friendly and that's my strongest issue. Because if we don't fix it, the world's not going to be habitable."
— Isaac Galli, 25, pharmacist 
Memorial Baptist Church
"We have to vote. It's way too important an election. It may be the most important I've ever voted in. I voted Joe Biden. Why? Because I don't want the mafia to run my country, and that's what's happening."
— Carl Lingle, 68, retired
"I'm an American. I need to vote. ... I voted for Joe Biden because I want to beat Trump. My original choice was Bloomberg, but he dropped out."
— Joyce Levy, 62, home health worker
"Originally, I preferred to vote Libertarian. Small government was my plea. But Biden seems to have a chance to win. He seems the most conservative. And if Trump wins, no big deal. He's got four years to do what he can."
— Isaac Ellis, 28, mortgage transaction coordinator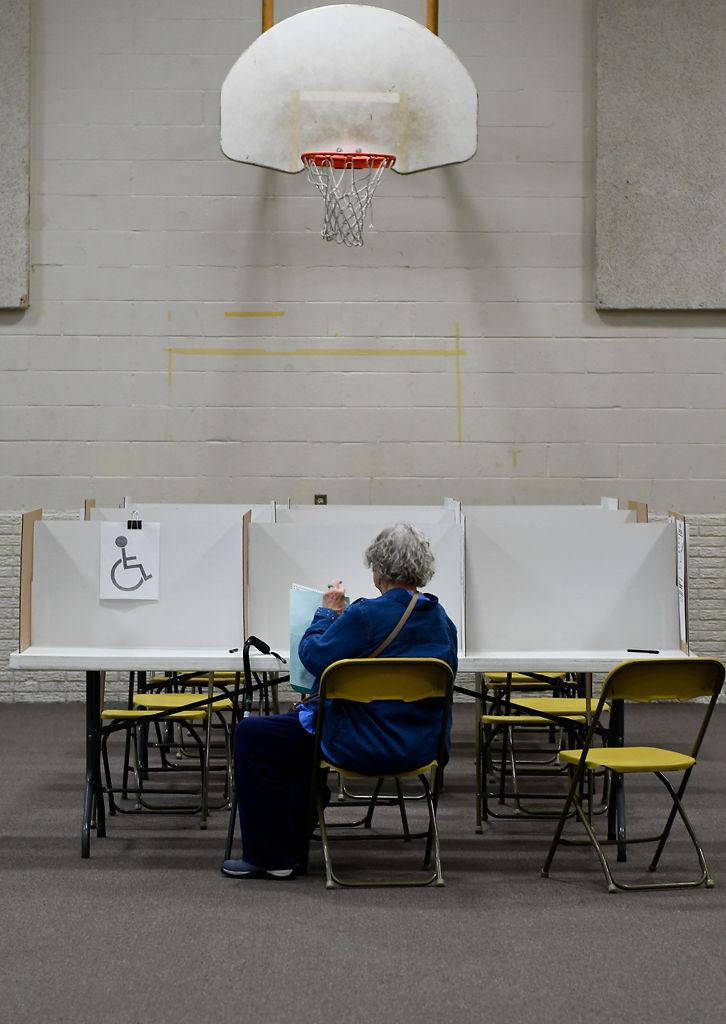 "I think the future of the country is at stake, and we all have a duty to vote."
— Mary Hales, 24, MU graduate student
"I voted for Biden. I don't like socialism, that would be the main reason. And my preferred candidate has dropped out."
— Ed Kaiser, 81, retired MU professor
"I feel like Bernie is the most normal, regular person and supports every-day working people, and that's why I voted for him."
— Christal Davis, 25, MU graduate student
"I voted for Biden. I don't think Bernie is the right choice for America."
— Todd Haenisch, 59, charity operator
"I think Bernie represents the change we need in this country. I will vote for whoever the nominee is, but if we want actual change, Bernie Sanders is the person."
— Katie Plackmeyer, 32, Press Department coordinator at Miller's Professional Imaging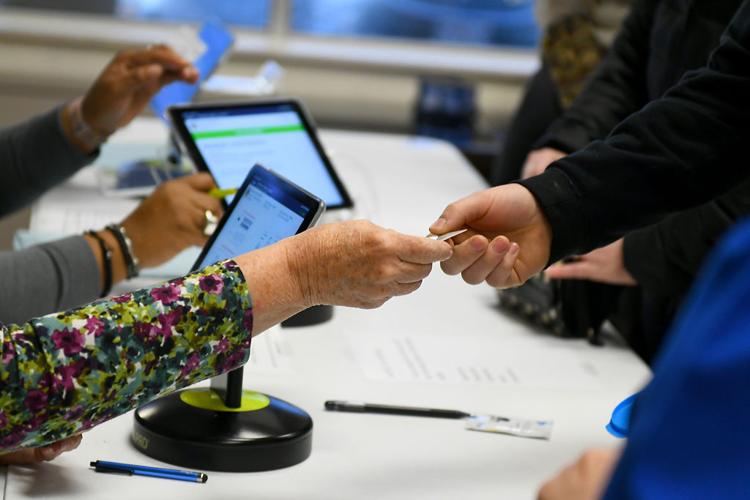 Missourian reporters Frida Qi, Baylee Konen, Hayley Vawter, Skyler Rossi, Skylar Laird, Will Skipworth and Tammy Ko contributed to this.