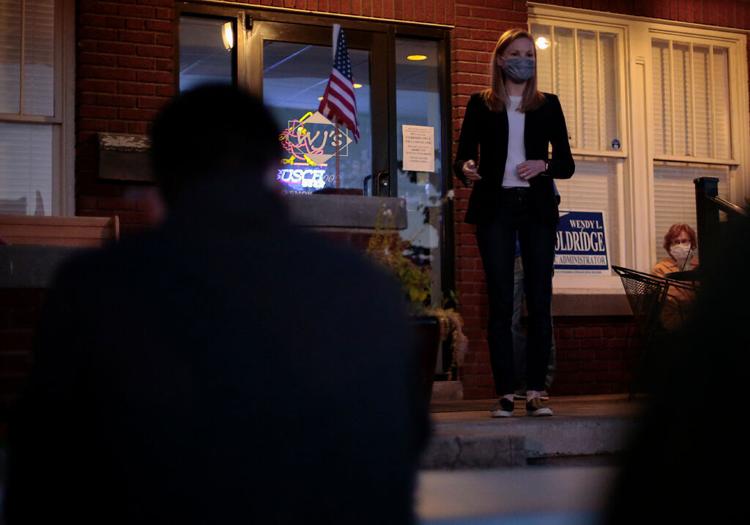 Each week, Nicole's dad would hand over a $10 bill for doing her chores. With it she could save for a new pair of shoes, maybe, or buy something for lunch at the school cafeteria.
But there was a catch. Ten dollars was young Nicole's gross salary. She still had to pay income tax. She would pull out two one-dollar bills, fold them up and deposit them in her dad's bouillon jar. Her younger brother and sister did the same with their wages.
At the end of the month, their parents let them direct their tax dollars. The kids planned their future purchase. Perhaps a family trip to Ponderosa Steakhouse. They didn't go often. Maybe they had accumulated enough to afford the salad bar — the dessert bar, even.
As a child, Nicole Galloway didn't realize the value of the lesson her parents were teaching her. But practicing financial responsibility laid the foundation for her adult life and career path, beginning first as an accountant, with a stint as Boone Country treasurer, followed by an appointment to the position of Missouri state auditor and culminating in a run for the highest office in the state.
Galloway is running against Gov. Mike Parson, a former sheriff with time in the Missouri General Assembly and the lieutenant governor's office.
She has strongly criticized the Bolivar native's handling of COVID-19 and what she sees as inaction on Missouri health care. She has promised to implement a statewide mask mandate if elected and expand health care access. Galloway is undeniably the underdog, facing the uphill battle of opposing a relatively popular Republican in a heavily red state.
Politics was out of the equation
While financial responsibility was a part of Galloway's childhood, politics were not. The Fenton native played soccer, danced competitively in tap and ballet and attended Girl Scout camps every summer. She loved math and practiced all the time, even cheerfully completing extra problems her dad assigned on top of her homework. During her junior year of high school, she volunteered for two weeks at a learning center for kids.
Aside from the occasional discussion of current events at the dinner table, Galloway said, "politics was not something that we were into at all."
"I think for most folks it's like, 'I was in student council in high school, and it's something I always knew, I was going to run for office someday!' And I really admire people that knew that about themselves when they were younger," she said.
For Galloway, the path was less direct. Her love of math drew her first to the private sector.
She attended Missouri S&T, her dad's alma mater, and played soccer while studying applied mathematics and economics.
She then attended MU, where she earned an MBA and became a certified public accountant. She and her husband Jon met at MU and were married after graduation in 2008.
She worked as an accountant in the St. Louis area but found that all the travel kept her and her husband from seeing each other. The Galloways decided to move back to Columbia, where Jon worked for former Missouri State Treasurer Clint Zwiefel and Nicole joined Shelter Insurance.
A new angle
In 2011, however, Nicole Galloway's path took an unexpected turn.
Boone County Treasurer Jan Fugit died, leaving the office open, and former State Rep. Stephen Webber approached Galloway about the position.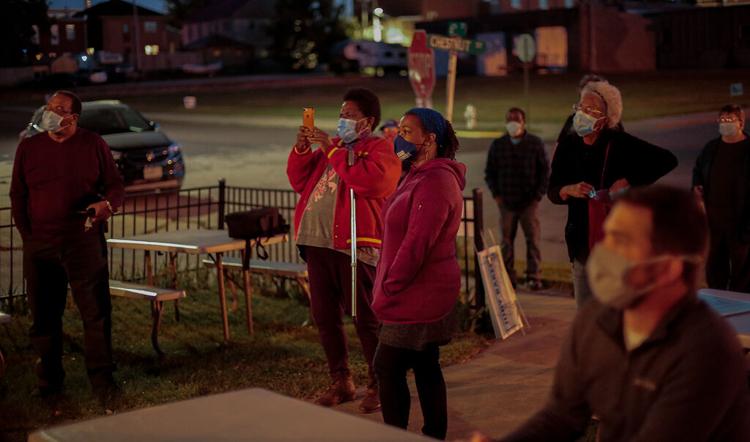 A cautious decision-maker, Galloway considered the move.
"Is this something that I should even consider as an opportunity for myself? I have all these skills in the private sector. I'm a CPA. I can do this job, right?" she thought.
"I also thought: 'If this does not go well, if this is terrible, if I'm a failure, I can fade back into the background — because who the heck knows a one-term county treasurer from Boone? Nobody,'" she added with a laugh.
Former Gov. Jay Nixon appointed her to the position in 2011. As part of her role as treasurer, Galloway managed an investment portfolio and the county debt, but she soon started to move outside of just the responsibilities of the office. She helped oversee the process of moving the 911 function from the city of Columbia to Boone County, issued debt for a new emergency management center and served on state boards and commissions, such as the Missouri Technology Corp.. 
Boone County Counselor CJ Dykhouse  said Galloway was an innovative and "super competent" treasurer, always looking for ways to improve and modernize practices. She was responsible for the creation of an unclaimed property portal that became a model for other counties. 
"Nicole looked at it through a lens of what's the best practice, you know — here at the county government level, there is no Republican or Democrat way to fix a pothole. We just try to figure out what's the best way to do it," he said.
Galloway's younger sister, Megan Rogge, said she never foresaw Galloway's entry into politics. 
"I think that my perspective on all of it kind of changed when she became the Boone County treasurer because that was the first ... elected position, and seeing her in that position, she adapted so well to that role, she was really good at her job," she said. "And then from that point on, I really could see her excelling at any public office — auditor, or beyond that."
"I think she's retained a lot of the same traits that she had when she was younger," Rogge said. "Certainly hardworking and definitely driven to pursue her goals. That's definitely become more apparent as she's gotten older."
The shortest distance between two points is a line... dance
Another quality that Galloway has retained from her youth is her love of dance.
Her secret hobby originated from her family.
"I love to country line dance. I used to go with my grandma to the VFW in Arnold (to) line dance every week," she said.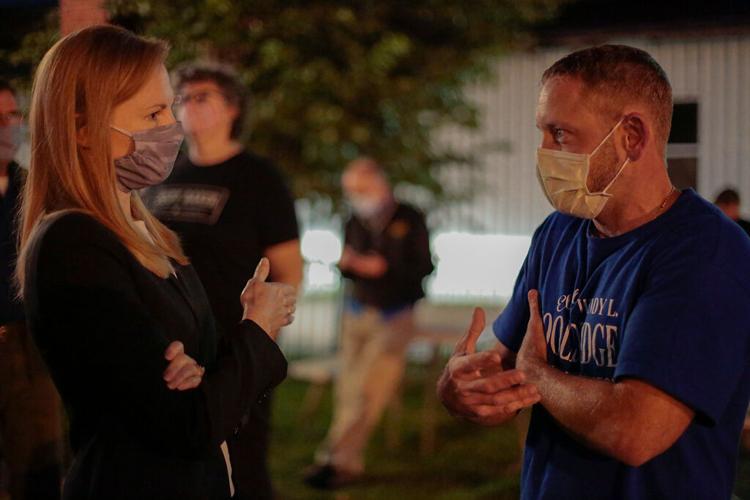 Rogge said the other dancers took notice.
"As you can imagine, a lot of older people — and then my sister and I — learning all the steps and dancing with everybody in the crowd," Rogge said. 
Galloway also enjoys staying active by playing with her kids, budding athletes in soccer, basketball and baseball. "To unwind to me is just to spend time playing with the kids in the backyard," Galloway said.
The Galloways have three boys: William, 8; Ben, 7; and Joseph, 3; all with an insatiable appetite for banana bread.
"If I don't make banana bread at home, my children will be incredibly, incredibly unhappy," Galloway said.
She describes the family she has built with her husband as her proudest accomplishment. Regardless of what happens in the future, she said she will always have them.
When the numbers don't add up
After State Auditor Tom Schweich's death, Nixon sought Galloway again, this time to fill the role of state auditor. 
Nixon said he chose her based on her experience and performance in her previous office.
"Bottom line is, she is highly intelligent, incredibly capable, and I thought she had done a really, really good job in the position she had before, and (felt) that she was the best qualified, ready person to do the job."
As state auditor, Galloway is responsible for examining the financial decisions of government leaders for waste or misuse — a job that often provokes tension.
"Because I am the taxpayers' independent watchdog and audit Democrats and Republicans, that can create conflict among those that are audited. People don't like to be audited," she said.
Sometimes, she said, audits result only in minor tweaks.
"But there are times when we find egregious acts and, as you can imagine … when that's uncovered, folks are not happy about it," Galloway said.
Galloway's office uncovered the reason for delays in state tax refunds in 2018 through an audit of the Department of Revenue and Office of Administration. The state had been paying off other expenses before tax refunds, resulting in significantly delayed payments to taxpayers. Her state auditor biography said her office has brought 63 criminal counts against public officials and discovered over $350 million in government waste or misuse.
Galloway has been accused of misusing her office to attack her political enemies or help her campaign. A February tweet from U.S. Sen. Josh Hawley, R-Missouri, told Galloway: "You should also come clean to investigators about putting political operatives on state payroll & manipulating audits to help your campaign for governor."
Galloway's office scrutinized Hawley's travel spending during his previous tenure as state attorney general.
When asked about such criticisms, Galloway responded with an eye roll.
"If you look at my record, those arguments or those critiques just don't hold water," she said.
Every audit comes with a report, and those reports include input from the people being audited.
"When people don't like the results of an audit, they say it's political — when people like the results of an audit, they'll pat you on the back and say, 'What a good job.' They're the ones being more political than I am," Galloway said.
Permutations and possibilities
While some politicians may have the next political move always in mind, Galloway said she never did.
"I didn't think, 'Oh my gosh, if I run for state auditor, then I can run for governor.' That was not my line of thinking at all," she said.
As she considered another run, this time for governor, she reflected on her reason for accepting a role in public office in the first place.
"When you're running for office, particularly at the statewide level, you have to genuinely understand why you're doing it and what you can reach back to when the campaign gets hard or when it gets tough," Galloway said.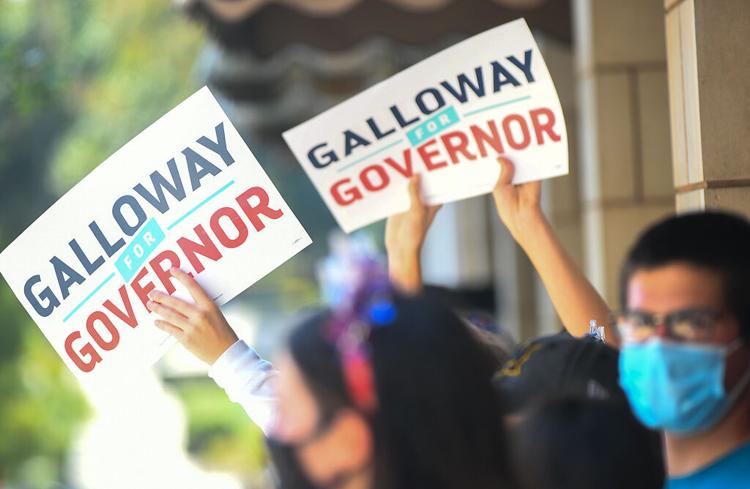 She had come to believe that decision-makers in Jefferson City didn't seem to care about the people they were impacting, and because her role as auditor had been to hold people accountable for such things, she wanted to change that. In particular, she believed the current administration was making decisions that made it harder for low-income families to get health care, something she said hit her especially hard as a mother.
Galloway announced her candidacy for governor on Aug. 12, 2019, with a video detailing her investigations during her time as auditor into government corruption and misuse.
While Galloway may not have foreseen a run for governor in her future, others were not surprised. 
"I would caution against anyone who wanted to underestimate Nicole Galloway — she's got it," Dykhouse said. "I mean, she's got a professional pedigree and solid educational background, but she's also been honed by her professional experience. And if you look at the way she makes decisions, it evidences good judgment and good discretion."
Solving complex problems
Galloway said she stands by her record as auditor and hopes to carry her sense of fiscal responsibility and accountability into office.
"Voters and Missourians like folks with an independent streak," she said.
As Galloway continues her campaign through Zoom conferences and socially-distanced meetings, her sister said she has been impressed with her "non-stop" pace.
"I feel like she is running a marathon," Rogge said. "And I can't wait to pick her up and congratulate her at the end of it."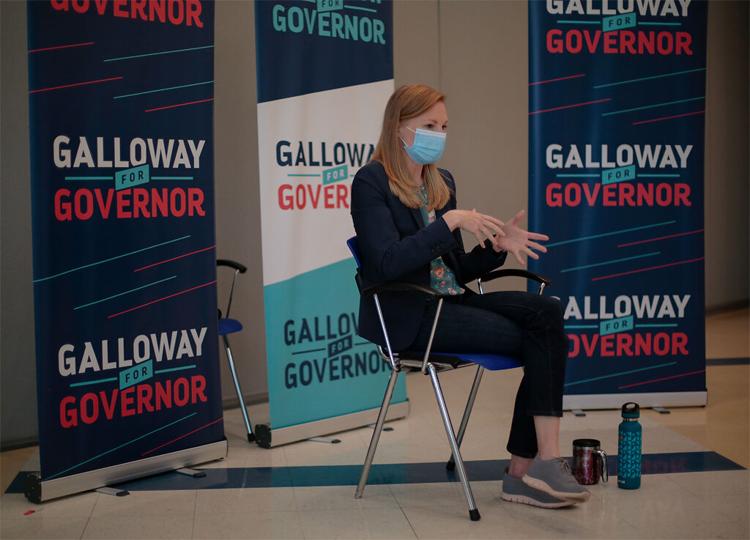 Galloway's campaign, situated on a platform of accountability, has been built on her experience as a fraud examiner, a county treasurer and an auditor. She's been clear about her hopes to bring responsibility to the Governor's Office, socially and fiscally.
Nixon said he believes Galloway will "push real hard on issues of budget and money." 
"She has a great expertise there not only as a CPA but also as a fraud auditor, to watch that, and that is a very difficult and significant portion of the job of governors is actually balancing the budget, actually expending the resources of the resources of the state budget, appropriated by the legislature," he said.
The little girl who used to pay taxes on her allowance took that financial responsibility with her from her home in Fenton to college, to an accounting firm, to the county treasury, to the auditor's office, and now to a gubernatorial run.
On Nov. 3, voters will decide if Galloway will be the one watching Missouri's bouillon jar.