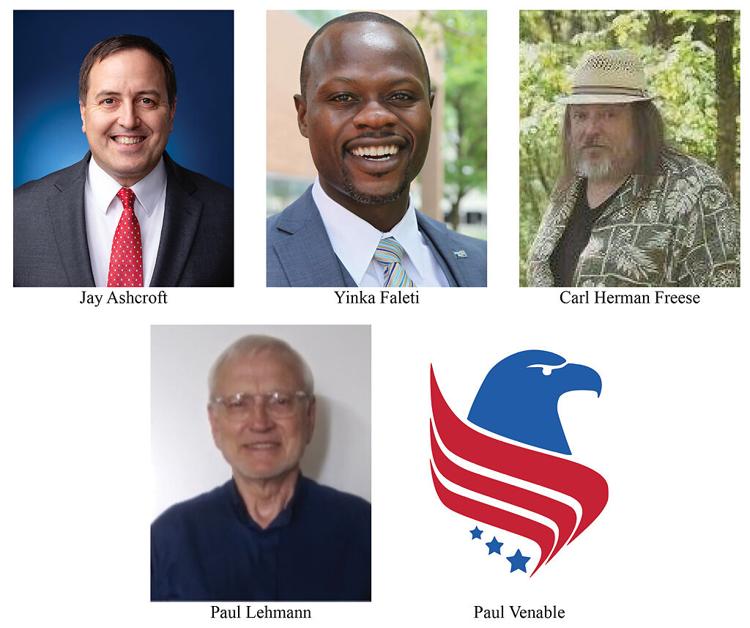 All five of the candidates for Missouri secretary of state face no opposition in Tuesday's primary, which means the same slate of candidates will appear on the November general election ballot.
The secretary of state is responsible for the oversight of elections in the state and for reviewing and certifying ballot language for measures placed on the ballot by the legislature or by initiative petition. The office also is responsible for ensuring all businesses in the state are property registered.
Here's a look at the candidates:
REPUBLICAN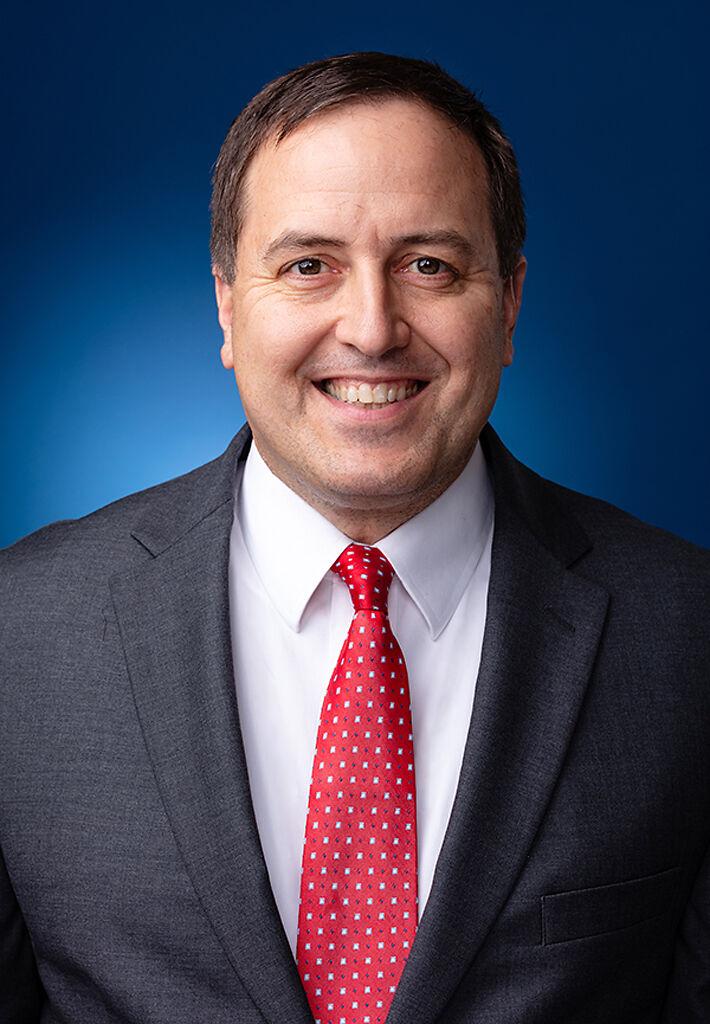 Occupation: Incumbent Missouri secretary of state.
Education: Bachelor's and master's degrees from Missouri Science and Technology University, law degree from St. Louis University.
Background: Attorney for the Ashcroft Law Firm.
Ashcroft, the son of former Missouri Gov. and U.S. Attorney General John Ashcroft, was elected secretary of state in 2016. He says he has worked closely with small businesses to navigate government regulations but wants to reduce those regulations and state fees so those businesses are in the best position to thrive.
Ashcroft has also been an outspoken advocate of voter identification requirements in Missouri but wants to ensure nothing hinders every eligible voter from casting a ballot. If elected to a second term, he wants to focus on making sure the language of ballot measures is fair, that elections are secure and voter fraud is prevented.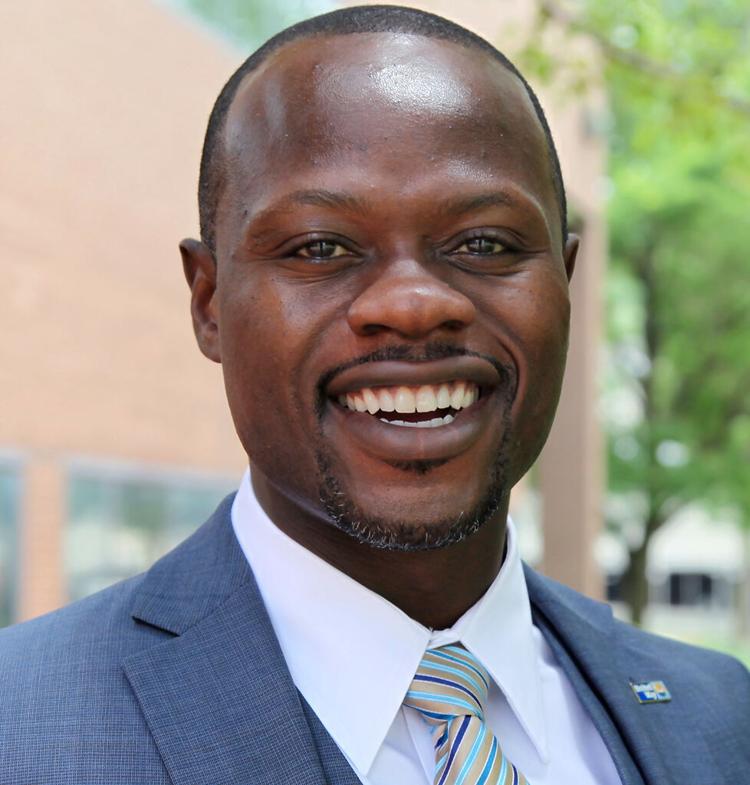 DEMOCRAT
Occupation: Attorney and executive for nonprofits. He stepped down from his most recent position as director of Forward Through Ferguson to focus on his campaign.
Education: Degree from Texas Academy of Mathematics and Science, graduated from the U.S. Military Academy at West Point, law degree from Washington University in St. Louis.
Background: Served two tours in Kuwait with the Army and attained the rank of captain, worked as an attorney for Bryan Cave Leighton Paisner; former state prosecutor, senior vice president of the United Way of Greater St. Louis, executive director of Forward Through Ferguson.
Faleti was born in Lagos, Nigeria, and immigrated to the United States with his family at the age of 7, according to his website. If elected secretary of state, Faleti plans to focus on issues such as Medicaid expansion and ensuring that voters' rights are protected. Faleti is open to considering rank-choice voting, in which voters rank their first choice of candidates for public offices and their subsequent choices thereafter.
"This is not something I would or could decide unilaterally," Faleti said in a recent Facebook Live appearance. "This is something I would bring to the people of Missouri to decide if this is something we want in our state."
Faleti also advocates automatic voter registration, no-excuse absentee and mail-in voting, risk-limiting audits of election returns and allowing voters to cast provisional ballots at any precinct within an eligible election jurisdiction.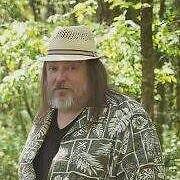 LIBERTARIAN
Occupation: licensed contract senior security officer with Securitas Security Services USA
Education: no information available
Background: Board member and membership director with The Living History Co., 2009-present; board member of Freese Farms, 1990-present; member of United Church of Christ Saint Johns Cappeln; ran for 23rd District Missouri state representative in 2018.
Freese could not be reached for comment. The occupational and background information above is from Project Vote Smart.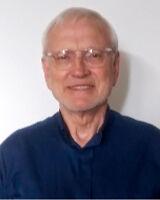 GREEN PARTY
Occupation: Retired; now as a farmer.
Education: Bachelor's degree in education from Southeast Missouri State University, 1971; master's degree in divinity from Eden Seminary in St. Louis, 1971.
Background: Minister in the United Church of Christ for 34½ years, serving churches in Missouri and Illinois.
Lehmann believes voting is a fundamental right and responsibility of all citizens and should not be subject to political influences that create obstacles to people voting.
"For 230 years since the U.S.Constitution was adopted, our electoral system has been an object of controversy, and is once again controversial in 2020 with the changes being made because of the coronavirus," he said.
"As secretary of state, I will press for universal suffrage for all citizens where all registration deadlines and qualifying rules will be eliminated," he said.
Under his plan, every citizen would be automatically registered to vote at 18. Each county clerk would mail out a coded ballot to every citizen residing in their county. The voter must have the marked ballot postmarked or placed in a drop box by the day of the election to be counted. All mailings would be treated as priority mail by the Postal System.
"Think of the millions of dollars and the tons of grief that can be saved by making the electoral system truly democratic and truly fair," Lehmann said.
CONSTITUTION PARTY
Occupation: Information technology consultant.
Education: Studied architecture at The Ohio State University and mathematics at the University of Cincinnati.
Background: Candidate for Idaho lieutenant governor in 2010; candidate for Idaho House of Representatives in 2008; member of the Executive Committee of the Constitution Party of Utah in 2004; delegate to the Continental Congress of 2009, according to Project Votesmart.
Venable and his wife have organized public and private forums to teach the principles of liberty and what they view as the proper role of government through the Constitution and the Declaration of Independence, according to his website.
He says on his Facebook page that he believes in the power of spiritual belief. "All despotic regimes have rejected God and His will. If we are to survive in America, as Americans, we need to have a spiritual revival on a mass scale," he said.
He says citizens need to ensure that government at every level is the servant and not the master.