Missouri's bingo games are struggling. Amendment 4 could bring them relief.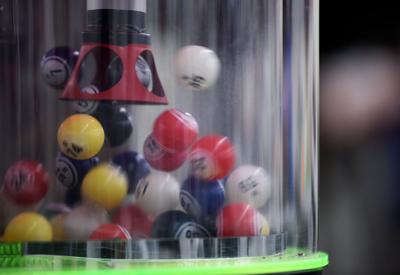 The Jerry Sigmund Cosmopolitan Center is packed with rows of white plastic tables lined with mismatched chairs. The attendees — dozens of them on a recent Wednesday night — try to avoid the chairs with latticed seats and backrests. They're in for the long haul, after all, and would probably prefer to leave the building without a souvenir indented on their backsides.
One of the attendees raises a dollar bill in the air. Phil Hanson, clad in a dark blue polo shirt, light blue jeans and a royal blue apron emblazoned with "Cosmo Club" in yellow block letters, navigates through the tables to respond.
It's night 1,810 of the Cosmopolitan Club of Columbia's bingo games. Every Wednesday, volunteers from the club arrive around 2:30 p.m. for setup. More join them throughout the night, and they stay there until the games end at 9 p.m.
Floor workers such as Hanson, who is also the club's bingo chair, tend to the needs of the players, providing extra cards in exchange for brandished cash. A caller pulls numbers fed through a tube connected to a humming, air-powered hopper, calls them aloud and places them in front of a camera connected to TV monitors throughout the room. Cashiers keep track of the money brought in and the payments going out.
Most prizes are $100 to $120, though special games pay $300 or $400 and the maximum payout for regular games is $500 — although only one game per night can pay that much, according to Hanson. Prizes for "progressive" games that span multiple weeks vary from hall to hall, but the Cosmopolitan Club's progressive games award $1,199.
Since bingo was legalized in 1980, games have generated more than $100 million in tax revenue for the state's Proceeds for Education Fund, according to the Missouri Gaming Commission. State law requires that bingo only be conducted by licensed religious, charitable, fraternal, veteran and service organizations, and these organizations must use all proceeds — beyond the cost of actually running the bingo games — for charitable, religious or philanthropic purposes, according to the Gaming Commission.
In 2017, organizational and other charity donations made through charitable games — which includes bingo and other similar games like pull-tabs, merchandise coin boards and event tickets — totaled about $8.6 million, according to the Gaming Commission.
Tough times
But bingo organizers are hurting for a number of reasons. Among these is a shortage of volunteers.
Organizers hope that will be alleviated by the Amendment 4 proposal on the Nov. 6 ballot. The measure would remove language in the state constitution restricting bingo advertisement and change prerequisites for bingo volunteers.
All of the workers at the Cosmopolitan Center are volunteers with the Cosmopolitan Club. Current state law requires that bingo workers must be a part of the organization that's running the games for two years before starting.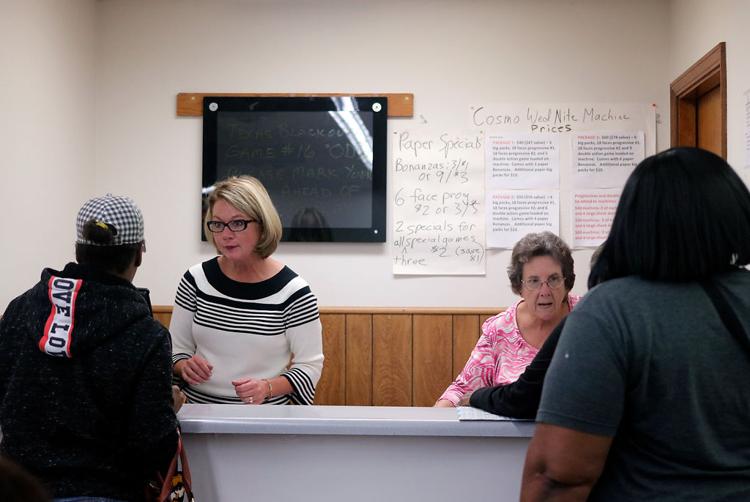 Hanson said the two-year requirement is making it difficult for organizations to find workers. He said new members are often the most eager to help, but when they find out they can't participate in the organization's biggest donation generator, they often want to move on to something else.
"If that same guy wanted a job down at the (river boat casino), he doesn't have to wait two days," Hanson said. "He goes down, he fills out his paperwork, they run him through security and say, 'Yup, he's not a convicted felon.' He's at work tomorrow. But you wanna work for a nonprofit organization? You want to not get paid? You want to come out and just help in the community? Sorry, you have to wait two years, buddy."
The two-year restriction also presents problems because of the age of most members of the organizations that run bingo, according to Tom Murphy, president of the Association of Charitable Games of Missouri, or ACGM.
"If you go to any bingo, you'll see that probably the average worker is 65 or older, and they're just dying off," Murphy said. "As the people are getting older, and if there's a two-year limit, … if a guy joins the American Legion, he can't work bingo for two years. And after two years, either he's moving to something else, or he said, 'I don't wanna work bingo.'"
When players first arrive at the Cosmopolitan Center, they pick up $15 packets of game boards from the window at the front. Each packet contains 18 sheets — about the size and texture of a folded newspaper — and each sheet contains nine boards. The sheets are loosely bound together with glue, like a giant notepad.
These players are pros, or at least they might as well be. Spread out on the tables in front of them are packets lined up side-by-side, special "event tickets" containing bingo-adjacent mini-games, good luck charms, writing utensils, multicolored "dabbers" used to mark the bingo sheets, and chunky electronic bingo machines that allow players to easily keep track of up to 27 bingo boards per game with just a few button presses. Most of them, like Kayla Wisley, 56, are regulars at the Cosmopolitan Center.  
"I've probably been sitting here in the same seat for about 20 years," Wisley said. "Everybody in here knows me."
Wisley, who said she's been playing bingo since she was 16, would play every day if it were an option. She travels from town to town in mid-Missouri to play bingo, which she enjoys because it gives her a chance to relax away from her children. But there are fewer games nowadays.
Each organization that runs bingo can host up to two bingo games per week, but fewer and fewer organizations are hosting even one. Larry Krodinger, bingo chairman of the Knights of Columbus in DeSoto and a four-year ACGM board member, said the city has seen a major decline in the number of organizations hosting bingo games over the past two decades.
"We used to have a bingo every day of the week in DeSoto 20 years ago," Krodinger said. "Now there's one: my bingo. ... We're a stand-alone bingo organization, and we need help with Amendment 4 to get workers available quicker because of the turnover due to the age in most of these organizations."
And these closures, Murphy said, aren't unique to DeSoto. According to Gaming Commission annual reports, there were 435 regular bingo license holders in 2006, when Murphy became president, and only 227 in 2018.
Bingo revenue has been on a steady decline in recent years. In 2010, the total amount of money generated by bingo games — which is split among prizes paid out to players, taxes, operational expenses and donations — was about $103.5 million, according to the Gaming Commission. In 2017, it was $78.5. million.
The solution? For now, the ACGM's board members hope that passing Amendment 4 will provide some relief. Approving the measure would amend the Missouri Constitution to change the two-year restriction on bingo workers to just six months, potentially alleviating some of the bingo halls' problems.
Protecting the games
Originally, all gambling was illegal in Missouri. This changed with a constitutional amendment in 1980, which allowed for bingo and related games to be run for charitable purposes. According to Hanson, who joined the Cosmopolitan Club of Columbia in 1978, the two-year restriction was put in place as a precaution to make sure bingo wasn't abused for the wrong purpose.
"When the constitution was first (amended) to allow gambling, it was really restrictive because there'd never been gambling allowed in Missouri before," said Hanson, who is also treasurer of Citizens for Bingo, the committee supporting Amendment 4. "Everybody was really concerned that the mafia was gonna take over the gambling industry. Well, it was pretty well proven that that's not gonna be the case."
Hanson said passing Amendment 4 could allow smaller organizations to start up their own bingo games by allowing new members to quickly start working, and it could prevent clubs struggling to staff their games from ending their bingo programs. He says it would help more established organizations like the Cosmopolitan Club, too, since getting more bingo volunteers would reduce the number of times current volunteers need to come in to help.
The amendment could provide near-immediate relief for organizers like Charles Peeters, bingo chairman for Veterans of Foreign Wars Post 3404 in Springfield and an ACGM board member, who said current volunteers are hesitant to work as often as they need to in order to keep bingo going.
Passing the amendment could quickly ease the strain on these volunteers, as it would allow for those waiting in the wings to jump in to help.
"I'll be working three weeks out of the month because we just don't have enough people," Peeters said. "But we have at least eight of them waiting to get the two years in so we can get them certified."
Murphy and the ACGM have been trying to get something like Amendment 4 passed since Murphy became the association's president in 2006. It wasn't until Rep. Wanda Brown, a Republican from Lincoln, that they were able to get this far.
"While it seems like a trivial bill," Brown said, "these people donate their time to raise millions of dollars for the state without raising your taxes."
Besides changing the two-year restriction, Amendment 4 would also remove language in the constitution that prohibits the advertising of bingo games, which a United States District Court ruled unconstitutional in 1998.
"That part of it actually is sorta just like paperwork," Hanson said. "It's not enforced now because it's been declared unconstitutional, so we're just taking that out so the constitution reads like it should."
Back to bingo
In the Cosmopolitan Center, more and more numbers are called, and some of the players are getting antsy. They know someone's bound to win soon. It could even be them.
Eventually, it happens. Someone — actually, a number of someones — says it: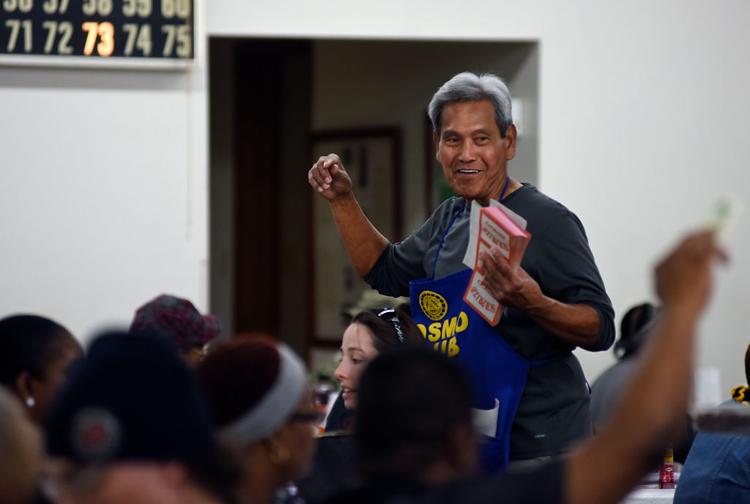 A chorus of tearing paper floods the room as the players peel their losing sheets from their packets in unison. Some immediately ball them up and toss them into the plastic trash bags affixed to the end of each table, while others hold off to see if the bingos are confirmed by the caller. Soon enough, they are, and the winners head up to the cashier to collect their reward.
Hanson doesn't play bingo — he says his attention span is too short — but he appreciates the benefit it provides not only to the greater community but also to those playing.
"It's really an opportunity for them to get out, have a fun evening without having to pay a whole lot of money. I mean, there's no doubt about it, your opportunity to win every (single) game is zero ... , but their ability to just get out and have a good time and not spend a ton of money like they would at the boats is what I think draws a lot of people to play."