featured
2016 Municipal Election
Walther says mayoral bid is a response to problems he believes he can solve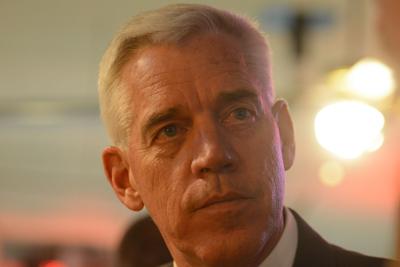 COLUMBIA — Skip Walther's life has featured an intriguing web of connections. From his family home to his love for tennis, from working in law to engaging in public service, the bridges that connect each facet of his life have been natural. But perhaps the primary driver in Walther's decision to run for mayor is his love for Columbia.
Without hesitation, Walther answers Booche's as one of his favorite spots in town. The downtown burger joint and pool hall has been a frequent lunch spot for Walther since his college days. Owner Charlie Kurre said he remembers Walther as a long-time regular.
Attorney Skip Walther provided written responses to a Missourian questionnaire on city government issues such as police staffing, crime, the airport terminal, social and economic equity and downtown development. 
Just before noon on a recent Friday, Walther took a seat at one of the smaller tables toward the front of Booche's and ordered the soup of the day, chicken and wild rice, and iced tea. Over the next hour, nine or so people stopped to say hello.
Booche's also hosted one of Walther's campaign fundraisers, a Feb. 15 event arranged by his law partners, Gary Stamper and Rusty Antel. The firm provided burgers as an in-kind donation to the campaign. Walther wore a gray suit complete with an Egyptian hieroglyph tie from the British Museum in London.
Before Walther made a quick address to the 40 or so folks there, Stamper stood on a chair toward the back of the Booche's dining area and introduced him, emphasizing how comfortable Walther feels in the melting pot of a place like Booche's.
"The lawyer knows better than to ask if he can get french fries or pay by credit card. He doesn't need to see the menu to order. Both lawyer and burger joint share something in common: They're quintessentially Columbia. Both represent threads in the tapestry of a unique community."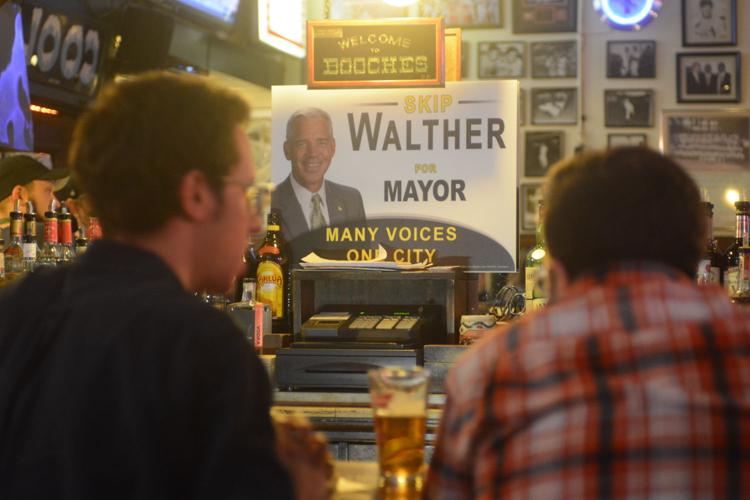 Walther's appreciation for the interconnectedness of Columbia inspired his campaign slogan: "Many voices, one city." His wife, Kathy Walther, said it's perfect.
"Skip's presentation, his slogan, his everything, truly matches his philosophy," she said. "We've had a lot of people give opinions — I'm probably pretty opinionated myself — but seriously you want your message to really match, and I think this 'many voices' thing is important."
Kathy Walther noted that more than 300 individual Columbia residents had contributed to her husband's campaign, and she was expecting that number to reach 350 by the time the next round of campaign reports is due.
"When you get those contributions along with the handwritten notes, you know it's still individual people who go to the polls to vote," Kathy Walther said. "Three hundred-fifty donors makes for a lot of thank-you notes, and Skip has handwritten them all."
Moving back home
Skip Walther was born in Columbia and, except for a stint in Kirksville during his middle-school and high school days, it's always been his home.
The move to northern Missouri wasn't easy for him, but it was necessary after the sudden death of his father from a heart attack at the age of 36. Walther was only 11 and recalled it as very difficult to handle. It gives him "a great deal of empathy for kids who lose a parent."
His mother was left as the sole provider for him and his sister. She figured she could make the same amount of money as a legal secretary in Kirksville while benefiting from a much lower cost of living.
"When I moved to Kirksville, frankly I didn't want to move," Walther said. "So I never considered going to college any place other than Columbia."
While in Kirksville, Walther picked up tennis as a hobby, and he's never given it up. He got good enough at the sport that it helped him find his way back to Columbia when he landed a scholarship position on Missouri's tennis team. That helped him pay his way through school as he earned bachelor's and law degrees.
It isn't just the city of Columbia itself with deep roots for Walther. The home he shares with his wife has strong ties to his family. Not only did it used to be his parents' home while Walther was in college, it also was the first house that Kathy Walther helped design with the late Columbia architect Pon Chinn, a full four years before she met the man who would become her husband.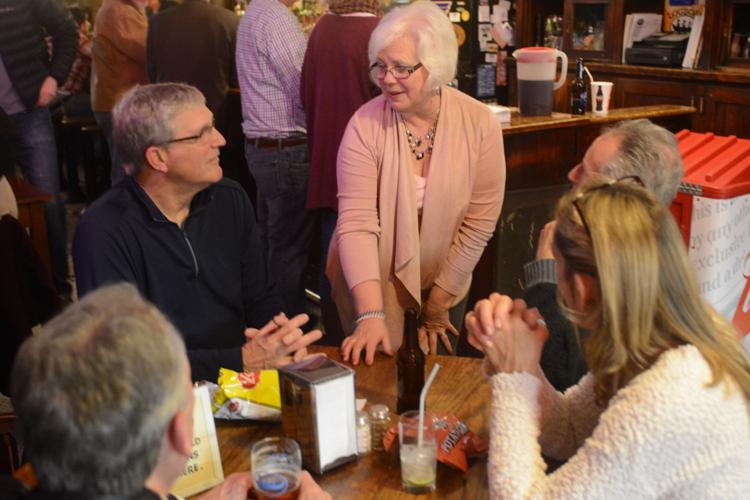 Kathy Walther said that despite having a great house in the Russell Boulevard neighborhood, she and Skip felt they had to move back to the home on Yuma Drive.
"It was just a great cycle of life," Kathy said. "His mom was here for the holidays, and as she was washing dishes she turned around and said 'Feels like I never left,' and I thought that was really cool."
Kathy Walther loves the touches that Chinn's style brings to the house: the repetition, the overhangs, the emphasis on separating common areas and private spaces. Walking up to the door of the 1970s walkout, a door knocker tells visitors "The Harpers moved." Skip Walther said he added "moved" when they bought the house but could find no replacement knocker. Dennis Harper, former owner of Harpo's, lived in the house for 15 years.
Skip Walther's mother originally bought the house with his stepfather, Scott Wright, whom she married when Walther was 19. Walther describes Wright, a retired federal judge who entered a nursing home in Kansas City last week at age 93, as one of the foremost inspirations in his life and has a photograph of him from the Boone County Courthouse dedication hanging just inside the front door.
The photograph features Wright cracking a joke with Frank Conley, who was presiding judge of the 13th Judicial Circuit from 1979 to 2002, and then-county commissioners Frank Graham and Don Sanders.
"This is typical Scott," Walther said. "He laughs, and he makes everybody else laugh. He's just a very personable human being."
Walther said Wright treated his mother with "great respect" and himself with "great deference."
"He knew that he was coming into a difficult situation, given the sudden death of my dad, but he handled it with total class, patience and kindness," Walther said, adding that he learned from Wright the values of integrity, honesty and commitment.
'Time to step up'
Walther said running for mayor was never an ambition of his, just as it was never his ambition to run for president of the Missouri Bar. The decision came organically, a result of what Walter said was the rise of challenges he knew how to address.
"And I think that's where we are today. The city is facing challenges I believe I'm equipped to handle," Walther said. "I thought it was time to step up."
Walther cited his experience as a spokesman for the bar and for the judicial system, along with his affinity for downtown and historical preservation as chairman of the Downtown Community Improvement District, as good matches for the position of mayor. If he's elected, though, the decision to run will come at a cost. He'll have to give up the equity position in his law firm and practice law on his own because Antel, one of his partners, deals with municipal cases, creating a legal "appearance of impropriety."
"I'm 62. I think I can afford to do this now," Walther said, "but it's going to be a challenge."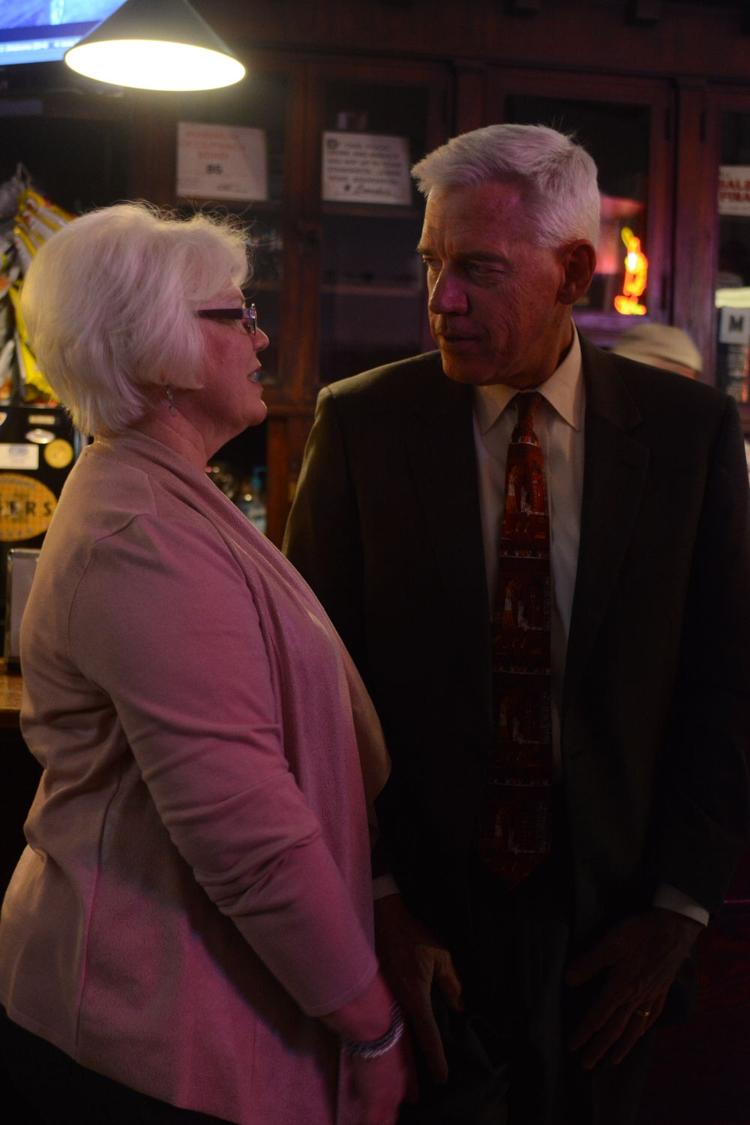 After family, Walther puts tennis next in his line of personal priorities. It was his saving grace when his mother took the job in Kirksville.
Walther had always wanted to be a professional tennis player, but "you have to have a set of wheels, and mine never really got started." Still, he's competed both nationally and internationally at events sanctioned by the United States Tennis Association. In 2001, he was ranked No. 2 in the United States and No. 13 in the world in the 45 age group.
Walther has had to take a break from tennis while he heals from a subtalar fusion, a surgical procedure that fixed the ankle joint that allows him to twist his foot. Now, pain-free for the first time in five years, he plans to resume national competition if he can find the time.
"Oddly, the fusion doesn't seem to have negatively affected my movement," he said. "After all, I don't think that anyone has ever used the words, 'Skip' and 'fast' in the same sentence in the history of the English language."
Walther said tennis helped him keep the promise he made to himself when his father died: to stay physically fit. It also feeds the same interest in problem-solvng that drew him into law and politics.
"Many times you get on the court, you're not on your A game. You're confronted with bigger challenges that are getting more difficult to solve," Walther said. "But working through those problems, and solving them when you're able to do it, that's what's really gratifying."
This same attitude is why Walther has avoided boxing himself in as an attorney specializing in one area. He prefers the variety of general practice, saying it forces him to learn new things and puts him in contact with different types of people.
"As an attorney I've represented the homeless and the affluent, the employers and employees, landlords and tenants, the state and the defense and virtually every demographic in Columbia," he said.
Walther's library reflects his interest in variety. There's Hillary Clinton's latest biography and Ayn Rand's "Atlas Shrugged." He has a collection of James Lee Burke detective novels, an author he loves for his ability to write "truly literary sentences" that "make you smell the smells, and see the light he's talking about." There's an array of historical biographies, and along the bottom right shelf, a set of cookbooks.
Cooking has helped Walther relax since he was a boy helping his mother in the kitchen. When the weather allows, Skip and Kathy Walther can be found cooking on their back deck, which overlooks Hulen Lake. His favorite dish is smoked salmon — "head on, the whole thing" — which, after an intense marinade, he can smoke on any of his three beloved Weber grills.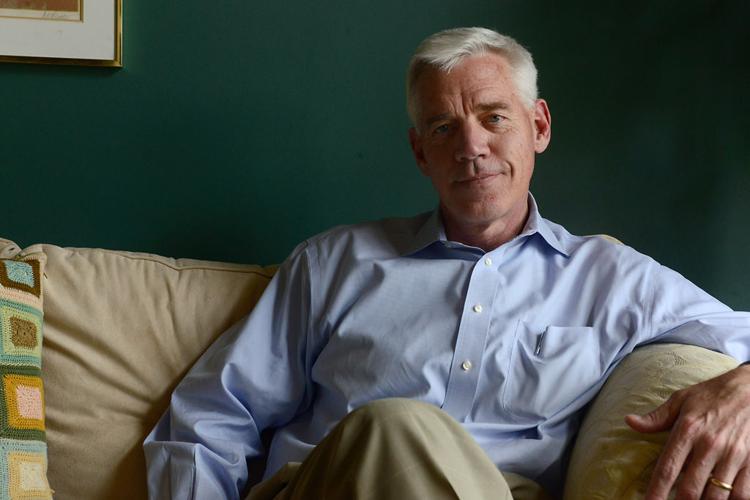 Walther said cooking also helped him land a couple of dates. The first dish he fixed for Kathy was crab soup with a whole head of garlic.
"I was a little confused about what a clove of garlic meant. Oops," he said.
Looking for collaborative problem-solving
Skip  Walther emphasizes that his law practice also has taught him the necessity of collegiality and cooperation. He recalled going through college unsure of what he wanted to do. He didn't know what vocation would fit with his personality, and he was nervous about whether he'd have the skills to back up his decision. Eventually, law became the clear choice. He said Jim Butcher, his uncle and a former Boone County presiding commissioner, nudged him that direction.
"He told me multiple times that the bar was like a fraternity. They were a very close-knit, respected group of people," Walther said. "And from a support system, you couldn't ask for a better group of people to work with."
Walther said that holds true of him and his fellow attorneys today.
"You develop a respect so that even though you might be arguing against each other in court, when you get done with the case you might walk outside and go get a beer together because that's just who we are," he said.
It's that same sense of collegiality that Walther wants to bring to the Columbia City Council. Walther sees a city bickering with itself, which creates an unworkable environment.
"I want to bring a more collaborative problem-solving approach to city government," he said. "Maybe I won't be able to do it. There are a lot of people who remain very upset with city government, and they may not be satisfied with anybody, but it seems like it's the right time."