Years ago, when Andrea Waner was working at a local bank, she grew concerned about a colleague who consistently showed up for work with bruises on her arm. She wondered if the woman was safe.
"I said, 'Are you OK? Like, do you need help? Is everything fine?'" Waner recalled.
It turned out the bruises were nothing insidious.
"She said, 'Oh my God, I'm so glad you asked. I play roller derby. Let me tell you all about it.'"
That's how Waner, aka Maple Stirrup, became involved in the CoMo Derby Dames. Although she was immediately interested, she waited until after her wedding day and honeymoon before reporting to her first roller derby practice.
Roller derby players typically choose a "derby name." Waner originally went with "Wookies and Cream," but her husband, Joe Waner, helped her come up with the name she settled on. It's a tribute to her passion for women's health and reproductive health and how she encourages women to get regular checkups. Hence, the reference to the "stirrups" used during gynecology appointments.
Waner's background goes well beyond roller derby. She worked for years in the Columbia/Boone County Department of Public Health and Human Services and has chaired the city's Commission on Human Rights since 2018. These days, she works as director of advancement and operations at Central Methodist University in Fayette — plus, she's one of three people running for the Second Ward seat on the Columbia City Council. Her opponents are Bill Weitkemper and Jim Meyer.
Waner was born in Columbia in 1987 to a teen mom, then a senior at Rock Bridge High School. After living in Columbia for a few years, her family moved to Mexico, Missouri. In their time there, her parents divorced and her mom remarried. Waner then moved to St. Charles, where she eventually graduated from Francis Howell North High School.
Waner came back to Columbia to study at MU, graduating in 2011 with a bachelor's degree in English. She has remained in the area since then.
At her current job at Central Methodist, she's been leading the university's COVID-19 contact-tracing efforts.
It was around the time of the 2016 general election that Waner realized her passion for diversity, equity and inclusion, which have been cornerstones of her council campaign.
"There was a lot of political momentum in 2016. After the results of the 2016 election, I had an 11-month-old baby and was just kind of perplexed about the world around me. How did we get here, how can I make this place better for my kid?" she said. "And so I looked for ways to get involved. ... The Human Rights Commission had an opening."
Waner joined the Commission on Human Rights after leaving her job at the Health Department.
"Being able to help people, I know that sounds so cliché, but that was the reason I signed up to apply. ... I just wanted to make a difference for somebody and make their lives better," she said.
Waner said she has been inspired by Health Department Director Stephanie Browning.
"There's a quote from a senator that passed away, Paul Wellstone of Minnesota. He would say, 'We all do better when we all do better.' And that really embodied the work that Stephanie does and the work that I've seen so many other community-benefit organizations do."
The desire to help people prompted Waner to go back to MU and earn a master's degree in public affairs at the Truman School of Public Affairs. She completed her degree in May, just as the COVID-19 pandemic's impact was ramping up in Boone County.
"I always knew that I wanted to run for office, and I wanted to have the best foundation and best understanding about public policy that I can get," Waner said. "I knew that I really cared about government and public service, but I wanted to have more of the foundational knowledge about what all goes into it. I wanted to understand a budget, I wanted to understand all the different policy procedures, and so I decided, I wanted to go."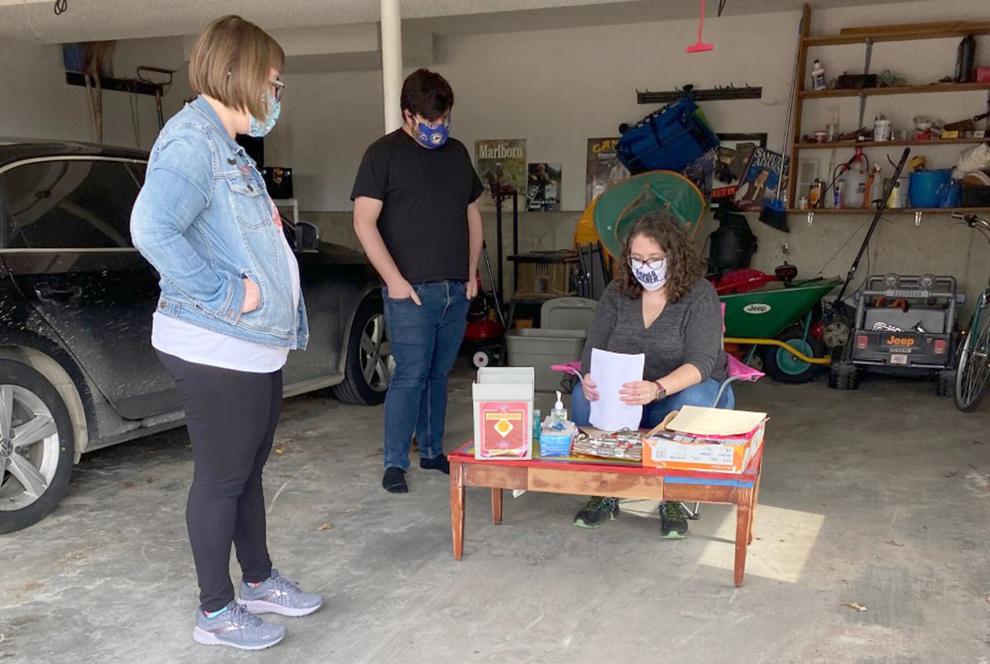 Waner has been spending Saturday and Sunday afternoons, weather permitting, knocking on doors and talking to residents in Second Ward neighborhoods. On a Saturday afternoon in early March, she sat in the garage of her Valley View home in northwest Columbia, reviewing information about the number of registered voters in various neighborhoods. Campaign fliers, custom-printed masks, clipboards and hand sanitizer covered the coffee table where she worked. She assigned two volunteers to one neighborhood. One was Heather Morgan, a longtime friend and former roller derby teammate.
Two dogs barked outside the house. Sandy and Biscuit are Waner's two rescue dogs. Sandy is a Anatolian shepherd and Corgi mix, while Biscuit is a purebred Beagle.
"You can't take pictures of them without pets," Morgan joked.
Waner also has four chickens that were a graduation gift from her husband when she completed her master's degree. She named them after the four women who had served on the U.S. Supreme Court at the time: Sandra, Ruth, Elena and Sonia.
"I call them the Supremes," Waner said.
Morgan has known Waner for almost a decade. "She's a super strong woman," Morgan said. "I like her values, and I trust her immensely."
Door-knocking can be nerve-wracking, even for someone like Waner who has done it for several months. She got her first taste of it back in October, when she went door-knocking to get the 50 signatures required to get her name on the ballot. Waner said it was almost like asking people to autograph her yearbook.
Knocking on doors has become easier over time. Waner kept a bright and friendly voice as she greeted neighbors along Sunflower Street and encouraged them to vote for her. She didn't shy from a polite conversation with one neighbor who had a campaign sign supporting Meyer in his front lawn.
Campaigning door to door has helped Waner get to know her neighbors better, she said. And the pandemic has done so, too, because more people have been staying at home. She enjoys greeting people when she sees them their yards. One neighbor even gave her son, Henry, a red bike that their own son had grown out of.
"Because of the pandemic, I feel closer to my neighbors now than before," Waner said.
Waner hopes to spend the next several years representing those neighbors and the rest of the city.
"I want to really focus on making Columbia a good community that we can all be proud of," she said. "My son will enter public school in August, and so I have no plans of going anywhere else anytime soon. There's lots of room for progress. We've done a lot of really great things. But I think that there's always room to make it better, so that's my goal: Just work really hard, roll up your sleeves, show up, dive in, stay at it."