Simona Perales Simkins is a third-year doctoral student in the MU Department of Theatre. She teaches Introduction to Performance Studies and serves as an associate director for MU's Center for Applied Theatre and Drama Research. She has a 3-year-old. She has Type 2 diabetes. 
Because of all these things, she also is co-chair of the Coalition of Graduate Workers, the labor union suing the UM System Board of Curators for recognition of collective bargaining rights. 
After nearly two years of litigation, a 13th Circuit Court judge is set to hear final arguments in the lawsuit April 20. The hearing will help determine whether graduate student workers are considered employees under Missouri's constitution. While the coalition maintains that graduate students are, indeed, employees, representatives of the Board of Curators maintain that graduate students are students.
"The time that we take away from our families, the time that we take away from our studies, the dedication that we have toward our teaching all reflects that we are workers — we are doing the labor for our university. That has never changed," Simkins said. "What we are asking for is recognition that ensures that we are going to be taken care of." 
"It is our belief that unionizing is unnecessary for Mizzou's graduate students," UM spokesman Christian Basi wrote in a May 2016 email. "We believe that graduate students are fundamentally students and are part of our campus communities to learn."
Basi said recently MU's position remains unchanged. Speaking on behalf of the UM System, he anticipates no further comments will be made on the case until a final decision is reached.
But Simkins said the coalition is fighting for fair compensation for graduate students' contributions to maintaining MU's Research 1 status and membership in the Association of American Universities.
"We are doing the labor to keep our university healthy, to keep our students healthy, to keep our education systems healthy," she said.
Although neither side has budged on its position, the decision in this case "could provide legal foundation for all graduate workers statewide," said Joe Moore, journalism doctoral candidate and the coalition's outreach officer.  
Certainly, the fight feels personal to graduate student workers.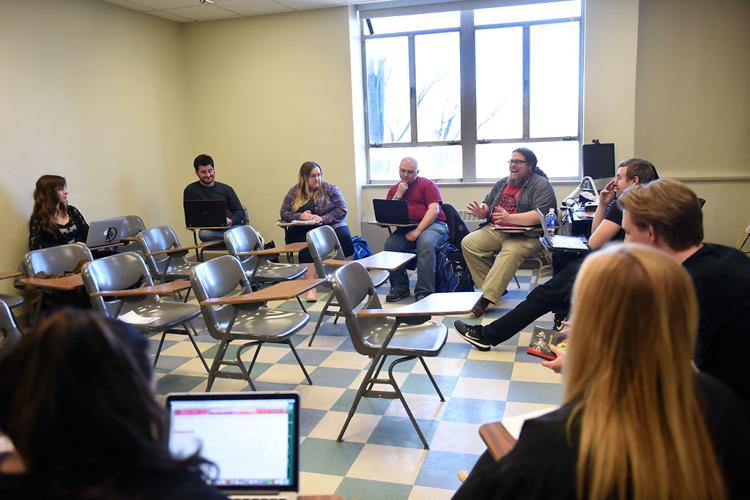 A life-changing ruling
For Simkins and countless other MU graduate students reliant on health care subsidies, the court's ruling could be life-changing.
"I depend on insulin to live — and very expensive lancets and test trips to manage my health," Simkins said. "Part of the reason I chose to come here was that I was guaranteed health insurance."
But as Simkins learned in fall 2015, health insurance is not guaranteed for graduate students.
She and her husband had just spent thousands of dollars moving to Columbia from northern Minnesota with their newborn daughter in tow.
Simkins was putting the finishing touches on her syllabus when she received an email informing graduate students that their health insurance subsidy would be eliminated. "I had to reread it several times because it literally didn't make sense to me," she recalled.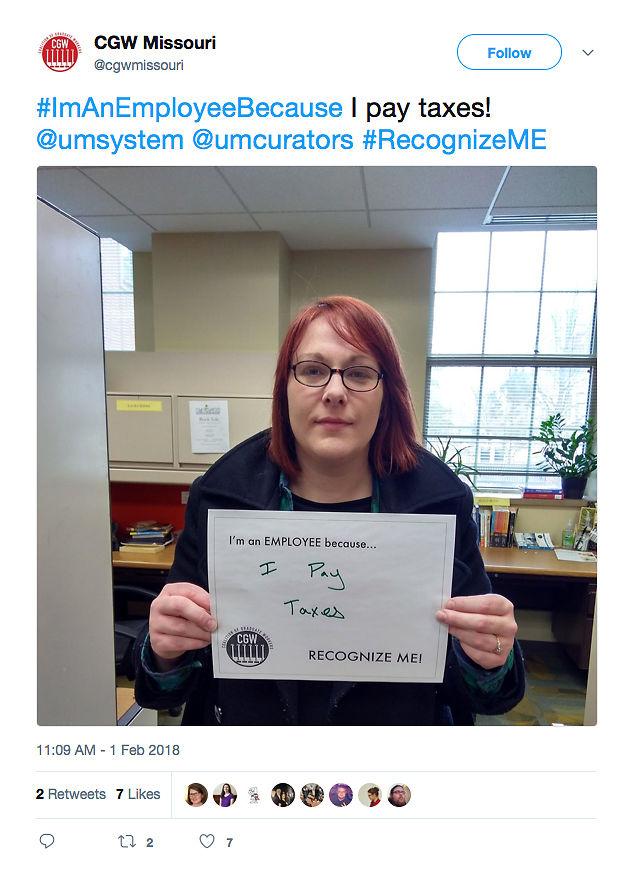 That same email also made its way to coalition member and applied social sciences graduate student Jason Entsminger, whose family was just about to close on a house in Columbia after relocating from Washington earlier that week. 
The health insurance decision spurred MU graduate students to form the Forum on Graduate Rights to issue a list of demands, which included pleas for health insurance subsidies, increased pay and affordable housing and child care.
Within a week, MU reinstated graduate student health insurance subsidies. But graduate students, still unsatisfied with their overall treatment, staged a rally and walkout during the first week of school. In early 2016, MU agreed to a staggered increase of graduate stipends from a $12,000 minimum per nine-month half-time appointment for doctoral students to $18,000 by summer 2017.
"That was precisely because of all of the organizing we did and the threat of unionization," Moore said. "This is a time-honored management tactic. Whenever they're faced with the prospect of unionization, they always make concessions as a way of saying, 'You don't need a union because we're going to give you these things out of the kindness of our heart,' when really they did it because of pressure from below."
The April 20 court hearing will occur almost two years to the day since MU graduate students voted overwhelmingly to unionize. But curators declined to recognize their union.
In May 2016, the coalition filed suit against the curators, and litigation has continued for the past 22 months. The curators hired St. Louis labor attorney Michael E. Kaemmerer to defend their case. The Missouri National Education Association, in conjunction with the private law firm Schuchat, Cook & Werner, also of St. Louis, is representing the coalition.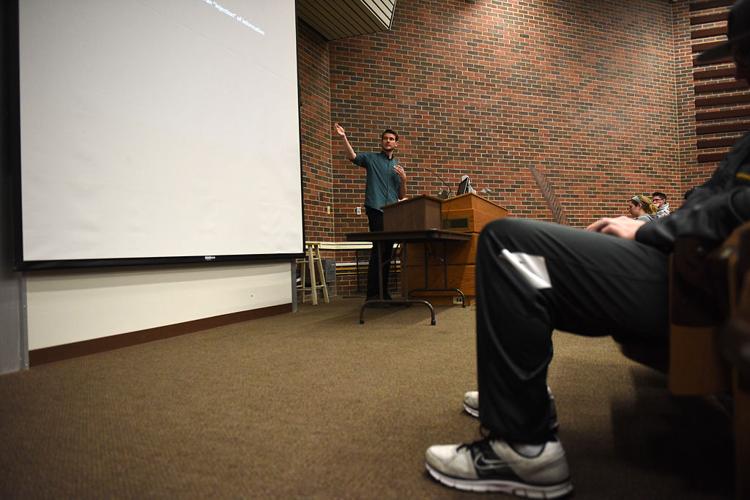 'An issue of knowing what to expect'
Although officials have said the raise makes unionization unnecessary, graduate students see it as a superficial fix to a deeper problem that they argue can only be solved through unionization.
"We understand the financial situation the university is in," Moore said. "We think the $18,000 minimum is fair compensation. We're not asking for any more. We want those compensation levels guaranteed in a collectively bargained contract and regular cost of living adjustments."
Even graduate students in STEM fields, who traditionally make well above the minimum stipend, think unionization is the clearest path to academic security. 
"I think it's more of an issue of knowing what to expect from our university and know that our issues and needs — which are employees' issues and needs — are respected and taken care of," said Arianne Messerman, organizing and grievance officer of the coalition. The biological sciences doctoral student has worked in a lab and taught classes at MU to earn a $25,000 annual stipend.
Moore also said unstable graduate student benefits coupled with tuition hikes have the potential to undermine MU's publicized commitment to diversity and inclusivity.
"Lower-income students, working-class students, and we know that students of color are predominately represented in lower-income groups, it's going to be more difficult for them to study at the undergraduate level," Moore said. "At the graduate level, the problem is the same."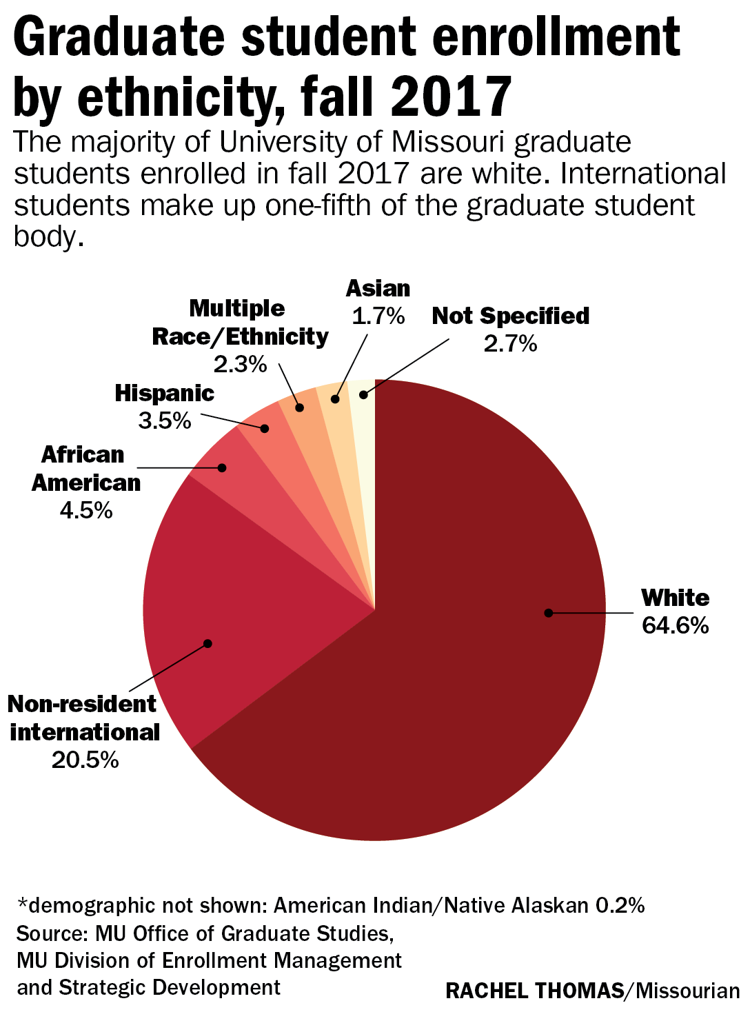 Access to affordable child care is another issue driving the Coalition of Graduate Workers' resolve to gain collective bargaining rights. According to enrollment data, 75 percent of MU's 5,872 graduate students are 25 or older and are increasingly more likely to have child care needs than undergraduates.
MU once operated the Student Parent Center, but it was demolished in 2014 and has not been replaced.
"I remember when I first came here in 2013, a graduating English doctoral student told me that they couldn't have completed the degree without the day care," recalled Eric Scott, English doctoral candidate and coalition co-chair. "That's something our union has asked for since day one: There needs to be affordable child care."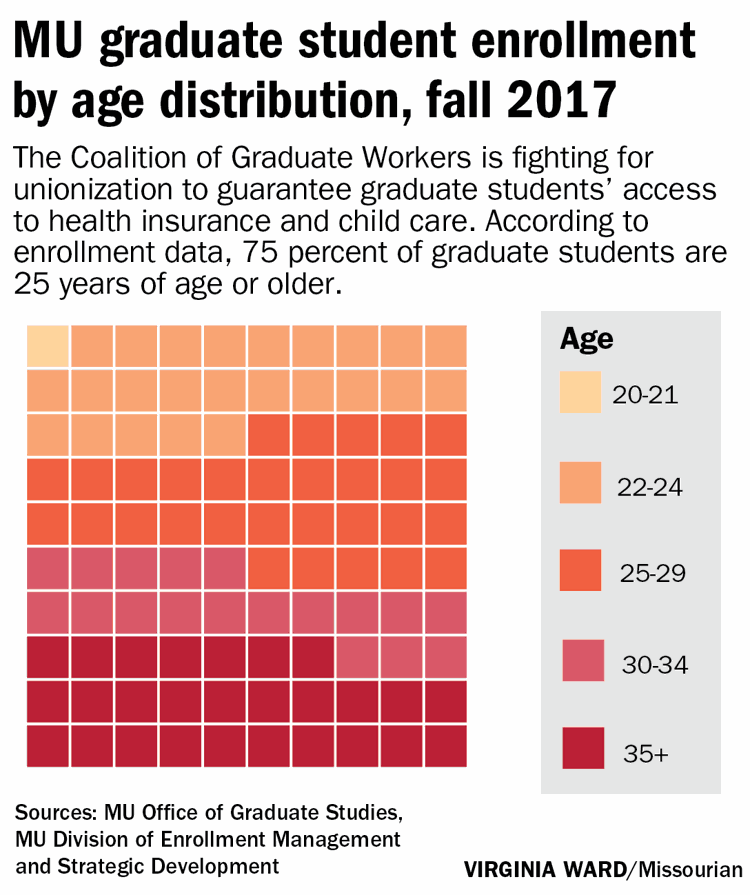 Both guaranteed access to health insurance and child care were chief among Simkins' list of reasons for getting involved. She also wanted to hold the university accountable to its own standard.
"Respect, responsibility, discovery and excellence are our values at this university. I did not feel the university was being responsible. I didn't feel like it was taking actions that were responsible for its workers, for its students or for our lives," she said. "I felt compelled and called to take part in this work with the CGW."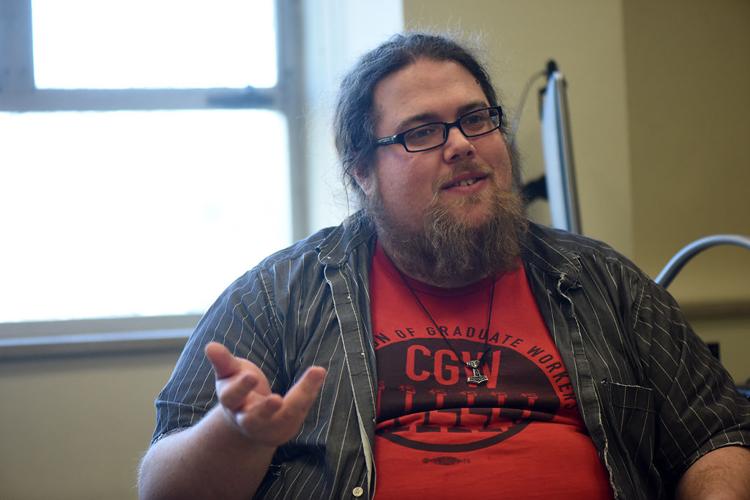 Since filing the lawsuit, the national mood on graduate student labor has shifted in the coalition's favor and then back again. When graduate students first began agitating for unionization in late 2015, the National Labor Relations Board — which oversees graduate student labor practices at private institutions — stood on the side of university administrators, having ruled in 2004 that graduate students did not have the right to unionize.
Since President Donald Trump's inauguration, the five-member board has reached a stalemate, with two pro-business, Trump-era appointees and two pro-labor union Obama-era appointees. But Trump's fifth appointment, management-side labor lawyer John Ring, is waiting for U.S. Senate confirmation, and that could tip the scales in favor of the pro-business agenda. This expectation has led private universities, such as Columbia University, to dig in and bring graduate student demands for unionization to court rather than recognize the unions.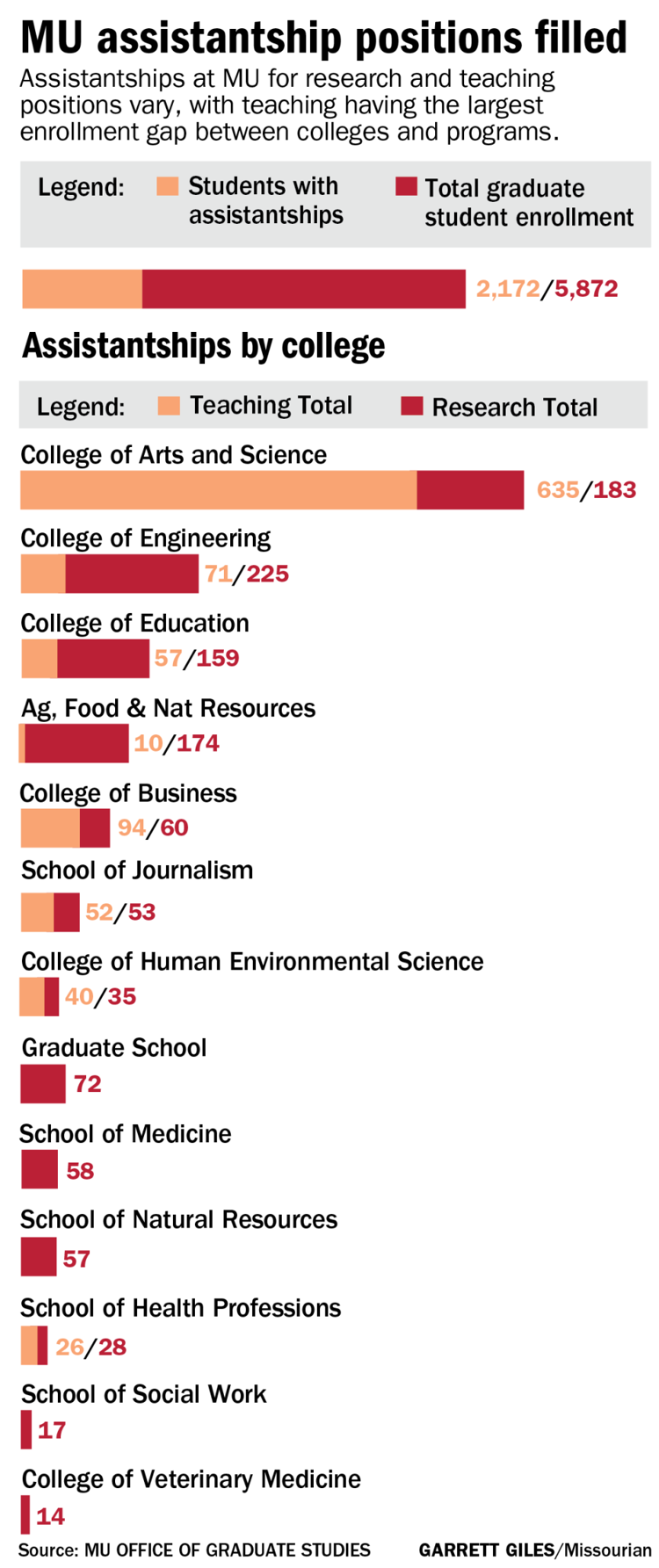 Although Scott, who has been active with the coalition since the beginning, acknowledged that "the national law doesn't have any bearing on the state law," he has seen inconsistency on the administration's citation of NLRB rulings since the students started organizing the union.
"What we were told at that point (2016) was that the NLRB was against graduates to organize and there was no precedent for unionization," Scott said.
MU students are not isolated in their fight for unionization. As slashes to state higher education budgets have swept the country, including Gov. Eric Greitens' recently proposed $98 million in cuts, more and more graduate students at public universities have called for unionization. Graduate students at the University of Iowa unionized years ago, and Moore said coalition members look to Iowa as a model for their own organization.
In addition to taking classes, 2,172 MU graduate students are employed as teaching or research assistants, which requires them to design courses, hold office hours, grade exams and papers and mentor undergraduates. While the Board of Curators argues this work enhances their degrees, professors and students alike see the contributions of graduate students as essential to providing a high-quality education.
"Imagine a course with 80 students with a 10-page paper assignment. That would be 800 pages of grading for one faculty member for only one assignment. Doing a good job grading and providing feedback for students to improve can take at least 30 minutes for one paper," said associate professor of sociology Victoria Johnson, who said she relies on graduate teaching assistants to help instruct her courses.
Entsminger, a graduate instructor, came close to juggling that load last semester when he was teaching a 60-student section of agricultural marketing systems with no teaching assistant while registered as a full-time student.
"I was doing significantly more work, between research and teaching, than what was on the books," he said. "We get paid nominally for a quarter-time teaching appointment, but it actually takes much more time than that to get quality teaching done."
"We are doing work that benefits the university, its students and its research studies," Entsminger said.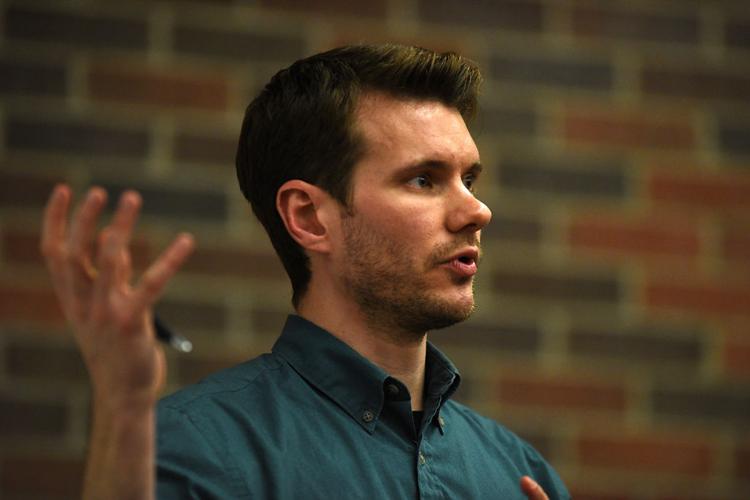 MNEA and coalition leaders think a final decision will come by June.
Moore said the coalition is confident in its case and expects a favorable outcome. But regardless of the judge's ruling, the Board of Curators, as a matter of law, does have the right to appeal the court's decision, and that could place another roadblock in front of union recognition.
The union held a closed meeting in February in which about 40 members met with an MNEA lawyer about updates on the lawsuit, case tactics and organized support ahead of the hearing.
"I am an employee because ... My original research upholds the reputation of MU and supports the training of undergraduate scientists. RECOGNIZE ME!" Messerman's read.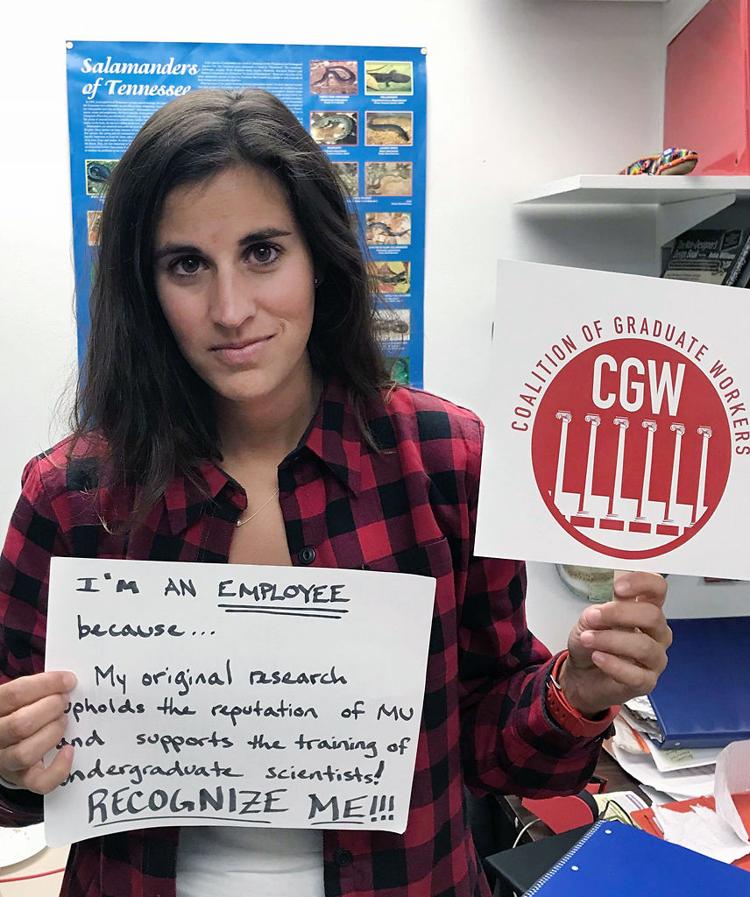 Coalition leaders also see high value in drawing a big crowd to the Boone County Courthouse on April 20 to further publicize their interpretation of the word "employee." 
"We want bodies. We want as many people as we can get. It's a show of our support. It's a show of our power and our influence," Moore said. "Although the decision is not going to be made on that day, that day is an important day for us."
The coalition is calling on sympathetic undergraduates, faculty and other local labor organizations to show their solidarity.
"It is the final hearing in the court case that will eventually decide the case," Moore said. "We are going to use that opportunity as a show of solidarity between CGW and other labor groups in Columbia and throughout the state as a statement to university administration."
The coalition has reached out to the mid-Missouri chapter of the Laborers' International Union of North America and Missouri Jobs with Justice.  
Missouri's state labor history could also factor into the outcome of the lawsuit. Although Article 1 Section 29 of the 1945 state constitution does guarantee the right of unionization, it applied only to private employees until 2007, when the state Supreme Court ruled in Independence NEA vs. Independence School District that K-12 public school teachers are entitled to collective bargaining rights. Boone County Circuit Judge Jeff Harris' decision in the case of Coalition of Graduate Workers v. Board of Curators of the University of Missouri could further redefine who is legally considered an employee in the state.
"The University of Missouri and the Missouri Legislature are hoping this whole union craze will die down if they drag things out long enough," Messerman said. "We still want to guarantee our rights with a democratically agreed upon contract."
Simkins, who juggles the responsibilities of a doctoral program, motherhood and diabetes, plans to join other graduate students at the hearing.
"There is no way for me to survive this program without health insurance," she said. "That has always kept me involved in the union and staying involved in the fight ahead of us."