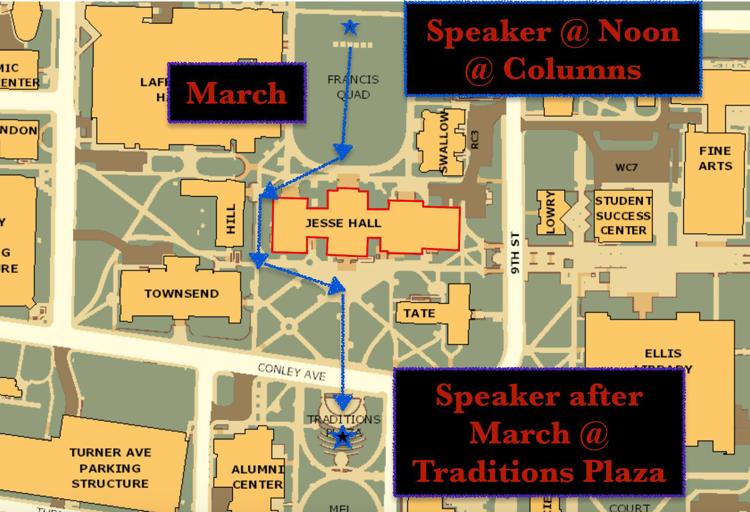 COLUMBIA — The return of health insurance coverage for graduate assistants announced Friday has not calmed a storm around graduate students' rights at MU. A rally and all-day walkout planned for Wednesday and focused on graduate rights appears to be drawing support among faculty.
"I think the graduate students have had a long list of grievances," said Lois Huneycutt, associate professor of history and director of the Department of History's graduate studies program. "It's not just health care — they've had issues with child care, housing and pay."
On Monday, the first day of classes for the fall semester, Huneycutt canceled class Wednesday in anticipation of speaking at and attending the rally, which is scheduled to begin at noon at the columns on Francis Quadrangle.
Dennis Kelley, an associate professor of religious studies, said Monday that he will cancel his Indigenous Religions class Wednesday in support of the graduate assistants and to raise awareness.
"My class has two (teaching assistants) covering four sections," Kelley said. "They are hard-working students, and so I wanted to make sure they are supported, and also so that my undergraduates know what is going on because it impacts them as well."
Susan Langdon, chairwoman of the Department of Art History and Archaeology, supports the walkout and plans to attend the rally. Like Kelley, she sees it as an important way to educate undergraduates about the role of the graduate assistants.
"It's important for the university to remember again and have it demonstrated again how integral graduate students are to operations," Langdon said. "There has been a trend to see them more as a revenue stream instead of recognizing how important their teaching and research is."
While some professors have canceled class, others have given that option to the graduate instructors "as a show of their … power and impact upon the university's daily business," said Sarah Senff, a graduate instructor and the associate director for the Center for Applied Theatre and Drama Research.
"There are a lot of general frustrations we have as students," said Rachel Zamzow, a fourth-year neuroscience doctoral student and a graduate research assistant. "And the elimination of the subsidies was the straw that broke the camel's back."
Zamzow said insurance is only one of their concerns.
"We're advocating for rights for graduate students," she said. "We also want the university to increase stipends for students, and we want every student to be paid at or above the poverty line."
According to a post on the Graduate Student Walkout Facebook page, the rally will start at noon at the MU Columns. After speeches, the demonstration will continue with a march past Jesse Hall and on to Traditions Plaza near the Business and Law schools.
"We will continue the celebration of all the contributions that grads made to make Mizzou great," Senff said.
According to an updated statement of demands from the Forum on Graduate Rights dated Saturday, graduate students will be invited to step out of their classrooms, laboratories and offices as an act of solidarity.
The rally will focus on numerous demands that have been made by the Forum on Graduate Rights, including wages for graduate assistants that are above the poverty line, on-campus child care, affordable housing, tuition waivers and a guaranteed, fully subsidized health care plan.
"In general, I've heard from a lot of faculty who believe that now that insurance is reinstated, this issue is over and done with," Zamzow said. "But this is really only the beginning, not the end."
A number of departments have expressed their support in emails and on their websites. For example, on Thursday the Department of Religious Studies posted that faculty members "are unanimously in support of the graduate student movement for health care, tuition waivers, and respect. The department will place no sanctions on those who participate in next week's planned walkout." 
The announcement that graduate student employee health insurance subsidies would be reinstated for the year came Friday afternoon from Chancellor R. Bowen Loftin, Provost Garnett Stokes and Hank Foley, senior vice chancellor for research and graduate studies. The statement said other concerns could be addressed through the Graduate Student Experience Task Force and the recently formed Budget Allocation Advisory Council.
However, a letter dated Saturday from Hallie Thompson, president of the Graduate Professional Council, and Kenneth Bryant Jr., president of the Graduate Student Association, stated that the shared governance approach will not work because the problems are numerous, multifaceted and longstanding. The structure of the approach does not allow for enough student input and it favors administrators and their priorities.
"All efforts to support graduate student success and quality of life should be taken to ensure our success as an institution of higher education," the letter stated. "Where this involves shared governance, such mechanisms must be critically examined."