Growing up in the small river town of Hannibal, Brooke Burton heard inspirational stories about members of her family in the medical field.
Tales about her grandfather saving lives in rural Missouri were shared around the dinner table, as were her uncle's wild stories about his work as an orthopedic surgeon.
When Burton's anatomy teacher boosted her confidence about a medical career in high school, she decided to pursue her dreams.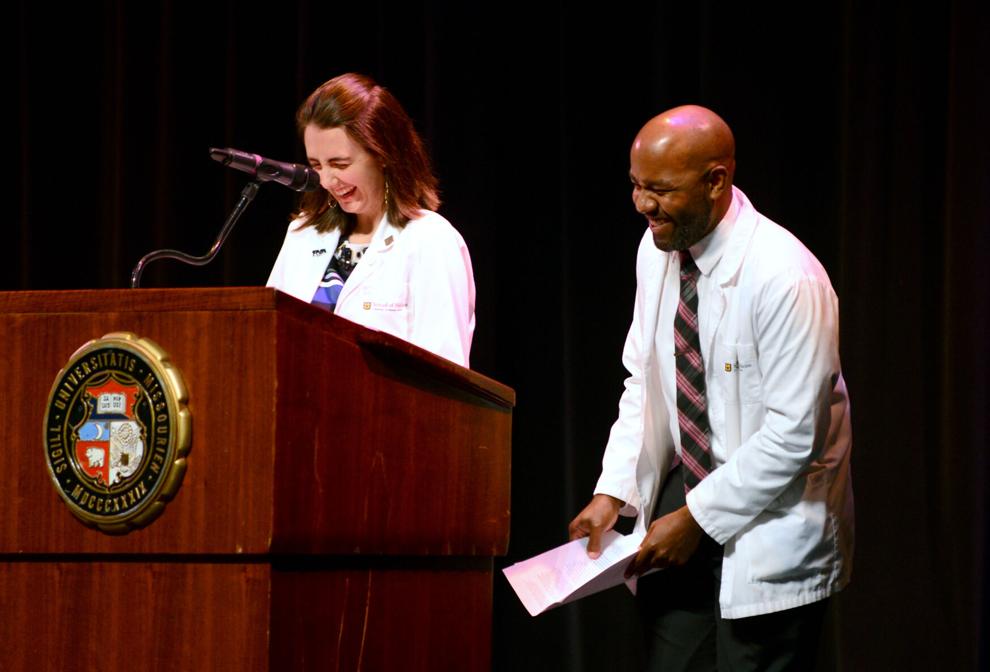 On Friday, Burton was one of 128 incoming students at the MU School of Medicine who celebrated their first steps toward becoming physicians at a white coat ceremony in Jesse Auditorium.
Selected from more than 3,000 applicants, the Class of 2025 represents the most diverse group of future physicians MU has ever enrolled.
According to School of Medicine data, 20% of this year's incoming class self-identifies as underrepresented in the field of medicine. This includes students who are Black/African American, Hispanic/Latino, Pacific Islander, Native American and mainland Puerto Rican.
Additionally, 42% self-identify as an ethnic minority within the United States, 26% are from socioeconomically disadvantaged backgrounds, 88% are from Missouri and 20% are from rural areas.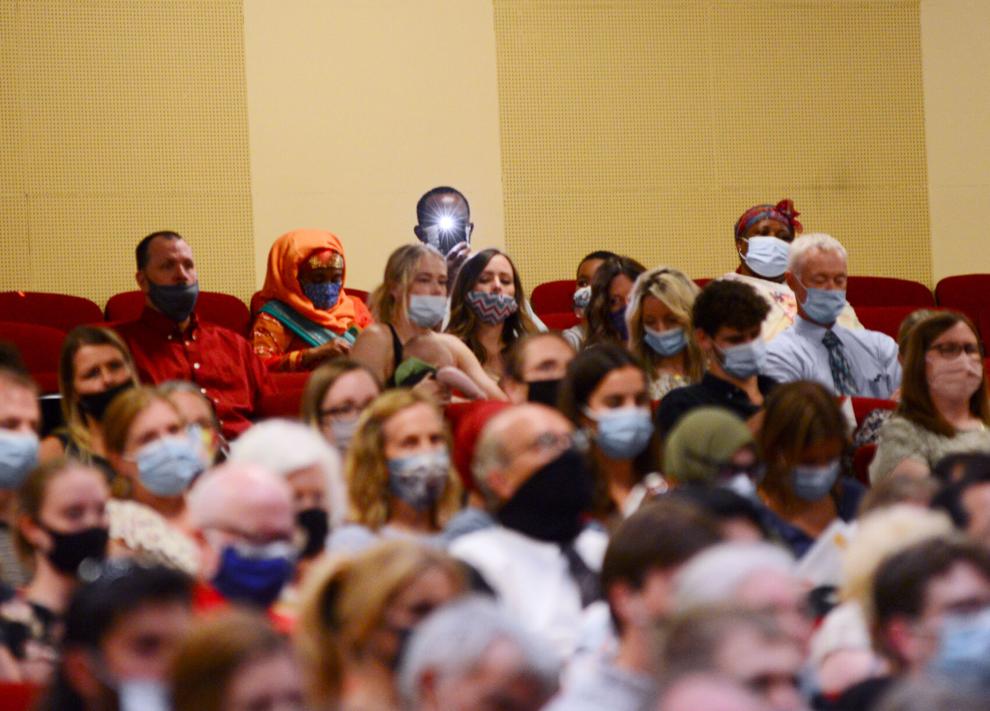 The number of incoming students who identify as underrepresented has increased 11% since the class that entered the medical school in 2017.
In contrast, the school didn't have a single Black student in its 2007 freshman class, the Missourian has reported. The following year, the national accreditation committee for the Association of American Medical Colleges and the American Medical Association told MU officials that they must find a way to diversify the medical school.
Within five years, the School of Medicine had more than doubled its acceptance rate of historically underrepresented minorities, from eight in 2009 to 18 in 2013.
"It's exciting to see the increasing diversity in our medical school," said Laura Henderson Kelley, associate dean for diversity and inclusion for the School of Medicine. "The ability to hear and share varied perspectives and lived experiences really enhances the educational environment."
One program intended to represent broad backgrounds of students in the medical school is the Bryant Pre-Admissions Program, created to support young people from rural areas as they pursue a medical education. Burton, whose hometown has a population of just more than 17,000, is one of 18 incoming students in this year's program.
"The program is to help combat the shortage of rural physicians in Missouri," Burton said. "It was designed to help bring in students from a rural background and encourage them to stay and go back and practice in a rural town."
"In a rural town as a physician, you're going to be a role model for the community," she said.
According to the program's website, Bryant Scholars are more likely to choose a primary care specialty and twice as likely to choose family medicine as a specialty when compared to non-participants.
Additionally, 61% of Bryant Scholars practice in a rural location, and 71% stay in Missouri.
Bryant Scholars also have the opportunity to complete their required, third-year rotations in rural areas.
"We will be going to at least three different clerkships at a rural site," Burton said. "You could do OB/GYN, pediatrics and family medicine in a rural hospital."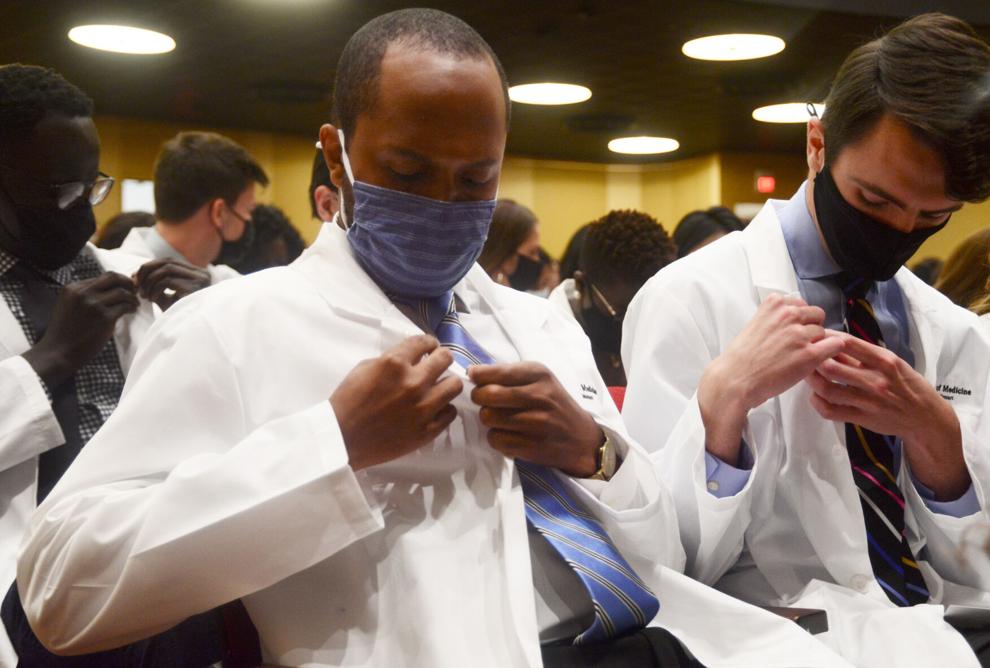 Being part of the most diverse medical school class in MU history is both motivating and exciting, Burton said.
"We have gotten a lot of opportunities already to hear a lot of different perspectives," she said. "I think the diversity brings so much to the table because we can learn from one another's firsthand experiences."
Yak Nak, 23, also received his white coat during the Friday ceremony. Nak and his family immigrated from Wau, Sudan, before he was 4 years old. After graduating, Nak said he would like to return to South Sudan and open a practice there.
"I would love to be able to hopefully open up a clinic to provide quality care to people from South Sudan," he said. "I feel like that's a deep calling that I have to be able to give back and not forget where I came from.
"We are immigrants into the United States, but we can't forget our home country."
Nak, whose family lives in Kansas City, completed his undergraduate degree at the University of Arizona before deciding to be closer to home.
"I think my main thing that really drew me to Missouri is the emphasis that it has on patient-centered care," Nak said. "At the end of the day, when I graduate four years from now and I'm walking across the stage, I just want to be able to say that Missouri University School of Medicine has prepared me to be a compassionate and patient-centered physician."
Friday's ceremony is a rite of passage that represents transitions in medical training where the length of the coat from short to long distinguishes students from physicians.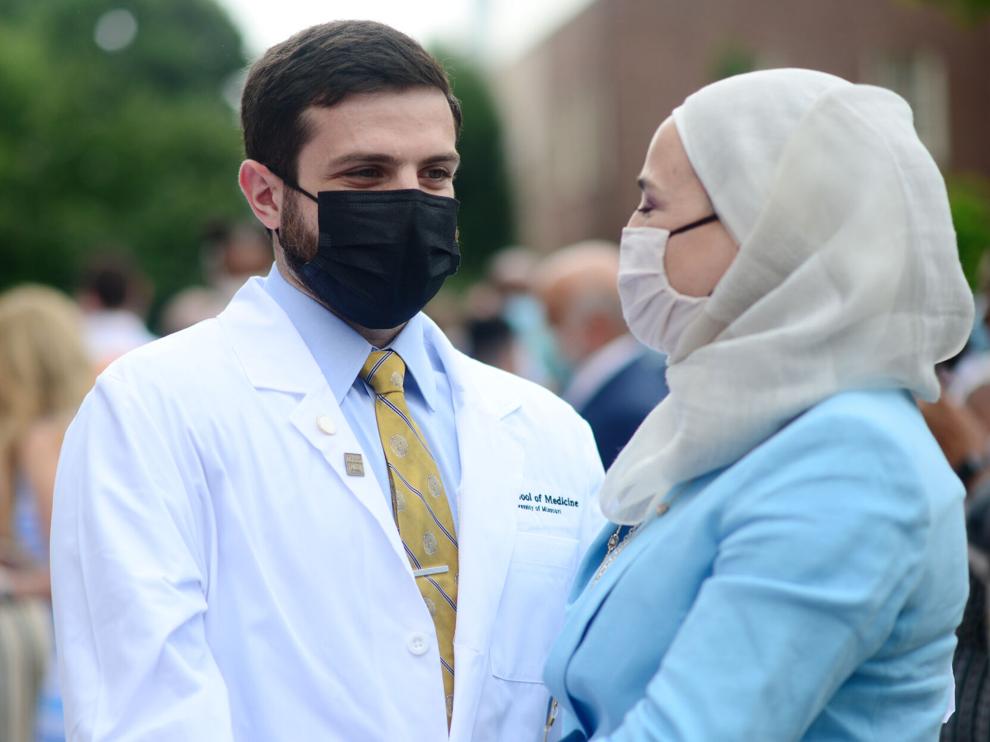 "It's a symbol that is universally recognized and carries with it a commitment to patient-centered care and clinical excellence," Steven Zweig, dean of the MU School of Medicine, said in a news release. "We're proud to be the state's leading educator of physicians who practice in our state, and I'm pleased our incoming class reflects the diversity of our state and nation."
The first white coat ceremony was held in 1993 at the Columbia University College of Physicians and Surgeons. The ceremony was created by Dr. Arnold Gold, a pediatric neurologist who called the white coat his profession's "cloak of compassion."
The Arnold P. Gold Foundation now estimates that a white coat ceremony or similar rite of passage is held at more than 90% of schools of medicine and osteopathy in the United States.
The first white coat ceremony held at MU was in 1997.