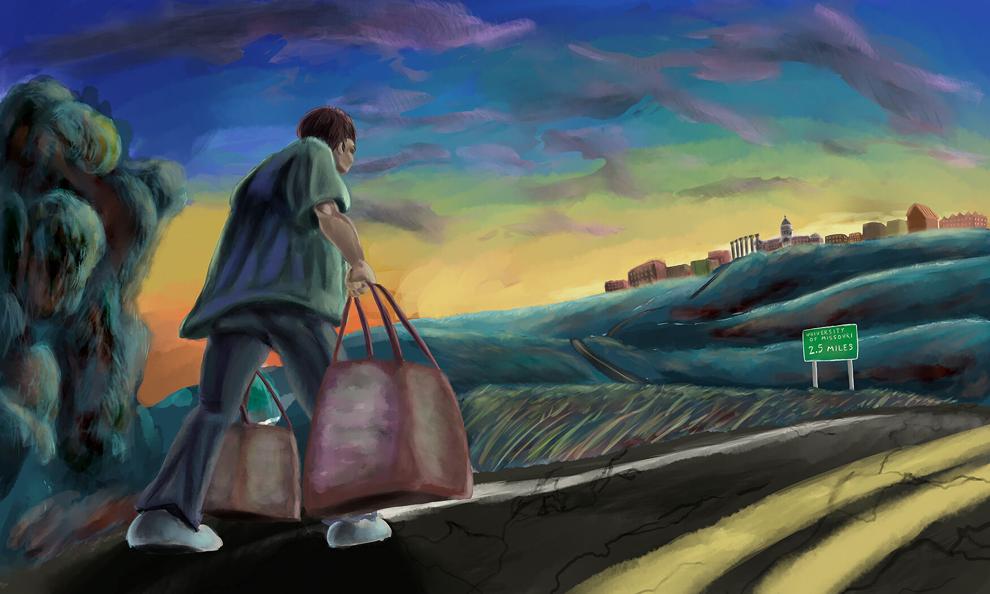 In his free time, MU freshman Andrew Bollinger enjoys solving math problems, but sometimes he is so hungry he has to put the pencil down.
"I try to go as long (without eating) as I can until it affects how I study," Bollinger said. 
Food insecurity, which the U.S. Department of Agriculture defines as a condition in which a household or individual has limited or uncertain access to food, has affected 1 in 7 Missourians this year, according to Feeding Missouri, a coalition of food banks.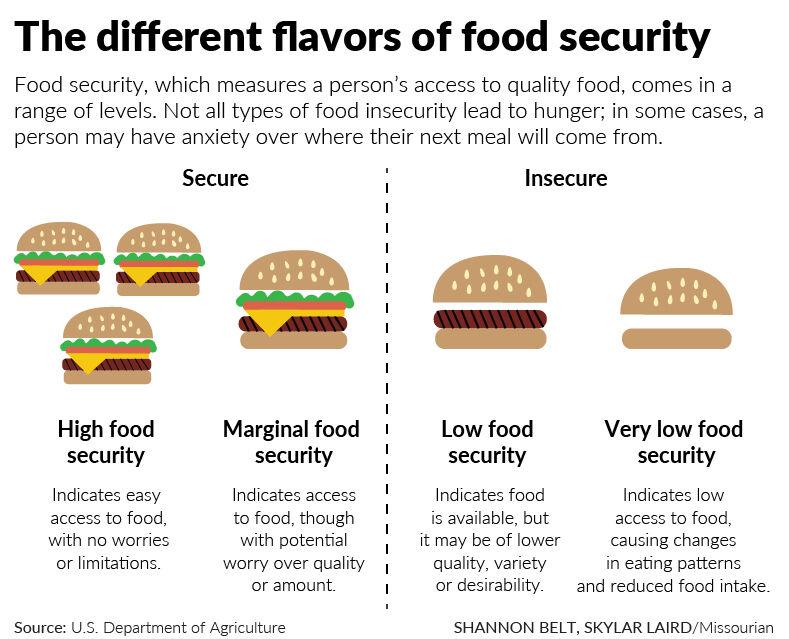 Although hunger is not a new issue in the United States, its effect on college students is often overlooked.
Food insecurity can be an unavoidable facet of college life — along with rising tuition costs, soaring food prices and unstable housing and transportation — that can rock the path between orientation and graduation.
Bollinger said his father was a truck driver who often skipped meals on the road so the family could eat. The family struggled financially and took advantage of community food pantries.
Eventually, Bollinger made his way to MU. Although the university welcomed him with open arms, his dubious relationship with food persists. On many days — before his meal card was upgraded — he would eat just one meal.
"The only day where I tried not to (eat one meal a day) was during training days, when we had free meal swipes," he said, referring to freshman orientation.
About 34% of college students have experienced food insecurity since 2020, according to the Hope Center, a nonprofit group.
Students who face food insecurity tend to have lower GPAs than those who aren't hungry, according to Tiger Pantry director Brylee Duncan. The campus organization has provided groceries to the MU community since 2012.
About 250 households currently use Tiger Pantry, said Duncan, who is also a junior at MU.
"A lot of students aren't able to work while they're in school, or (they) have other issues to where they're not able to pay for food or even just adequate food," she said.
At Missouri Southern State University in the southwestern city of Joplin, associate professor Andrea Cullers has heard from many of her students that they lack access to nutritious food. Since 2017, the professor of kinesiology has received survey feedback from more than 2,200 students and found that a quarter of them were food insecure.
The revelation led to Cullers founding and serving as co-director of the Lion Co-Op Food and Personal Hygiene Pantry, an initiative that aims to combat food insecurity and provide students with basic essentials.
As Cullers notes, the problem extends beyond students' immediate physical needs; national and local studies suggest food insecurity hampers school performance, results in mental health issues and even increases stress levels.
"Many students have a very challenging time trying to figure out how to balance academics and work when they are food insecure, so they're trying to work more shifts in order to have money for food and other necessities," Cullers said.
Background, barriers and deserts
A 2019 report from the Pew Research Center found that the percentage of undergraduates has steadily shifted to represent more first-generation students, particularly those from poor or minority communities. This shifting student body, although intended to provide the diversity of universities across the nation, highlights a continuous rise in need for basic student support.
Many Black and Hispanic students are becoming the first in their families to attend college, according to Joan Hermsen, an MU associate professor of sociology. In many cases, marginalized students continue to experience social and financial inequities in higher education.
Many students are able to attend college because of partial scholarship support but are otherwise unable to adequately provide for themselves, Hermsen said. And even at the federal level, students enrolled full time are normally ineligible to receive federal food assistance, also called the Supplemental Nutritional Assistance Program, or SNAP, according to the USDA. However, as of January, the guidelines widened eligibility for students because of the ongoing pandemic.
Still, one population that partial funding specifically affects is student athletes.
At Missouri Southern State University in Joplin, a Division II school, students receive a small amount of institutional funding to attend, said Cullers, who works with student athletes to better understand their needs. On top of that, an athlete's demanding schedule may prohibit them from working part-time jobs, and it can be even harder to prep well-balanced meals. Living off of chips and pocket snacks, these students may not be able to get sufficient energy for field practice or class assignments.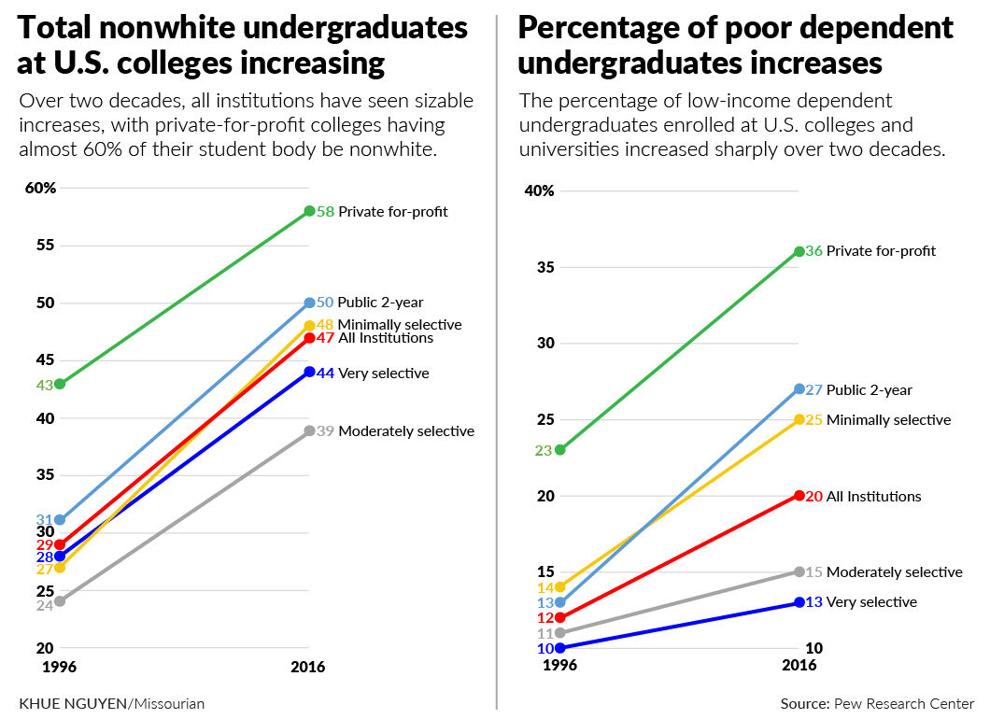 Others live in even harsher financial circumstances. Many who come from poverty work their way through school without familial assistance. In some cases, students are estranged from their families, such as LGBTQ individuals, according to Hermsen. As the U.S. Census Bureau found in August, this group is likelier to face economic uncertainty than non-LGBTQ people.
And in even more extreme cases, some struggle to keep their homes and care for their families. Brittany Hoggard-Lowery knows what that's like.
Hoggard-Lowery is a senior at Missouri Southern State University and a nontraditional student. As an intern at the school's Lion Co-Op organization, she works alongside Cullers to better assess and meet student need.
"I would say if you don't have good security, it's next to impossible to allocate the correct time and effort that it takes to get through school because you're not focused — let alone just trying to study on an empty stomach," she said. "I mean, literally, you're either spending that money and that time to either pay the bills or feed your kids."
Hoggard-Lowery has also been food insecure all her life. In her adolescent years, she jumped between housing circumstances, including living between both her parents' homes, the foster care system and group housing. In spring of 2003, just before her 17th birthday, Missouri Department of Youth Services encouraged her to earn her GED instead of a high school diploma then enroll in college classes.
"It was then that, almost immediately, I found myself homeless and vulnerable to the harsh realities of a world with no fundamental support system," she said, citing her release from youth services, in addition to leaving group housing, as a turning point in her life.
In years to come, Hoggard-Lowery slowly knocked off one assignment at a time as she pursued an education on and off. Eventually, her hard work paid off when she earned a medical assisting degree in 2008 at Wichita Technical Institute in Joplin. Still, she yearned to achieve an associate's degree so she could better provide for her family. But because of her uncertain living and meal situation, it would take her more than a decade to reach this goal.
"It took me 17 years to get a two-year degree," Hoggard-Lowery said, referencing the associate of arts she received in December 2019 at Crowder College in Neosho.
Today, the 35-year-old dedicates herself to serving her community as she pursues a bachelor's degree in sociology. This past summer, she surveyed food pantries around the state as part of an ongoing project with the Interdisciplinary Center for Food Security, an MU research organization.
As someone who has researched food insecurity and lived with it, Hoggard-Lowery recognizes a particular issue that muddles food accessibility to many: food deserts.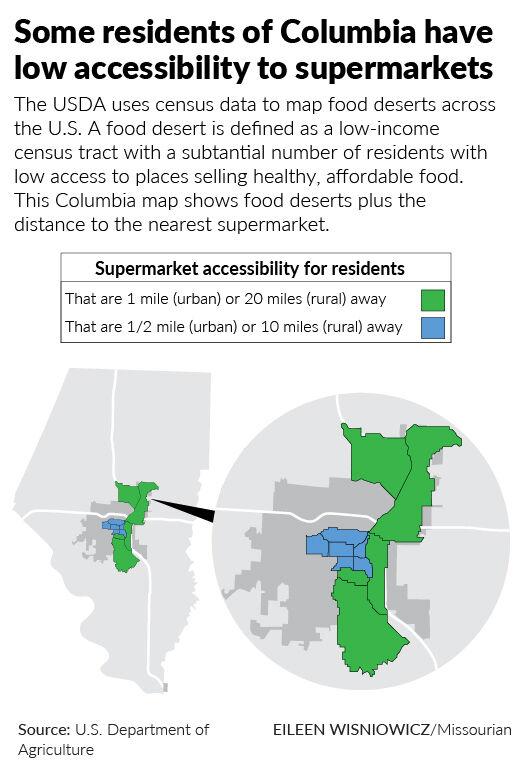 Located in a more rural setting, Missouri Southern is set 3 miles from the nearest grocery store, Cullers and Hoggard-Lowery said. The USDA characterizes these geographic spots as food deserts, which are sectors of land where a high number of residents live miles away from the nearest commercial food supplier.
Food deserts are prevalent across the nation. For more rural areas such as southern Missouri, their severity worsens. Still, urban cities such as Columbia host numerous deserts, according to the USDA's Food Access Research Atlas.
Food deserts disproportionately affect certain students who don't have reliable transportation. For example, almost half of MU's graduate international students typically don't have driver's licenses, according to David Currey, director of International Student and Scholar Services. In April, the service department reported via email that 31% of all Tiger Pantry users are international students.
Getting food to people
Inside our own colleges, organizations and devoted students have been hard at work carving out solutions to food insecurity.
For example, Darren Chapman, project coordinator of the MU Interdisciplinary Center for Food Security, said food pantry operators should consider shifting facility hours to accommodate the working poor.
"I know students who work 20 – 30 – 40 hours a week and take on full course loads," he said. "When would they actually have time to access a pantry and make sure they can access that pantry when it's open?"
To achieve this, pantries will have to think through how they retain volunteers; one avenue would be to incentivize course credits for students or turn the act of volunteering into a family event.
Tiger Pantry recently shifted operations to increase access for students. In August, the organization relocated from its former location on Rock Quarry Road to the Hitt Street Parking Garage, which is only steps away from the north side of campus.
Pantries should also be cognizant about what students want to eat and their specific dietary habits. In spring, Tiger Pantry opened an international section meant to serve students who come from outside the U.S.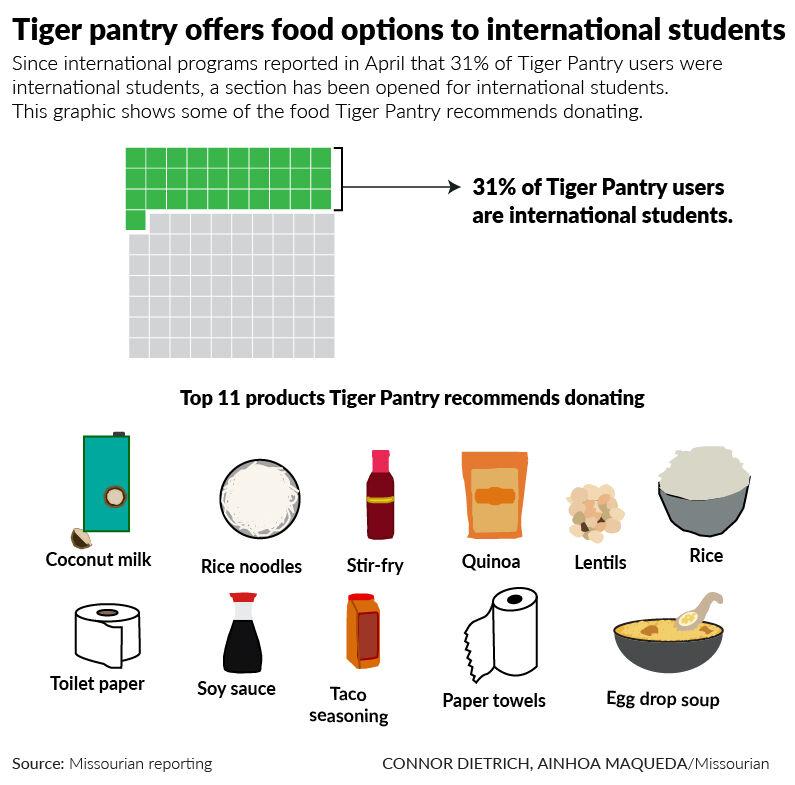 Bollinger, the MU freshman, suggests that pantries make sure the food is safe to eat. "Nonperishables, even if it (hadn't reached) the 'best-by' date, you'd open it and there would just be mold inside," he said. "Or you would find bags of pretzels with holes in them. Not always the most trustworthy food to eat."
Some have even found ways to give students free meals right on campus. Ozark Technical Community College in Springfield recently expanded a program that offers free breakfast to students.
Education
Looking past practical solutions, Cullers believes educating students on food insecurity is effective to combatting it. In September, she received a $25,000 grant to study the issue further and increase SNAP awareness to students.
Cullers and Brylee Duncan at Tiger Pantry both agree that connecting students to the federal SNAP program is particularly important. In 2016, the U.S. Government Accountability Office found that of the millions of students who potentially qualified for SNAP, less than half applied.
But students might feel as though they have to go out of their way to find this information. Hermsen proposes that a set of frequently asked questions regarding SNAP be added to the GoMizzou phone application, making it more convenient for students to read.
"It's on the tip of their finger on a phone to find out if they're food secure," Hermsen said. "And it's private."
Educating students can be as simple as keeping the conversation going, Chapman said. If people continue to talk about food insecurity then awareness will naturally grow.
Policy
Finally, some experts argue that it's necessary to adjust public policy to better reduce hunger in college.
Sara Goldrick-Rab, founder and president of nonprofit The Hope Center for College, Community and Justice, addressed college hunger at a September roundtable hosted by the U.S. House of Representatives Committee on Rules. She argued that colleges should be required to assess basic student need. At MU, though a student survey is conducted, the data doesn't accurately reflect the entire student body because not enough participants fill it out, according to MU News Bureau spokesperson Stephanie Fleming.
Goldrick-Rab, who is also a professor of higher education policy and sociology at Temple University, also recommends expanding the SNAP program and extending the National School Lunch Program to higher education, which is a federal-supported program that offers inexpensive or free meals to students.
In addition, the Hope Center president states that emergency aid funds should be made permanent for colleges that express a high enough need.
"Federal higher education and public benefit systems are behind the times," Goldrick-Rab concludes in her testimony. "Students are dropping out of college not for lack of talent but for lack of food. We are eating our seed corn."