COLUMBIA — One of Michael Middleton's first goals as interim president of the University of Missouri System is to address the demands made by Concerned Student 1950.
"It is imperative that we hear all of our students and do everything we can to make them comfortable and safe in our community," he said at a news conference Thursday announcing his appointment.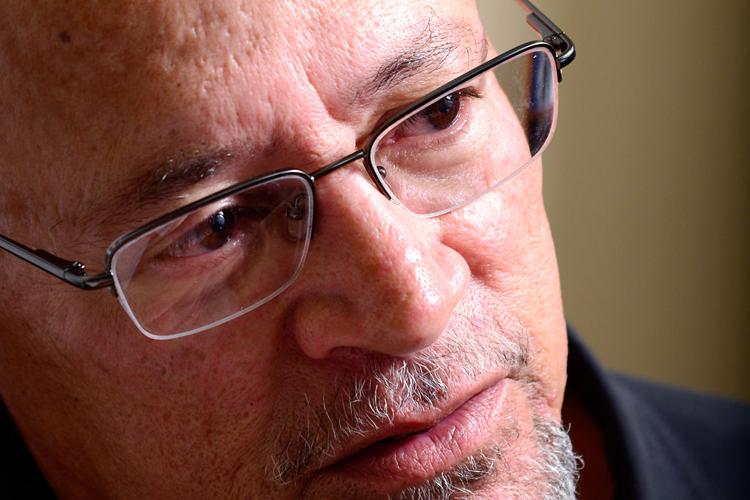 Middleton said he has met for weeks with members of Concerned Student 1950, who have been protesting for the past month, asking MU to increase diversity and inclusion. He said he met with some members before the group formally existed to talk about campus diversity and inclusion.
"This problem is centuries old, and this problem is going to take years to solve — if it can be solved," Middleton said of racism and discrimination. " ... I think we're at an opportune moment to take some giant steps forward to move this issue far beyond where it has been moved in the past, and I'm committed to doing that."
"At the moment?" he said, smiling. "No."
Michael Middleton named interim president
Michael Middleton has returned to the UM System as interim system president.
Middleton, deputy chancellor emeritus of MU, retired Aug. 31 after 30 years at the university, including 17 as deputy chancellor. In that role, he assisted the chancellor in his day-to-day work, appointed the Campus Climate Task Force and headed the Conflict of Interest Oversight Committee.
After he was introduced by curator Pamela Quigg Henrickson at the news conference announcing his appointment, Middleton said he looks forward to collaborating with the chancellors and their leadership teams at the system's four campuses, "and I look forward to working with Missouri state leaders as we collectively move our university forward both on inclusion and pride but most importantly based on respect for one another."
"I have seen the system grow and excel over the years, and I look with optimism to the future," he said.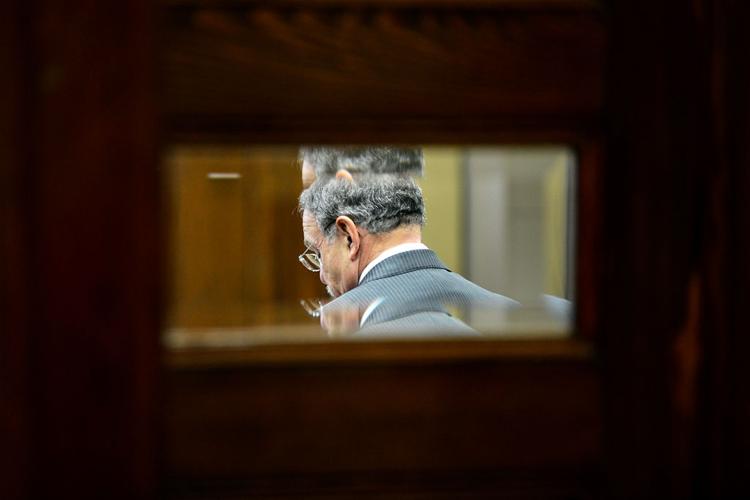 Also Thursday, the curators stepped up the transition of authority from MU Chancellor R. Bowen Loftin to Interim Chancellor Hank Foley, giving Foley the responsibilities of the Office of Chancellor immediately. 
"Our priorities have been to keep our campus community informed and safe, and to make sure students, faculty and staff are aware of the many resources available to them in terms of counseling, mental health services and other support," Foley said in the release. 
Foley joined the UM System in August 2013 as executive vice president for academic affairs, research and economic development. He had been at The Pennsylvania State University, where he was vice president for research and graduate school dean. In March 2014, Loftin named Foley as MU senior vice chancellor of research and graduate studies.
"This is a learning experience for us all," Middleton told the gathering at University Hall. "We must tighten our focus, improve our culture and climate across all of our campuses and share in the responsibility to see our university advance in healthy ways built on respect for others."
Middleton said his first order of business will be to address the diversity and inclusion initiatives announced in a UM System Board of Curators meeting Monday, including appointing a chief diversity officer for the system, increasing the number of faculty of color on all campuses and reviewing the UM's rules and regulations.
"We need to ensure that what we are doing institutionally, structurally and systemically accommodate the needs of our students," he said. "We will do that."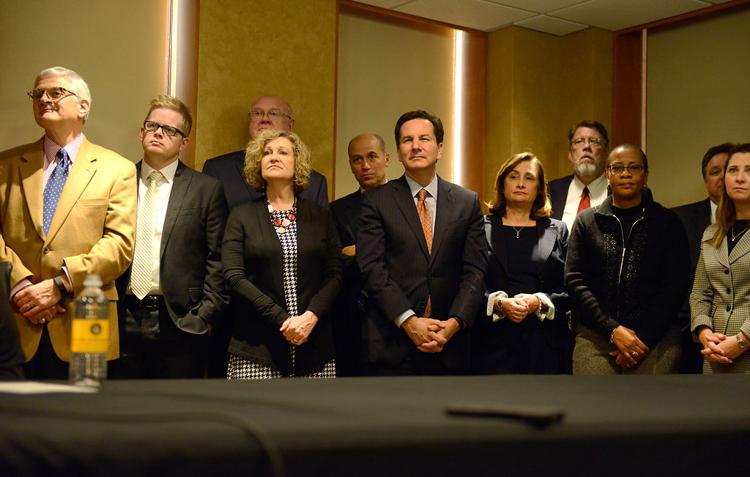 Room 321 in University Hall was packed with reporters and observers, cameras and microphones, and students and administrators at 1:30 Thursday afternoon. People stood and leaned against the wall, sat on the floor between cameras and the table or shifted weight behind equipment. Everyone seemed primed to hear what Middleton had to say.
He filled the room with a calm demeanor and a low, steady voice. He admitted he was tired, but he answered questions directly. A number of them were about racial tensions and heightened aggression at MU.
"We've got to be truthful. We've got to put the facts on the table. We've got to understand the ugly, ugly history that permeates everything we do in our institutions in this country," Middleton said. "Once we get the truth on the table, I think we're poised to reconcile those differences and move forward. And I'm convinced that — at this institution, at this time — that is what we need to do." 
When asked if he thought he was hired because he was black, Middleton said it was a complex question. He paused for several seconds before answering.
"I suspect that my color will be met with much criticism from parts of our community," he said. "I also suspect that my color was a factor in the judgment that I was the person at this time to take this position. Color in this country is an issue that is considered, that affects many, many decisions that are made, positively and negatively. We need to understand that, accept it and get beyond it eventually."
When asked what he thought about students who felt unsafe on campus, he said he was glad he had retired.
"It was embarrassing. It was hurtful. It was scary," he said. "It crossed my mind that my 30-year career here had been a total failure. But then I recognized how deeply rooted this problem is in our culture. And I realized there was nothing I could do as an individual … to change it."
Now, he said he is energized to bring together a community that will work to address racism and discrimination.
One person asked whether Middleton ever felt marginalized at the university as a student, a faculty member or as an administrator.
"Every day," he responded. "In all three capacities."
What does it mean to be a minority, another asked. What does that look like or feel like?
"It is the feeling of not being heard, not being respected, being placed at the margins of what's really happening in the world," Middleton said. "It happens, and it happens inadvertently. No one is to blame for this."
Middleton said he sympathized with those who don't understand what's going on at the university and doesn't blame white people who don't understand how minorities feel.
"I blame our ugly history," he said. "I think it's important that we learn that history and understand it so that we can get beyond that history and build the institution and the country that we imagine rather than the institution or country that is."
To future potential students, Middleton offered a message:
"If you think you can go to a university somewhere else (and not experience discrimination), please think again," he said. "And please come here, because we are serious about being the university system that steps forward and becomes a leader in dealing with this problem."
Middleton's tenure at MU
Middleton's legacy began at MU in 1964 when he enrolled as a freshman just 14 years after the university opened admission to black students. He went on to be the first black student to enroll as a freshman and graduate with a law degree. He then became a civil rights lawyer in Washington, D.C., before returning to MU in 1985 to teach criminal law and employment discrimination. He was the first black professor in the School of Law.
As a student, he participated in civil rights protests and anti-war sit-ins on campus. He was influenced by prominent black figures in the 1950s and '60s, such as Thurgood Marshall and Martin Luther King Jr.
Middleton remembers Columbia as a community in which he had to watch his back. You never knew when someone might throw rocks or water at you while you were walking downtown, he said. Racial slurs were common, and no one wanted to room with him because of the color of his skin.
"I went to school. I studied. I got a very good education. It was a way of life I was accustomed to," he said.
Middleton was one of the founders of the Legion of Black Collegians, a governing body for black organizations on campus. In 1969, he and other students presented the university with a list of demands to promote diversity — hire more black faculty, fund scholarships for black students, create a black culture center and start a black studies program. 
Another set of demands were issued to administrators in 2005, when Middleton was a member of the administration, he said. Some of the demands have been rewritten to meet today's needs for equality and inclusion by Concerned Student 1950.
Current unmet demands include the creation of a long-term strategic plan to promote campus diversity by May 1 and increasing the percentage of black faculty and staff at MU to 10 percent by the 2017-18 academic year. Right now, 2.8 percent of faculty members at MU are black, according to UM System data.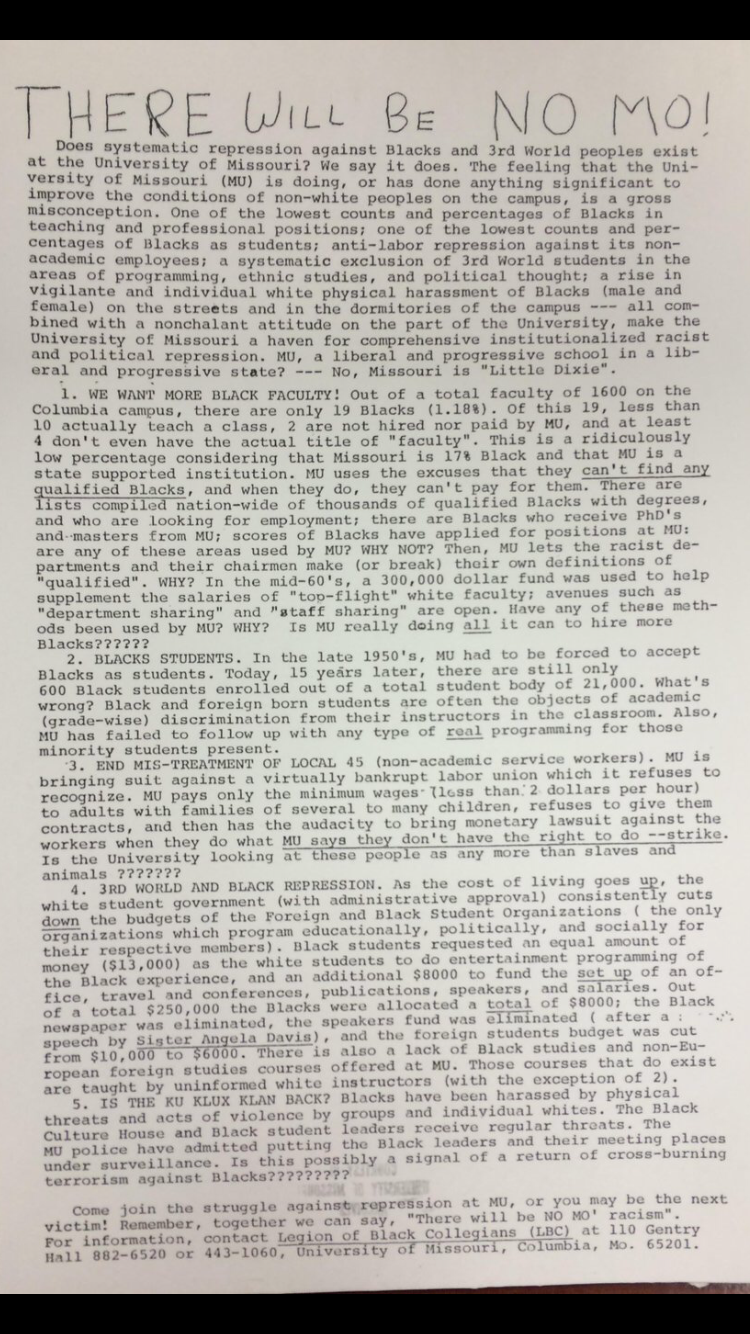 "The demands that were submitted in 1969, the demands that were submitted in 2005 and the demands that were most recently submitted to administration involve complex interactions among many in this university," Middleton said at the news conference. "I intend to lead this university towards satisfying each and every one of those demands that can be satisfied."
He said he could not deny the university has made "remarkable progress" since 1969. He kept the 1969 list on his desk for years, he said, and checked them off as they were met.
"We've made progress, and we will continue to make progress," Middleton said. "This university needs to be a place where young, intelligent, thoughtful people can feel free to learn, to interact and to grow. Those demands are designed to accomplish that, and we will do everything we can — everything humanly possible and everything institutionally possible — to meet those demands."
He said students could be assured that if the administrators do not meet one of the demands, they will explain why.
Support for Middleton's appointment
MU Policy Now, a group of graduate professional student activists, submitted a formal letter to the Board of Curators on Tuesday evening recommending Middleton as interim system president. According to the letter, the Graduate Professional Council and Graduate Student Association both endorsed the recommendation.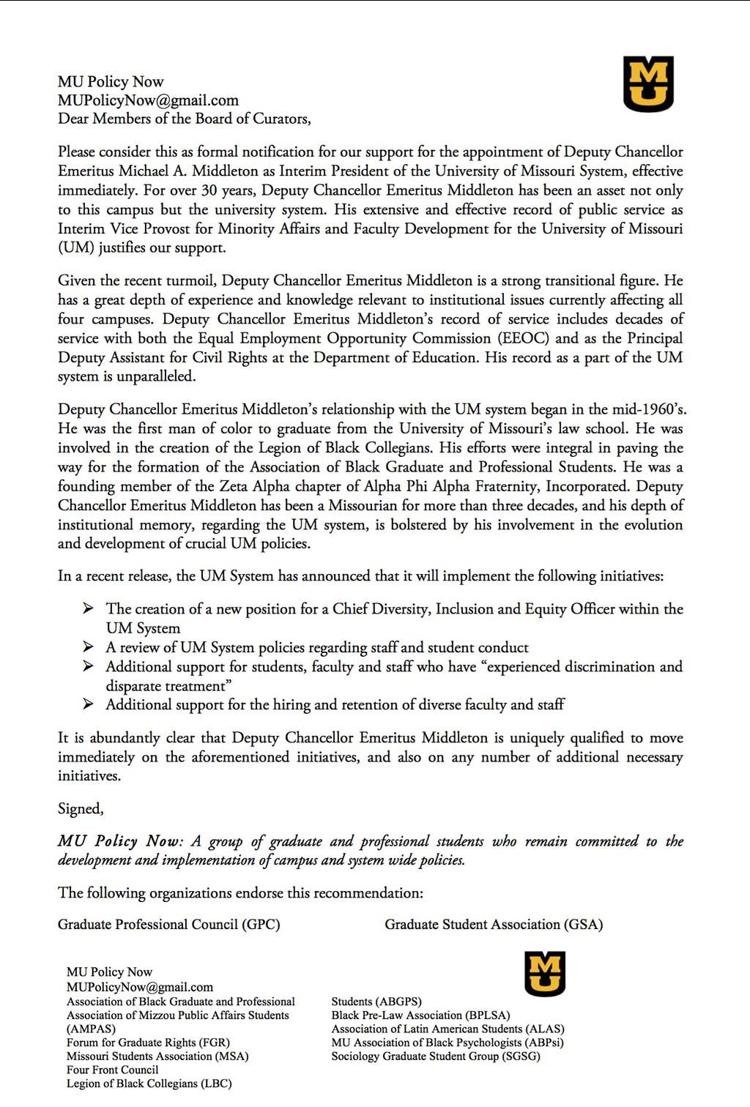 "It is abundantly clear that Deputy Chancellor Emeritus Middleton is uniquely qualified to move immediately on the aforementioned initiatives," the letter read after listing a number of the new diversity initiatives announced Monday, "and also on any number of additional necessary initiatives."
The Forum on Graduate Rights retweeted a statement made Thursday by MU Policy Now to show its support for his nomination.
Matt McCune, spokesman for the Graduate Professional Council, said Thursday that "for the short-term, for the issues that are currently occurring, we believe he is the right person for the job."
After news spread of the appointment, Concerned Student 1950 tweeted: "We are excited for the new leadership under Interim President Middleton!"
A further tweet said: "We strongly support Deputy Chancellor Middleton as Interim President; however we are still pushing for shared governance." Students should be a part of picking the permanent president, the group said on Twitter. 
Faculty Council Chairman Ben Trachtenberg said he had a good working relationship with Middleton in the past. "He knows a tremendous amount about the UM System," Trachtenberg said. "He knows the players without having to consult the scorecard, and I look forward to working with him."
Gary Myers, dean of the MU School of Law, called Middleton "an outstanding choice to lead us during this crucial time."
"His wisdom, experience and graciousness will help us move forward," Myers said in a statement. 
Middleton's appointment also received strong support from Missouri government officials. In statements: 
Gov. Jay Nixon commended the curators for selecting Middleton, "an accomplished and widely-respected leader who is deeply committed to the university and its students."
U.S. Sen. Claire McCaskill said Middleton "is someone that we all know and trust. Combined with the perspective that Hank Foley brings in terms of innovation and research, these changes represent real leadership with the vision to move the university forward, and should come with the support of leaders across Missouri to help make that happen." 
Missouri Sen. Kurt Schaefer, R-Columbia, said Middleton has "an incredibly difficult task ahead to restore leadership and trust in the UM System that has been lacking. I join all who care about our university's future in hoping he is successful."
Attorney General Chris Koster said he has known Middleton for 25 years, "from his days teaching me criminal procedure in law school through his service as deputy chancellor emeritus of the Columbia campus. His decades of leadership and familiarity with the university and its student body make him an outstanding choice to guide the institution through this period."
About seven hours after Wolfe resigned, Loftin announced he will step aside  and move to a role as a research coordinator. He will become director for research facility development and lead campus efforts to build and renovate facilities to meet research needs. Loftin also faced substantial criticism, notably over graduate student employee rights, canceled Planned Parenthood contracts and racial tensions.
Acknowledging the mood on campus, Middleton said, "It is my hope that together we can behave in ways that justify the sense of pride in this university that we all share. Let me make it clear, though, that one thing will not be tolerated — and that is harmful or hurtful actions to any members of our university community. Any incidents will be addressed swiftly, and any party involved will be held accountable for their actions."