MU will cut $45.4 million from its budget and eliminate 185 jobs from the payroll starting July 1, MU Chancellor Alexander Cartwright announced Thursday.
Thirty of those 185 positions are staff layoffs, while the other 155 will come from not filling already vacated positions, which include around 10 non-tenure track faculty whose contracts were not renewed earlier this year.
The 30 layoffs of non-faculty positions came in the following departments and divisions:
Engineering
MU Libraries
Chancellor's office
Veterinary Medicine
Operations
Health Professions
Information Technology
The campus must close a $49 million gap in expected revenues and expenses in the budget for fiscal year 2019, which begins July 1.
Aside from personnel cuts, which will save approximately $11 million, reductions will be made in travel, sponsorship of community and campus events and the elimination of courses with low enrollment, according to a news release. The total campuswide reduction in general revenue funding announced Thursday comes to $45.4 million, or 8.05 percent of MU's operating budget. The remaining $3.5 million needed to balance the budget will come from campus reserves.
Despite the layoffs, Cartwright maintained that, "The future looks very bright for Mizzou.
We are focused on student success, strengthening our research productivity and engaging with Missourians to help find solutions to grand challenges," he said.
All academic units sustained a cut of at least 6.8 percent in general revenue allocations, which is the base budget provided to each college, school or division for operations. 
Cartwright challenged faculty to double the amount of federal grant money they bring to MU. To help meet this goal, MU is investing in an Office of Research Advancement to target grant opportunities and assist researchers in obtaining grants.
He also highlighted several positive budget initiatives. He said MU was setting aside $6.2 million for merit-based pay raises and an additional $8 million for scholarships and graduate student support, which will bring the campus investment to more than $100 million.
Cartwright expressed appreciation to the state legislature for rejecting former Gov. Eric Greitens' proposed cuts to higher education and acknowledged the positive growth in enrollment for the coming academic year. But he said reductions were still necessary because of lower overall enrollment, the need to stay competitive in compensating employees and to continue to invest in research.
"We had to protect our core," Cartwright said. He defined MU's "core" as those services deemed essential to student learning.
"What we wanted to do was make sure that we have those services that are needed first and foremost for our students. Those were where we prioritized," Cartwright said. He said decisions were made to avoid having a direct impact on students and learning. He specifically cited the need to protect MU Libraries. Although the libraries received no cuts to their budget, their overhead costs increased which was offset by eliminating some staff positions.
Several other units sustained no cuts, including scholarships and fellowships, marketing and communications and intercollegiate athletics. The athletic department receives no funds from tuition or state appropriations.
"We've tried to make some decisions (in the budget) that are aligned with our strategic directions and the areas we feel we need to continue to support," Cartwright said.
Enrollment and state support
Rhonda Gibler, vice chancellor for finance, said, "The two big dynamics are what's happening with our state appropriations and what happens with our enrollment and our tuition rate."
Greitens had proposed nearly $68 million in cuts to higher education earlier this year. Although MU ultimately experienced a better-than-expected year working with the General Assembly, Gibler said that because MU has been operating in a budget and enrollment deficit over the past few years, there is still ground to make up.
"Although we are extremely appreciative of the state's support of higher education and the final result coming in ... we are still seeing a reduction. There was a withholding early in the fiscal year and that was made permanent. So when we put together our permanent budget, we have to take that into consideration."
The 185 position cuts this year come on the heels of numerous other strategies aimed at reducing MU's operating budget. Last summer, MU eliminated around 300 positions and raised tuition. The cuts announced Wednesday included the non-renewal of about 10 non-tenure track faculty positions, the elimination or consolidation of 12 "underperforming" graduate programs and a 1 percent increase for in-state undergraduate tuition rates.
"We're hoping next year will be less painful," Gibler said.
Since the fall of 2015, when 7,600 freshman started at MU, new student enrollment numbers have seen sharp decline. In fall 2017, only 4,134 freshmen were enrolled. Officials have pointed to a confluence of factors that contributed to the drop, including fallout from protests in the fall of 2015 over structural racism on campus and a reduced population of college-age students in Missouri.
However, over the past years, MU officials have poured resources into attracting more students, including the launch of the Missouri Land Grant Compact, which offers eligible low-income students from Missouri additional tuition support.
And those efforts seem to be paying off. Last month, MU announced it expects a 14.5 percent increase in new student enrollment this fall, though it still won't restore the campus to 2015 numbers.
Cartwright estimated that 200 students bring in roughly $3 million for MU.
"We expect the total enrollment at Mizzou to be less than the current year. We feel very good about what we're seeing in terms of freshman interest and folks who will be joining us next, but in comparison to the record size classes we've been graduating, it's going to result in the total enrollment being some less than the current year," Gibler said.
But as Cartwright added, a bounce-back in enrollment for the upcoming school year won't be fully reflected in this year's budget — it's a longer recovery process.
"We look at this as a three-year problem. I can't solve this in one year, but I can solve this over a period of three years," he said.
The 185 position cuts announced Thursday will force some departments to perform their duties with a shrinking workforce. While Cartwright said that trend has forced many remaining employees to take on more responsibilities, he said those changes might not all be permanent.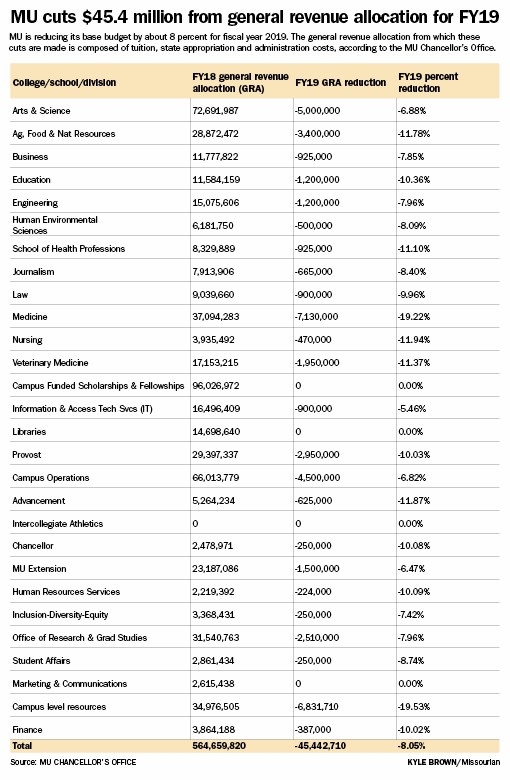 "As we start to stabilize in our budget, then what we will see is we will have an opportunity to rethink not just bringing certain positions back in there, but (ask) what are the right positions to move this institution forward?" he said.