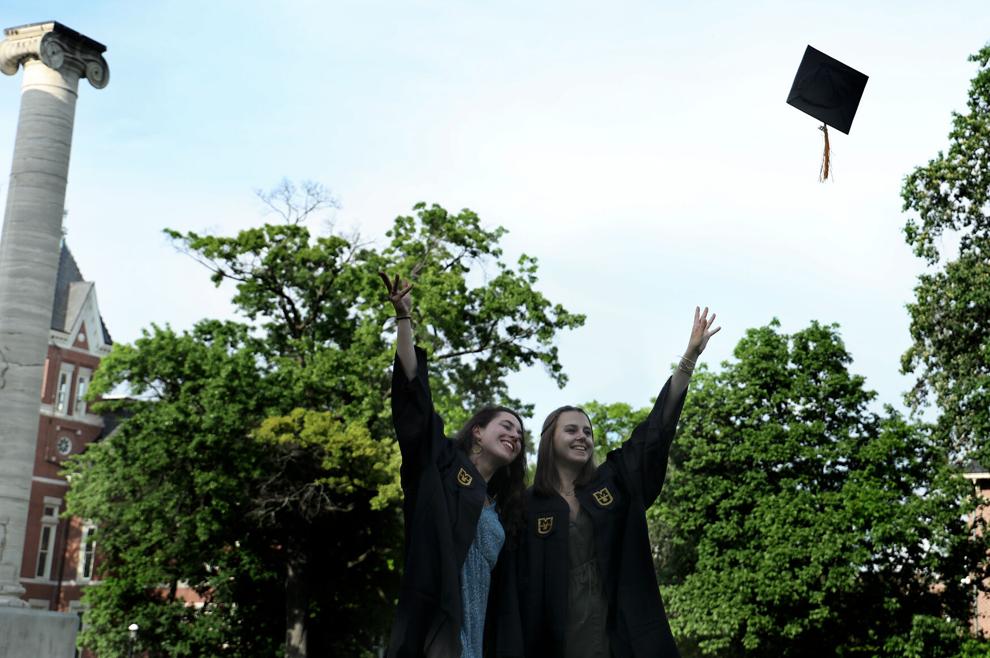 Elated students took the stage Friday and began receiving their degrees at MU, which will be hosting commencement ceremonies through Sunday.
Many celebrated the first full-fledged spring graduation with no COVID-19 restrictions since 2019.
In all, 6,364 degrees are expected to be awarded to 5,828 students from 50 states and 45 countries. The number of graduates this year showed a significant increase from the approximately 4,200 students who graduated last May.
"It was a really surreal experience, like I couldn't imagine what it would feel like being in a computer staring at, getting your name called, so I'm just really happy that things worked out," said Adrian Arce, who graduated with a bachelor's degree in education. "They did and we're here celebrating with our families and our loved ones because that's what it's all about."
Arce's graduation was part of the Education and Human Development's commencement, which was one of the first to take place Friday.
Some other graduation highlights: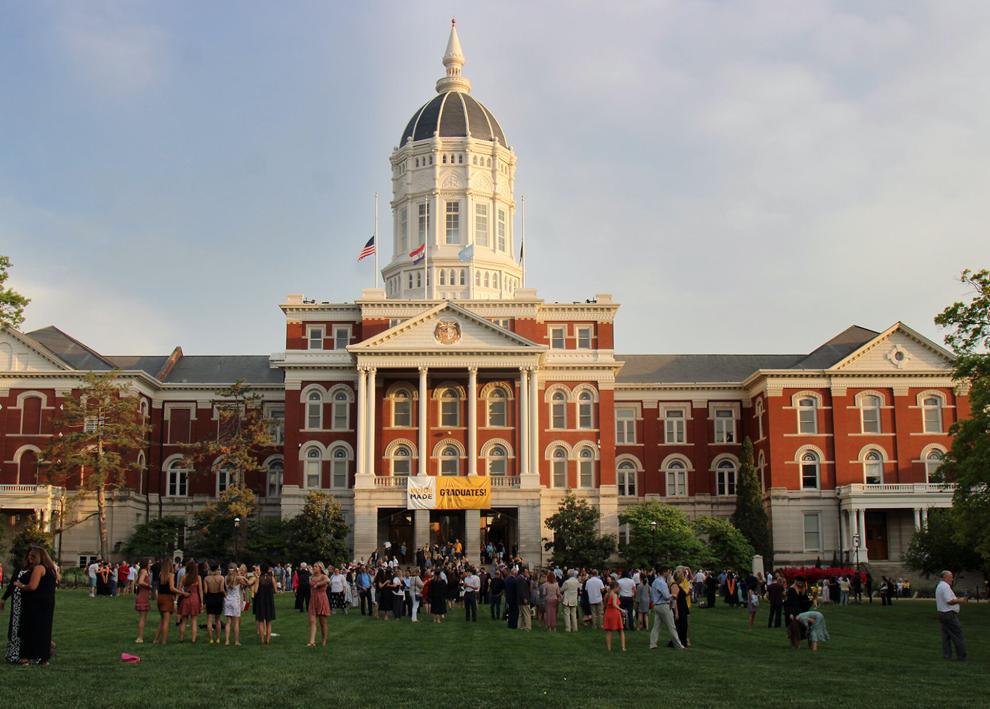 Bouquets and camera flashes
Excitement brewed at the Veterinary Medicine ceremony as people filled the empty auditorium.
The sound of families buzzing filled the air, the flashes of cameras peppered throughout the crowd and the smiles worn by many of the attendees showed the importance of graduation. Bouquets of every color speckled Mizzou Arena's gold chairs, while families screamed for their graduates and waved cutouts of their faces.
This commencement marks graduation for those with doctorates in Veterinary Medicine, as well as the first spring graduates of the new degree program, Bachelor of Science in Microbiology from the College of Veterinary Medicine.
During the ceremony, speakers included UM System Curator Robin Wenneker, UM System President Mun Choi, José Arce, American Veterinary Medicine Association president, and Eleanor Green, professor & dean emerita at the Texas A&M University College of Veterinary Medicine and commencement speaker.
During her speech, Green told stories of her time as a veterinarian, and gave graduating students a great word of advice.
"Things happen to all of us, but we can still be happy," Green said. "... follow your passion and chase your dreams, even when they change directions dramatically."
Other colleges are also holding their graduation ceremonies over the next three days.
'We're going to move on'
Zach Wingerd, husband to one of the veterinary graduates, was glad to see that his partner would be able to get the full graduation ceremony that she deserves.
"(I'm) excited! (Her schooling) is finally over," Wingerd said. "We're going to move on and start actually practicing."
Wingerd was disappointed that his wife wasn't able to get this ceremony last year, when the heavy hand of the COVID-19 pandemic interrupted their white coat ceremony. This ceremony is considered a rite of passage from preclinical to clinical studies.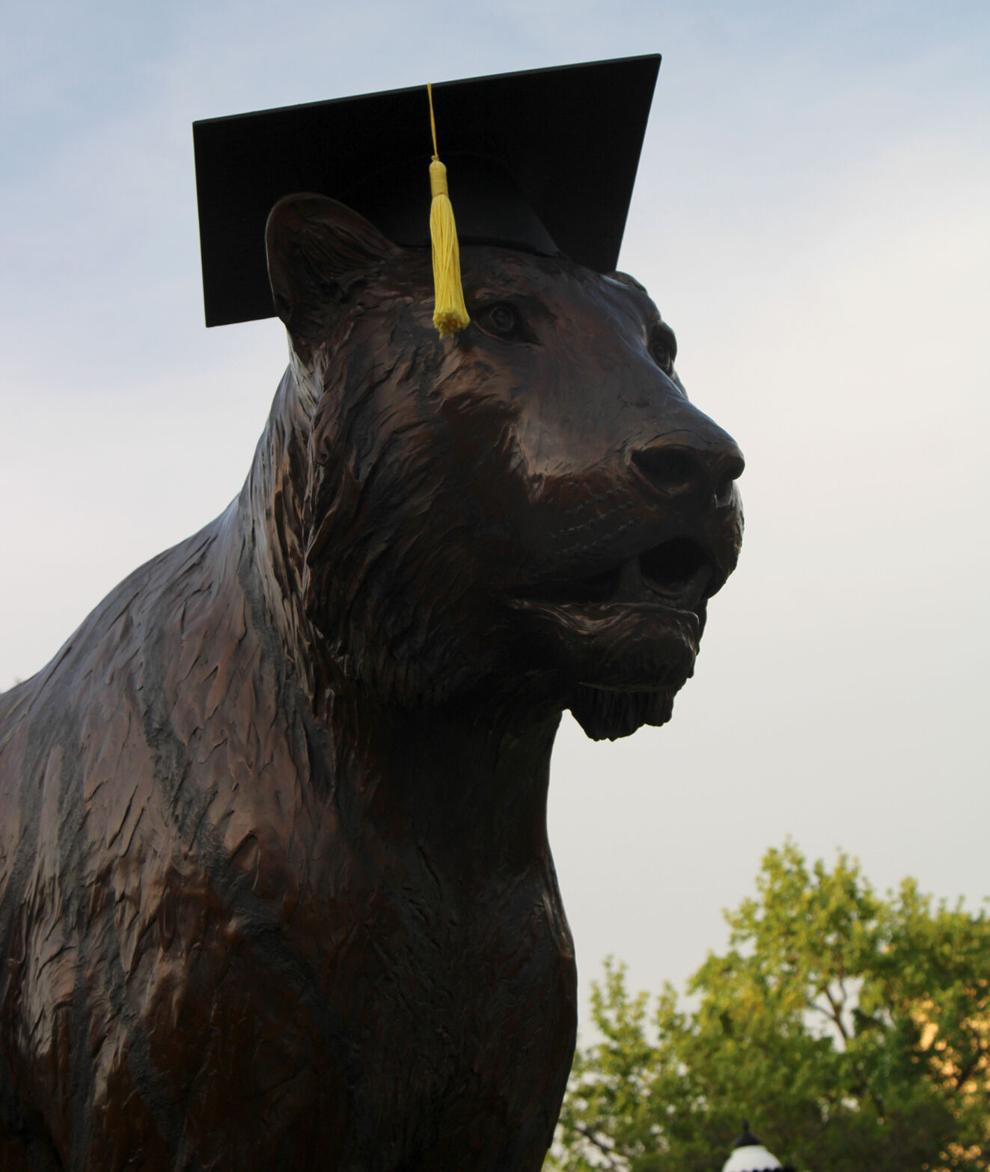 Last spring, COVID-19 restrictions changed a lot about commencement. Ceremonies were only allowed to be 75 minutes maximum, there were no hooding ceremonies, no processionals, no shaken hands.
This year, friends and families are taking full advantage of the in-person commencement ceremonies. With COVID-19 restrictions loosened, crowds at commencement ceremonies are expected to be the largest in at least three years. Many of the traditions people know and love about commencement are coming back.
"I'm glad like that the graduates get a more normal experience after everything they've been through," said MU sophomore Ana Dolsky whose sister is graduating from the College of Education and Human Development.
'Empower others to succeed'
The College of Education & Human Development ceremony began at 1 p.m. Friday. Many speakers focused on empowerment, whether it was empowering future students, future colleagues or each other.
"You will empower others to succeed," said Latha Ramchand, provost and executive vice chancellor of academic affairs. "Always remember that no matter where you go and what you do, we will always be here for you. Your alma mater is always here for you."
Arce chose the education path to become a counselor. With English being his second language, communication was difficult while he was growing up in school. So now, he wants to offer kids that extra support. His send off message to other graduates is Spanish for, "Let's go Mexico. We can do it."
"Vamos Mexico," Arce said. "Este, si se puede and Mizzou (is) one of the best colleges out there."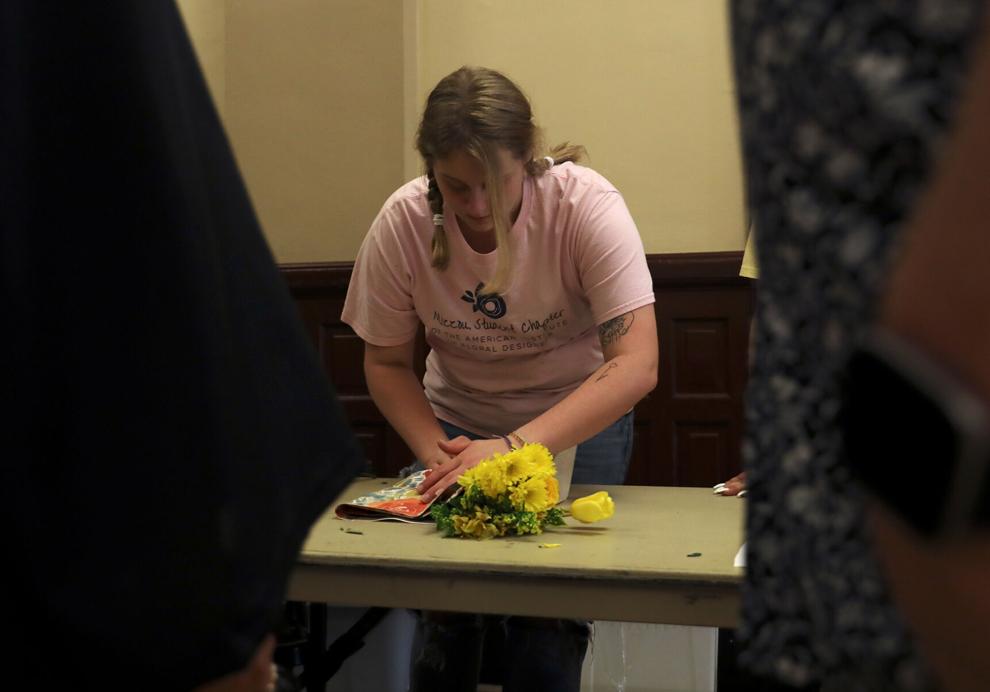 'Engage the world as an engineer'
The ceremony for the College of Engineering was held at Mizzou Arena on Friday afternoon. More than 300 graduates sat on the court, surrounded by family and friends.
The college's dean, Noah Manring, gave a speech, remarking on how challenging it was to study during the pandemic.
"Almost half of your college experience was conducted during a worldwide pandemic, you know what those challenges have been better than any of us," he said.
After his speech, Ramchand presented an honorary degree to guest speaker John Rogers, who is a professor at Northwestern University.
He is one of only a few in the country to be elected to the National Academy of Engineering, the National Academy of Science and the National Academy of Medicine. He is regarded as the father of biocompatible devices that seamlessly interface with the body. Such devices are used in hospitals, particularly in maternal, fetal, neonatal and pediatric health.
He wore several of his devices during the ceremony, which he said were continuously measuring his metabolic hormones and blood flow, among other statistics.
During his speech to the graduates, Rogers highlighted his family's connection to MU. His parents both studied and met each other there.
He urged the graduates to approach the world with "logic, determinism (and) reason" as well as "language and intuition and imagination."
"Think of it as full brain engagement," he said, adding it was something "essential" in engineering but often "overlooked in traditional academic curriculum."
He advised the graduates to "work on big problems," work with exceptional people with complementary skill sets to their own and listen to feedback from their parents, spouses and significant others, who would all have a different perspective.
"Dream like a poet, think like a physicist, engage the world as an engineer," he said at the end of the speech.
Coming up
As a part of the ceremonies, neurosurgeon Amy B. Heimberger will be awarded with honorary degrees.
Heimberger will be honored during the School of Medicine ceremony at 11 a.m. Saturday at Jesse Auditorium.
Heimberger is an MU alum, spending her undergraduate years studying biology. From there, she has become an accomplished neurosurgeon studying brain cancer.
Her research focuses on vaccines to treat glioblastoma, one of the most common malignant brain tumors in adults. She is currently teaching at Northwestern University and was recently appointed to the National Cancer Advisory Board by President Joe Biden.