Throughout the Missourian's coverage of race, we've heard from readers who say they can't relate to stories of racism. Many have said they don't see racism in their worlds, and they just don't think it's still a problem.
We set out to ask people — on campus and around Columbia — what everyday racism looks like to them. Here's what we've heard so far from MU students. 
"They'll look at me, and then they'll clutch their bag a little tighter"
Devon Davenport is a freshmen studying sociology. He's from Chicago.
"I'm not the voice of all black people"
LeAundra Jefferson is a senior studying finance and banking. She's from Belleville, Ill.
"Every day I would cry because I'm like, 'my eyes don't look like that.'"
Amy Weinstein is an undeclared major. She's from Chicago.
Being a black female is a double disadvantage
Anitra Adams is studying business. She's from Ferguson, Mo.
We were told at a fraternity, "No, we're not having a party tonight"
Christine Enubuzor is a sophomore studying biology. She's from Maple Grove, Minn.
"I noticed a lot of girls of different races — that was a really big concern for them"
Annie Lambesis is a journalism major. She's from Chicago.
"Question it, but just be the bigger person."
Victoria Rudd is studying sociology. She is from Chicago.
As a kid, a woman kicked him and his friends out of a pool because they were black
Justin Honore is a sophomore studying journalism. He's from Knoxville, Tenn.
When waiters ignored us for 45 minutes, "we were kind of the elephant in the room"
Erica Winston is a freshman studying journalism. She's from Kansas City, Mo.
We should do a better job of "learning about stuff that they are facing"
Georgianna Victor is studying industrial engineering. She's from Rolla, and she's white.
"A couple of girls were saying, 'Oh, look at that black girl, she's so ugly.'"
Jasmine Birt is an MU sophomore studying textile management. She's from Chicago.
People at a party wondered, "Is he supposed to be here?"
Norvell Barbour is a senior studying personal finance planning. He's from Chicago.
Moeses King: Residence hall neighbors said the n word around me
Moeses King is a sophomore studying Computer Science. He's from Kansas City, Mo.
"There's always this sort of level of shock" when people hear my major or GPA
Kelsey Bradley is an MU senior studying communication. She's from Chicago.
They "said 'konnichiwa' and laughed hysterically before continuing on their way"
Kerri Voyles is an MU graduate student.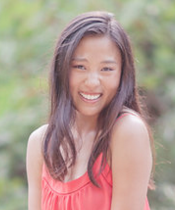 I am Korean, though I don't consider myself Korean American as I was adopted into a white American family when I was young. I never understood myself as a person of color having grown up in my family. Coming to Mizzou was the first time I realized how I could be defined by others simply by my skin and my physical appearance. It happened at first in subtle ways. International students approach me speaking in their language, but then I would explain I was sorry and I only speak English; I would try to help them if they needed it. For me, this isn't necessarily negative but rather a misunderstanding and miscategorization based on my appearance.
One example of a racist experience was when I walked home to Greek Town one night my sophomore year. A pair of white men who seemed to be intoxicated were walking towards me. Before I passed them, they placed their hands in a praying position, bowed and said "konnichiwa" and laughed hysterically before continuing on their way.
Initially I brushed it off because they were intoxicated. And I don't find being miscategorized as Japanese offensive either. But looking back, I realize this was racism. It is racist to steal another culture's traditions and words and use them mockingly. It is racist to categorize me based on my race and mock me for it. It is racist to lump all Asian people together into a stereotype. It is racist that though they were intoxicated, this appropriation was embedded in their consciousness to whip out on a passing Asian subject.
Am I forever marked by this occurrence? No. It doesn't define me. Neither does my race. This occurrence points to a culture that reinforces racism and demeaning behavior. And that is what frustrates me. Words, action and inaction all have power.