Coordinators at MU's Department of Social Justice centers, which provide resources and mentoring to underrepresented student groups, were told last week their positions would no longer exist as of July 1, part of what an administrator called a "restructuring" and "reimagining" of the department.
The overhaul will see the department move away from individually functioning centers focused on providing specific resources to students to a "collective" and "community" focus. MU will conduct open searches to fill new positions in place of the currently existing coordinator roles. The physical resource center spaces will remain on campus.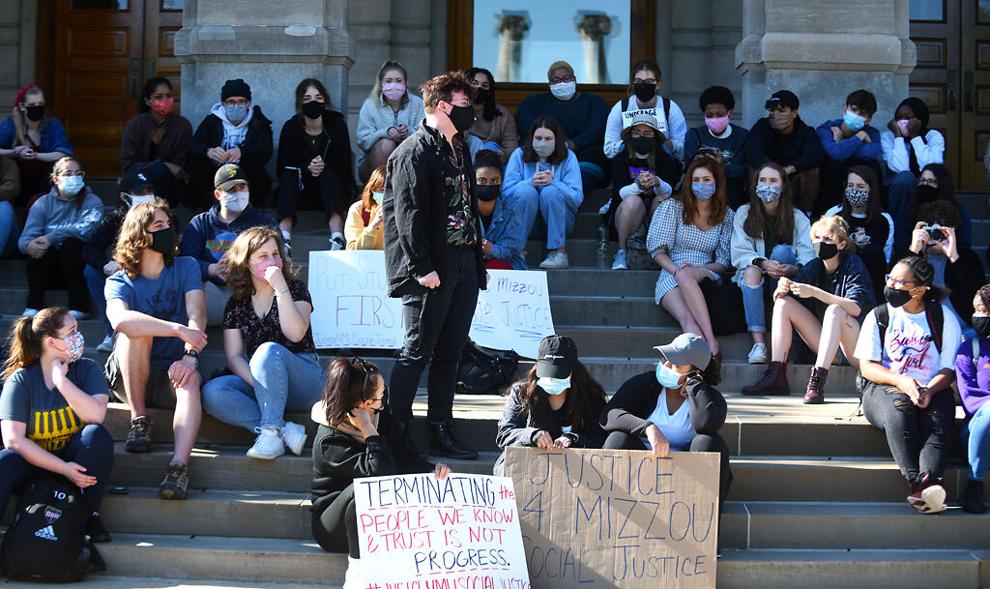 Meanwhile, at least 100 MU students gathered on campus Monday morning to protest the personnel changes after a whirlwind of social media activity.
Staff were informed of the decision Thursday in a virtual meeting with B. Sherrance Russell, MU's assistant vice chancellor for student diversity initiatives. The Missourian obtained audio of the Thursday meeting, in which Russell fielded questions from staff and emphasized a new, "aggressive" direction for the department.
"The positions we currently have, as of today, I don't see those positions being the direction that we're moving in," Russell said in the meeting. "So everything is going to be totally reimagined and redeveloped. It's going to be totally different from what we know today."
"The centers are going through a restructuring process that will enhance them and in the end have more full-time staffing than now," MU spokesperson Christian Basi said in an interview Monday. "This is an effort to strengthen those centers because of how important they are to the campus community and students."
MU's Department of Social Justice, part of the Division of Inclusion, Diversity and Equity, comprises five centers: the Gaines/Oldham Black Culture Center, LGBTQ Resource Center, Multicultural Center, Relationship and Sexual Violence Prevention Center and Women's Center. The department aims to provide staff, resources and services to underrepresented students, while overseeing various student-run organizations and employing student workers.
The coordinators are Velma Buckner at Gaines/Oldham; Katryna Sardis and Lisa Crader at RSVP; Danielle Palomo at the Women's Center; and Eli Kean at LGBTQ. The Multicultural Center position is vacant.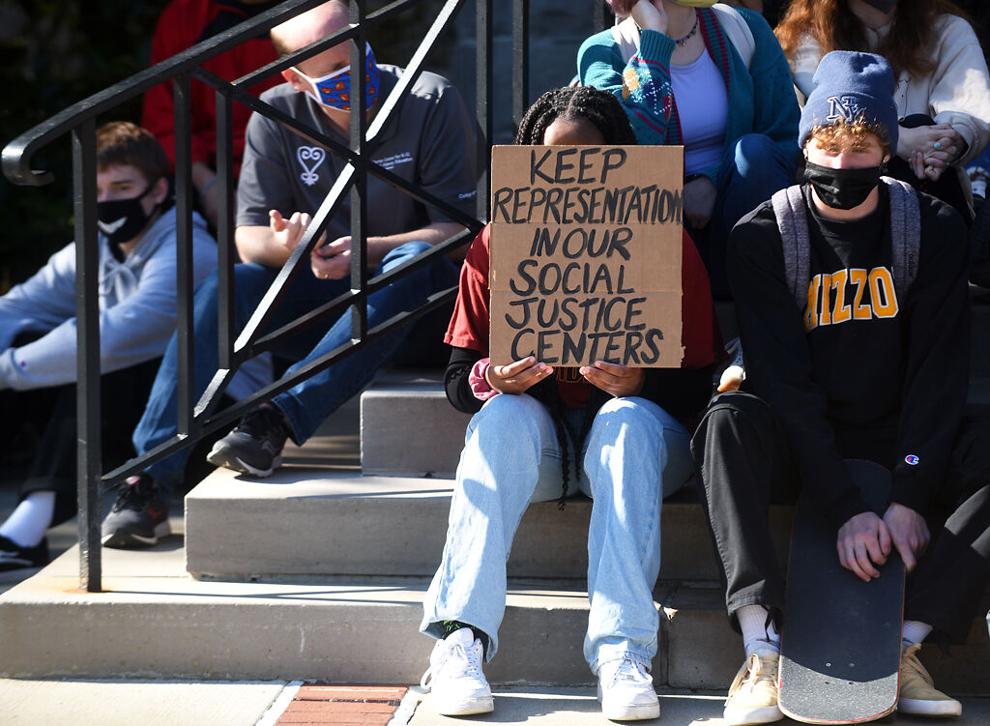 Maurice Gipson, MU vice chancellor for inclusion, diversity and equity, sent an email to campus Monday afternoon dispelling rumors that the centers themselves were closing. It did not mention the coordinators of those centers. "I will have more details in the coming weeks after I meet with student groups and staff," Gipson said in the email. "I want to assure you that our social justice centers remain strong, and we are committed to supporting them."
Currently, all five centers operate independently within the department, with dedicated staffers for specific functions. There are 10 total full-time staffers among the centers, Basi said, a number that MU aims to raise to 15 after its reorganization.
Under the new structure, as detailed by Russell in the staff meeting, staff will be hired to work across all centers and be focused on specific tasks.
"The whole goal of moving to this collective measure, to this community measure, so each individual center can have greater resources as well," Russell told staff. "The whole notion of the fact that one center's outcomes are contingent on one person — that model doesn't work anymore."
However, it is unclear if staff at the RSVP Center will be affected by the restructuring like the other centers, as Russell called it "totally different" and said leadership would "ensure it has the support and the standalone services it needs to provide student success."
There is "no concrete plan" for the reorganization of the department, Russell said in the meeting, but he outlined some jobs that would be open under its new structure. Those include "success coaches," focused on driving academic and "holistic" student success, and a position focused on "training and development."
He said that while staff can apply for those new positions, the searches for them will be open to both internal MU candidates and those outside campus. It is not clear if and how student workers in the department will be affected by the restructuring.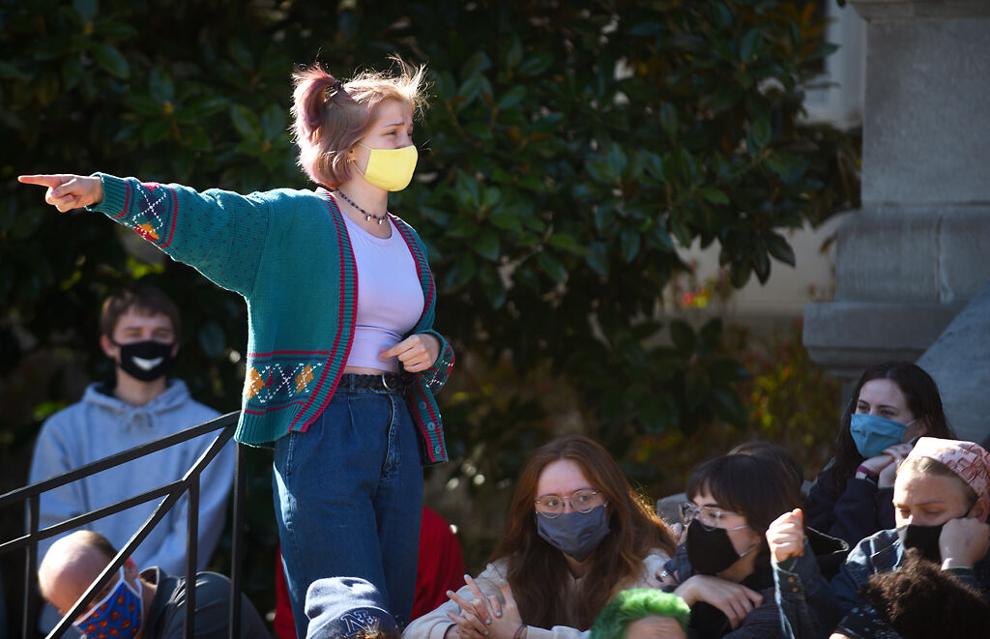 Under the new structure, several of the existing coordinator positions will be "elevated" to assistant director roles, Basi said, which come with higher standards for qualifications and experience. He said existing personnel will be evaluated for their expertise and experience.
"If we just change the titles of the positions, we would not be doing the campus justice," Basi said.
Staff will meet with Russell, Gipson and human resources staff in the coming weeks to create plans for their individual positions, Russell said. Following social media blowback and reaction to the changes Sunday evening, Russell and Gipson scheduled another staff meeting for Monday morning, according to an email sent to staff.
Basi said University of Missouri President Mun Choi was aware of the decision to restructure the department.
Pivoting under new leadership
In the staff meeting Thursday, Russell frequently cited meetings and requests from Gipson in the meeting with staff and said Gipson had been clear that under new leadership and structure, "some people won't be here."
"(Gipson) has been here 10 months, and he's observed, and he's listened and he's watched, and it's time to move forward," Russell said. "... So if you're not a part of, if you don't fit in this new direction, or there's not a job that you want to apply for or you think is for you, your time with the university as it is now is no more."
"There is a shift," said Russell, who joined MU in January. "And I think that the Inclusive Excellence (Framework) was kind of before Dr. Gipson. I don't think he's going to do away with it, but I think he's going to really modify it to speak to the current, to today."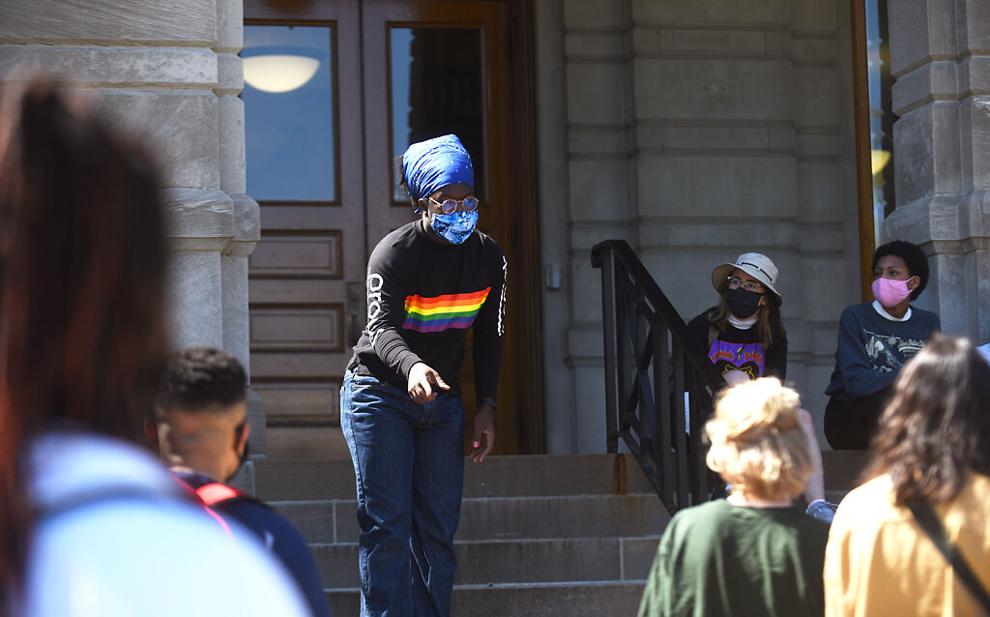 Russell spoke extensively on his aim to "heal wounds" within the campus community through collaboration between their and other major university departments, including Residential Life. He offered an analogy of people viewing MU and its Division of Inclusion, Diversity and Equity through "two different lenses" and wanting to merge the two into one consistent lens.
"The only way we're going to strengthen inclusion and culture is we've got to allow people a chance to get to know the various cultures, and when they get to know the cultures, then they'll actually have an opportunity to respect the various cultures," Russell said. "But the only way you can do that is you've got to create avenues for interaction."
Students air frustrations in protest
At 9 a.m. Monday, students met at Traditions Plaza before marching to the steps of Jesse Hall facing Francis Quadrangle, chanting, "Justice for justice." Students began to stand and speak to the crowd, sharing their experiences with the social justice centers and criticizing what they've heard about MU's decision.
Although many students who spoke during the protest declined to provide their names, several echoed sentiments of having relied on the centers' staff, spaces and services as members of underrepresented groups on campus. Some called them the only places on campus they felt safe.
"My experience at Mizzou has been made because of the Black people that have been able to give the connections that I want that help me get through on this campus academically, financially, emotionally, all that," said Janell Mason, a junior studying biomedical engineering. "They're taking away the people that guide us and give us aid. Because we won't have people that look like us, it's going to be our problem as students."
Several students cited 2015's campus protests and the need for MU to employ staff who represent a wide swath of groups and backgrounds.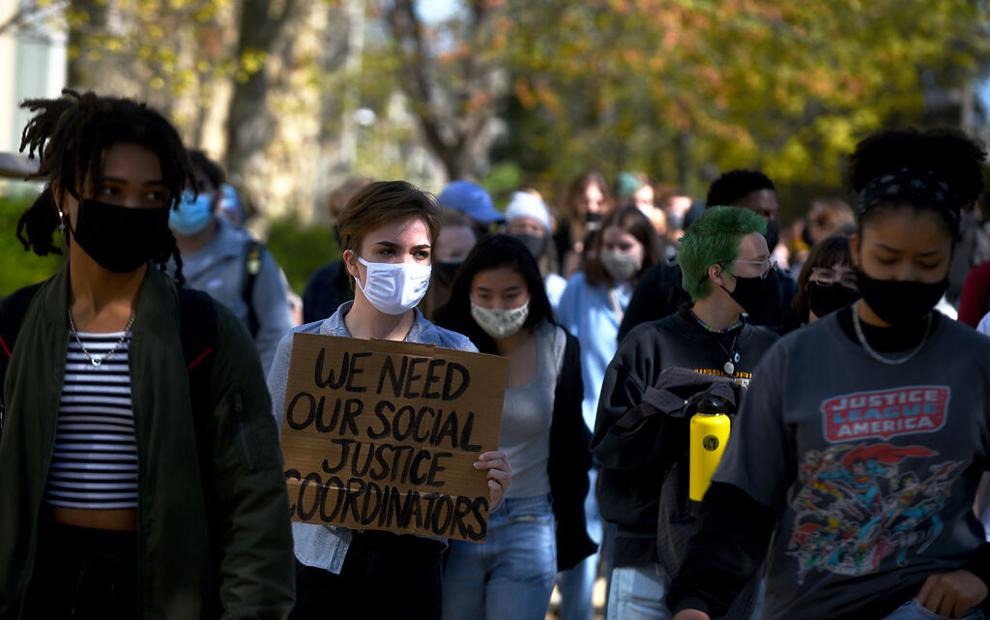 "They need people who are part of these specific groups to run these centers. And there's no way one person could do it. It's so upsetting that people aren't supported here."
"There's no representation here whatsoever," said Sare Schuh, a sophomore studying health sciences. "I know a girl who is going to be a freshman here, and she was worried if she'd be safe on campus because she's trans and queer. And I had to explain to her what's going on right now, and that's just super disheartening to be like, 'Yeah, Mizzou doesn't care about us.' They truly don't care. It's all about money. It's all about (pleasing) the higher-ups."
Students continued to chant and speak on Jesse Hall's steps for around an hour, intending to draw the attention of prospective families touring campus. The group then left for Lowry Mall, where the protest continued.