With his knuckles wrapped around a black shovel, MU Chancellor Alexander Cartwright jammed the tool into a trough of dirt atop carpeted flooring.
Cartwright smiled under his white hard hat and exhibited the dug-up dirt for the roughly 150 people gathered at a groundbreaking event for the MU School of Music in Stotler Lounge in the Memorial Student Union.  
Faculty, university administrators, students, alumni and supporters of the School of Music celebrated the establishment of the new building during the Sunday afternoon ceremony. It was part of the School of Music's centennial commemoration, but it focused less on the success of the past 100 years and more on the future of the school.
"I'm just really excited about what this is going to do for our performing and our teaching and student practice," School of Music Director Julia Gaines said about the new building. "We dream of it, and here it's going to be a reality."
'The kinds of things I can't script'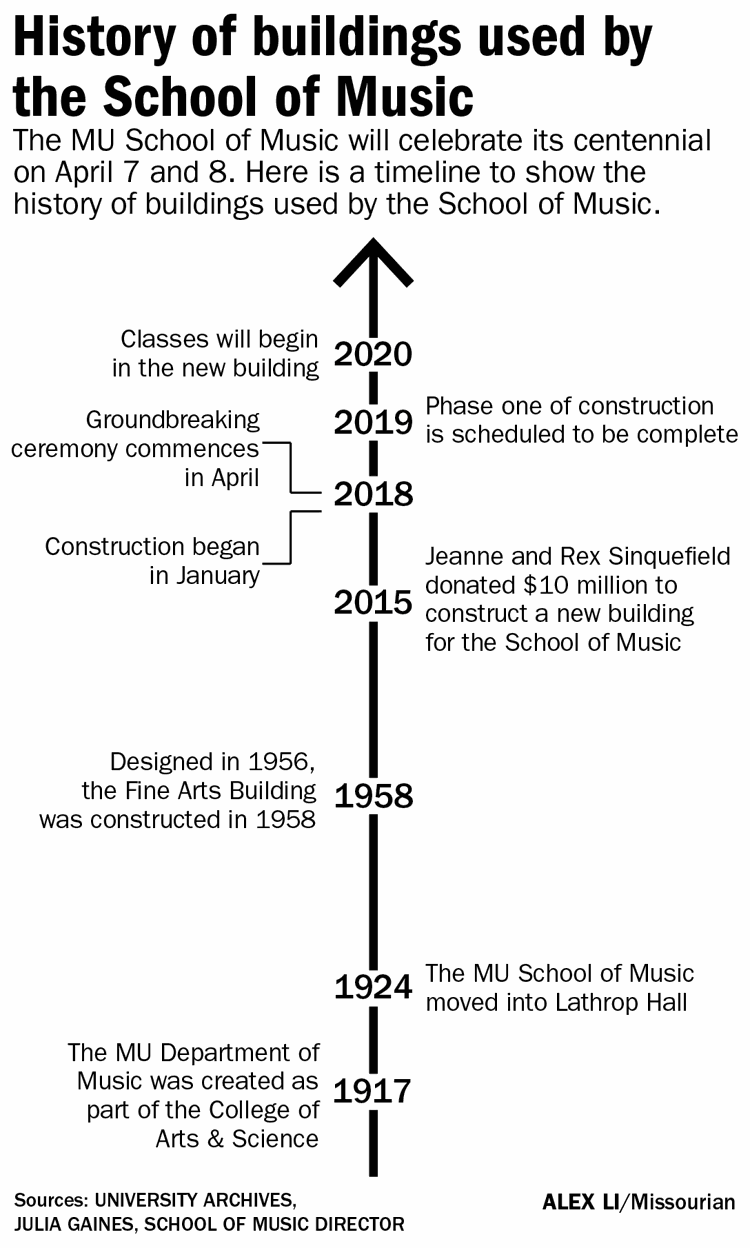 Phase I of construction is set to be completed by October 2019. Classes will begin the following January. 
Under construction on the northeast corner of Hitt Street and University Avenue, the four-story building will incorporate sound-enhancing and sound-canceling technology. It will have a recording suite, more classrooms, faculty offices, practice spaces, an electronic studio and thick, sound-canceling walls.
The building will also bring all music students and faculty members together under one roof, which Gaines said hasn't happened for years.
"I just can't wait for what's going to happen when all of our instrumentalists and our singers are going to be able to see each other on a more regular basis — when our faculty gets to see each other on a more regular basis," Gaines said. "Those are the kinds of things I can't script at a faculty meeting: When they just meet in the hallway, when they just meet around the drinking fountain, when they're on their way in the lobby area. We are not that way right now."
Designers Ashley Perrin and Andrew Mixdorf — who work for BNIM, the firm in charge of the building's design — highlighted the sound-reducing technology and techniques in the building. Perrin said the layout is "acoustically separated," so the sounds from one rehearsal space won't disturb another musician's practice. Mixdorf emphasized the "insulated precast panels," which will be installed between the rooms as extra protection against leaking sound. The panels consist of three layers: concrete, insulation and then more concrete.
The new School of Music building comes after the College of Arts and Science received a $10 million donation from the Sinquefield family in April 2015. The school also received an additional $6 million in gifts and $8 million of university money. 
"We're just trying to make Missouri a mecca of musical composition, and that requires a building," donor Jeanne Sinquefield said. 
There is no set date yet for the completion of Phases II or III, the designers said.
No good rehearsal space for large ensembles
The building will replace the seven buildings across campus used for music students: Loeb Hall, Hillel, McKee Gymnasium, the Fine Arts Building, Townsend Hall, the Missouri Theatre and Waters Auditorium.
Alum Shawn Nemati, who graduated with a degree in music and oboe performance in 2013, said using multiple buildings is inconvenient.
"One of our best friends was a cellist, and she accrued several parking tickets throughout her career here at Mizzou because she'd always have to drive her car from A to B and park it," Nemati said. "Sometimes she didn't have change on her, so she was at least twice a week getting a parking ticket somewhere."
Compounding the problem, the buildings aren't designed for music-making.
"Our band, right now, is rehearsing in a cafeteria," Gaines said. "It has awful acoustics, but we have no choice, and we've rehearsed there for 20 years."
The new building is "going to transform our world for sure," she said. 
The Fine Arts Building on Lowry Mall was designed with musicians in mind, but it has deteriorated since its 1958 construction. Gaines said it would be practically impossible to update the building on a low budget.
"The Fine Arts Building is such a disaster that if we open up one panel, we're going to have asbestos everywhere."
Even at its origin, the Fine Arts Building was never fully complete. It was supposed to have a third floor, which would have provided rehearsal space for large groups of singers and instrumentalists, Gaines said. The floor was never built because of budget constraints.
Even before Fine Arts was functioning, music students practiced in deficient rooms. In 1924, the music department moved into Lathrop Hall, which was a renovated men's dormitory, and moved into Fine Arts decades later.
"We have never ever, ever, ever had an appropriate place to rehearse the choir — to rehearse the band and the orchestra," Gaines said. "We have always been in some sort of makeshift space."
'Great things to do'
The second construction phase will emphasize academic needs. More classrooms and rehearsal spaces will be added. A 600- to 800-person concert hall is planned for the third phase. 
Sinquefield and music faculty decided to separate the building process into phases to make the process more feasible. 
"It's a lot easier to finish getting funding for the final concert hall when you can really see it," Sinquefield said. "Plus, you get the building now."
Centennial celebrations continue through Monday, when alumni and music department supporters are welcome to visit classes and concerts during the day. The schedules includes a Q&A with current and previous music administrators at 10 a.m. in Whitmore Hall in the Fine Arts Building and the annual Chancellor's Arts Showcase at 7 p.m. in the Missouri Theatre.
Musicology professor Michael Budds compiled and edited the book "100 years of Music-Making at Mizzou: Facts and Memories," to commemorate the centennial. It is available for $30 through the School of Music office.
With the new building and upcoming infrastructure advancements for the School of Music, "the sky is the limit," Gaines said. She said she hopes to see growth in the composition program over time. She also wants to continue diversifying the curriculum and improve the musicians' entrepreneurial skills.
"For as much as we've done over 100 years," Gaines said, "we've got a lot of great things to do in the next 100."