MU's Hearnes Center served as the one-stop headquarters welcoming all the new students moving into campus residence halls and other apartments Wednesday. The students were able to pick up their keys, and the new Tigers and their families were given a host of information about what life will be like on a college campus.
Michelle Froese of the Office of the Dean of Students said campus officials are excited to have the new students and watch them move in. Volunteers were scattered across campus to help students settle into their rooms.
"Once they get to the hall, we have about 1,100 volunteers who are helping unload the cars and move things up to the room," Froese said.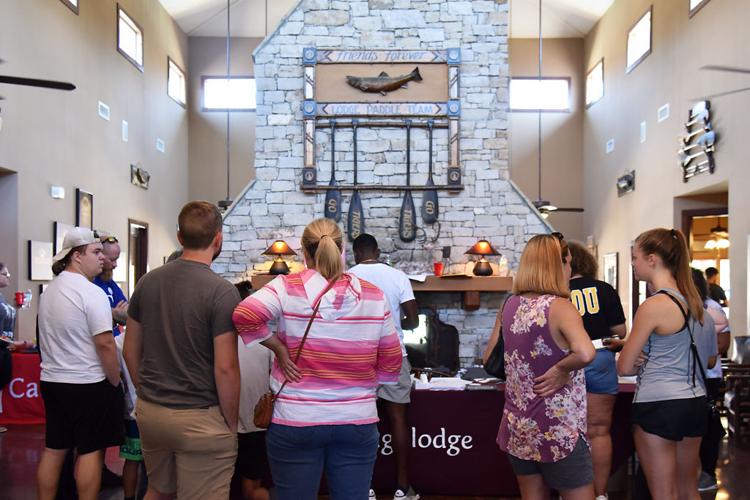 The move-in day wasn't just for first-year students. Anthony Hughes, a 20-year-old junior mechanical engineering major, is beginning his third year living in a residence hall.
"They wanna impress the freshmen," Hughes said of the move-in event, "'cause, you know, they are brand-new here. They wanna get everything."
Hughes will spend another school year at Gillett Hall but hopes that this time around he'll get a little more peace and quiet. Freshmen, he said, can sometimes be pretty rowdy.
Ashley Burk, engagement coordinator for the Office of Student Affairs, was at the Hearnes Center to give information to parents and family members about family weekends, an MU newsletter and a family helpline. The table also offered information about MU football tickets and The Mizzou Store. There were also tables set up to inform students about parking and transportation and dining services.
A window-washer dangling from a rope worked hard to clean the glass high on the side of the Rise on 9th around noon Wednesday, trying to make the building look shiny and brand-new. Down below, large boxes full of luggage awaited MU Residential Life volunteers, and balloons and check-in signs welcomed newcomers to MU and the apartment building.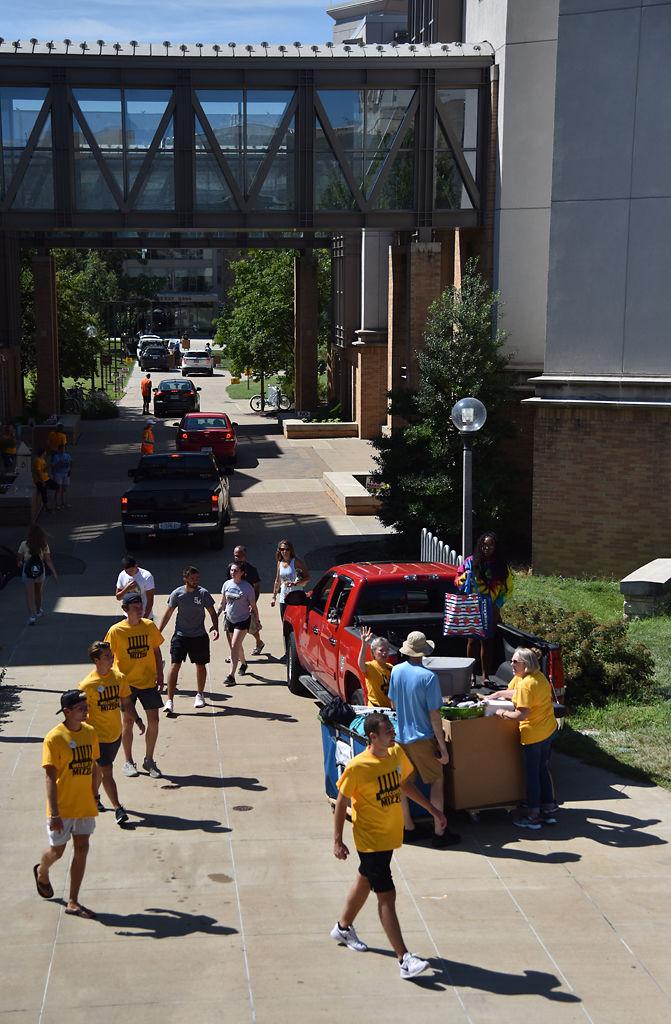 George Nichols, a 19-year-old freshman from St. Louis who will study in the Trulaske College of Business, had already moved all of his stuff into his apartment and tried out his mattress within 20 minutes of arriving. Nichols said he isn't worried about moving to Columbia because it's familiar to him and because one of his roommates was a high school classmate.
Nichols said he's very excited about getting to use the pool at MizzouRec but is nervous about the beginning of courses.
"When classes start I will be a bit worried," he said.
Josh Faller, one of Nichols' roommates, was wearing a Mizzou logo T-shirt. He drove seven hours from Richmond, Illinois, to get here and met Nichols on Wednesday. Although Faller has toured the campus twice, Columbia remains unfamiliar to him. He's nervous because he doesn't know anyone in his class, and his best friends are far away from him.
"This past summer, I spent almost every day at my friends' house," Faller said. "It's going to be weird not seeing them all the time anymore."
Faller said he's glad he lives downtown because he wants to find a job.
Back on campus at Wolpers Hall, volunteers with yellow "Welcome to Mizzou" T-shirts were carting stuff into new residents' rooms as a long line of families waited in their cars to have their things unloaded.
Collin Carnahan, a freshman communications student, stood by a huge yellow box full of luggage waiting for his turn to move in. He said he was excited about his new life at MU.
"I've been waiting for this for a while, so I'm excited to start," he said. He brought his cherished coffee maker with him, saying it's a necessity for him to start his day.
Anna Cowden, 19, came with her parents from Kansas City. She said she tried to pack like a minimalist. But after an hour, they were only about a third of the way done with unpacking. Cowden felt they were on a really good pace.
"Everyone here has been really helpful, and so far so good," Cowden said.
Ian Ray's dad, Dan Ray, stood at the curb and waited for their packages to be unloaded. He said the whole family drove all the way from Chicago. He isn't worried about his son's new journey on a new campus, in part because MU had a strong orientation program, "(So I) feel pretty good about it," he said.
Another Ray family, Chris Ray and his mother, Melissa Ray, had just finished moving in. Melissa Ray said she would miss her son, but she's also excited for him.
"He's gonna major in animal science and hopefully go to vet school. It'll be worth it."