COLUMBIA — When Jonathan Butler announced he would not eat until University of Missouri System President Tim Wolfe left office, he included in his letter a quote from author and civil rights activist Maya Angelou:
"I agreed a long time ago, I would not live at any cost. If I am moved or forced away from what I think is the right thing, I will not do it."
Butler reads a lot. He reads Angelou, Toni Morrison, Stokely Carmichael, Frantz Fanon.
These authors, among others, are why Butler considers himself a radical. This isn't to say he's a political extremist, but he thinks about radicalism as "grabbing things by the root." When Butler is called the n-word while walking through campus, he doesn't rebuke the heckler. He wonders how and what: How, in 2015, can this occur on campus? What conditions at MU create this environment?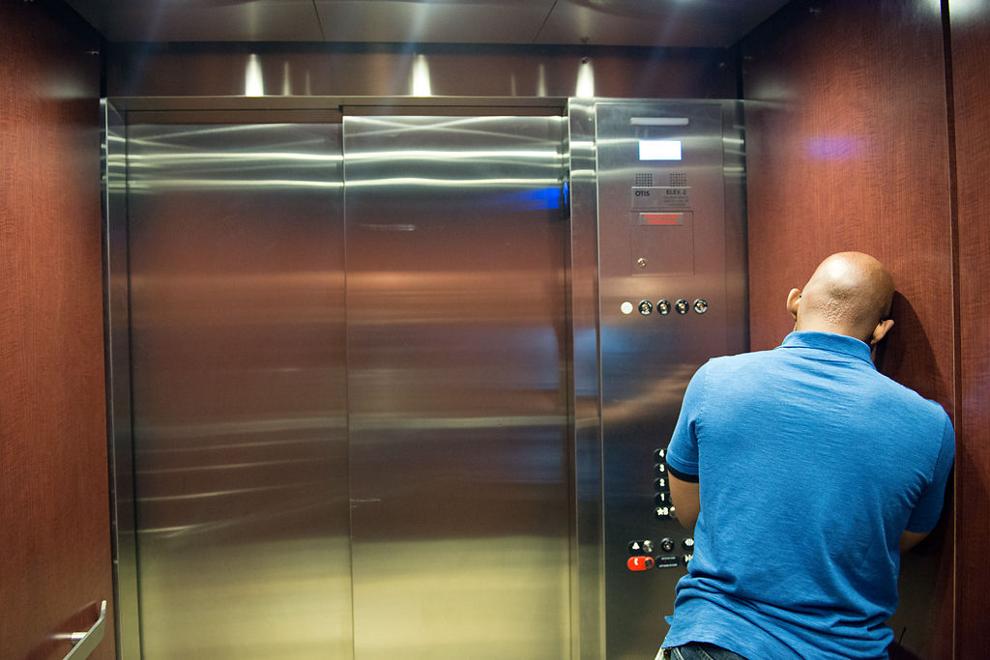 Wednesday evening, at the end of day three of consuming only water, his stride was slow and his steps heavy as he walked toward Jesse Hall. But after sitting down and sipping from his water bottle, he spoke quickly, eager to share his favorite books and authors.
"I'm still reading it actually," he said about Ta-Nehisi Coates' "Between the World and Me." "Hopefully, crossing my fingers, I get to finish that book." He said it in a joking way, but the implication then — that he wouldn't survive his protest — was grim.
Now, after the Missouri football team announced a boycott in solidarity with his hunger strike and Wolfe announced his resignation, Butler, 25, has all the time he needs to finish the book.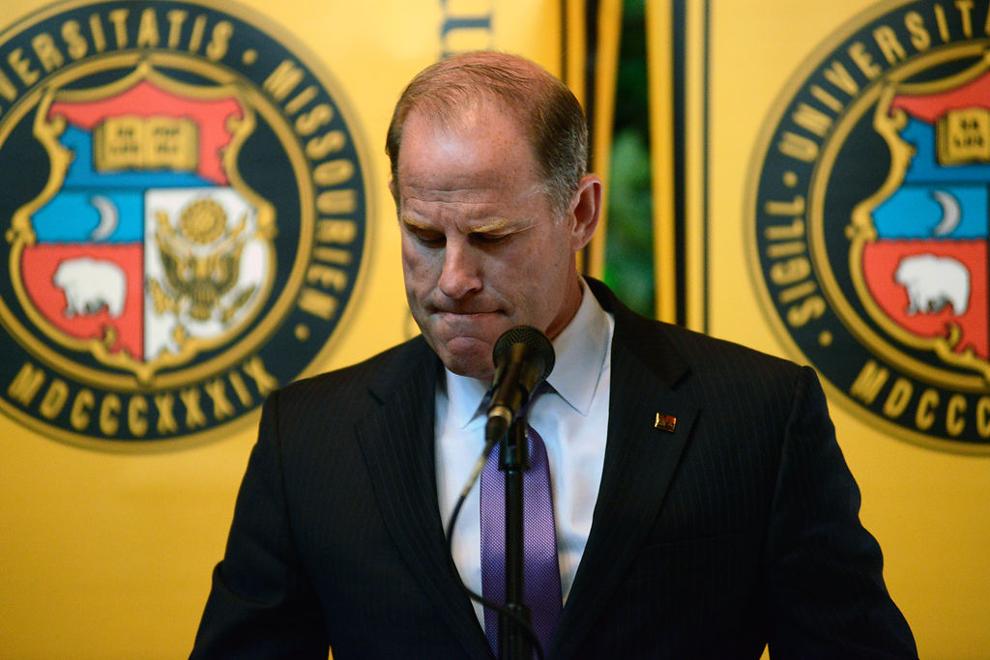 This notion of "grabbing things by the root" was a catalyst for his drastic measure to oust Wolfe from his position.
Butler has experienced racism at MU, he said. Days after Missouri Students Association President Payton Head wrote a widely shared Facebook post in September about being called racist slurs , Butler was called the n-word while walking through Greektown. He felt these hecklers considered him less than human, as if they were still abiding by the "Three-Fifths Compromise," an 18th century clause in the U.S. Constitution that stated slaves were three-fifths of a person.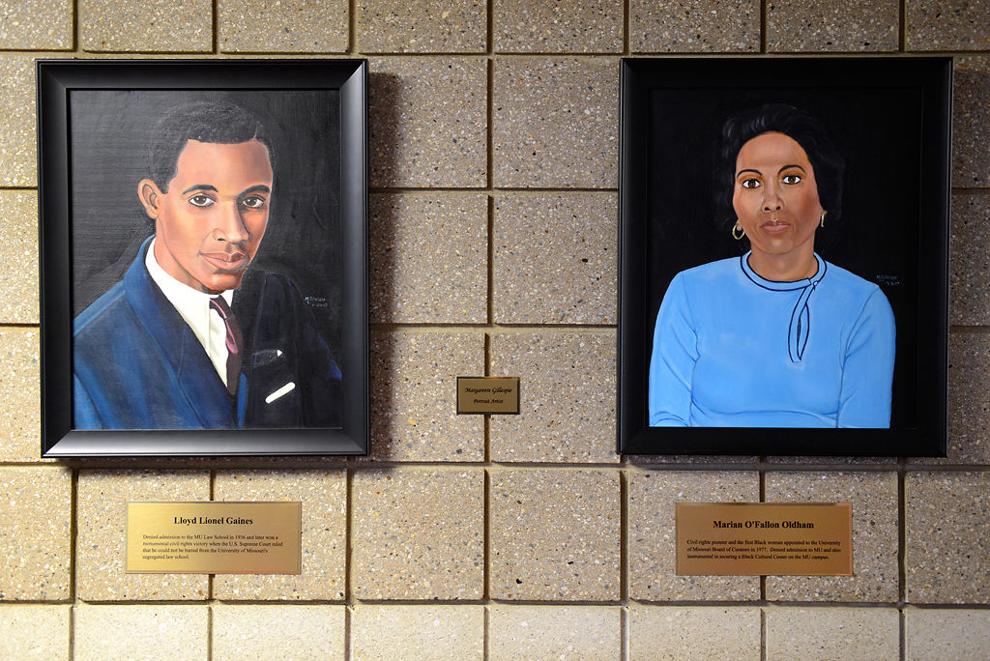 This feeling of "less than" solidified when Wolfe and other university leaders did not publicly respond to MU's culture of racism. If the institution was dismissing Butler's humanity, he thought, fine. He would put his own humanity on the line.
Cafeteria politics
Although Butler didn't start reading the radical authors until his senior year while studying business at MU, he recalls being surrounded by literature when he stayed with his grandfather in New York City.
His grandfather was a public defense lawyer in the Brooklyn neighborhood Bedford-Stuyvesant — "Bedstuy … in the heart of what you consider the hood," Butler said. There, 7-year-old Butler saw his grandfather help the poorest of the poor.
"He comes from a very religious background, and he was very heartfelt on showing compassion for people … and love towards God," Butler said. "There's protesting, there's policy, there's community engagement. So when you talk about that community engagement piece, I really got that at a young age."
When Butler wasn't at his grandfather's, he grew up with two older sisters in Omaha.
"Tortuous," he recalled. "They loved picking on me because for the longest time I was the short, chubby brother."
Two years into his time at Omaha Central High School, where he wrestled, played football and ran track and field, the city's school district lines were redrawn. Butler observed how money could dictate social and racial dynamics.
"The school needed some money so they did some redistricting, and, with that, it brought in a lot of white students," he said.
Omaha Central High got repairs and a new football stadium. But along with these resources came a deepening divide between white students and students of color, Butler said. During lunchtime, white students gathered in the octagon-shaped courtyard with a glass ceiling. Black and Latino students ate in the cafeteria. It was the classic high school lunchroom, which had foldout tables and doubled as a gymnasium.
"It was that phenomenon — that's where we felt safe, that's where we felt at home," Butler said. "People would bring their speakers, their CD players. We would play music. It was always this great time."
Activism
The more Butler read, the more radical he became. For him, that meant making people aware of institutional systems that dole out power to a lucky few while taking it away from others.
"The Pedagogy of the Oppressed," a book by Paulo Freire, made Butler rethink these systems and reach for freedom — "freedom of mind, physical freedom, freedom from systems," he said. 
And freedom of mind leads to consciousness, which comes from education, he said.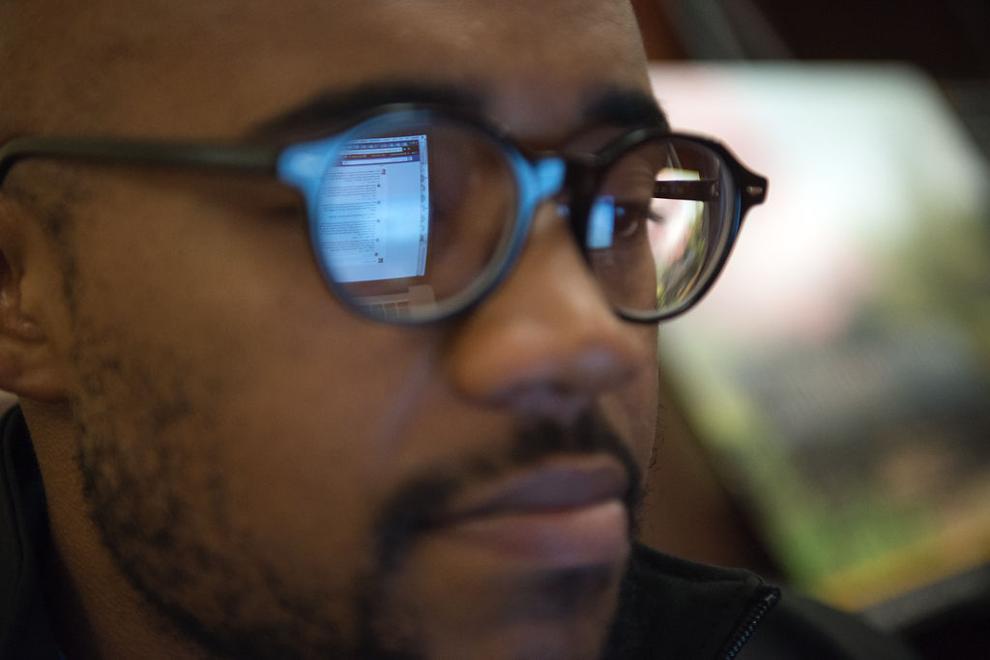 Butler arrived at MU in 2008 to study engineering. He switched his major to psychology, then sociology, then graduated with a bachelor's degree in business. He recalled being on campus in 2010 when cotton balls were scattered in front of MU's Gaines/Oldham Black Culture Center.
Butler took a little time off school and worked for the university before starting a master's degree in educational leadership and policy analysis last year. As he began graduate school, the eyes of the world turned to Ferguson, Missouri, after black teenager Michael Brown was shot by Darren Wilson, a white police officer.
Butler headed to Ferguson to protest. He saw law enforcement officers approach protesters in what he assumed were SWAT trucks. He saw them toss tear gas cans into the crowd. He felt it, too.
"When they started popping the first tear gas, there was a taste I couldn't get out of my mouth," Butler told the Missourian in August 2014. "My nose started running. I just started itching. It was so overpowering that I started to get a headache."
Fourteen months later, after participating in numerous demonstrations to reform the racial climate at MU, Butler had a peculiar sense of deja vu.
On Oct. 10, he and 10 other student activists, who called themselves Concerned Student 1950 after the year when the first black graduate student was admitted to the university, stopped Wolfe's convertible during MU's Homecoming parade.
Their demonstration was meant to educate bystanders about MU's history of oppression.
"In 1839, the University of Missouri was established as a flagship institution west of the Mississippi River," began Reuben Faloughi, a member of Concerned Student 1950 and also an MU graduate student. "This institution was for white men only — only white men! And it was built on the backs of black people!"
"Ashé!" the protesters chanted, using the Yoruba word for power. "We have nothing to lose but our chains!"
A number of people in the crowd shouted back MU's signature chant, "M-I-Z!" and "Z-O-U!" Some bystanders tried to block Wolfe's car from the activists. Wolfe did not leave his car, and he did not respond to the students. His driver revved the car's engine, and the car bumped into Butler.
After law enforcement officers came to break up the demonstration, the student activists embraced. Some cried. 
This sense of emotional support felt between the original 11 members of Concerned Student 1950 has only intensified since the parade. The group sent Wolfe a list of demands, including a comprehensive racial awareness and inclusion curriculum, an increase in black faculty and staff and more funding for MU's mental health center. When Wolfe met with Concerned Student 1950 members, he did not agree to any of them.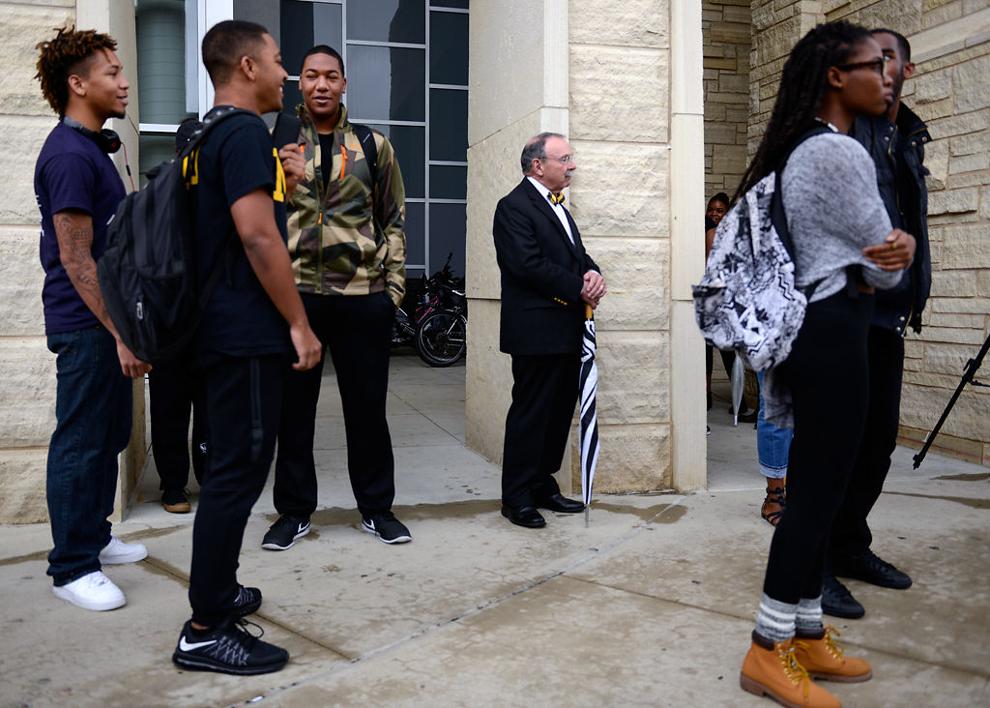 The movement family
Butler was not satisfied. He thought about things he had often thought about: radicalism, humanity and confronting things at the root. He consulted with his physician and his pastor. He updated his will, decided to become an organ donor and signed a "Do Not Resuscitate" order.
He thought about God, too.
Butler spoke passionately, quickly, varying his sentences with repetition and fragments to make his point. But when it came to talking about God, he paused and took a deep breath.
"There's this faith that if I walk on concrete, I'm not going to sink into a hole and fall through the ground," Butler said. "So there's that faith that we already have in everyday life, but it's just a blind faith in a greater sense. God created me. He created these systems. He created this world. And to trust him through it all — that whatever is going to happen is going to happen."
"Jesus was a radical, too," he added.
Yet Butler did not tell his friends — his movement family, as he calls them — until the Sunday night before he began his hunger strike. They were shocked that he was willing to give up his life to protest Wolfe. But not 24 hours later, they had set up a few tents on Mel Carnahan Quadrangle and were determined to stay until Wolfe was out of office.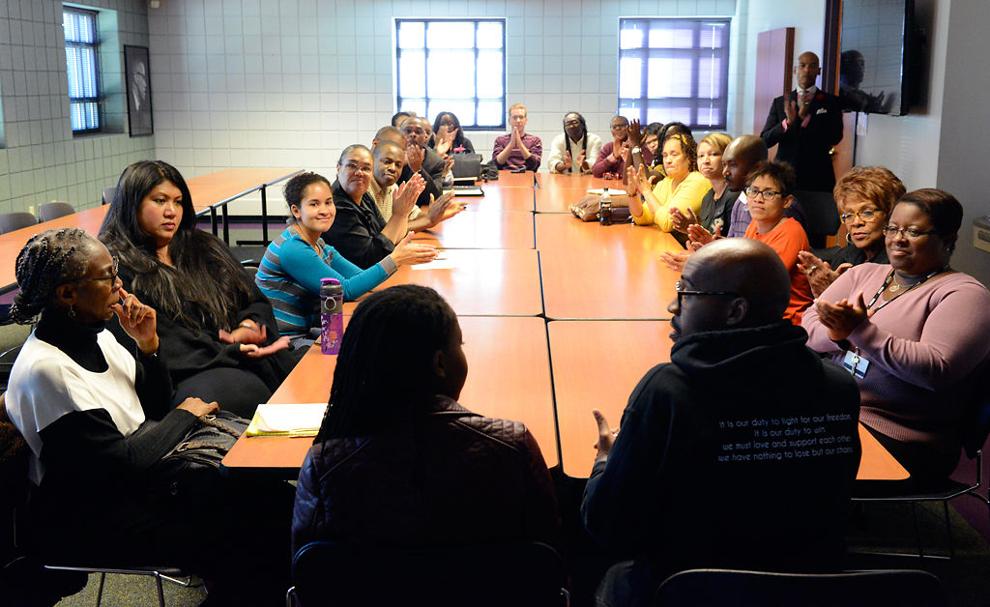 As the week went on, passers-by visited with support in the form of food, tarps, even a dog to pet. Some students stopped by to learn about the movement. More and more supporters brought tents and joined the campout. They formed a community, gossiping about why Missouri quarterback Maty Mauk had been suspended and complaining about seeing drunk parents at bars downtown. They prayed.
A few days in, students dedicated an entire tent to storing food. The camp grew. The movement community swelled.
Butler stopped by from time to time, but he spent the majority of his week in class, working or in meetings.
"Some people want to meet for just 15 minutes to talk and just pray," Butler said. "Some of them have been hour-long meetings because they're really trying to clear up what got me to this point."
Without food, by day four, his friends helped him meet his appointments by acting as human crutches. Standing up required his significant concentration.
His movement family protected him, too. On Monday morning, after Wolfe announced his resignation, they surrounded him by the tents at Carnahan Quad, shielding him from the barrage of reporters and curious onlookers.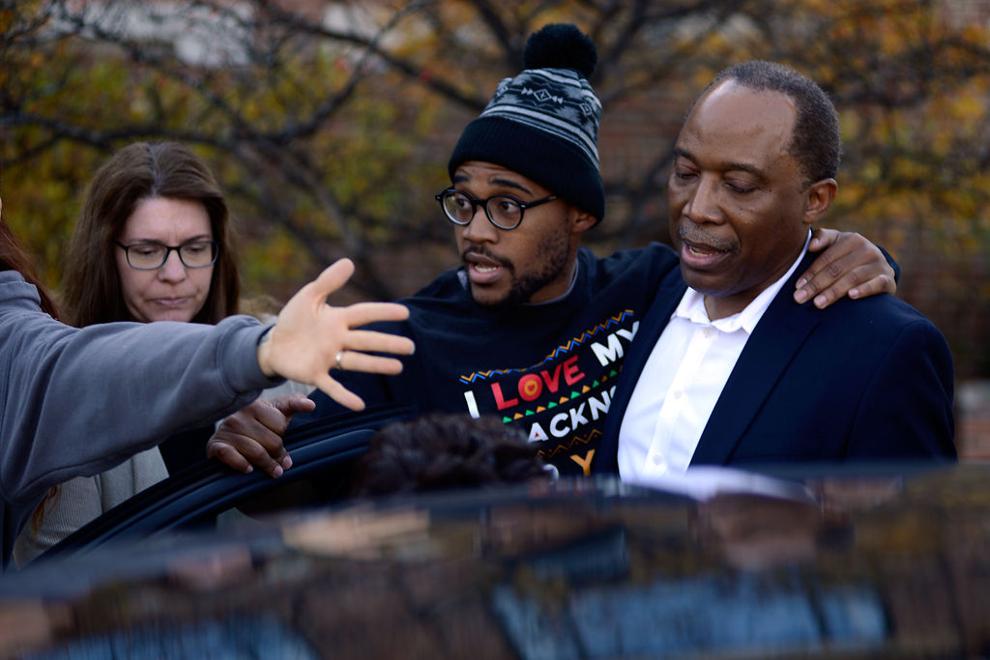 Students hugged each other. They danced. They jumped up and down. Butler, in a dark cap and sweatshirt, was in the middle of it all, held up on each side by a friend. They chanted the chorus to Kendrick Lamar's "Alright."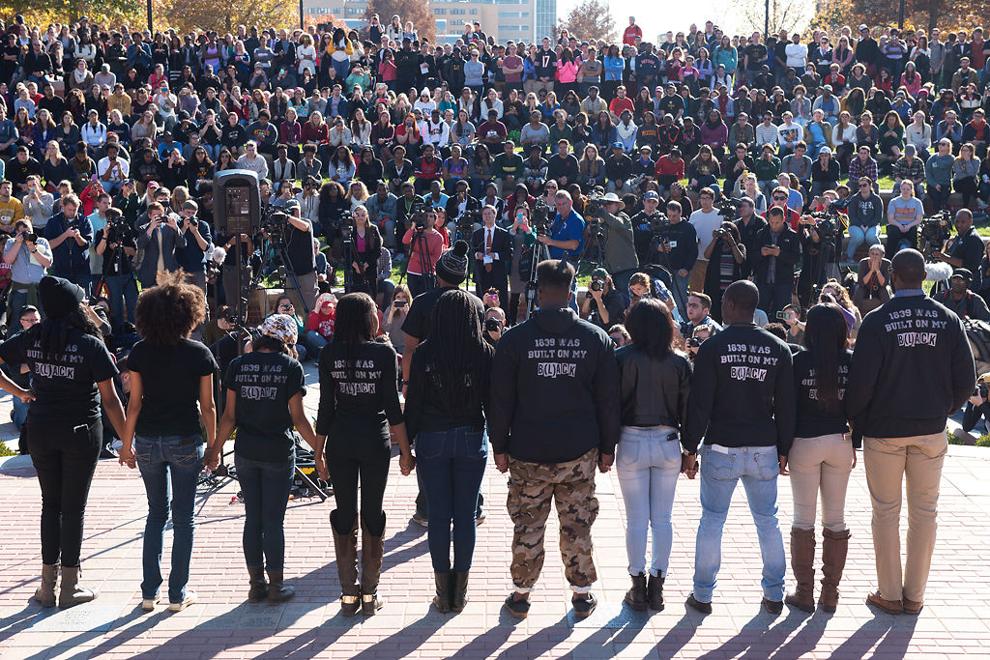 Many strings remain loose, including whether real race relations reform will come to MU or whether the president's successor will be different than Wolfe in the eyes of the movement community. 
From Butler's perspective, though, he took the important step from reading about radicalism to making it his own. He spun the wheels of change at MU.