On May 4, 2001, a group of young men clad in 19th-century-style red wool coats marched through MU's Francis Quadrangle, led by three flag-bearers in blue. The men made up the Lewis & Clark Fife and Drum Corps, and they were on campus for the unveiling ceremony of a bronze statue of Thomas Jefferson.
Former MU Jefferson Club Chair John Cook, in his unveiling speech, called the statue "breathtaking" and "magnificent" and said it would be "a wonderful addition to the university quadrangle."
"I just think you're all going to love it," he told the crowd assembled under a white tent.
Nearly two decades later, on May 31, 2020, as protesters gathered on the quad, someone stuffed a black plastic bag over the statue's head. Dozens of others began to call for its removal online.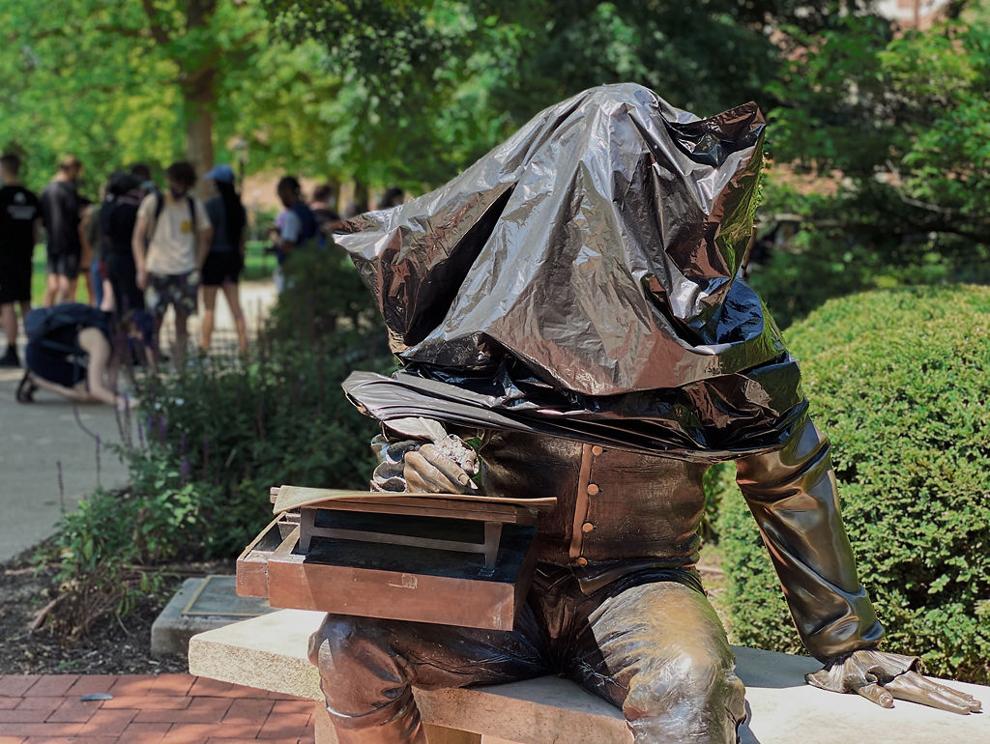 "It has never sat right with me," MU sophomore Roman Leapheart said. "I've known it was there since before I was a freshman. It's felt like a sore thumb."
As the world reckons with racism and police brutality through weeks of protests, MU students are demanding the university remove the statue. Hours after protesters marched through campus and downtown Columbia May 31 decrying the killing of George Floyd, Leapheart created a change.org petition, addressed to UM System President Mun Choi, calling for the "Removal of Thomas Jefferson from Mizzou's Campus."
"Mizzou has no room for a racist slave owner on our campus, in the Quad, where thousands of black students pass by everyday, forced to deal with imagery of the past in the future where we should be promoting equality, diversity and inclusion," Leapheart's petition read.
Within 24 hours, it had 1,000 signatures. As of Friday noon, it had almost 3,300.
But MU's plan is to leave the bronze Jefferson right where he sits on a concrete bench by the Chancellor's Residence.
Leapheart said he, along with several members of the Legion of Black Collegians, MU's black student government, met privately with Choi and other campus leaders, including "several" UM curators Thursday morning. Leapheart said he and other students felt they were frequently spoken over and weren't satisfied by leadership's response.
"I was told explicitly that they don't want to remove the statue, that they will put it to a vote, but they mainly want to have conversations," Leapheart, a Kansas City native, said Thursday evening. "Because if we remove a statue, we don't address the bigger picture, but the bigger picture can't be addressed overnight. We have to start somewhere."
In the meeting with Choi, Leapheart said, there was a "shared statement" directed at him and other protesters that "they" were "tired of hearing the past repeated." Leapheart declined to say who specifically expressed that sentiment.
"Well, I'm going to keep bringing it up, because (they're) not listening," Leapheart said. "I'm going to keep being that sore in your foot. I'm going to be that pain. Because you didn't listen (in 2015), and I don't think they're listening now. You gotta make them listen, some way or another."
But Leapheart and those backing his petition aren't planning to let MU have the last word. In fact, he said words are no longer enough.
"One thing Mizzou seems to do very well — it seems to love its conversations," Leapheart said. "Folks are tired of conversations, frankly. ... But if Mizzou doesn't take the statue down, someone else will."
On Friday, Leapheart called MU's decision "frustrating" and said he was "going to keep fighting."
Sally Hemings and #WhyIDidntReport
Leapheart's case against the statue is twofold.
Jefferson was a known slave owner, and more than 200 enslaved persons were sold from his estate after his death, according to the Thomas Jefferson Foundation, an organization that oversees his estate. That fact has changed the legacy and conversations surrounding the nation's third president and other figures of American history.
"We have seen slavery become something of a litmus test," MU history professor Jeff Pasley said. "One of the reasons why (John) Adams and (Alexander) Hamilton were a big deal was because they were not slave owners. You could treat them as anti-slavery figures. But if you go into Jefferson's biography, there are problems there."
But Leapheart, in pushing for the statue's removal, said he is also seeking justice for Sally Hemings. Hemings was one of the few enslaved people under Jefferson who was freed after his death, and historical consensus has determined he was the father of several of her children. Many, including Leapheart and others supporting the removal efforts, view such a relationship as inherently nonconsensual, though historians still disagree on how to qualify the dynamic.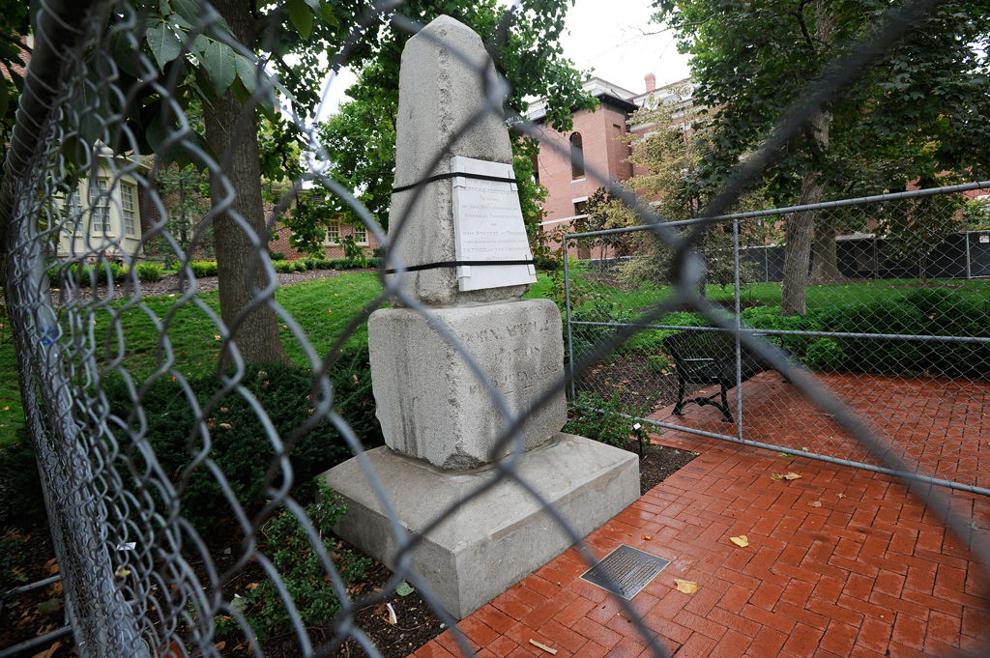 Recent decades have seen the emergence of popular biographies detailing the lives of American figures, especially the founding fathers, Pasley said. Although historian David McCullough wrote definitive books on George Washington and Adams and the musical "Hamilton" put Ron Chernow's book onstage, one of the most prominent accounts of Jefferson was "Thomas Jefferson and Sally Hemings: An American Controversy" by historian Annette Gordon-Reed.
As a result, Pasley said, two of the most commonly known traits of Jefferson by young people is his owning of slaves and the story of Hemings.
Leapheart sees Hemings' story — one he believes was characterized by subjugation and force — echoed in women today, expressed in a recent Twitter hashtag, #WhyIDidntReport. Scrolling through, one can read about countless experiences with sexual assault and why victims didn't report them. A number of women who attended or graduated from MU participated in the trend, recounting their experiences with assault on campus or while a student.
"Seeing that was a slap in the face — to see all these black women who hadn't been taken care of and protected, who had been failed by the university who swore to protect them," Leapheart said. "It's a slap in the face to them, to any other sexual assault victim."
Those who believe in the statue's value often remark that Jefferson's accomplishments, including drafting the Declaration of Independence, must be weighed in any evaluation of his depiction or description.
"That's an argument that the (UM) curators are very strong about," he said. "It eliminates the possibility of holding folks accountable, which is a fact that I pushed back against and LBC pushed back against. ... I don't want to tarnish anyone's reputation, but Sally Hemings deserves justice. If I have to step on a few toes to get there, ... consider me stepping."
A national zeitgeist
Leapheart isn't the first MU student to make a run at getting the statue off campus. In 2015, while Concerned Student 1950 made national headlines protesting campus racism and demanding action from the university, students created a petition similar to Leapheart's.
It didn't gain the same traction, but it did prompt a mass of sticky notes to be plastered onto the statue, labeled "racist," "rapist" and "slave seller," among other terms, while defenders of Jefferson periodically removed the sticky notes and draped an American flag around the statue.
Leapheart said he has spoken with one student behind the 2015 effort, Maxwell Little, about the new petition. Leapheart said Little told him he'll get pushback from the university but to keep on pushing.
But a lot has changed since Little and other students' campaign in 2015, especially on campuses. After 2017's violent white supremacist rally in Charlottesville, Virginia, Duke University and the University of Texas-Austin removed Confederate statues from their grounds. A year later, protesters at the University of North Carolina-Chapel Hill tore down the "Silent Sam" Confederate statue. Columbia Public Schools renamed Robert E. Lee Elementary in 2018, now called Locust Street Expressive Arts Elementary School.
The University of Virginia, which Jefferson founded and had inscribed on his tombstone, has seen its students repeatedly deface his statue there.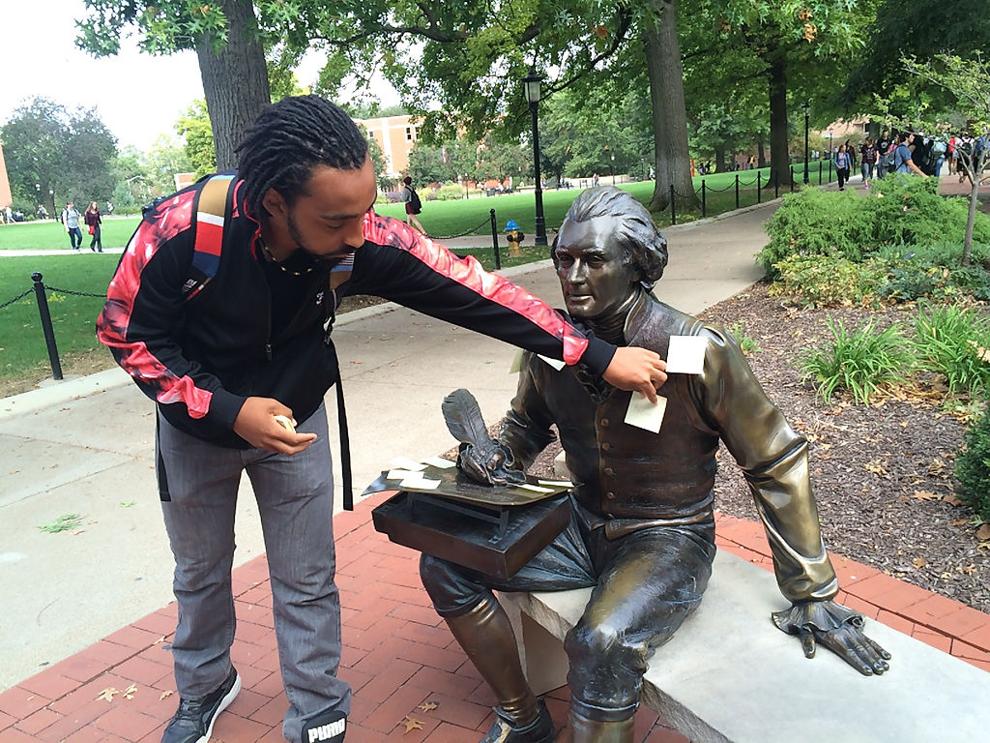 Now, the killing of George Floyd by Minneapolis police has sparked mass protests, a new national conversation around race and a critical examination of historical figures, from Confederate generals to Christopher Columbus and the Founding Fathers, including Jefferson.
Prominent national figures like the Rev. Al Sharpton and former Congressional Black Caucus Director Angela Rye have spoken on the subject, calling for the removal of statues depicting the Founding Fathers and the Jefferson Memorial in Washington.
Such examinations also come with detractors, including from the country's highest office. In the aftermath of Charlottesville in 2017, President Donald Trump suggested the removal of Confederate statues would result in a slippery slope, in which figures such as Washington and Jefferson are removed (though historians disagreed with the nature of the remarks).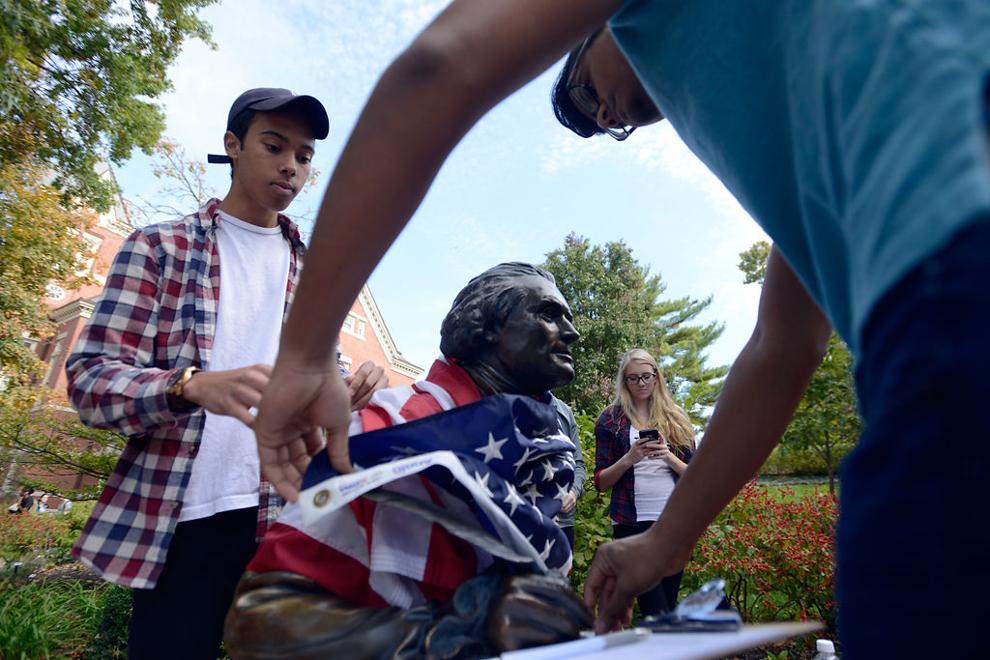 Leapheart doesn't view it as such, but rather as a movement in which "regardless of accomplishments, we can hold people accountable." For him and those backing the removal of the statue, there is no better time to revive the cause.
"This is a very deciding time in the country right now," Leapheart said. "I know at Mizzou, given CS1950 and its history, that's a hard thing to do. But it's something we had to do. We need to make a stand."
Jefferson's ties to MU
There is no retelling of MU's history that does not, in some capacity, mention Thomas Jefferson. It was the first university established on the land known as the Louisiana Purchase, which Jefferson's administration acquired from France in the early 19th century.
Decades after Jefferson's death, his heirs planned to dedicate his tombstone and had received countless requests for it, including one from MU. MU's claim was strengthened by both Jefferson's fondness for state-sponsored education and many Boone County residents' apparent origin in Virginia, where Jefferson lived and died.
The tombstone was awarded to MU, unveiled in 1885 and stood on campus for several years until its plaque was removed and stored in Academic Hall. In 1892, Academic Hall burned to the ground — the columns are all that's left of the hall — and the plaque was damaged. It was later restored and is now stored in Jesse Hall. A more complete retelling of the tombstone's saga, written by the late William Peden, has been digitized in the university archives.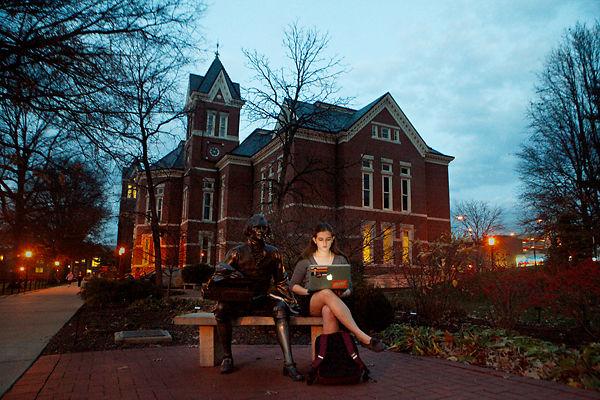 The monument itself is on the quad near the Chancellor's Residence, new and improved with a replica tablet, alongside the bronze statue. The statue was purchased in 2001 from artist George Lundeen by MU's Jefferson Club, a donor club of alumni and friends of the university who each donate over $25,000. It cost $45,000.
Reached Friday, Lundeen said that for some people, the Founding Fathers have committed unforgivable sins.
"I think we can all see the arguments, when you see how several minorities have been treated in the United States, firstly the American indigenous peoples," the Colorado sculptor said. "It's been a fight, and I don't blame those people for fighting. It's an honorable mission they have, and hopefully they can do it without violence.
"Tell ( MU), if they want to sell or give away that sculpture," he said, "put it back on a truck, and I'll come and get it."