The University of Missouri System's No. 1 building priority over the next three years is expected to alter the course of scientific research on its four campuses. If plans solidify, the Translational Precision Medicine Complex, or TPMC will draw the system into the cutting-edge landscape of precision medicine, viewed as the way forward in medical treatment.
Some MU faculty, though, have voiced concerns over the recruitment of "star hires," interdisciplinary research plans and the financial feasibility of the $220.8 million TPMC.
Translational precision medicine takes lab research and applies — or translates it — to real-life patients based on their genetic makeup, traits and other factors.
In addition to expanding MU's medical research, the TPMC would be the first major research facility at MU since the Bond Life Sciences Center opened in 2004. This is critical if MU wants to elevate its bottom-eight status in research spending among members of the prestigious Association of American Universities.
Jeffrey Bryan, director of the Comparative Oncology Radiobiology and Epigenetics Laboratory in the College of Veterinary Medicine, is involved in developing the TPMC.
"I think the development of the TPMC could put together exactly the kind of playing field that any world-class team would want to play on," he said.
But how UM will pay for the complex is uncertain.
The TPMC will be the largest investment in a research facility at MU ever, MU spokeswoman Liz McCune said.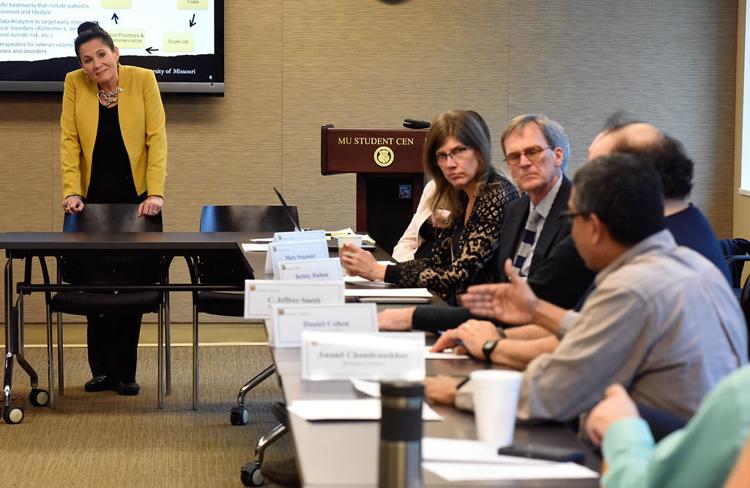 "I have no doubt whatever the hurdles are, we'll jump over them," said Elizabeth Loboa, MU vice chancellor for strategic partnerships, dean of the College of Engineering and one of the lead planners.
"That building has to be what we envision it to be, or we will fall short of our goal," said Mark McIntosh, vice president for research and economic development for MU and the UM System.
Funding: Harvard-, MIT-level expectations
"Now, you know, let's be realistic," McIntosh said. "Because of budget constraints, the state hasn't had the resources to support capital construction projects on Missouri campuses in a while. But we think it's important enough to engage the state and our other public and private partners."
Partnership with industries — potentially including Cerner Corp., Roche Pharmaceuticals and Siemens — is another funding hope. Loboa said the system is engaged in "active dialogue with multiple companies." A portion of the 275,000-square-foot "game changer" complex, as Loboa called it, at College Avenue and Hospital Drive will be an innovation hub for such partnerships.
Research equipment is factored into the $220 million cost, and UM hopes it will be funded in part by in-kind donations.
Faculty worry about the lofty expectations administrators have placed on the TPMC, though, especially amid a rough three years of fiscal hurdles.
"This is a huge amount of money, so usually when a lot of money is involved, people are concerned," said Camila Manrique, chair of the systemwide Intercampus Faculty Council and associate professor in the MU School of Medicine. "Faculty want to know how the decisions are made."
The system has been hit by a trifecta of challenges, UM System Chief Financial Officer Ryan Rapp told curators in September: net enrollment decline, flat or declining support from the state and flat or declining net tuition revenue.
"We've never had those three things in the history of the system all at once," Rapp said.
Under the TPMC plan, lead researchers are expected to generate enough grant money to pay off the complex in five years, Loboa said.
But the $900,000 expected yearly of each investigator is unrealistic, said Anand Chandrasekhar, an MU Faculty Council member who has been a researcher in the Bond Life Sciences Center since it opened. That's akin to what's expected at Harvard and MIT, he said. Center researchers are expected to secure at least $200,000 in grant expenditures each year, a bar he and other Life Sciences Center faculty struggle to meet.
"The funding environment for academic research across the U.S. is getting harder," he said.
What's more, he said, faculty morale is low in part because of low pay. In the 2015-16 academic year, MU ranked last among AAU public institutions in salaries for professors, associate professors and assistant professors.
When R. Bowen Loftin became MU chancellor in February 2014, the task set before him by the curators was clear: boost MU's status in the AAU through medical research.
Loftin, a physics professor since resigning during the fall 2015 protests, said MU saw precision medicine as an opportunity that aligned with its capabilities as well as emerging national trends. MU would need a new facility to make the precision medicine initiative successful, he said.
"All of the institutions that we feel we are competing with are considering the same kinds of facilities," McIntosh said.
In developing the TPMC, planners determined its areas of strength would be research in cancer, vascular diseases and neurological disorders.
"Those are the three areas that we think will have the biggest impact around the state," McIntosh said.
He pointed to the state's biggest causes of death: cardiovascular disease, obesity and diabetes, cancer and various neurological diseases.
To take on these complex research questions and come up with novel ways to treat those diseases, MU and UM will designate 30 current faculty to join the TPMC and hire 30 additional faculty from around the world. The 60 researchers, called principal investigators, are expected to generate a total of $54 million per year in research.
Salaries for those researchers are not factored into the $220 million. Planning for that is still in the works, Loboa said, because "many of the principal investigators would be comprised of current faculty whose salaries are already being paid."
Principal investigators won't be the only ones making breakthroughs in the facility. Loboa, McIntosh and others have indicated they want to develop public-private partnerships. Loboa said she spoke with the University of Michigan's engineering dean to gain perspective on how Michigan is working with Ford Motors in the research facility it's building right now.
She and McIntosh pointed to existing partnerships with Cerner and Roche unrelated to the TPMC.
"If we're creating new pharmaceutical drugs to treat cancer or new sensors or new technologies to better diagnose early-onset Alzheimer's or dementia or other neurological disorders, companies would want to be there front and center and (at an) early stage so they would have access to it," Loboa said.
Robert Paul, director of the Missouri Institute of Mental Health and a professor at the University of Missouri-St. Louis, said the TPMC will take his research in dementia to the next level. His focus is identifying novel mechanisms of brain disorders across the lifespan. He said his initial collaboration with TPMC investigators will target new predictive models of early dementia.
Technology, such as a 7-Tesla magnetic resonance imaging scanner, is expected to be a major attraction, as well as advanced, leading-edge imaging and visualization facilities. The 7-Tesla MRI was introduced in North America last year and boasts the strongest magnetic field in clinical use, according to the Mayo Clinic.
Alexa, why precision, translational medicine?
MU and UM partly have former President Barack Obama to thank for the TPMC concept. In his 2015 State of the Union address, Obama announced a precision medicine initiative.
"Twenty-first century businesses will rely on American science, technology, research and development," Obama said. "I want the country that eliminated polio and mapped the human genome to lead a new era of medicine — one that delivers the right treatment at the right time."
Loftin said the announcement crystallized MU's decision to make precision medicine its next big research initiative. MU saw Obama's commitment as a sign the federal government would support the research. Loftin saw it as his answer to the curators' desire to improve the university's AAU standing.
McIntosh thinks precision medicine is the right direction for the system — in part because medicine is changing.
"If you think about the history of medicine, we historically have created broad-based treatment regimes — and sometimes they don't work," McIntosh said.
Loboa said it's become commonly known that more than genetic makeup determines how each person should be treated. Scholarly literature shows a confluence of factors — in addition to gender, race and ethnicity — go into how a disease presents itself and how it should be treated. Your individual diet, environment and lifestyle are critical as well.
Planning of the facility has exposed disparities in research collaboration among system researchers, McIntosh said.
"I'm hoping that the TPMC occasions a conversation about supporting research and scholarship on our campus that simply hasn't happened before," MU Faculty Council Chair Clark Peters said.
"We do have to do a better job on this campus and around the UM System of identifying where we have certain kinds of expertise," he said. "Life is all about molecular collisions. Research really is about expertise collisions."
The TPMC is meant to synthesize system and campus strengths. MU is one of the few universities in the U.S. that has colleges of medicine, engineering and veterinary medicine on the same campus. It also has the nation's largest university-run research reactor; MU Health Care; Truman Memorial Veterans' Hospital; the College of Agriculture, Food and Natural Resources; the medicinal chemistry unit within the College of Arts and Science; the School of Journalism for health messaging; and other units.
"When you put a TPMC in the middle of all that, that is a potent and flexible clinical conduit," Bryan, the veterinary medicine professor, said.
Loboa offered this example: If the TPMC existed, MU's Research Reactor could translate its radioisotope Lu-177 into a drug, called Lutathera, that treats pancreatic cancer. Since MU couldn't translate the drug in-house, it sold the radioisotopes to a company to create the encapsulation.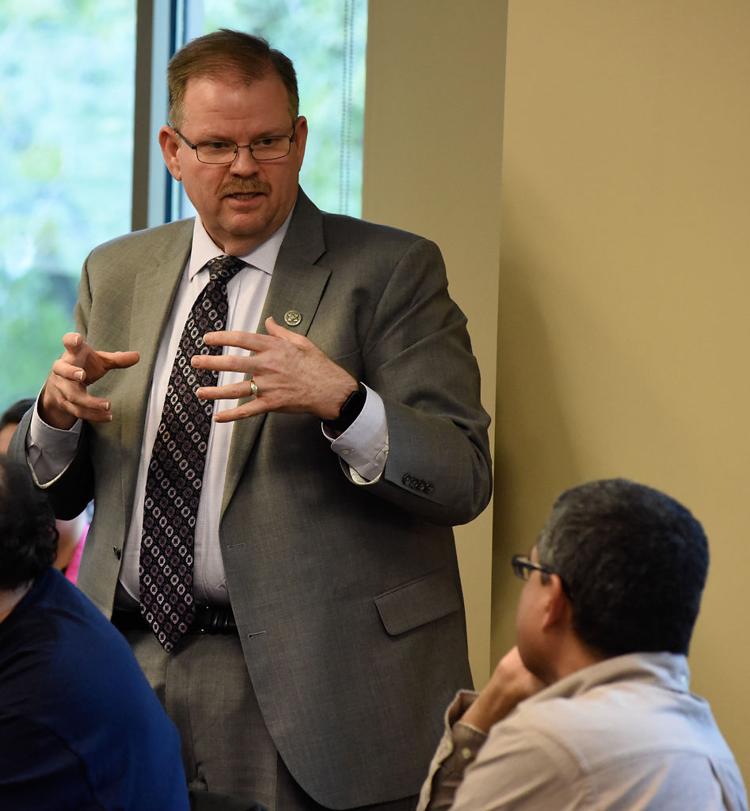 "Imagine if we'd had the TPMC in place — $3.9 billion from Novartis for the state of Missouri and, you know, the campus, and maybe we could've translated this to patients even quicker," Loboa said.
The groundbreaking scheduled for April will be a crucial turning point in the evolution of the building.
"It's not the opening date that matters for ensuring full faculty collaboration," Peters said. "It's when the plans are to be finalized, and the shovel hits the dirt."
Faculty concerns: Dialogue is just beginning
Chandrasekhar, Manrique and others emphasize they support the TPMC and hope administrators will listen to them to make the system's biggest initiative the success it's meant to be.
In the hallways, in Faculty Council meetings and elsewhere, Chandrasekhar and other faculty discuss the hurdles the TPMC must leap, he said. He said faculty in working groups have encouraged others to express concerns to TPMC leaders "so they can hear from as many people as possible."
"I'm pleased that the dialogue has finally started, but we have a long way to go," Peters said. "We're finally getting updates, which only started after we requested them."
Chandrasekhar said he thinks administrators are aware of the issues that could possibly make the research facility "stumble right out of the gate," but faculty concerns could be an issue due to lack of transparency from administrators.
Faculty also worry about plans to recruit 30 new people. Manrique, Chandrasekhar and others brought up "star hires" as challenging to pull off and as an example of the hiring difficulties MU has faced in recent years.
These are people who come to MU with "considerable start-up packages, and while many of these hires are exceptional on some occasions, they are not a great match to the existent expertise on campus," Manrique said. "The goal will be to find people that are exceptional and will also help build a climate of success with others that are already here."
Some of the best research originates from young, junior faculty, such as assistant professors, Chandrasekhar said. It might take six to seven years of research to reach the $900,000 grant revenue expectation, he said.
The TPMC will be successful, Chandrasekhar and others say, "but the train has already left the station," in terms of construction and, to some degree, planning.
UM will build the behemoth, but it has to work out the kinks.
Supervising editor is Elizabeth Brixey.