Sierra Applegate, 19, is a sophomore honors student studying aerospace engineering at MU. She hopes to work for NASA and build spaceships that will someday colonize Mars. Next fall, she and thousands of other students won't have to pay a dime of tuition.
The Missouri Land Grant Compact, signed Thursday by MU Chancellor Alexander Cartwright and Vice Provost for enrollment management Pelema Morrice, will cover tuition and fees for about 3,500 MU students, according to an FAQ document distributed at the morning ceremony. The compact will begin to cover tuition starting in the fall of 2018.
The grants will be for Missouri residents who are eligible for federal Pell grants and will cover out-of-pocket costs students must pay to make up the difference between the Pell grant and tuition cost. Current students will receive full tuition coverage as long as they were Missouri residents when they started at MU.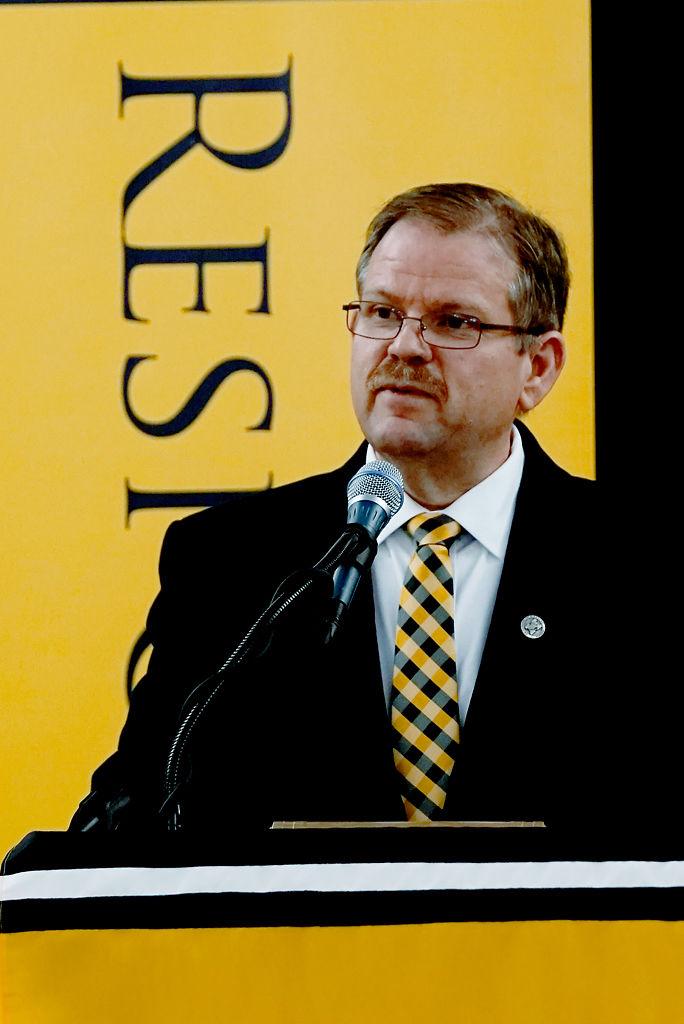 MU's total enrollment was estimated by campus officials at 30,400 for the 2017-2018 academic year, so this compact means full tuition will be covered for 11.5 percent of the student body. The compact is divided into two grants: the Missouri Land Grant and the Missouri Land Grant Honors.
Eligible honors students will also have room and board covered, in addition to fees and tuition. Of the roughly $5 million earmarked by MU for the project, $3.5 million will be for non-honors students and $1.5 million for honors. The grants will also apply to students taking summer classes as long as they are taking at least six credits, and it will cover the cost of MU's average tuition and fees for students to study abroad.
The roughly $5 million annual cost of the compact will come from $12 million MU already spends each year on need-based financial aid. The grants are good for four years per student. 
The compact will help students with lower incomes across Missouri, both rural and urban, Morrice said.
Applegate, a recipient of the honors grant, was born in Ozark, south of Springfield in southwestern Missouri. Her parents direct an orphanage in Guatemala.
"My parents are missionaries, so we don't have a lot of money," Applegate said.
She has taken out tens of thousands of dollars in loans and works full time to pay for college. When she found out by email Wednesday that she'll go to school for free starting next fall, she was amazed.
Engineering advisers tell their students five years to graduate is typical, and 4 and 1/2 years is ambitious, Applegate said, but right now she's taking more credits each semester than her peers so she can graduate in four years for cost reasons. Thanks to the land grant compact, she said she'll be able to take the standard number of credits, so she can study more for classes and perhaps move along her dream of working at NASA.
The reason Applegate wants to become an aerospace engineer stems from the three years she lived with her parents in Guatemala.
"Everything around me was changing — and this is going to sound super cheesy — but the terrain changed, the language changed, the culture changed," she said. "But the stars didn't change."
At the signing ceremony, Cartwright said the land grant compact feels like a personal victory.
"I certainly would not be standing here today if it wasn't for financial aid," Cartwright said.
Pell grants in particular made higher education possible for him, he said. The federal need-based scholarship offers students a maximum of about $6,000 a year. The total received by students depends on need, the cost of their school, whether they're a full or part-time student and whether they'll be attending school for the full year.
Over 20 million students received Pell grants across the country in the 2015 to 2016 school year. The majority of Pell grants are given to students who come from families making less than $30,000 annually, though some are awarded to students with extenuating circumstances from families who make more, according to the FAQ document distributed during the signing.
If students receive other scholarships in addition to a Pell grant, they are still eligible for the land or honors grants.
"The grants are a commitment from Mizzou to fund tuition and fees through a variety of resources, including institutional awards," the FAQ explained.
In addition to Cartwright and Morrice, Missouri Students Assocation vice president Payton Englert, spoke at the Jesse Hall signing ceremony in front of students, politicians, system and campus leadership and news media.
Morrice credited curator David Steelman of Rolla and Kevin McDonald, MU's vice chancellor of Inclusion, Diversity and Equity, with initiating the conversation many months ago that led to the compact. Morrice said it is the first of similar initiatives to come.
*The grants' funding comes from two sources: $3.5 million comes from money that was already being spent on financial aid for students of lower-income families and $1.5 million from funds freed up by the budget cuts this summer.
*Part of the system's plan with budget cuts, as explained in UM System President Mun Choi's guiding principles email in April, was cutting more than enough to meet the deficit so strategic investments could be made for future growth.
"We are at a special time in our institutional history," Morrice said at the ceremony, "one that requires all of us to be very reflective about why we are here, and who we are here to serve."