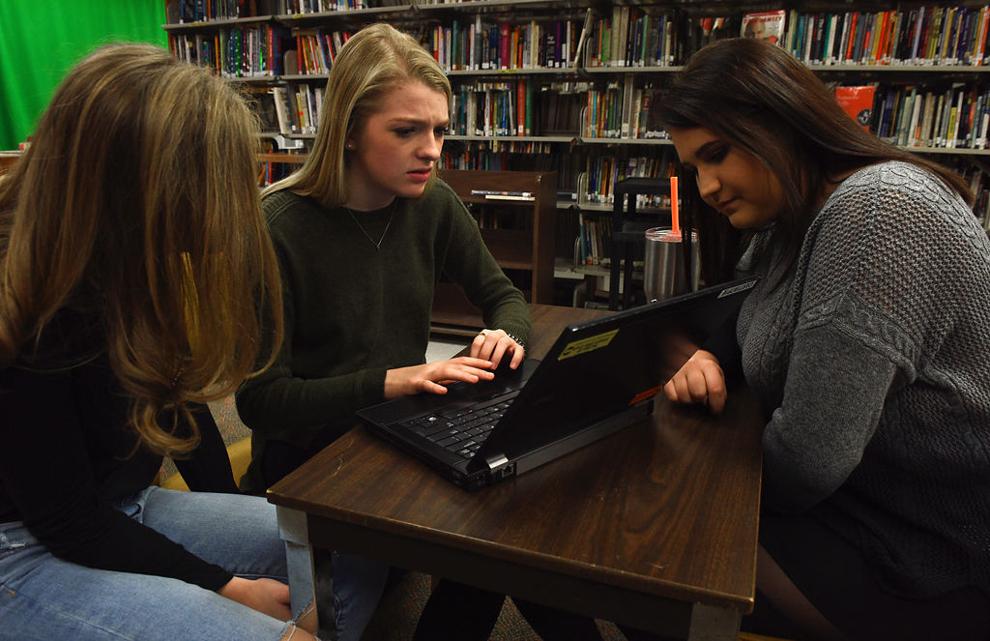 At first glance, it's hard to tell that Fatima schools have been struggling with technology problems.
Fatima has three computer labs, two business classes with 25 computers each, and the library for the middle and high schools has 15 computers and shelves of Chromebooks and iPads.
But Fatima's teachers and students have had to adapt to the unexpected.
Teachers need backup plans for instruction in case technology fails them, classrooms can't take advantage of modern teaching tools and online state testing sessions for one class require that the entire rest of the school stay offline.
Fatima has poor broadband, and the school district has been trying for years to change that.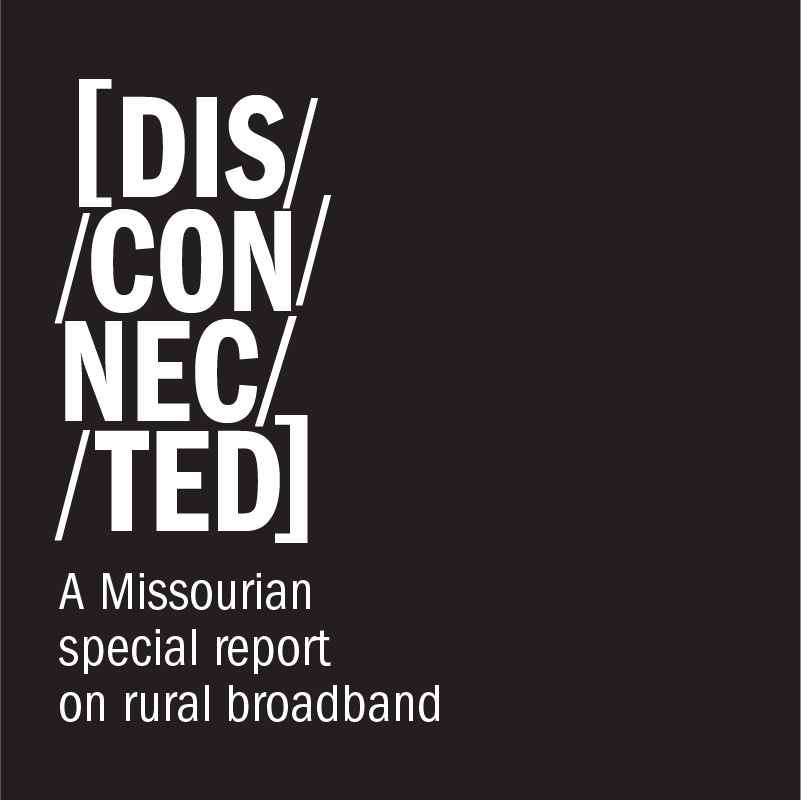 "Our biggest hurdle is the bandwidth," said Sharon Breese, Fatima High School's librarian. If a lot of people are online at once, "we'll hit our max, and everybody kind of just slows down," Breese said.
Fatima's entire school district, Osage County R-III, sits on one property in Westphalia.
Occasionally, Fatima's IT director, Brian Stegeman, will send out emails telling teachers to limit broadband use, so that the bandwidth can be reserved for students taking online tests. Breese estimated that this only happens maybe once or twice every quarter, but Stegeman said that teachers also coordinate broadband use among themselves.
Breese mentioned a recent example, which was during an exam for an online dual-credit Biology II class. "They definitely had dibs — we didn't want them to get kicked off or timed out."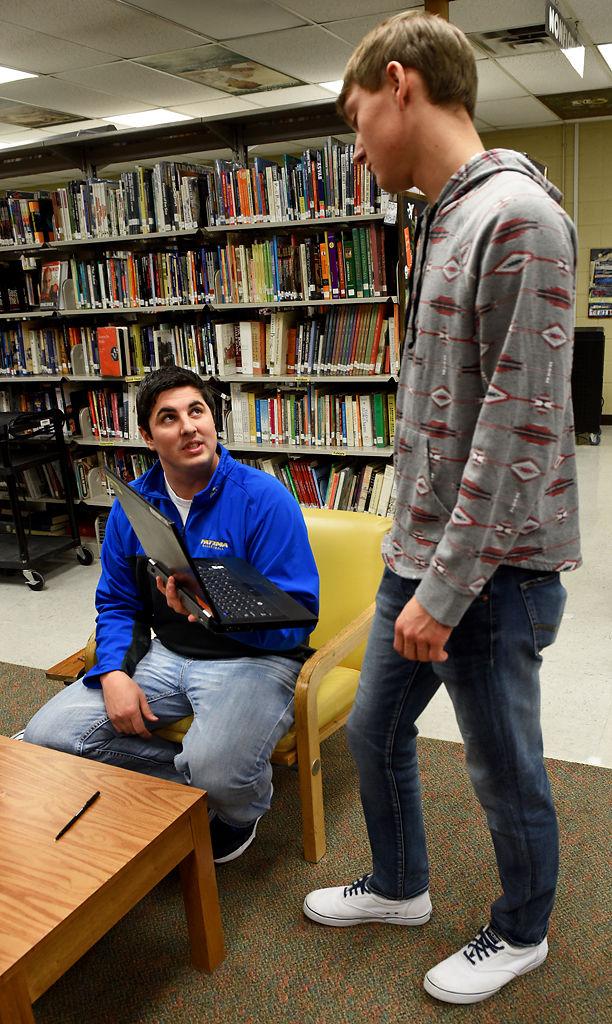 Half a mile away
Pete Nasir, superintendent of Wellsville-Middletown R-I School District, described his district's long-lasting struggle to get better broadband for their students. Wellsville-Middletown's entire school district fits in one building, with 378 students enrolled from preschool through 12th grade.
When asked how long he's been trying to bring better broadband to the school, Nasir chuckled and said, "Well I've been here for 13 years — I'd say for 12 and a half years." His district currently runs on about 20 megabits, an increase from two years ago, when they had only six.
The Federal Communications Commission, or FCC, set goals for school bandwidth of at least 100 megabits per second for every 1,000 users as a short-term target, and 1 gigabit (equivalent to 1,000 megabits) per second for every 1,000 users as a long-term target.
As of right now, Nasir said, "we can't have two or three classes using full-tilt technology at the same time."
A fiber-optic cable runs up Highway 19, and Nasir estimates it is less than a half mile from the school. But the resources to pay for a connection between the two just haven't been available.
Nasir said that teachers "just have to be a little careful in terms of their scheduling." He said that as superintendent he frequently has to file documents to the Department of Elementary and Secondary Education, and at times he won't be able to open or send those files because the broadband is in use in other parts of the school.
"Until about three years ago, we were in very poor financial condition," Nasir said. The district cut down to a four-day school week and residents voted for a tax increase. Additionally, Nasir said they eventually lost enough students that they could be designated as a small school, which opened the door to some grants.
"Schools here in Missouri get their money from three primary sources: they get local money... they get the state allocation and then they get federal money," Nasir said. He said that schools in prosperous communities receive a larger portion of their funding from local taxes, but his district's funding is more evenly spread between state and local. "So when the state makes a cut," he said, "it represents a pretty substantial portion of our funding."
In mid-December, Wellsville-Middletown sent out RFPs, or "requests for proposals," which will hopefully attract bids from vendors who could install the fiber-optic cable connection.
One of the largest challenges, Nasir said, has been fiber location.
"Companies are not going to run a fiber-optic cable out to the middle of nowhere if there's no customers... There's been no incentive for them other than our school to run a fiber-optic cable anywhere close, so in order for us to get it there we'd have to pay for it."
"Sometime in the late summer or fall of next year is when I would hope to have the new fiber in," Nasir said. He said that he is "cautiously optimistic" about the process.
"I've been doing this long enough to know that sometimes things work out perfectly, and sometimes no matter how good everyone's intentions are and how hard you work at it, it just doesn't fall through... So far everything has worked out properly."
Wellsville-Middletown and Fatima are both developing plans to pair each student with a device, most likely a laptop or tablet, a plan referred to as a "one-to-one initiative." Nasir said it would not be possible with their current broadband.
But there's another problem: access in the students' homes.
"If we go one-to-one, we're going to have a substantial number of our kids who, for whatever reason, will not have internet connectivity when they go home," Nasir said. "If a teacher gives an assignment that requires some online work ... they're going to have to be sensitive to those kids that just don't have access to any kind of wireless — or wired, for that matter — internet connectivity."
He said that Middletown does not currently have cell phone service, so for the students who live in Middletown, "we can give them a tablet, we can give them a computer, but they won't be able to use it until they can find a spot somewhere around their home that they can actually pick up a cell phone or a wireless connection."
Better broadband access allows Fayette High School to offer coding class.
Necessary adaptations
A challenge shared by Fatima and Wellsville-Middletown is the transition to online state testing.
"Over the past few years with state testing all being online ... we had to focus all of our internet energy for the test," Fatima superintendent Chuck Woody said. "So (if) you're sitting over here in a classroom, you're going to do something different that day."
Nasir said that during state assessments, "we have to tell all the teachers ... business labs, computer labs, to shut down, no streaming, no nothing outside the district during this time period so that we have the bandwidth. If someone forgets, or we get two classes fired up by accident, then all of a sudden we have things crashing."
Breese, the librarian, said that because of the broadband limitation, Fatima teachers have to "use a little more ingenuity" and always have a backup plan. She pointed out that, for instance, if a teacher wants to stream an educational video "it might work in your first hour class and then not work in the afternoon."
Students who don't have access to broadband at home also have to adapt.
"The library stays open after school an hour ... but sometimes the students who don't have access to internet at home also, you know, are riding the buses to get home," Breese said. "Most of our teachers will allow enough time" to get assignments done. She said that the buses drop students off 15 to 30 minutes before school starts, which provides some time to work on assignments.
"They just have to maybe more be a little more savvy," Breese said. For students who have computers but no internet access at home, she keeps flash drives so that they can download material to bring home.
"You make do, and we still are very successful," Breese said.
Fatima offers access to useful technology, despite its limited broadband, to its 781 K-12 students. The library has two large sheets of bright green cloth hung up as green screens, and there is another outside in the hallway. Students use them to create the daily news bulletin, which plays for around six minutes every day during first hour. It runs news, information about clubs and public service announcements created by students and edited on iPads.
Breese says that she sometimes gives lessons on "digital citizenship," which can include how to find reliable sources, appropriate behavior online, being a good "cyber citizen" and finding correct resources.
Fatima also uses Lumen, an online student management system which, according to Breese, displays schedules, class rosters, student medical information and grades.
Quest for fiber
Fatima's effort to get broadband access, like Wellsville-Middletown's, has been going on for around a decade. Stegeman said that they have been applying for e-rate funds every year since 1999 and seeking fiber connectivity for the past 10 years.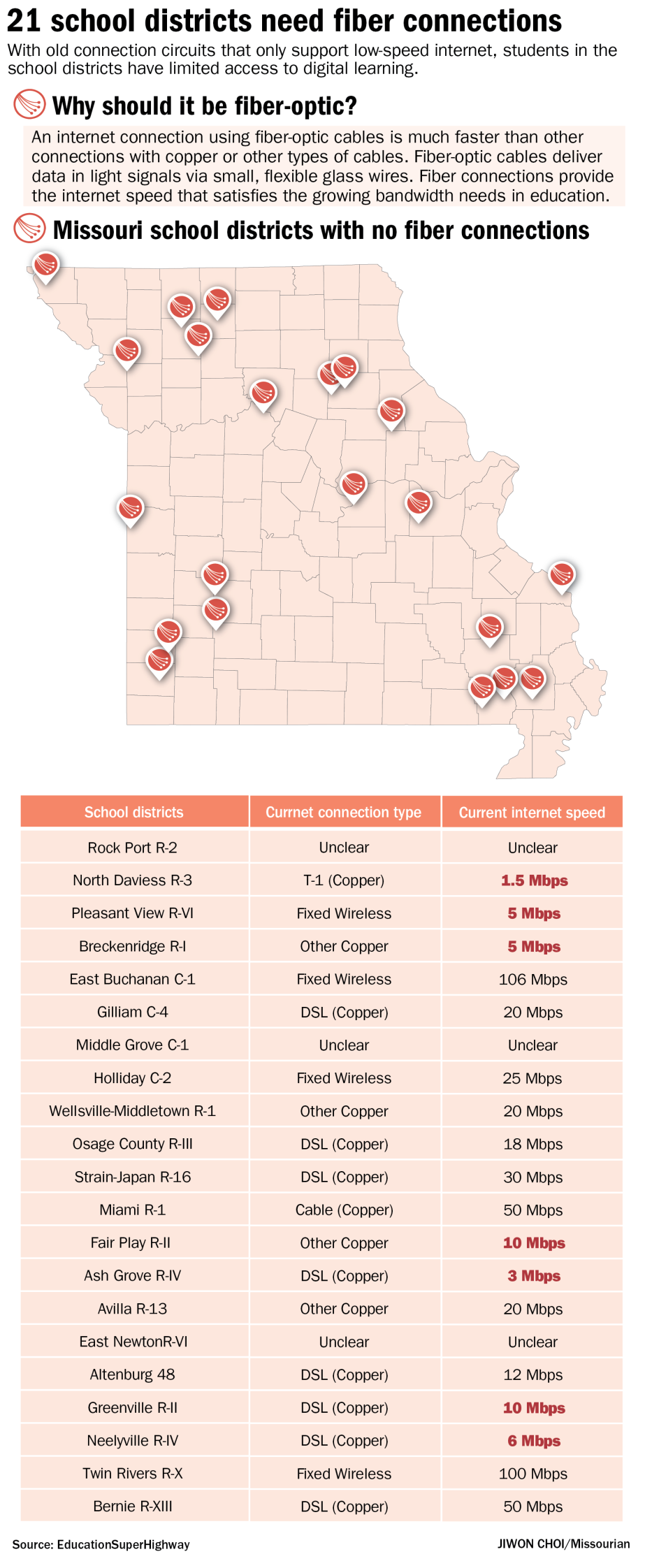 E-rate is an FCC program that provides schools and libraries with funding for telecommunications and information services.
Also like Wellsville-Middletown, a large part of the challenge is finding a provider that can bring in a fiber connection.
"I would say if you were sitting in St. Louis, Kansas City, Springfield, maybe Columbia or even Jefferson City, you probably have a lot of providers," Woody said. "We don't have that option."
Through the e-rate program though, Woody said that Fatima qualifies for about a 60-percent reimbursement for the cost of the fiber connection. Stegeman said that ideally the state would pay another 30 percent, and the federal government would pay the remaining 10 percent.
Last year the Missouri state legislature allocated $6 million to a fund for broadband for public schools.
Stegeman said that before the new state funding was released, "a lot of providers probably wouldn't have considered even proposing anything because they know it would cost," but this time, he said, he told providers, "'give us a proposal, no matter what the cost is ... we can see what we can do.'"
Currently, the expected price for Fatima's fiber installation is about $365,000. Once installed, the district would pay a recurring cost of about $1,500 per month, which, after a 60-percent discount through e-rate, would actually be $200 less than their currently monthly fee, Woody said.
Once the approximately five-mile fiber connection is completed, Fatima would go from around 30 megabits to 1,000 megabits, or one gigabit. It would be "a tremendous jump for us," Woody said. He said that once they achieve that increase, Fatima will be able to support a one-to-one initiative.
"We're going to go from probably about 400 workstations to up to a workstation per individual plus. So we're talking about a thousand workstations, basically, that are using the internet simultaneously," Stegeman said.
Woody is optimistic about the process and said that the district could have fiber very soon.
"Is there a chance we can have this at the start of next school year? You better believe it, and I've got my fingers crossed that that happens," Woody said.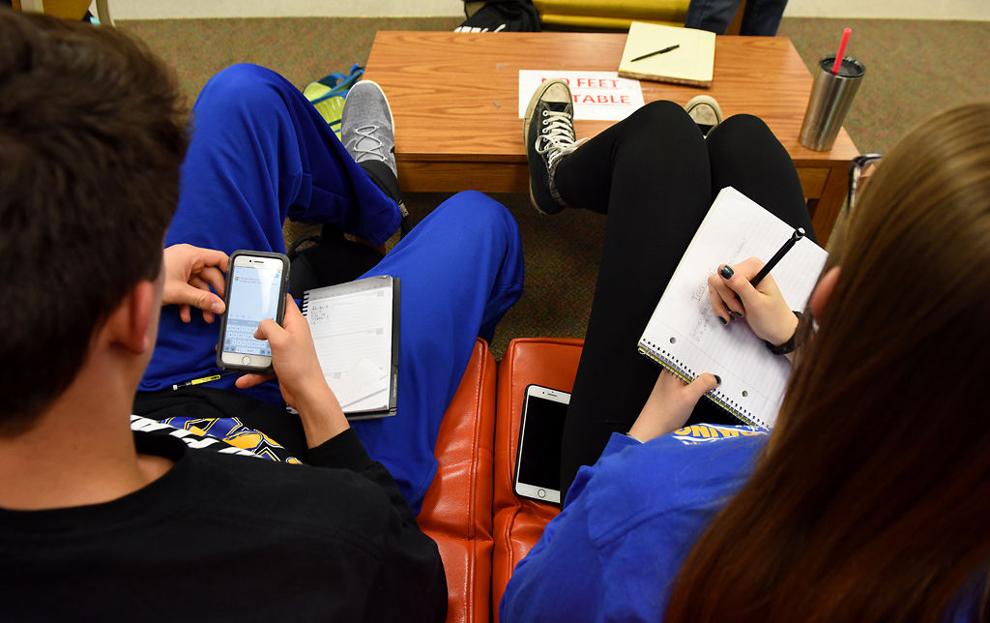 EducationSuperHighway
Jenny Lam, a state engagement manager with the program, said that the San Francisco-based nonprofit offers support ranging from personalized, programmatic work with school districts to working on broadband access solutions with state legislators. The nonprofit was founded in 2012, and its mission is to upgrade internet access in public school classrooms across the U.S.
EducationSuperHighway put together a report about the current status of school districts' access to bandwidth, Wi-Fi and fiber. The data, Lam said, is based on 2017 e-rate filings and shows that that there are still approximately 67,000 students in 31 school districts that don't meet the recommended minimum bandwidth for schools.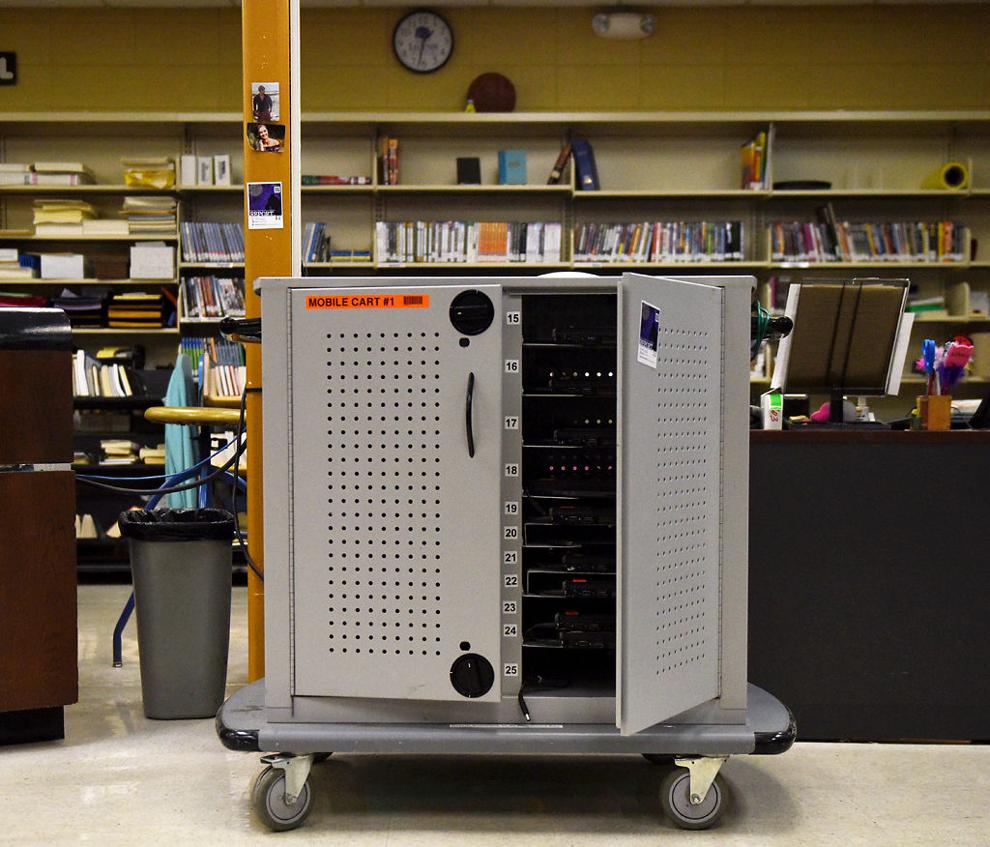 Lam says that on the local level, EducationSuperHighway helps schools catalyze change by matching up their options with their budgets. One of their most valued services is finding providers who could bring broadband to school districts.
In the winter, Lam said, EducationSuperHighway works with school districts to develop upgrade strategies. In the winter and spring, the districts receive bids and evaluate them to find the most cost-effective solution. They also receive funding. The broadband upgrades then take place in the summer and fall.
Woody met with EducationSuperHighway officials in August "and really got this process starting to roll." He said that when Fatima had to submit specifications for bids, people from EducationSuperHighway made sure they had met all of the specifications. When the district received a bid they sent it back to EducationSuperHighway to make sure it included all the needed information.
Nasir came upon an EducationSuperHighway booth at a conference in 2016. He said that people from the nonprofit did a survey of the district's current technology, compared it to national standards, helped them determine where the nearest fiber was and helped write requests for proposals.
What the schools want to do
"We get a lot of feedback from our students when they go to college," Woody said. "One of the biggest changes for them is, invariably, at some point they have to take some online classes."
After the anticipated broadband changes and one-to-one initiative, Woody says Fatima students are "going to feel more comfortable making that transition into those types of classes."
Breese said that teaching skills that will be helpful for college, such as "how to submit assignments, and talk to teachers, and how to correctly send an email ... I think will all be so much easier to teach when all the students have a device." Breese mentioned sending professional emails as an important skill for students to learn.
Breese pointed out that having a tablet or laptop can help students with their homework when parents aren't able to.
"When the math gets more difficult, especially at the high school level ... it is an amazing thing for parents and students," she said. With iPads, students without internet access at home "could download short video instructional videos, and even documents to work on at home."
Preparing for the future
Installing a fiber connection at a school is a step forward, but is not without its own challenges. Stegeman said Fatima will likely have to work on other infrastructure to go along with fiber, such as making sure every room has wireless coverage, and Woody mentioned that the district may need a strategy for educating parents about the technology their students bring home.
"We will change the way we teach a little bit. There's no doubt," Woody said.
He said that he does not expect the same changes from all of his teachers, because their level of comfort and enthusiasm for technology is varied.
"This technology is just a tool. It doesn't replace good teaching. It doesn't replace anything that we're doing," Woody said. "It just adds to it, and it's going to help our students down the road."