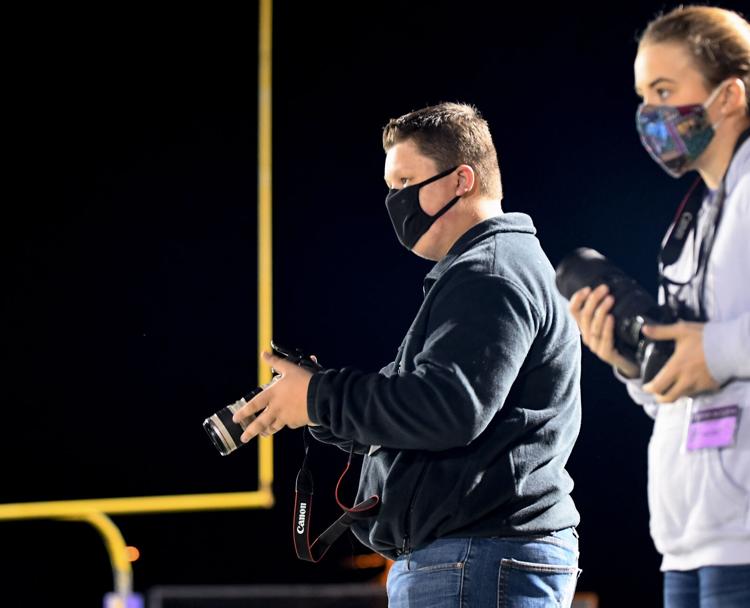 Isaac Yontz's senior year at Rock Bridge High School took a turn as he began entirely remote operations to manage the school's online publication, the Bearing News.
As editor-in-chief, Yontz helped make the call to remove Rock Bridge's print publication, The Rock, from the equation. The online publication, Bearing News, and print newspaper have traditionally combined to form the school's journalism program, SouthSide Media.
"The in-person communication that we used to have doesn't exist anymore," Yontz said.
As Columbia Public Schools implemented all-virtual learning for the fall amid rising COVID-19 cases, the district's student journalists have faced unprecedented changes in their editorial operations. Clouded by entirely remote newsroom operations, scarce press access to athletic events and a new academic landscape, high school journalists are adapting to tell student stories to the best of their abilities.
'Trying to keep this ship together'
The transition at Rock Bridge has been relatively smooth, Yontz said, but certainly not without difficulty. In addition to virtually managing a staff of 22 people, the newsroom is making the transition to a new adviser.
"It's going about as well as you'd think it'd go," Yontz said. "Our previous adviser, Robin Stover, was with our journalism publication for the past 30 years, so it's been a little difficult transitioning from her tried-and-true techniques ... but we're making the transition pretty smooth."
Yontz said the pandemic and political climate have certainly shaken the world of student journalism, especially as it pertains to objectivity and providing sufficient context and narrative. He cited a Facebook post that garnered more than 1,000 comments in June from past and present Rock Bridge students of color who experienced racism at the school as one example.
"It's been a little difficult telling that story because I don't want to put a burden on people who didn't really have anything to do with that," Yontz said. "(I) try to put myself in positions where I can effectively lead the staff."
Yontz has spent his first weeks working on a policy editorial for Bearing News on MU's handling of the pandemic and Chancellor and UM System President Mun Choi's blocking of students on Twitter. MU spokesperson Christian Basi said in September that Choi later unblocked the students.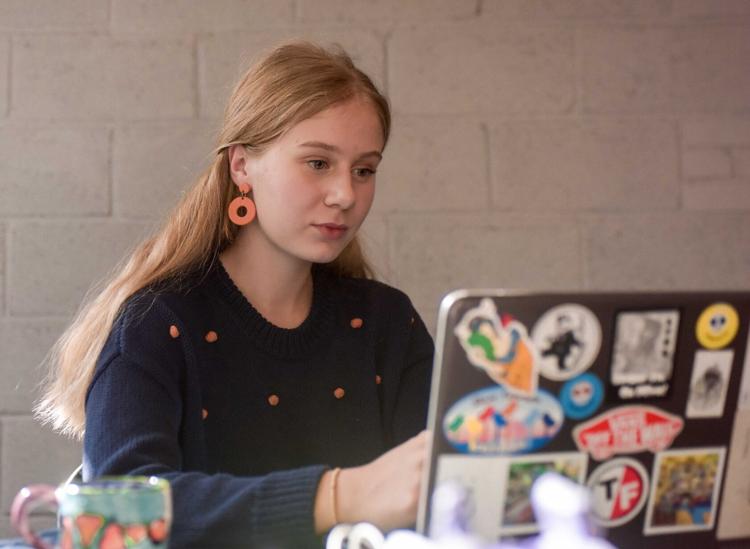 "MU can't undo the mistakes they've already made, but they need to take responsibility for the problem they've created," Yontz wrote in the Sept. 30 editorial. "If Choi and MU administration care about the good and health of the locals in Columbia, all in-person events and classes should be effectively discontinued and students should be removed from on-campus housing immediately."
At the end of the day, Yontz said SouthSide Media's good repute with the Missouri Interscholastic Press Association and the National Scholastic Press Association drives him to continue the hard work through pandemic challenges. Bearing News won an Online Pacemaker award for its digital publication in 2019, one of the National Scholastic Press Association's highest honors, he said.
"We want to keep that legacy going," Yontz said. "I'm trying to keep this ship together ... I love our community at Southside Media. It's a really tight-knit community."
'We don't know what to expect'
More questions than answers have ushered Battle High School journalists Jackson Meyer and Rachel Eaton into the 2020-21 school year. The editors-in-chief of the Spartan Spearhead plan to focus more heavily on the Spearhead website, with no solid plans for distributing a print publication as it has in years past.
"I think we're all kind of blind going into it right now," Meyer said. "We don't know what to expect."
With classes online, Battle's newspaper and yearbook classes were merged into one staff, focusing on one publication or the other depending on the day of the week. Meyer said the class is focusing heavily on teaching basic journalistic principles before much reporting begins.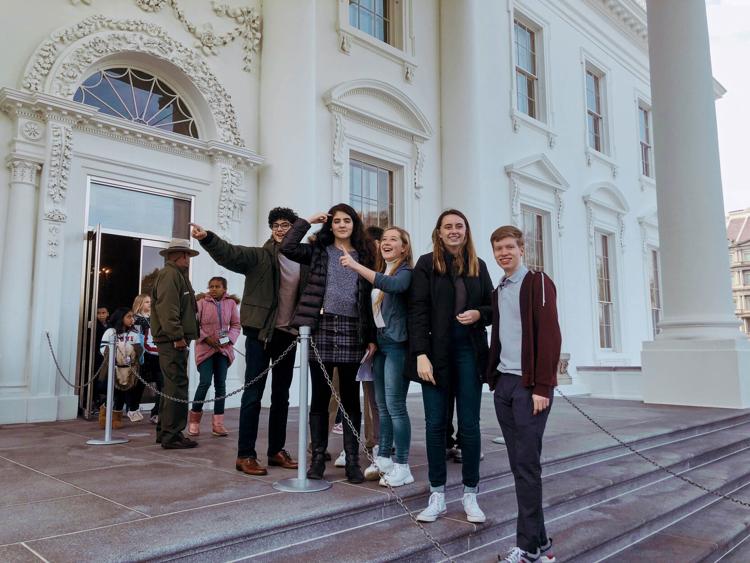 The pandemic has taken away much of what the Spearhead would regularly cover, making the work particularly frustrating, Meyer said. He offered the example of athletic event coverage, which has experienced a dramatic shift in access as reporters must obtain prior approval through athletic directors for admission.
"It takes away the availability of being at school and interviewing people in person and rather having to Zoom," Meyer said.
Eaton and Meyer both said the driving force in their perseverance is looking to their future careers in journalism.
"I think it's exciting when it's hard like this, just to be able to say later that I worked through this," Eaton said. "I was able to keep working and to contribute stories that matter and that are important and that people will read ... and that's what I want to do."
'There are so many stories'
Hickman High School's Purple & Gold News has had leadership changes for the 2020-21 school year, with Celena Schmolzi as editor-in-chief of online publication and Avery Dixon as editor-in-chief of long-form publication. Previously, the editor-in-chief oversaw both tracks.
Though P&G News will not be in physical print this year due to pandemic-related logistical concerns, it's important to Dixon that its readers have the closest experience it can to print publication through an online magazine. Dixon said P&G News is looking into online publication via Issuu, a platform where users can access and flip through PDF files of issues.
"It'll make it look like the pages are turning and everything," Dixon said. "That will kind of give the closest thing we can to the desired effect of having an actual newspaper for people to hold."
Dixon said one of the greatest challenges as a journalist in a pandemic is continuing to stay motivated when the news is difficult to bear.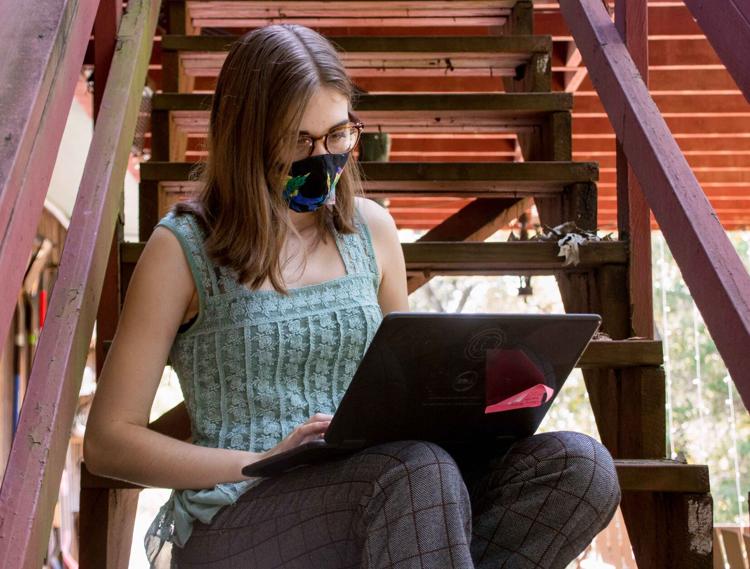 "It can sometimes be devastating," Dixon said. "Knowing that I'll be adopting this type of world to be writing about definitely, definitely sits heavy a little bit ... It's definitely something that I'm looking forward to, but also a little bit tentative about."
One of Schmolzi's greatest frustrations in managing the P&G News is a scheduling conflict that arose between her journalism and an Advanced Placement government class. Because remote AP classes are only offered in the fall, Schmolzi said, she's managing online publication without actually being enrolled in the newspaper course. Because she generally cannot attend remote meetings, she must oversee her journalistic duties via Slack.
"The only way this could get more remote is if I was using a carrier pigeon," Schmolzi said. "It's really frustrating for me that I cannot give the guidance and direction that I would like to give. And I have to trust the staff more than I have before."
It's also been frustrating, Schmolzi said, that no event can be covered without mention of COVID-19. She's begun to pitch ideas focused more on how the virus has changed things at Hickman rather than the virus itself.
"I don't think it's important for us to write about coronavirus in ways that don't relate to our school," Schmolzi said.
If anything maintains Schmolzi's momentum through the discouragements of pandemic, it's the care and high regard with which she holds her community.
"There are so many stories ... and I really want to be the one to tell them," Schmolzi said. "I am really hopeful for the future, both of the P&G and of journalism in general, that we have so many young people going into the field who care about these issues, who care about each other and are so willing to do this hard work during probably one of the worst times to be doing it."