Editor's note: This story contains a graphic description of sexual assault that some readers may find disturbing.
EDINA, Mo. — Reports of multiple sexual assaults involving a middle school football team have shaken this town of about 1,200 and left children afraid to go to school.
The school superintendent and the sheriff refuse to confirm details of the incidents, and the School Board wouldn't let parents publicly address it at a recent meeting.
Even children at the middle school, where the incidents occurred, have been told not to talk among themselves about what happened. If it hadn't been for reporter and editor Echo Menges and her refusal to succumb to the stonewalling, it's not clear whether details of the alleged incidents would ever have come out.
It was the children who broke the silence when they spoke to their parents: among them, Menges.
"It took a lot of courage for these kids to tell what happened inside that locker room," Menges said one of the parents told her. "They should be treated like what they are — heroes. They are the ones that put a stop to it."
Menges believes her community's fear of speaking out about the seriousness of the allegations is related to the interconnectedness of the town.
"To a large degree everyone is related to everyone," Menges said. "We've got several School Board members with spouses that work in the school, we have law enforcement that have children in the school or have spouses that work in school... The counseling system for the students... all have some sort of conflict."
Menges believes the bullying problem is a generational issue and that it is bigger than the most recent incidents. She said she's heard parents not only talk about their kids being bullied, but about themselves and their grandparents before them having been bullied when they were in school.
"I think in a little place like this," Menges said, "it's easy to intimidate others into getting in line."
A local reporter investigates
When Menges first heard about the violent incidents, she shut down the newspaper's storefront on the town square to meet her nephews at the school bus as soon as they got off.
According to Menges' reporting, up to five children on the fifth- and sixth-grade football team were restrained by older players on the seventh- and eighth-grade football team and sexually assaulted with a metal bolt, a metal rod and a pipe. The objects were forcibly poked at, onto, or into their rectums. Other students were present and were forced to watch the alleged assault, according to her reporting.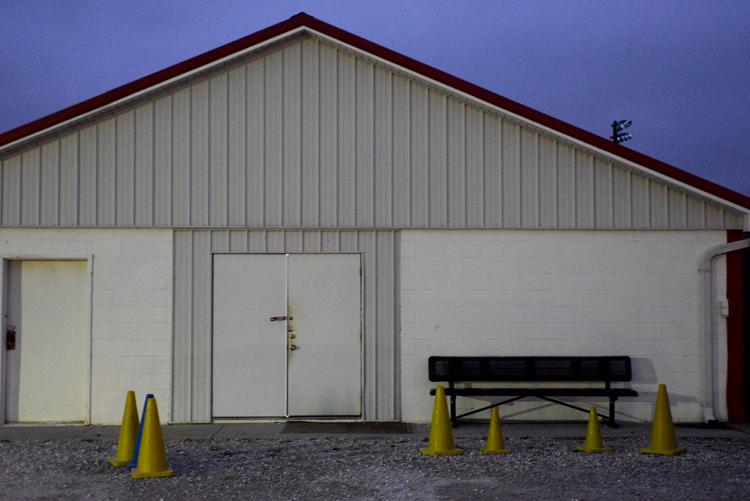 The alleged assaults began happening at the start of the football season and school year and continued for two or more weeks, according to The Edina Sentinel.
Her first concern was helping the children process what they had heard. Then, the calls started coming in.
"Pretty quickly (the newspaper) started getting bombarded by people who live here wanting to know what happened," Menges said. "That's the whole thing that's indicative of the smallness and the closeness of this community. This particular story — I don't know anyone who's not affected by it."
The school hasn't made outside trauma counselors available to the students, except for one local counselor who was brought to the school to observe the students but not speak to them, according to Menges' report published Friday. Parents are concerned that the students won't talk to local counselors because of conflicts of interests.
A high school student told Menges, "If (outside) counselors came in and started talking to us about it — I would have talked to them."
The church community has responded to the town's unrest by counseling parishioners, bringing in an outside counselor, hosting a community prayer meeting and attending the September School Board meeting.
People in the community confided in Menges about the details of the crimes, but she had to promise not to reveal their names. If Menges were compelled in court to reveal her sources, she would have to do it or face jail time for contempt of court because Missouri doesn't have a "shield law," which prohibits compelling journalists from having to disclose anonymous sources.
"This is an important enough story that I would be willing to go to jail for it," Menges said.
Meanwhile, Knox County parents formed a group to try to get the School Board to acknowledge what happened and to talk more about the problem of bullying in the school, a combined K-12 campus with three separate buildings.
Thomas Boatman, who was appointed spokesman for the group — called Citizens For Safer Schools — said over soda at The Blue Room bar/restaurant that he sees the power dynamic of the community contributing to the problem. He has children at the school and is a firefighter, city alderman and a member of the town's rescue team.
"I mean the 'boys will be boys,' I get that," said the tall, lanky veteran who has the demeanor of a cowboy. "Middle school kids are mean, and they will name call and they will shove each other once in a while ... but this is past that."
"A weapon was used and it doesn't matter what that weapon is. Anything that is used to cause harm is a weapon," he said. "In the adult world — you throw a rock at somebody, that's aggravated assault."
Boatman said some people in the town are used to getting what they want by intimidation. "That's where the kids get it, it's a learned behavior just like anything else," Boatman said.
According to prior reporting in The Edina Sentinel, the fifth- and sixth-grade booster team coach said he was asked to resign on Sept. 12, and the seventh- and eighth-grade football team coach also resigned, according to Menges' article published Friday.
Public officials keep quiet
The only details of the case released to the public prior to Menges' investigation were that three eighth-grade boys were arrested for second-degree felony assault at the Knox County R-1 School District on Sept. 10.
The violent incidents happened in the football field house, and there were multiple underage victims. Four days later, the charges against the eighth-graders were reduced to first-degree felony harassment.
Some parents in the community were outraged, according to The Edina Sentinel. Forcible sodomy with a weapon is a Class A felony in Missouri, which could make the records open to the public.
Knox County Sheriff Robert Becker wrote in a statement that he gave to Menges to publish in the Sentinel: "I have been asked, 'Is this true?' or 'Did that really happen?' and although I have declined to answer those questions, it is disturbing to me the amount of false and outlandish information that is circulating."
When the Missourian asked Becker to confirm basic details of the case, he insisted he couldn't, saying: "I've already given all this over to my local paper here. You can contact them."
A records request sent by the Missourian on Sept. 27 was denied by the circuit clerk for Knox County, which is part of the Second Judicial Circuit.
Chief Deputy Kevin Martin at the Bruce Normile Juvenile Justice Center said he could not confirm any of the details of the case and that all media requests had to go through the courts administrator, who did not immediately return a request for comment.
If the details of the incidents match the description reported by Menges in the Sentinel on Friday, it's the most extreme case of alleged bullying in a rural school that has come to light in recent years.
Two cases in the past two years that ended in litigation in central Missouri: Kenneth Suttner, who was 17, and Rylie Wagner, who was 13. Both of the children died by suicide, and both of their families filed wrongful death suits against the school districts, saying the schools failed to act to protect their children.
Suttner appeared to be targeted because of a disability, according to the lawsuit, though the school denied that bullying was a pervasive problem. Wagner was harassed because of "differences in gender, sexual orientation, perceived sexual practices" among other reasons, according to the lawsuit. In her case the school also denied that bullying was a problem.
State law requires schools to create a policy that prohibits bullying, requires district employees to report incidents, establishes a chain of command and names those employees responsible for investigating.
The Knox County R-1 school district released an anti-bullying statement Sept. 12, two days after the boys were arrested. But it has been as close-mouthed as the sheriff about the incidents.
"Due to confidentiality laws at both the state and federal level, we cannot comment specifically on what has been reported or the status of the investigation," the school district wrote in a statement posted on its Facebook page. "We can tell you, however, that the report was forwarded to the proper authorities and the district is cooperating with those officials, and will continue to do so."
Superintendent Andy Turgeon did not return phone calls or respond to an email sent on Sept. 27.
Parents can't speak at board meeting
Boatman has met with other parents and privately with members of the School Board to address concerns about the incidents and the problem of bullying at the school. The board refused to put the parents' concerns on its meeting agenda, he said.
In a letter shared with the parents' group, Turgeon wrote he could "unequivocally promise" the district had taken steps to ensure that "recent events" would never happen again and that the board had taken action to ensure students' safety.
"For now, it would not be appropriate for the board to discuss the situation, including your specific questions, during or outside of a board meeting," Turgeon wrote. The board cannot discuss individual students and employees in open session according to state and federal law, he wrote.
"Additionally, the board cannot listen to comments or answer questions, even in closed session, about the situation at this time," Turgeon wrote.
Instead of allowing parents to speak at the meeting, the board agreed to read a statement written by the parents' group and prohibited any public comment.
At the start of the Sept. 25 board meeting, Matthew Reel, president of the board, reminded the overflow audience that "only the items on the agenda can be discussed as according to the Missouri Sunshine laws."
Reel read the statement from the parents that asked for notifications of incidents at the school, an anonymous bullying reporting system, creation of a parent-advisory board, availability of outside counselors and for the school to disclose what steps had been taken to ensure student safety.
Menges said 100 people watched her Facebook live-stream of the meeting, 10 times the normal number.
"He read what was on the papers as fast as he could to get past it and move on to the next (item)," Boatman said. "No discussion of it. No nothin'... I think that the president of the School Board is a politician, and I think that he made a statement not only to me but to every parent that your voice does not matter."
"That's a politician for you. We can change that come election time," Boatman said.
He said he believes the School Board would not have agreed to read the statement if it had included the sexual assault allegations.
"That is what is frustrating, because you want to scream it from the rooftops so that you can hold somebody accountable and support the victims," Boatman said. "We can rally around it as a community and we can advocate and we can change policies and we can do whatever to make all these kids safe ... How do we help these kids when they can't even talk about it? When they're told if you talk about it, you're going to be disciplined?"
Speaking out takes a toll
Doug Crews, who had a long career at the Missouri Press Association, including 25 years as its executive director, worked at The Edina Sentinel for a year in 1975. He said that working as a reporter in small communities made journalism more personal, as you were likely to run into sources around town.
"You might see the person you just reported on," he said. "It's different than The New York Times. They likely never cross paths with this person again."
Menges said working on the story has taken a toll mentally and physically. She's lost some hair, has slept poorly and had problems with migraines. Mike Scott, publisher of The Edina Sentinel and three other area newspapers, said he's had to carefully consider the cost of publishing the story.
"It's not a story that any of us want to write. It's certainly not a story that Echo wanted to do," Scott said. "It's there and we have to do it. It's not fair if we don't, it's not right if we don't.
"We recognize that a lot of people are going to be very uncomfortable with this story and we're going to face a reaction in I-don't-know-what kind of ways," he said. "We may lose subscriptions, we may gain subscriptions. I don't know. We may lose advertisers...I have no way of judging what the blowback will be."
However, Scott said he is willing to take the risk.
"It's a story that has to be reported, and we can't let the fear of losing a few bucks stop that," Scott said. "Not doing the story is not an option ... This (violence) is bad and if it happened once, it's got to not happen again."
Menges was worried that a story about Edina, the incidents and the Sentinel would paint her as some kind of hero.
"This story is not about me," she said. "The heroes of the story are the kids, speaking up to put a stop to what was happening to them. And it's about their little friends, afraid of what was happening to their other little friends and wanting it to stop."
Menges and Scott said they were compelled to bring the story to light because of their responsibility to the town and to keep history from repeating itself.
"These are all reasons why the American press is built into our Constitution as checks and balances to our systems," Menges said. "And I don't know if that's ever been more important than it is right now, right here for this community. The Sentinel, by definition, is on guard, standing watch for the community."
Supervising editors are Katherine Reed and Mark Horvit.