With temperatures creeping into the 60s, the honeybees in Fairview Elementary School's courtyard have emerged after the cold winter months they spent huddled in a ball to keep warm.
After having spent the winter eating their way through their honey reserves, now is their time to venture out to collect new pollen and nectar from flowers.
The hive at Fairview is there not only to provide more pollinators but also as a tool to teach students about the importance of bees in the ecosystem, fifth-grade teacher Brian Earls said.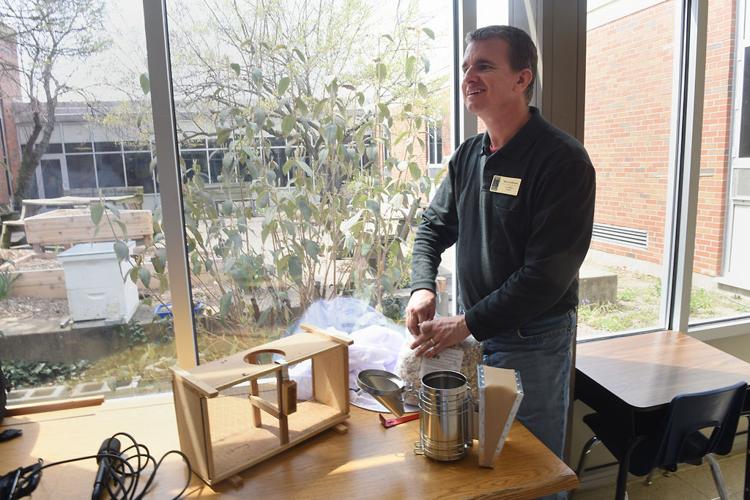 "I think it's fixed a lot of the scare of bees and them being dangerous and wanting to sting people," Earls said. "Our kids here, from kindergarten on, really do a lot of ecosystem concepts in science, so they seem to grasp the concept of the need for pollinators. That's been good, too."
There has been concern about the survival of wild bees in the ecosystem, especially with pesticides, pests, global warming and colony collapse disorder, said Sarah Cramer, a doctoral candidate at MU studying agricultural education.
Cramer said there was an uptick in honeybee colony survival in winter of 2017, and, after speaking with other beekeepers, she believes the same might be true for winter of 2018.
"Even though I love working with bees — I love honeybees as livestock — I think my concern for bee populations has shifted much more to native bees and other pollinators that we don't hear about as much but are actually the ones dying because of all the same pressures that we're putting on honeybee populations," Cramer said.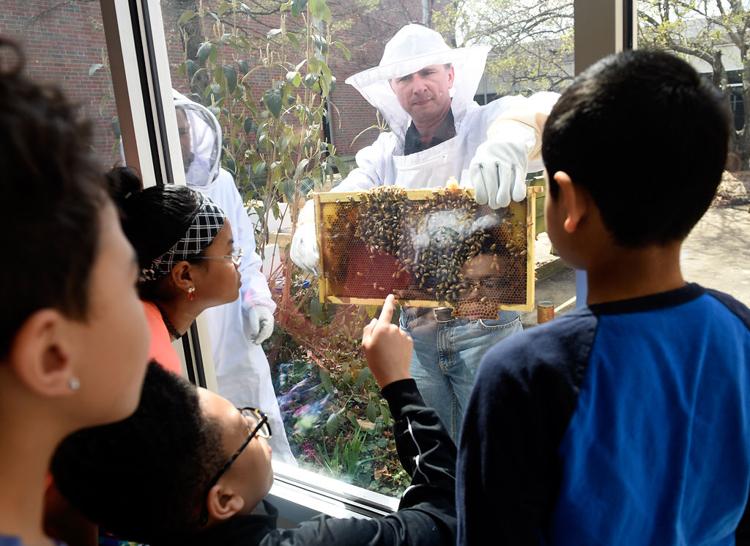 Cramer is the honeybee consultant for Columbia Public Schools and helps K-12 Science Coordinator Mike Szydlowski and Earls with monitoring the Fairview hive. She has kept bees for seven years now and has a wider knowledge of what pests to look for and how to best take care of the hive. At one point, it had an infestation of mites, which Earls said Cramer helped to eradicate.
"It's hard for honeybees," Cramer said. "The world is still pretty harsh to them."
The Fairview hive was funded with a grant through The Honeybee Conservancy, an organization devoted to placing bees "where they can pollinate locally grown food and serve as educational magnets," according to its website.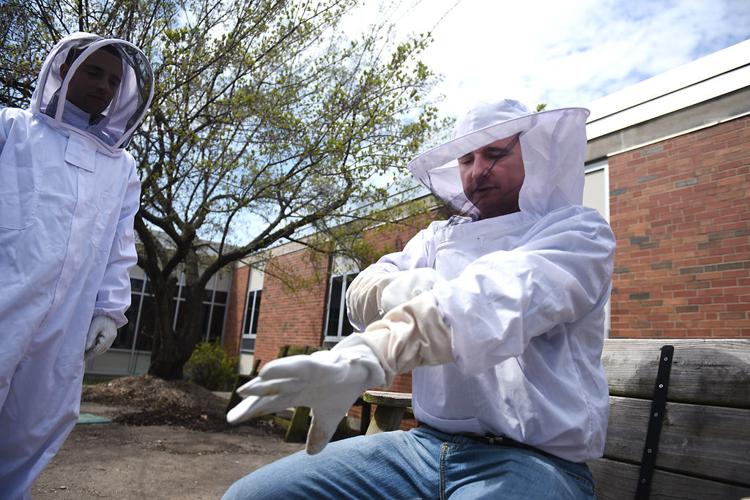 Cramer helped Szydlowski write the grant for Fairview's beehive. She has studied the importance of elementary school garden education and outdoor learning for her dissertation.
"This authentic time in nature, time with animals, time with plants, that's really the thing that will raise the next generation of environmentally aware adults," Cramer said. "I think the honeybees are one piece of that, because they are just so fascinating, and they're so charismatic and engaging that it's hard to be around a beehive — and have it led by someone who knows what they're doing — and not lean in and want to see what's happening."

Szydlowski echoed the fact that students learn better with these hands-on experiences.
"Research shows that a kid that learns memorizable science content, they'll forget that within seven to 14 days," Szydlowski said. "Our new standards are really more focused on scientific processes and not memorizing certain content, so we want to give them as much phenomena as they can."
Honeybees are known to be very social, and they work within a system of relationships that supports the hive.
"The social dynamics of a beehive are stunning — it's so amazing," Szydlowski said. "You think about a bee as maybe this dumb insect, and we don't quite understand their social components, but they are very smart somehow. It's good to have those mysteries with the kids, that we don't know everything yet."
Szydlowski recently opened the hive for Earls' students. Many were excited to see the queen bee, which was marked by the distributor with a yellow dot to distinguish it in the hive.
"They were, like, really exciting to see," fifth-grader Noah Huff said. "When I saw the queen bee, and seeing the dot on it, I was surprised that it was still there since last fall."
"This is the first time I've seen a queen bee, so it's really cool," said Azooz Alturki, also a fifth-grader. "I like how the school is taking care of bees because their population is going down by a ton."
The hive is coming up on a year of being installed at the school, and the honeybees made it through their first winter. Earls helps take care of the hive along with Szydlowski and Cramer, by monitoring activity and making sure it has sugar water.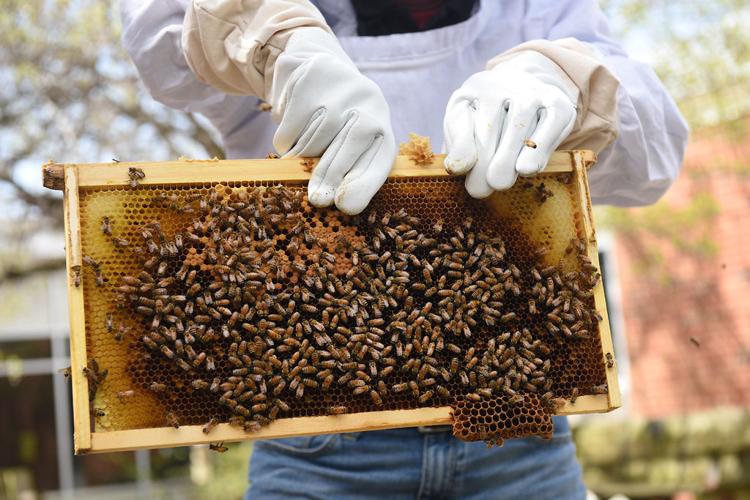 "So far, they've done everything else," Earls said of the bees.
At first, Earls said there was some concern about having bees at the elementary school, but Szydlowski said there are protective measures in place to prevent any potential dangers.
Fairview's layout includes a center courtyard with walls on each side where the hive is kept, keeping both the hive and students safe. Signs are posted on the doors surrounding the courtyard to alert about the hive.
"We needed to have a controlled spot where we could have some rules and tell people about what to do and what not to do, and make sure everyone could follow the rules," Earls said. "As long as everyone respects it, there are no issues."
Because of the success of Fairview's hive, hives will be placed at five other Columbia schools at the beginning of May, Szydlowski said. They are Jefferson and West middle schools and Midway Heights, Blue Ridge and Benton STEM elementary schools. The hives will be funded by the district science budget.
"I think it's building to the development of these more environmentally aware adults who, in the end, are the ones who will make the decisions about our planet," Cramer said.