Excited talking and laughter filled the Gentry Middle School cafeteria as hundreds of new educators gathered for an official welcome to the Columbia Public School District early Wednesday.
"Welcome to 7:30 in the morning," Columbia School Board Vice President Jonathan Sessions said, inciting laughter from members of the crowd, who were treated to a traditional breakfast of eggs, link sausage, bagels and fruit. And, of course, as much coffee as anyone wanted to drink.
The breakfast was the beginning of a long day of New Educator Orientation for the 300 new teachers and lead educators of their schools. Some of the teachers are new to the school district. Some are also brand new to teaching.
Every year, the number of new educators is between 150 and 200, and this year is no different, Columbia Public Schools Community Relations Director Michelle Baumstark said.
"We always have it at this time of year so that our new teachers have an opportunity to get to know the district and get settled into their classrooms," she said.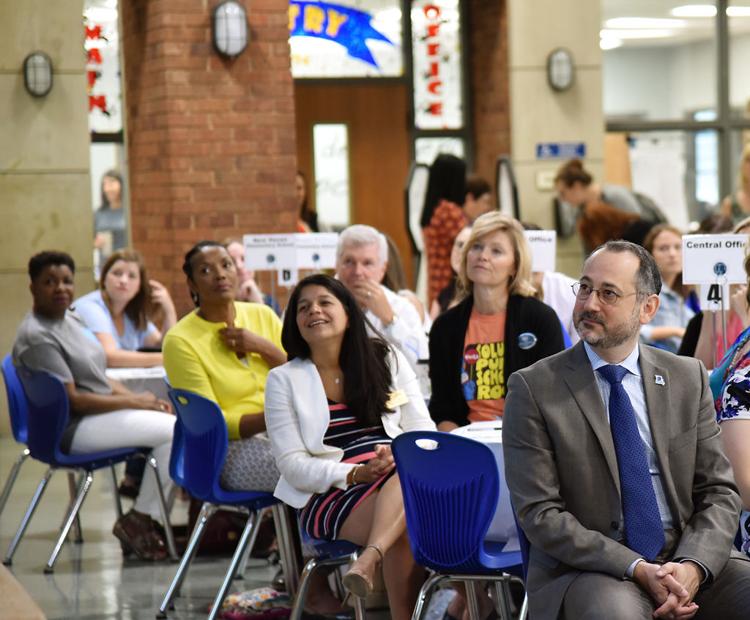 A problem throughout the state has been the retention of teachers.
"We are a college town, so we have a lot of employees that are new teachers that will get hired with the district that are fresh out of school," Baumstark said. "They'll spend a couple of years here, and then they'll want to go home."
Baumstark said 80% of the district's budget goes toward offering competitive pay, according to previous Missourian reporting. Baumstark said the district has been steadily improving the salary structure, including raising starting pay for new teachers.
The district has created a program called COMO Ed. Baumstark said it is a "homegrown teachers program" that students from diverse backgrounds in the district can join. *After they graduate high school, their tuition and room and board will be paid through scholarships from the four participating colleges — MU, Stephens College, Columbia College and Central Methodist University. They are guaranteed a job with the school district.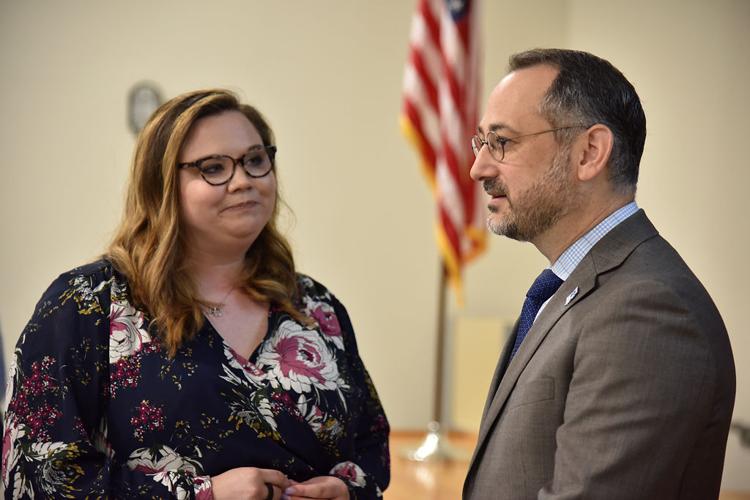 "Our first class going through now are going to be juniors in college, so we've got one more year," Baumstark said. "Then we'll have our first class of COMO Ed students that will be returning to Columbia Public Schools to teach."
The new teachers gathered Wednesday morning included Ali Kreklow, a new first-grade teacher at Battle Elementary School. For her, it's a bit of a homecoming.
"I graduated from Rock Bridge High School," Kreklow said. "It's cool to make a full circle."
Kreklow graduated from MU in May, so this is her first teaching job. Her parents, Wayne and Susan Kreklow, are the former MU volleyball coaches who recently announced their retirement. Ali Kreklow also played volleyball at MU.
Another new elementary school teacher, Tosca Scholfield, said she has already been through two training sessions in Everyday Math and Fundations, a language-learning curriculum. She said the training was fun and not difficult to sit through.
Scholfield said she'd heard great things about the school district.
"Everyone has been really friendly and welcoming," she said.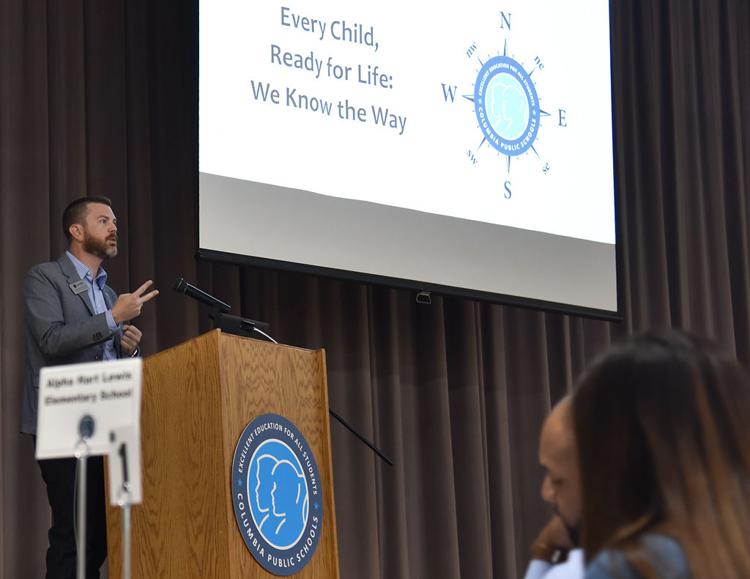 Sara Blandford, who is new to Columbia but has taught in Fulton, said she was excited to teach middle school for the first time. Her previous school included every grade from kindergarten through high school. She's excited to be in a more specialized teaching environment. She's also pregnant and due to deliver in September, so she'll be experiencing personal growth as well as a new career.
David Cochrane moved up to Columbia from southeast Missouri, and he said he's excited to teach business at Battle High School.
"I'm excited about a district united about how they approach education and focus on the students," Cochrane said.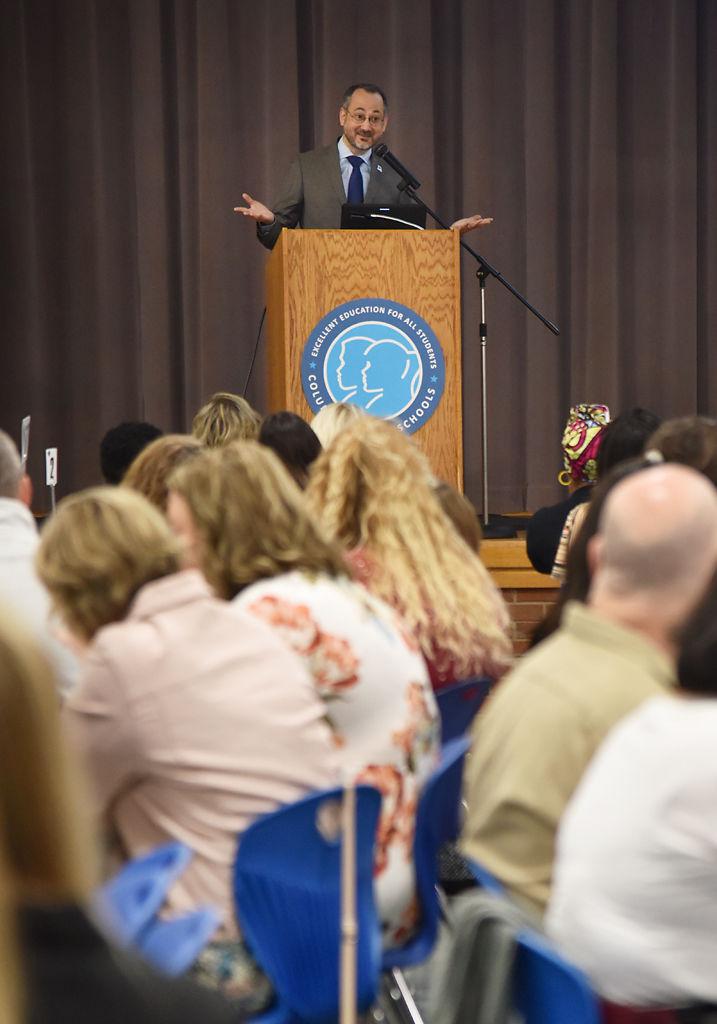 The breakfast began with a speech from Nickie Smith, chief human resources officer for the district. She shared some statistics and fun facts with the people in the room. For example, in total, the educators gathered had a combined 774 years of teaching experience, 626 years of which were in Missouri, and 92½ years of teaching in Columbia Public Schools.
Smith also noted that two people in the room had acting and producing backgrounds. Another hosted a TV show in St. Louis.
As she was wrapping up her speech, Smith expressed appreciation for the teachers in the room and the importance of their work.
"Thank you for educating our kids," she said.
The school district has hosted the breakfast for as long as Baumstark can remember. She has worked for the school district for 14 years.
Baumstark said that next week, all of the teachers will be back to prepare for the school year, which begins Aug. 15.
The theme of the year for all the public schools is, "Every child, ready for life: We know the way."