Meet Swagbot, a robot made by 12-year-old student Kylie Stewart from Hallsville.
Swagbot's head is made of a cassette tape Kylie found in a Walkman. Swagbot's legs were originally pieces of a grandfather clock. His stomach, a small fan, can spin when Kylie connects it to a battery. His chains are purely for decoration.
Kylie added chains to her handmade robot after a glue gun accident. Too much glue came out too fast, and she added the metallic links to cover up the spill. Then came the funky, makeshift hat and glasses.
If all went according to Kylie's plan, Swagbot's glasses would light up, programmed using a green, hexagon-shaped onboard called a Crickit and a click-and-drag, block-coding program called Microbit. The program allows the robots to have motion, sound and light.
"I just decided to go all out," Kylie said.
She came to STEAM Camp, a science, technology, engineering, arts and mathematics day-camp put on by Columbia College, this week because she's interested in majoring in science in college. "I'm looking into zoology," she said.
By the end of the week, she had successfully lit up the crown on her robot. "Programming the LEDs and learning where everything goes into the Crickit was my favorite," she said.
For the first three days of camp, students attended STEAM classes on the Columbia College campus in the morning and worked on their robots in the afternoon.
Thursday was a workday. Friday, the campers went on a field trip. They compared downtown buildings and landmarks to old photographs and discussed innovations in engineering and technology.
"This is the age at which kids get excited about science," said Jonathan Sessions, school board member and owner of Gravity.
Mike Hall, a Columbia Public Schools teacher, led science and engineering.Sessions and Charles Koenig, director of STEM education for the Boys and Girls Clubs of Columbia, taught the tech class. Lee Stanton, an art professor at Columbia College, taught art, and Ann Schlemper, a professor of mathematics at Columbia College, taught math.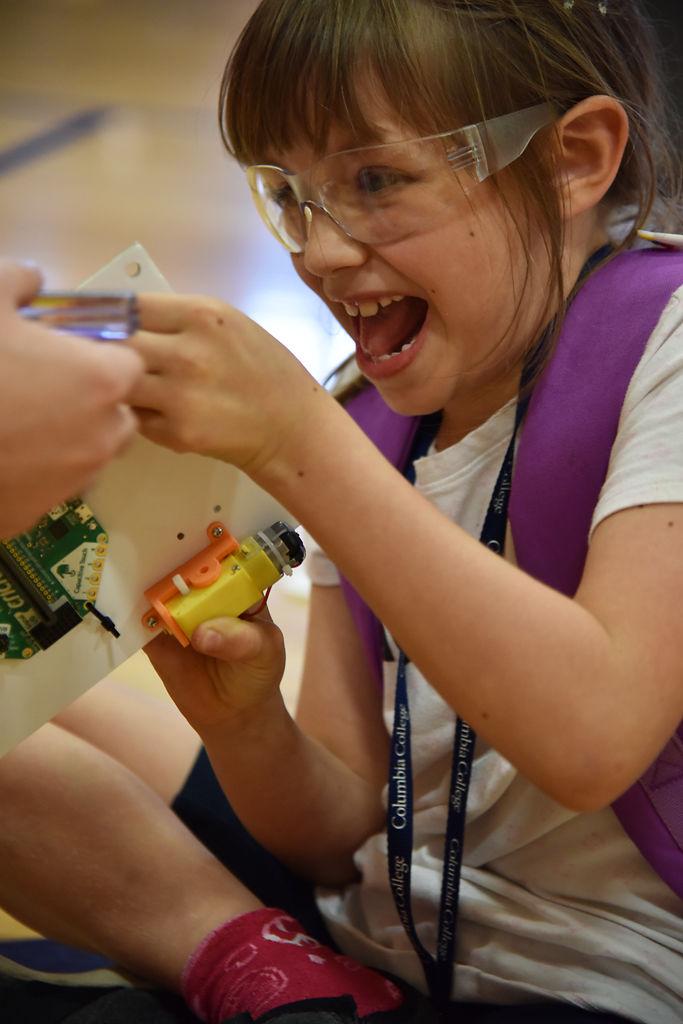 The camp costs $275 to attend. Scholarships were awarded on a need-basis, Koenig said.
Naomi Hightower, 11, who will attend Lange Middle School in the fall, attended the camp on scholarship. Naomi and Eva Loudermilk, an 11-year-old Gentry Middle School student, made a robot dog programmed to bark and wag its tail. Its blue eyes light up, too.
The light and sound coding process takes about 30 minutes, Eva said.
"I've seen these guys do in three days what would normally take a semester to get done," Adams said Wednesday. To him, this is a benefit of the camp's structure.
The students built their robots from electronic parts, 3D-printed parts and donated, recycled materials in what Schlemper calls a "maker-space" on the gymnasium stage at Jefferson Middle School.
Jefferson Middle School teachers Ryan Pingrey, Cassidy Urie, Laura Fuchs, Andrew Barnes and Sean Dwyer also built robots and learned to code this week at a STEAM teacher academy, as Jeff will be the district's first STEAM middle school.
The teacher training and the camp emphasize project-based learning, where instructors give their students problems or scenarios and let them adapt and solve.
"You've got to be very flexible, is what I've found teaching this camp," Schlemper said.
"That's just every day teaching," Urie said.
With the project-based learning method, learning depends on student discovery and experience.
"It's allowing students voice and choice," Julie Nichols, coordinator of instructional technology for Columbia Public Schools said at the training.
Sessions said there are benefits to the project-based learning model even outside of the STEM field, and this is something CPS is interested in.
In the past, the camp was grant-funded, but this year's funding for the camp and the teacher training comes from 3M and the Columbia STEM Alliance. There was a 3M grant check presentation Friday at 4:15 p.m.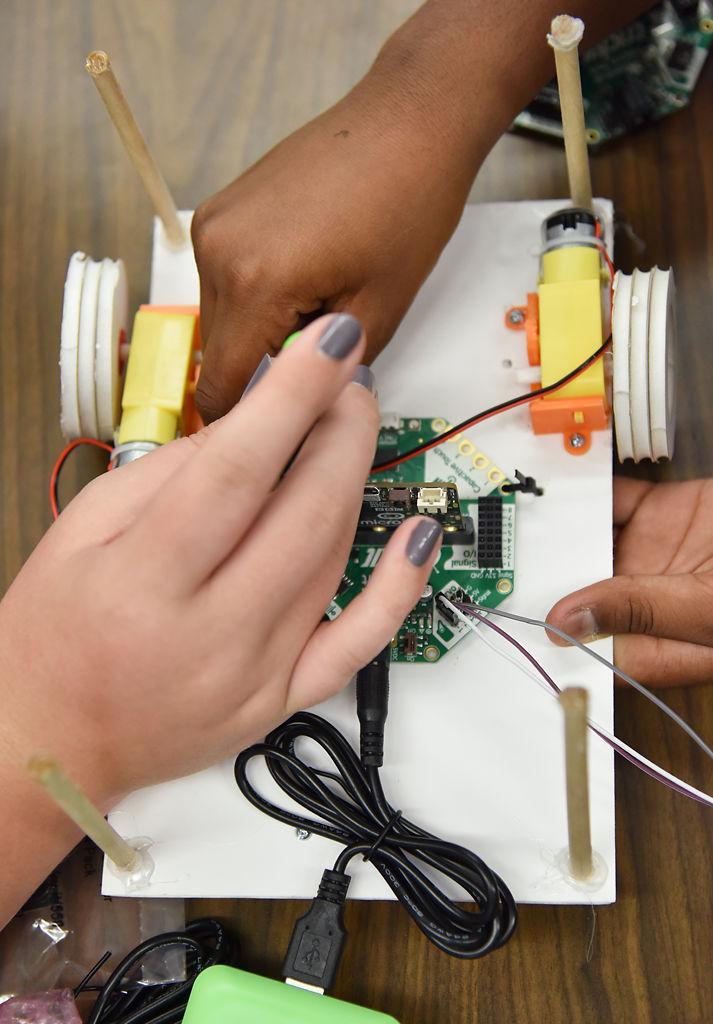 3M provided the program with $7,500. The company has helped fund the camp for the past 3 years as they continue to build future engineers.
Friday, campers also showed their completed robot projects to parents from 3 to 5 p.m. in Dulaney Hall on the Columbia College campus. 
"We learned about simple machines, polygons and circuits," Dhruv Nayyar, 9, said. He was very proud of how his robot turned out at the end of the week, as he walked out with the pieces he was allowed to take home.
Next week's campers, a group of about 50 students, will start the process over again, as will seven different teachers from Jefferson Middle School.