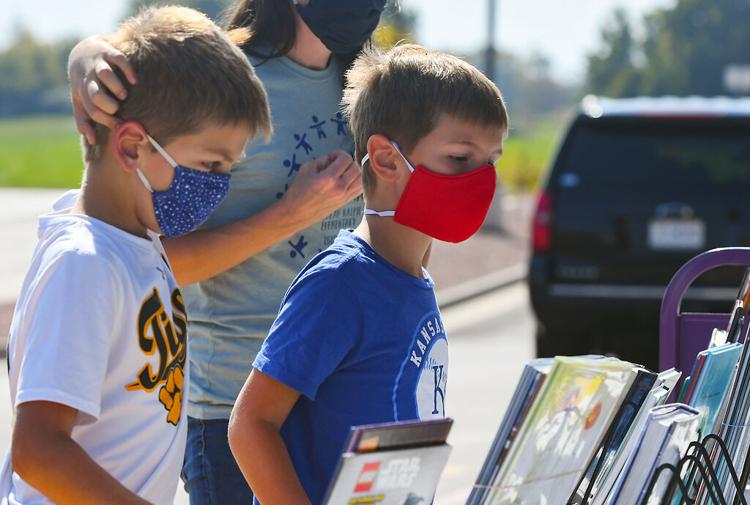 In the roughly five weeks of all-virtual learning since Columbia Public Schools began, elementary students and families have restored an in-person connection with schools via curbside library services.
The drive-thru and curbside library services at several elementary schools came as part of the district's requirement that physical library resources be accessible during the pandemic, according to library media coordinator Kerry Townsend.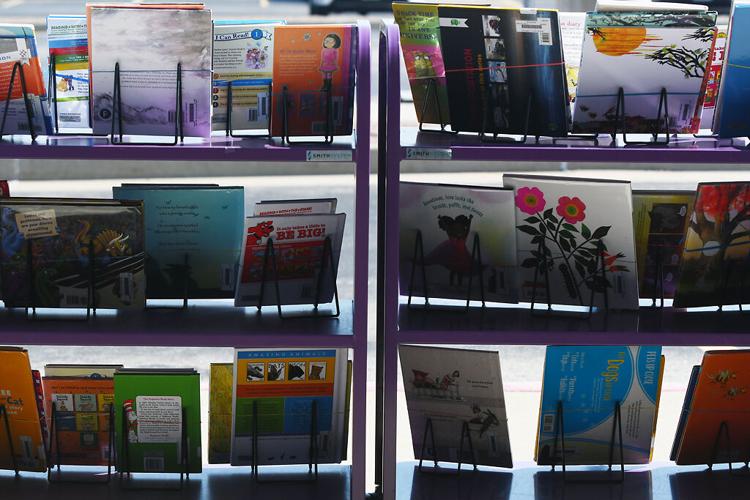 "We require that everyone has some sort of curbside pickup or way to get books in students' hands," Townsend said.
When in-person learning starts Monday for elementary students, the "curbside" service will take place inside the schools rather than by drive-thru, she said in an email. Although elementary students won't regularly be able to visit their libraries, they'll be able to request that books be delivered to their classrooms. For secondary schools, students will be able to make reservations to visit their libraries.
Students can place holds for the books they want in the district online library catalog, said Matt Villasana, library media specialist at Cedar Ridge Elementary School. A display of other books is also available to browse, which is particularly helpful for younger children who can't yet use the online catalog.
Paxton Keeley Elementary School's library curates bundles of books for these younger students based on Google Forms sent out to them in addition to the display, library media specialist Cary Hanson said.
Hanson and Villasana said they've enjoyed the "curator" role that has come with creating genre-, interest- and reading-level-specific bundles for students who use the curbside service.
"It's a great way for us as librarians ... to be able to curate books that are going to be at the kids' interest and reading levels," Hanson said. "We just show them new series and other things that they might really enjoy that they might not have picked out themselves."
Erika Fitch, a library media specialist at Beulah Ralph Elementary School, said the curbside service has been a plus as it offers students and families a physical connection to the schools in the pandemic.
"We had over a hundred kids come through last Wednesday," Fitch said, referring to Sept. 30. "Parents were really excited and kids had big smiles on their face. I think they were just excited to see people that they know, and they're happy to get books again."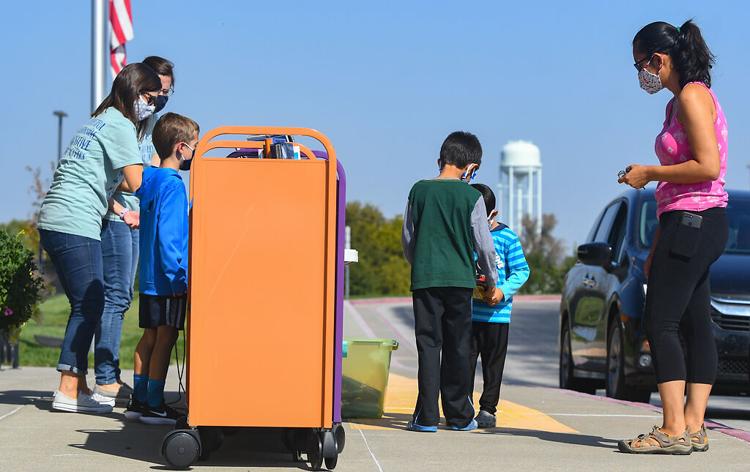 Complete with a new book display painted by art teacher Colleen Roetemeyer, Villasana is finding ways to engage even further with students at the Cedar Ridge drive-thru library.
For its fourth week, Halloween craft kits and pumpkins were distributed to some students in addition to books.
"It's not an obligation to do it," Villasana said. "It's been fun to do."
Although the district has a robust digital library media collection, Townsend said it's important in virtual learning to still offer print books in order to offer consistent services across the city. Fitch added that sometimes, it's just nice to curl up with a big picture book.
"Especially for the little ones," Fitch added.
In a 2019 study on parent vs. child perceptions of digital and print media, researchers at the University of South Dakota highlighted concerns that digital enhancements that aren't present in print media could be distractions, reducing learning and comprehension in early childhood.
The study, published by the American Educational Research Association, also indicated that children's comprehension of digital media is often reduced to that of print media because of less content-related conversation with parents.
For Paxton Keeley mom Colleen Lamond, the drive-up library service couldn't be more convenient, especially as it has restored a physical connection to school.
"It's a seamless process," Lamond said. "It takes as long as it takes to look up books and make a decision ... It's amazing. Yesterday, we came up and used the playground after their classroom was done."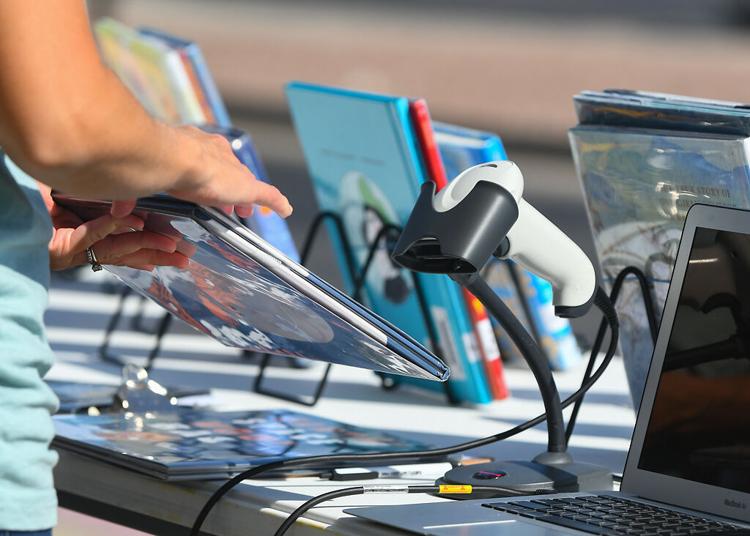 Lamond's second-grade daughter, Olivia, appreciates putting holds on books for the drive-thru libraries as it allows her to get her hands on books with scary stories, unicorns and tiger rescues.
She said the system is helpful because even when books they pick out aren't ready, the librarians remember the topics the students like.
"I wanted a spooky story book, and I picked a unicorn book last time, so they gave me a unicorn book this time," Olivia said.
Olivia said it's nice to have a reason to visit the school again.
"I like it because we get to see the custodians that work there — and the staff."