Cars and buses lined the road at 7:30 a.m. Monday in front of Ridgeway Elementary School to drop off students for their first day of in-person school in Columbia since March.
It was a festive welcome. Students entered the school building through doors labeled with colorful signs and decorated with blue and yellow balloons.
For pre-kindergarten through fifth-grade students in Columbia Public Schools, Monday was the first day to meet with teachers in their classrooms since schools went remote last spring.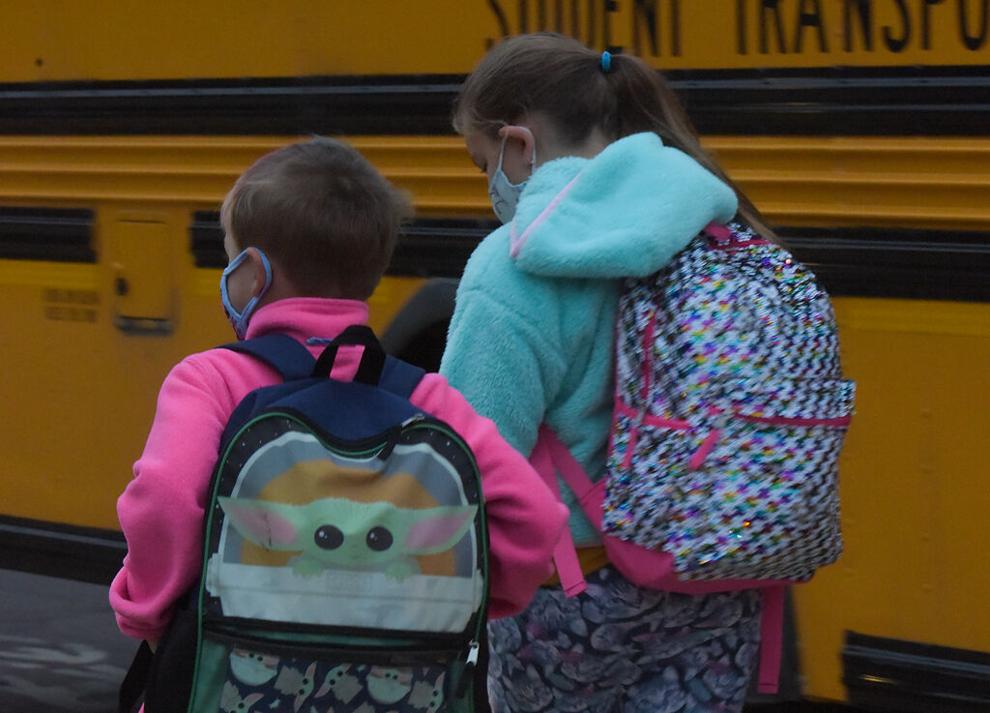 While middle and high school students remain virtual, about 6,000 elementary school students attended in-person classes Monday. Another 2,000 students attended via the fully virtual option through CPSElementary@Mizzou, according to district spokesperson Michelle Baumstark.
Under this plan, pre-kindergarten through fifth-grade students will attend classes in person every weekday except Wednesday. Wednesdays are intended to be used for cleaning classrooms, planning time for teachers and professional development training.
Kylene Richardson who has a son in second grade at Ridgeway, said he was happy to return to school but she was a bit apprehensive.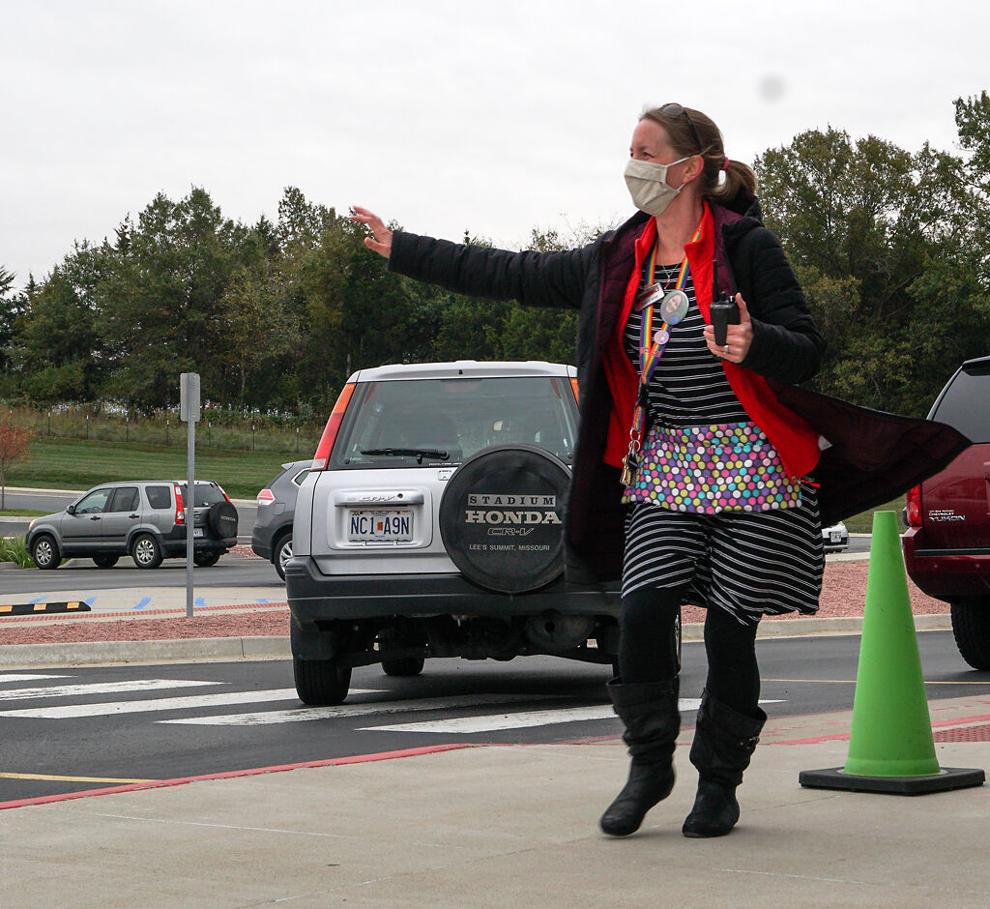 "He's very excited to see his friends and be back in school," she said Monday. "I'm a little nervous, cautiously optimistic."
Last summer, Richardson selected an in-person hybrid option for her son's schooling this fall. Under this proposed plan, he would have attended classes in person two days a week. That option was later deemed not viable by the district, and the four-day model emerged.
Richardson's plan now is to wait and see how it goes.
'Really, really happy'
Over at Cedar Ridge Elementary School, parents Hillary and Jeremy Claunch dropped their first-grade son, Samuel, off for his first day of in-person classes.
Jeremy Claunch was glad Samuel would regain all the resources that come with in-person learning, including individual attention from teachers.
"It's kind of nerve-wracking to not know whether or not he's keeping up with where he would be if he was in class," he said. "I have to imagine most kids will have to catch back up where they should be."
Emily Schull, a parent of two Cedar Ridge students, said she worries about her children following the district's safety measures, such as wearing masks. Although her children are already excited about the return, she believes the excitement will grow during the coming days.
"Life is very strange. It's hard to know what to expect," Schull said.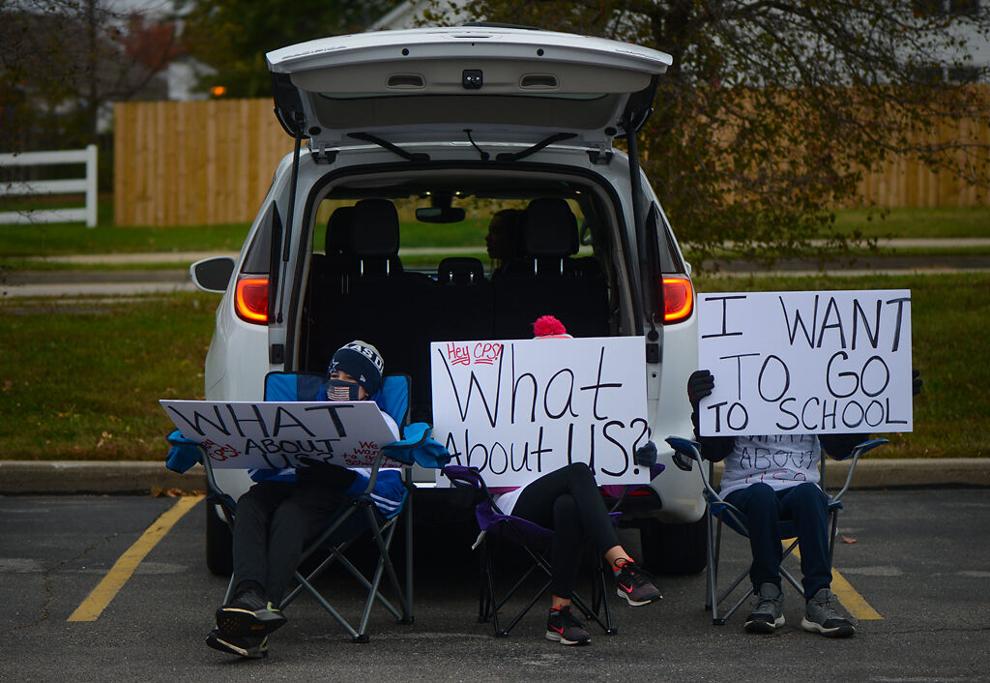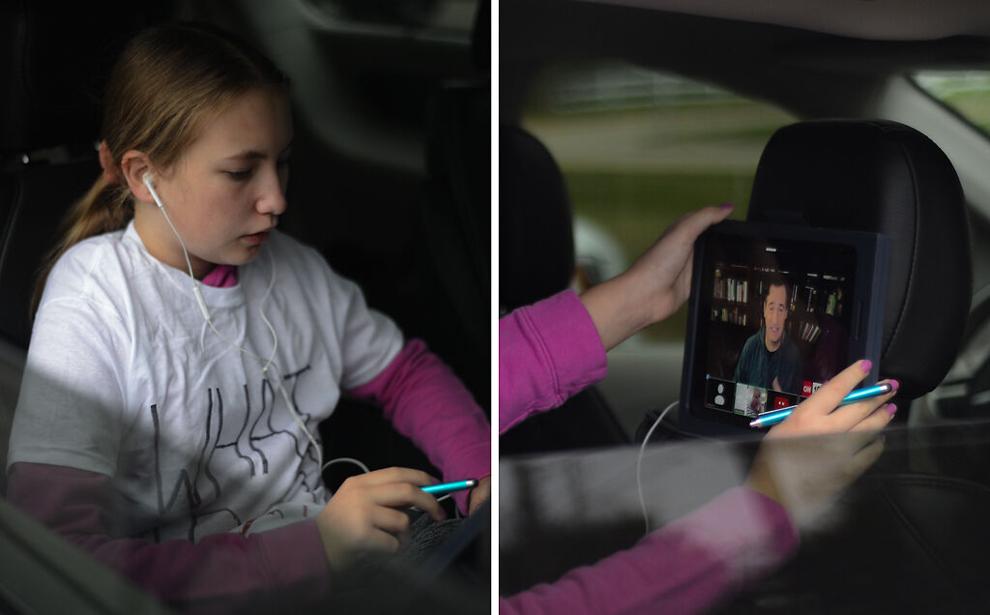 The afternoon pickup process for Cedar Ridge has been adjusted because of COVID-19. Parents write students' names on neon green cards and place them on the dashboards of their vehicles.
At the end of the school day, teachers at Cedar Ridge enter the names onto a spreadsheet as the parents pull in. When names are entered, they appear on SmartBoards in the classrooms, allowing students to be dismissed in a socially distant fashion after parents arrive.
"The kids are really, really happy to be coming back," Assistant Principal Taryn Brinlee said. "Their friends, their teachers, their school family is all here. I know we're really excited to have them. It's been a very strange start to the year not seeing them."
At Benton Elementary School, eight staff members were outside Monday morning directing traffic and greeting the students.
Keith Carmichael said he has three children attending Benton and is delighted they can return to in-person school. Still, he believes the district will ultimately have to return to fully virtual teaching.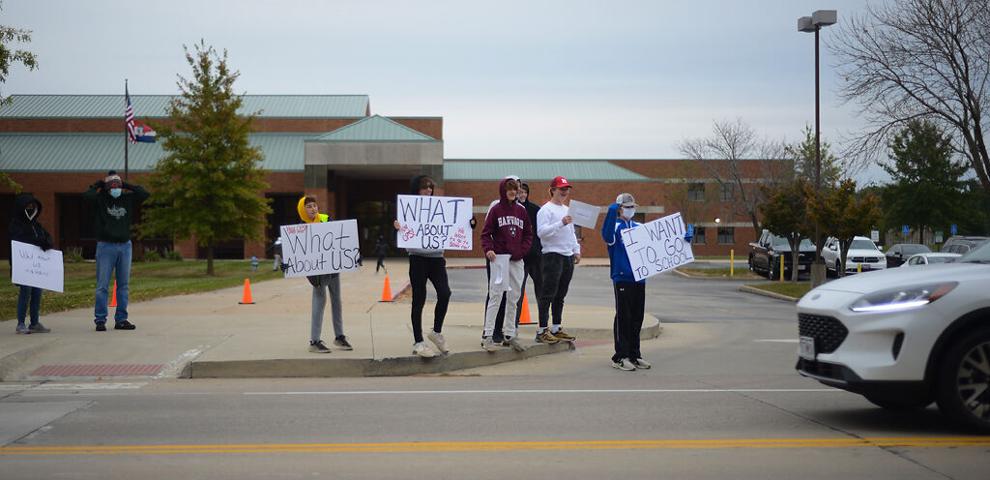 At Alpha Hart Lewis Elementary School, staff members also stood outside to greet students. They put a sticker with a bus number on each student to make it easier to direct them after school.
Near Midway Elementary School, most parents remained in their cars during drop-off but a few chose to park and walk their children to the door.
One Midway parent, Matt Baurichter, said he thought the drop-off went smoothly and believes it is safe for his third-grade son to be back in school.
"I think it's important to have the kids back at school right now — at least, those that choose to go back," Baurichter said. "It's definitely shown a little bit of wear on kids and parents alike, mentally and physically, and everything in between."
At Parkade Elementary, dots on the ground helped families and students follow social distancing guidelines. Katie Rae, an outreach counselor, said the buses were about one-third full.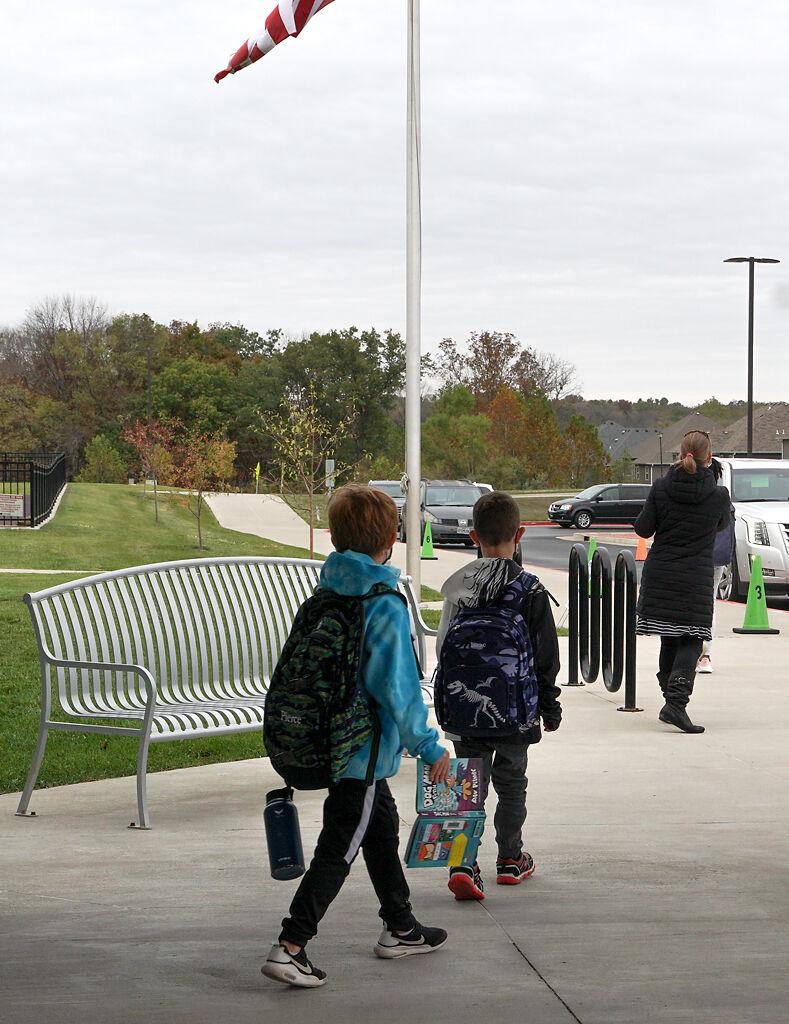 There was hand sanitizer at each entrance and food stations were divided to keep students as far apart as possible, Rae said. The students all wore colored lanyards so teachers could identify which group they were in.
"I anticipate that having been apart from their friends for so long, they'll still end up touching and hugging each other," Rae said.
Noelle Lisenby, a fifth-grader at Rock Bridge Elementary School, said she was excited to see her friends and start learning. Noelle had shared her desire to return to in-person classes during the public comments portion of the Oct. 12 School Board meeting.
'What about us?'
While elementary school students headed back to class Monday, some families were participating in sit-ins to draw attention to their disagreement with the district's decision to keep high school and middle schools virtual. A timeline has not yet been set for older students to return to their classrooms.
About 12 families gathered about 8:30 a.m. at Gentry Middle School. Ken Moyers, who has three middle school students and one high schooler, had made signs that read, "What about us?" and "I want to go to school." Students were holding the signs beside the road in front of the school.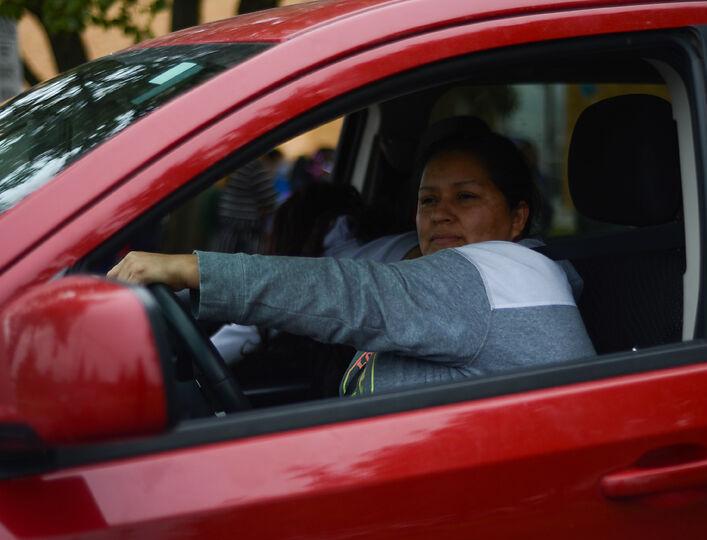 "I want them (kids) to go back to school because they deserve it," Moyers said.
Mike McKim and his son, middle-school student Graham McKim, were also there. Graham said he wants to return to school because he doesn't learn much online and that makes it harder for him to ask questions.
"Not being in school is more harmful to children than a few cases of COVID," his father said.
Liz McClary has two children in district elementary schools, one in middle school and another in high school. McClary said she doesn't see why students can't be back in school when restaurants and grocery stores are open and kids are still playing sports.
"Seven months kids haven't been in school," McClary said. "My kids have never been so excited to go to (elementary) school ... because they want to learn, they need to learn."
About 9 a.m. at Rock Bridge High School, three cars were parked in the school lot with mothers and children inside.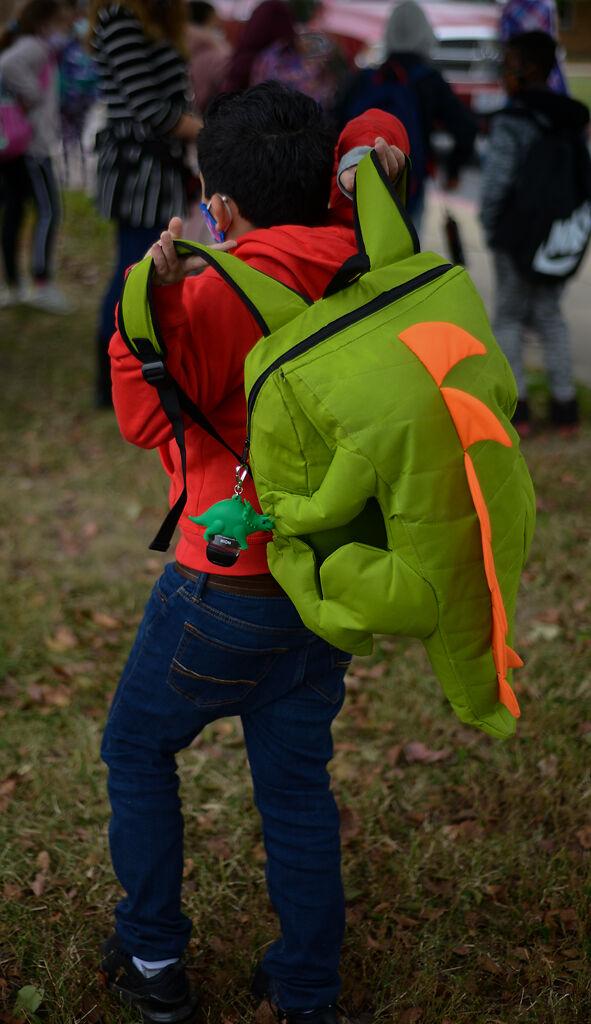 Kim Gibson and her daughter, Jaden, had placed signs in the car's passenger, front and rear windows. All read, "What about us?"
Jaden, a freshman at Rock Bridge High School, said she hopes the protest will "let teacher unions and the superintendent know that we want to go back to school."
She said she is a straight-A student but has been struggling with algebra. Madison McKim, a Rock Bridge freshman, said she faced the same struggles. Both were attending Zoom classes while sitting in parked cars.
"Math is really hard to do online," Madison said. "It's a lot to keep track of."
High school students are taking all their core classes this semester, and she said she feels overloaded and spends hours doing homework.
"I miss the routine of school," Madison said. "I would like to do my physics labs in-person, instead of online."
Missourian reporters Keely Doll, Elizabeth Okosun and Zoia Morrow contributed to this article.