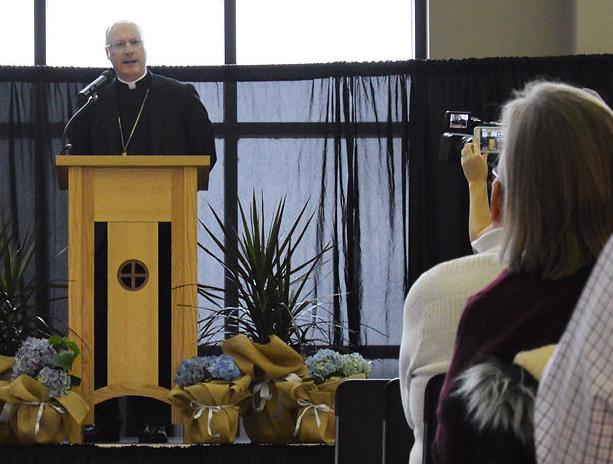 Anonymous donors have relieved Tolton Regional Catholic High School of a $6.2 million debt. Bishop Shawn McKnight of the Diocese of Jefferson City made the announcement Friday at the school.
Clearing the debt is meant to make it possible for the school to focus on its future.
"I want to emphasize how important this school is to our Catholic community and to the wider community as well," McKnight told parents, teachers, staff and others.
"I do look forward to moving on to some of the projects and dreams we have had for this institution, whether it involves athletics or the arts," he said.
Jill McIntosh, interim president of Tolton, called the gift transformational.
"This is a very personal investment," she said. "It allows us to take the school to the next level, to bolster curriculum, invest in training and invest in and expand our program."
Most of the debt was incurred during the school's construction, from 2009 to 2010, according to a news release from the diocese. That included a $337,585 loan from Our Lady of Lourdes Parish.
McIntosh said later that the debt-clearing gift was "definitely the largest influx of donations toward a single purpose since the original capital campaign."
At the morning announcement, McIntosh emphasized the importance of continued support and donations from the longtime Tolton community as well.
"Some of the donors here have invested before this school was built," she said.
Judy and Charlie Nemmers, who attended the morning announcement, moved to Columbia 20 years ago and were among those early donors.
"We really value the opportunity Catholic education brings to the community — not just to the kids that go there but to the whole community," Charlie Nemmers said.
"None of our children live nearby, so none of our grandchildren will ever come here, but hopefully it helps other kids," Judy Nemmers said. "This is our turn to give."
Tolton, at 3351 Gans Road in southern Columbia, has about 250 students in grades nine through 12. It's the first and only Catholic high school in Columbia.
The school is looking for a new principal and president; Gwen Roche is not returning as principal next year, and the president's position has seen a couple of turnovers since the combination principal/president job was separated into two jobs a few years ago.
Charlie Nemmers said the couple wants the school to grow because it is good for the community, Catholic or not.
"It's an investment," he said, "not an expenditure."