Wednesday was bittersweet for Robin Flemming.
Her youngest daughter, Vella, was attending Jump Start Day at Oakland Middle School, getting her first real taste of what the next nine months would be like.
"But it's good," Flemming said. "I like to see her thrive. I like to see where she's going."
Vella said she was nervous when she got to Oakland.
"I was scared I wasn't gonna remember where to go," she said. "I'm not nervous anymore. I feel pretty good about my classes."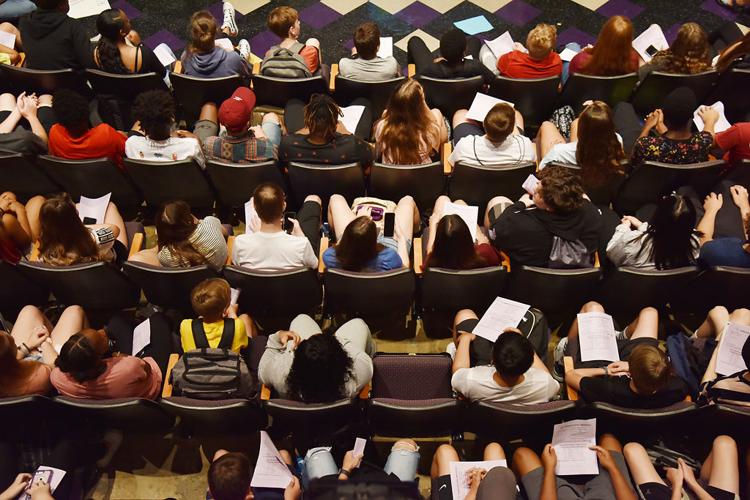 Several hundred sixth- and ninth-graders in Columbia Public Schools also spent the morning at their new schools for Jump Start Day. The annual event is put on by middle and high schools to introduce students to their new campuses without the stress of first-day jitters.
Assistant Principal Lisa Nieuwenhuizen, who has been at Rock Bridge High School for 14 years, noted Jump Start Day is a great opportunity for students to engage with adults in a nonacademic setting, with fun activities, games and tours of the building.
Nieuwenhuizen said it helps lower the anxiety some new students experience and lets them know "we've got them. We're going to take care of them, and they are going to love it here."
Oakland Middle School Principal Helen Porter said this year it had its largest number of sixth-graders attending a Jump Start Day: about 190.
Addy Johnson, a sixth-grader at Oakland, talked about what she will do this school year. She's looking forward to English class because they'll be reading more chapter books and practicing their writing.
Her mother, Jenny Johnson, was also an Oakland student when she was younger.
"It's surreal walking through the hallways as a parent this time around. But I'm excited for her to be an Eagle, too," Johnson said.
Charlotte Horn, 12, is transitioning from West Elementary to Smithton Middle School and was all smiles but admitted she was both "excited and nervous" about attending a new school this year.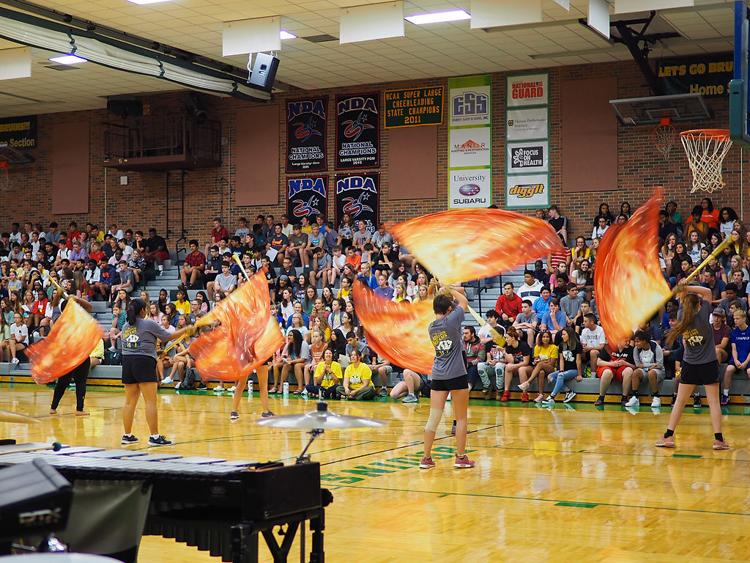 Tara Collier arrived at Smithton with her twin daughters, Kyndall and Kyndra, 13, who are entering eighth grade. The school had asked Kyndall and Kyndra to help with Jump Start Day, and their mom said they were "'super-excited" to be helping students find their way around and be part of a new beginning. The twins recalled their own Jump Start Day, Kyndall saying she was not nervous, but Kyndra admitting she was — "a little bit."
Rock Bridge High School was bustling as the staff and student volunteers prepared for a student assembly to kick off Jump Start Day. Assistant Principal Darlene Grant, volleyball coach Nicole Murphy and Mike Woods, the home school communicator, greeted students at the door with exuberance.
Upperclassmen were on hand to help students find their way around, including junior Hannah Juengermann, 16, and senior Louisa Frey, 17. Hannah is part of the student council, which played a big role in the event.
The Rock Bridge High School assembly treated new students to performances by cheerleaders and the dance team, flag twirling and music from the school band. The Bru Crew, which according to the school website "demonstrates enthusiasm for Rock Bridge athletes/athletic teams and promotes sportsmanship and positive spectator support at athletic events," taught students the "roller coaster" so they will be prepared to show their Bruin spirit at sporting events.
Adlen Baker, a new freshman at Hickman High School, said she's a little nervous about getting lost but is looking forward to playing high school softball.
Doug Gordon, a special education teacher at Hickman, said the day serves to orient students as they get their locker assignments, schedules and meet their teachers.
"When we add three more grades and that place turns into Grand Central Station," Gordon said, "they'll know what to do."