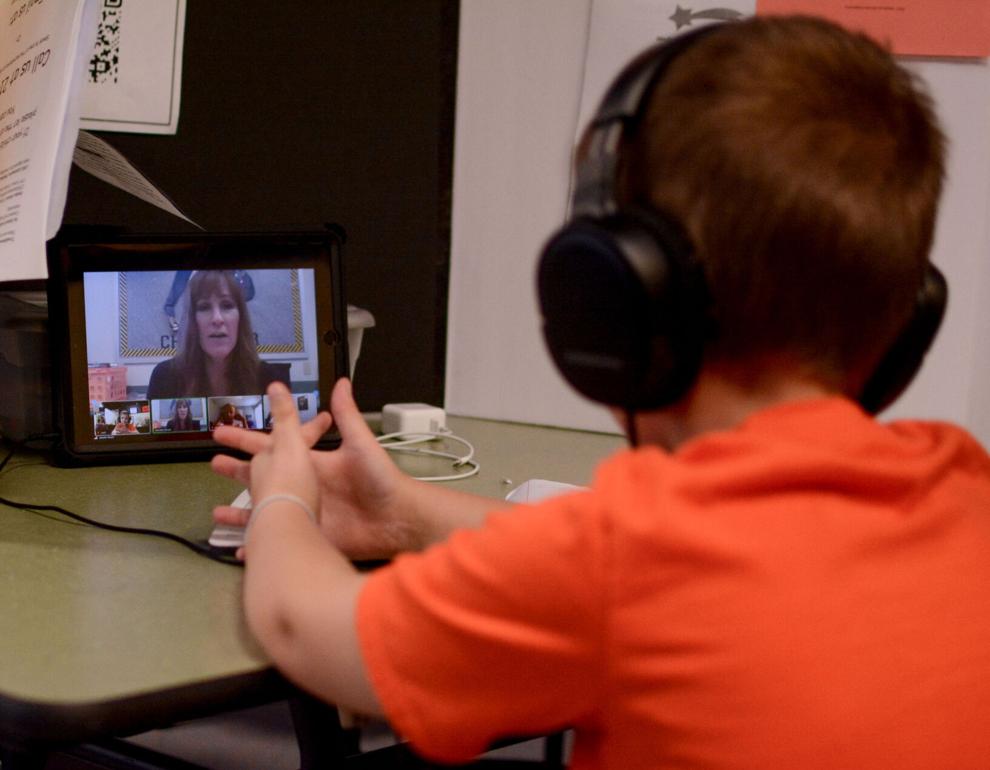 It was the first day of school for nearly a dozen first-, second- and third-graders.
They were taking a break from their morning classes, romping around the colorful interior of Tiger Bounce, an amusement center in south Columbia.
In another corner, older students listened to lessons through headphones at their partitioned stations. Each area had an iPad and COVID-19 kit — essential back-to-school supplies for students during a pandemic.
After Columbia Public Schools announced earlier this month that classes would be virtual for the beginning of the school year, Tiger Bounce jumped into the gap with a learning pod, giving students a safe space to study while their parents worked.
A learning pod groups students together for instruction outside the classroom. Children follow their online curriculum under the supervision of adults, either paid or volunteer. Pods may be led by certified teachers, a cluster of parents sharing classroom duties or, in the case of Tiger Bounce, a facility that oversees student lessons.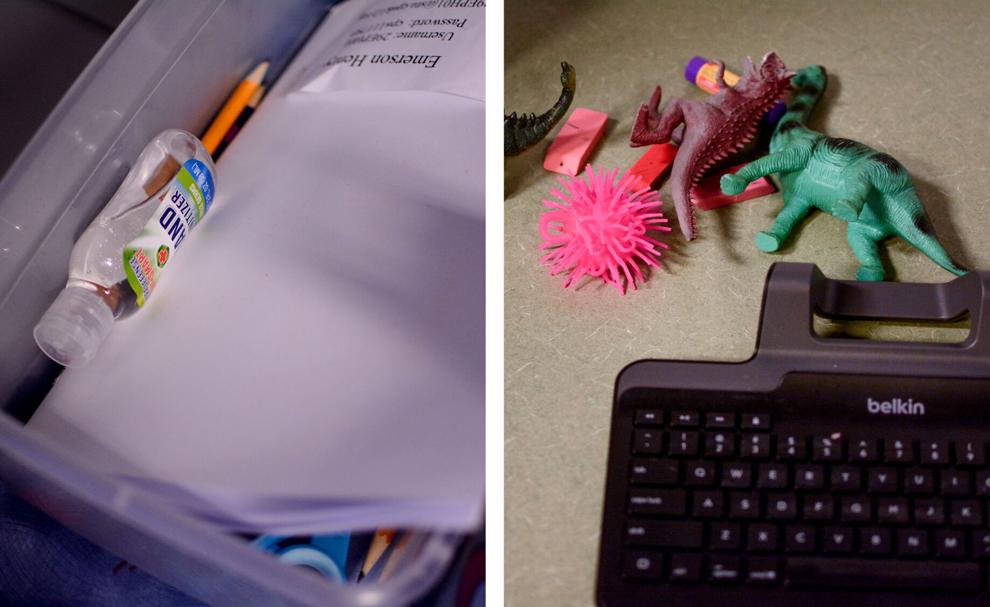 Behind pods
Pods and other kinds of structured learning support emerged this summer as popular alternatives when schools around the country pivoted to virtual instruction. In addition to Tiger Bounce, the Boys and Girls Club of Columbia and the United Community Builders School House offer this educational service for about $150 per child per week.
The pod alternative appeals mostly to parents who cannot take time from work to oversee their children during the day. It can also serve parents who are struggling to cope with multiple children cooped up at home or those who want their children to interact with other classmates.
"I know it's not easy being a working parent — plus having to stay at home," said Zach Winther, assistant manager of Tiger Bounce in the Rock Bridge Shopping Center on Buttonwood Drive. "It's not possible for every family, so we wanted to be that bridge and try to help out as much as possible."
Pods in Columbia
Authority Gymnastics on Peachtree Drive set up learning pods after owner Shari Mann gauged interest from families in her gymnastics network. She has two children in high school and two older ones who have graduated. She said she couldn't imagine how she would handle virtual learning during a pandemic if her kids were still small.
Authority Gymnastics offers learning pods that cover virtual lessons and also lets students spend a period of time in the gym.
"I think that physical fitness, or even just getting up and moving a little bit, resets the brain," Mann said. "Then, they're ready to sit back down and focus. It's hard for kids to sit all day."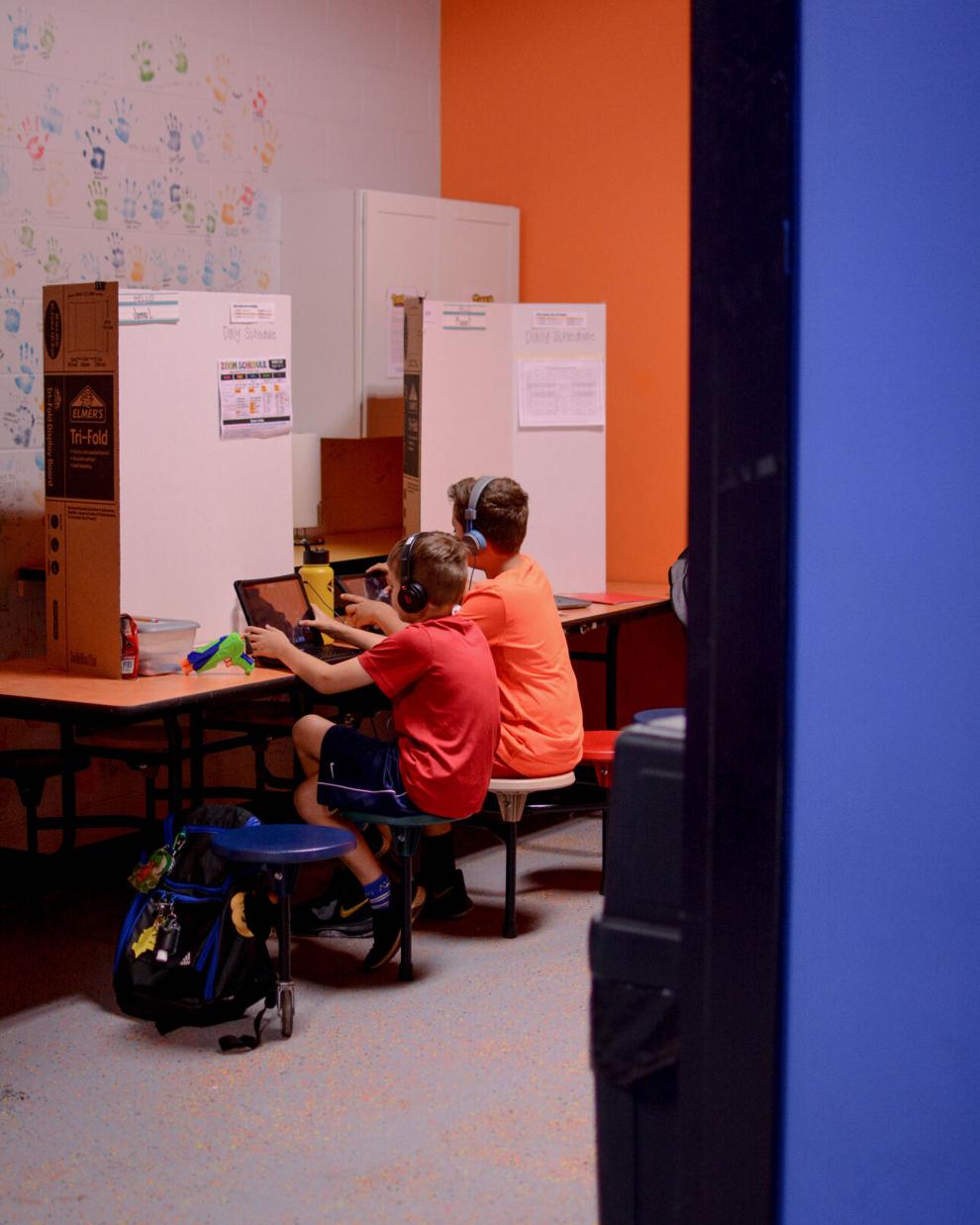 She and two other teachers supervise 30 children grouped into three grade segments — kindergarten through second, third through fifth, and sixth grade. Mann, who has a master's degree in education, said her background helps her manage the age groups and keep the students on task.
On a recent school day, she had one group indoors playing games and another working on lessons while the third dabbled in arts and crafts. She said she encourages students to social distance by giving them a measurement they all understand — a cartwheel.
"Little friends don't know 6 feet. 'What's that?'," Mann said. "Well, if you do a cartwheel from here to there and kick her, then you're not 6 feet apart."
At United Community Builders, a faith-based outreach center, Executive Director Damian Dean said adult programs have been rearranged to accommodate learning pods. In-house child care providers will supervise the virtual learning for up to 10 students in the pod. The organization is also partnering with the district to add teacher aides.
Such learning pods have been established to help parents in the community, but many are also run by businesses that have been heavily impacted by the pandemic. At Tiger Bounce, Winther said he wants to keep the cost of learning pods as low as possible while still keeping the lights on. To help fund the project, a resale clothing and toy shop called Tiger Bounce Replay has been set up in the building.
Alternative pods
Around the country, pods have faced widespread criticism as an out-of-reach resource for families who can't spend $150 a week but also can't afford to stay home. The Boys and Girls Club of Columbia is offering scholarships for these families to help where there's a need. An application can be found on its parent portal.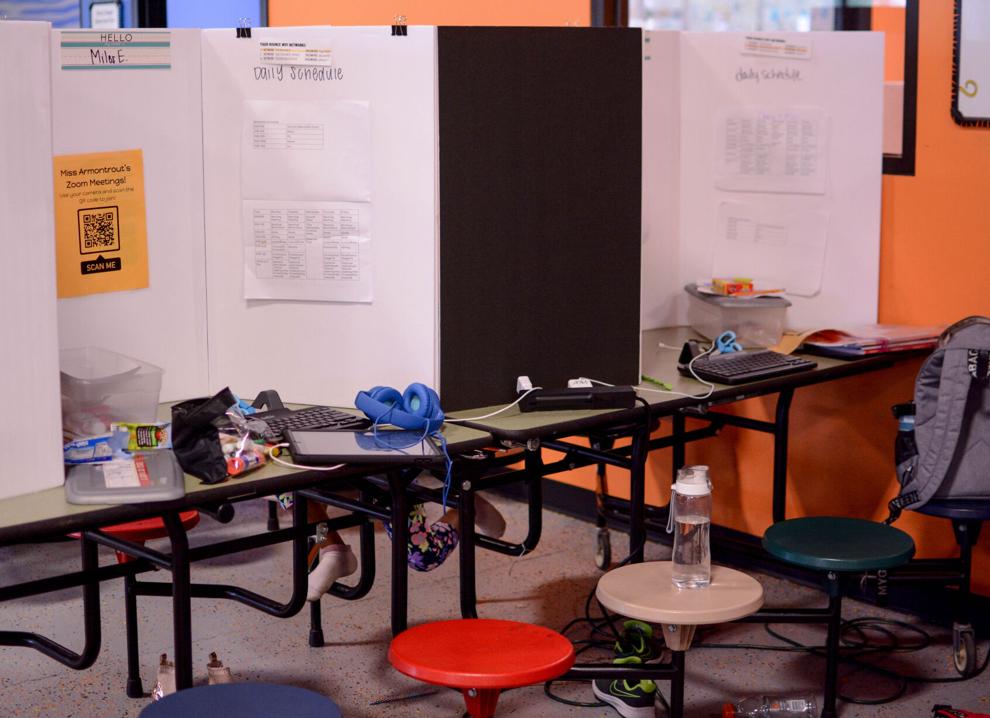 Another alternative is a co-op where parents either share the responsibility of teaching at home or hire someone to help. Jennifer Frohne started a learning pod with other parents for three kindergarteners and one pre-K student. They hired a facilitator to oversee the class, then switched to a rotating schedule among the parents when the facilitator had to back out temporarily.
The group meets in a basement, repurposed specifically to accommodate a learning environment. The parents purchased desks in a school surplus auction and created a play area to mirror a kindergarten classroom. Frohne said it was important for her daughter to have the experience of "starting kindergarten and going to the big kids' school" in a safe environment.
Another factor in her decision to set up a pod was seeing the number of parents who did not seem to be taking the virus seriously.
"I don't imagine that they're taking real precautions at home," she said, "and then potentially their kids would be in class with my kid." Ultimately, "the risks felt higher."
There were also rumors that the schools wouldn't remain open for long anyway, and Frohne said she didn't want to start something and then reverse course. A learning pod seemed to be the obvious solution for her daughter.
"She'd get some social exposure, she could be safer from germ exposure and then she could get the support that she needs to be on technology and learning throughout the day," Frohne said.