COLUMBIA — It was original joke day in Beth Winton's eighth-grade gifted education class. Her students at Jefferson Middle School had written their own material and selected the best jokes to share with the class.
"What do you get when you put Taylor Swift in a freezer?" asked Stephen Quackenbush with a smile. "A POPsicle."
"Why is Stalin's name ironic?" asked Kiren MacLeod, a lanky boy with a mop of black hair.
He paused for effect, then tossed out the punch line.
Allie Pigg was up next. "What do you call a consequence of telling jokes in class?
Winton's eighth-graders had been working on their original jokes for about a week. It might not be a typical middle school assignment, but Winton believes it teaches them concentration and confidence and puts them outside their comfort zone.
She teaches gifted education to 120 middle-school students in Columbia. For five weeks during each school year, her students learn about comedy and humor while writing and performing their own jokes, skits and parodies.
"If you have to stand up and tell us a joke and can't quite get there, there is no way you will be able to do a school presentation," Winton told the class, all identified as candidates for gifted education as early as kindergarten.  
Columbia Public Schools has a robust gifted program that serves 1,613 students among a total of more than 17,200 in the district. Other school districts in Missouri aren't as fortunate. They have seen their gifted programs whittled away as state funding grows scarce.
This is especially true in small districts in rural areas where pressure from teachers and parents isn't always strong enough to keep programs afloat within a tight budget.
Winton and the Gifted Advisory Council, created by the legislature in 2013 to counsel the state Board of Education, are trying to shift the tide.
A HISTORY OF FINANCIAL DRAWBACKS
Missouri got its first taste of gifted education in 1973 when the state legislature recognized that gifted students need instruction outside the ordinary classroom. That year the standards for gifted education were established in Missouri.
Although gifted programs were not required, for the next 34 years, Missouri schools were reimbursed when they created and maintained such programs.
The number of gifted programs in Missouri peaked in 2001 at 333. The same year, state money for gifted education was frozen at $24 million, meaning funds for new programs were scarce. As a result, there was a a slow but steady decline in the number of gifted programs.
In 2007, the $24 million designated for gifted students was combined with the overall education budget. That meant schools were allowed to redirect money for gifted education to other areas, such as transportation and special education. After that, the decline accelerated — from 291 programs in 2006 to 223 in 2013-14. 
That's when the Gifted Advisory Council stepped in. Its job was to study Missouri's gifted education landscape and advise the state Board of Education about ways to improve it.
The May report doesn't conclude that gifted programs are failing in Missouri. It suggests, instead, that Missouri is failing its students by not giving schools the opportunity to offer every child sufficient attention to do well.  
Most of the recommendations — making data on gifted education accessible to the public, including more diversity in gifted programs, educating all teachers about gifted and talented students — would be under the wing of the state Department of Elementary and Secondary Education.
Two of the recommendations, however — a requirement that all schools offer gifted programs and fund those programs — would be under the jurisdiction of the state legislature.
Altogether, the council's recommendations would restore gifted education to its prime — and also jibe with the state's interest in becoming a top-10 education leader in the nation.
Another group, the Gifted Association of Missouri, has become a force as a statewide non-profit advocate for gifted programs. This year, it lobbied hard for HB637, a bill to cut funding for schools that lose 20 percent or more of their gifted enrollment — $680 per lost student.
The bill was expected to pass without much opposition, but chaos in the final week of the legislative session killed the bill, said Kyna Iman, a government consultant for the association. She was frustrated not only that the bill died, but that it was needed in the first place.
"I hate that we have to put policy in place," she said. "School districts should just provide services for these kids." 
WHAT IS GIFTED EDUCATION?
In simple terms, gifted kids are smart kids. But like many aspects of the education system, understanding giftedness means navigating a mess of jargon and standardized testing.
"Even among academic researchers in the field, there is no consensus of what gifted means," said Jake Giessman, director of secondary gifted education for the Columbia Public Schools.
The only thing students in a gifted education class have in common is scoring well enough on the tests and evaluations required for entry into the program, Winton said. Otherwise, the term means something different for every gifted child. One could be a math whiz, while others could be exceptional in science or drawing or music.
Winton said all of her students have different gifts, and her challenge is to captivate them with subjects they don't show any interest in. Thus, she teaches unconventional topics — comedy, marketing, the stock market — to her middle-schoolers.
Her lessons also show her students how to succeed in high school when classes can get more difficult for them, especially if they have coasted through elementary and middle school. If they cruise through most subjects when they're younger, they might not learn the skills to compensate when coursework gets tough.
"By sixth or seventh grade, they are used to having things come easy," Winton said.
Yet, giving special attention to these students is often criticized as elitist. That, plus persistent cuts to the state education budget, a push to improve test scores and pressure from the No Child Left Behind Act, means the primary focus is on students struggling to keep up.
But, just because students are doing well in a class doesn't mean they aren't struggling, Winton said. A class that moves too slowly can be just as frustrating as one that moves too quickly.
"Regular classroom teachers don't always have the time to give them challenging things to work on," she said.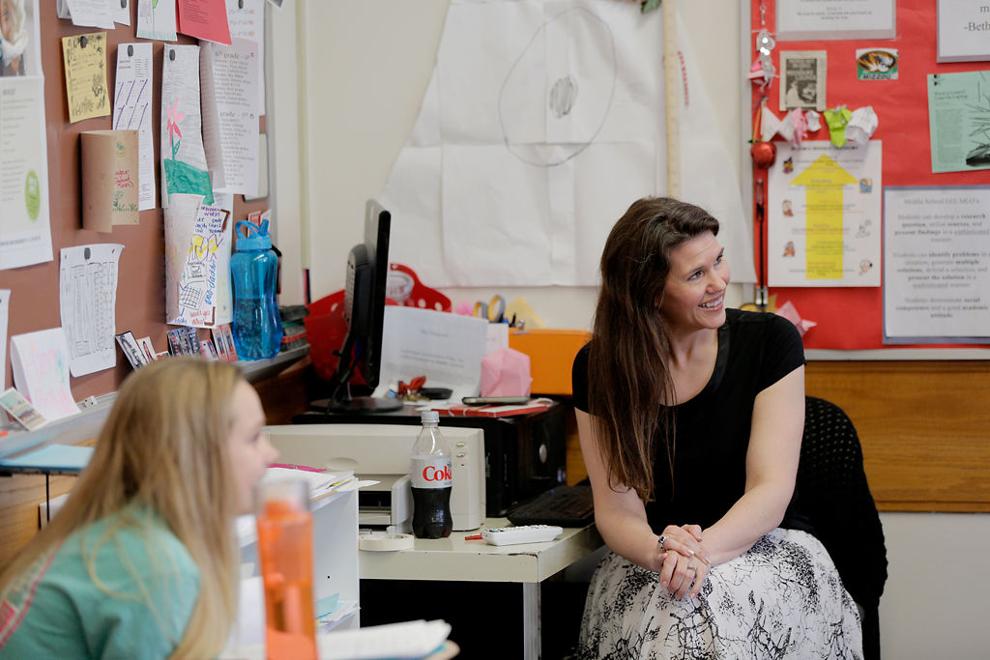 A PASSION FOR GIFTED EDUCATION
The daughter of a Russian language translator and special education teacher in Tallahassee, Florida, Winton said she was a curious but stubborn child herself. School was easy for her, and by the time she reached college, she lacked the study skills needed in classes that actually tested her. She said she got a D in a first-semester chemistry class.
It cost her a scholarship and set her straight. Growing up in a strict household that reinforced the importance of education, she was able to teach herself how to study and succeed in school. Two years ago, she received a doctorate in educational administration from MU. She now uses the story of her D in freshman-year chemistry as a lesson for her students.
She has been teaching gifted education for 22 years, first in St. Louis and, for the past 16 years, in Columbia Public Schools. She teaches sixth, seventh and eighth grades at Jefferson and Lange middle schools in the Extended Educational Experiences program.
On her first day of teaching, Winton remembers the students as the world's toughest audience. It was a middle-school science class in St. Louis. She was 21 and had just completed her bachelor's degree at the University of Florida, specializing in gifted education and psychology. She felt lost and frantic.
"In school they don't teach you how to handle the myriad small decisions you have to make every day that affect a kid's life," Winton said. "The first year is a lot about survival."
During her next job, she started a gifted program for second- to sixth-graders at Solomon Schechter Day School in St. Louis. In 1999, she earned a master's degree in special education from MU, focusing on gifted education. She has since served as supervisor of gifted education at the state Department of Elementary and Secondary Education for five years and is currently a member of the Gifted Advisory Council. 
Winton said she is fortunate to be able to observe the gifted education program in Columbia both as a teacher and as a parent. Her older son, Jacob, 18, went through the gifted program in Columbia and is now a freshman at the University of Alabama. Another son, Noah, 13, is a seventh-grader and in the gifted program.
Recently, Winton drove a 15-seat bus to the Stock Market Game awards ceremony at the Lake of the Ozarks with her son, seven other kids and two teachers. After 10 weeks of studying the economy and playing an online game in which they buy and trade stock, the teams in each of the 19 Missouri regions that made the most money received awards.
"Most kids at this age are starting to think about money from babysitting or lawn mowing," Winton said. "It teaches them a lot about the global market system, like how oil prices affect transportation, and they learn how to work in teams and how to manage long-term projects."
THE MIDDLE SCHOOL IMPERATIVE
Lauren Guillory remembers Winton's sixth-grade class as the wake-up call she needed to do well in high school.
Now a junior at Columbia College studying psychology and sociology, Guillory was a bright child who zipped through elementary and middle school classes without having to work hard. A reality check came in Winton's sixth-grade social studies class.
Guillory was rattled when she failed to name all the states of Mexico on a geography test and earned a low grade. Winton recognized that the sixth-grader wasn't used to a poor grade, and Guillory said Winton helped her recognize the study skills she needed. She credits her gifted classes for her success in high school and college.
For many kids, middle school is the point of no return, Winton said. Because students like Guillory often breeze through elementary and middle school, they don't understand how to tackle difficult work. As middle schoolers, for example, they decide that making note cards to study for a test is a waste of time because they already know the material. So they don't do it.
Winton offers an example to further illustrate the problem. In Columbia, gifted education classes are often held at the same time as health classes, which help students prepare for a standardized health test. So the gifted teachers must also cover the health material.
Most of the gifted students think they can skip the regular health class and still pass the test, said Winton, who decided to turn their resistance into an opportunity. 
One day in April, she passed out a thick study guide on orange paper to each of the seventh-graders with everything they needed to prep for the health test. She let the class scatter around the room — lie on the floor, sit in a corner, huddle in groups — as long as they studied quietly.
The students dug into the study guide. They peppered her with questions. They used highlighters to organize the material. Ultimately, they learned how to master the subject themselves, Winton said, a critical skill in high school. 
Her dilemma is always to make a routine lesson engaging without her students seeing the extra work as punishment — which can be a short hop to resentment and indifference.
"How can you make it more challenging without running the risk of them giving up because they interpret that as a bad reward?" Winton said .
Her goal was to make an uninspired task interesting by offering attractive rewards for completion. Once the seventh-graders finished the health test, they could move on to a more appealing lesson — designing advertisements for a competition staged by the Columbia Water and Light Department. The best ads would be posted on buses and other spots around Columbia.
"There was a chance for kids to make ads for a real audience in the real world," Winton said. "Any chance we have to provide a real-world experience where they can see their work around town, they learn more from it." 
Motivation is a problem for many gifted kids. Stacia Schaefer knows this well. She came to realize the importance of gifted education with her second son, Wolf, 14, who falls on the gifted spectrum.
"He will concentrate very intensely on one thing at a time, and nothing else matters," his mother said.
Gifted kids who become bored in slow-paced classrooms will focus their attention elsewhere on the classes and topics that interest them. For Wolf, this was a fourth-grade gifted chemistry class; for another student, it might be comedy. Gifted education is a way to provide that kind of individualized education.
BEYOND GIFTED PROGRAMS
Columbia Public Schools is trying to extend that individualized approach beyond the 95th percentile. The district used to offer an honors English class for all eighth-graders, for example, but canceled it two years ago. Instead, it now lets students do extra work for honors credit.
In the high schools, gifted teachers are available to any student who wants extra help with coursework, college applications or internships, Giessman said.
David Welch, the statewide director of gifted education, agreed with that strategy. He believes gifted programs should be as widespread and inclusive as possible.
He said administrators from the department of education will meet this week to discuss the recommendations made by the Gifted Advisory Council. Although he was hesitant to make any promises, Welch said he is optimistic that some change will be seen in the next year.
He said the administrators will be looking for more minority students, including students of color, as well as students from low-income backgrounds and "twice exceptional students" — those identified as gifted who have special education needs.
With more students, however, the need for funding becomes greater. Without state support, districts are strapped. But without classes like Winton's, gifted students may not have incentives to excel.
A month after joke day, the humor unit in Winton's class concluded with parody day. Kyle Hess, one of Winton's former students, sat in the back of the class as guest for the day.
Hess, who now works in business development for Veterans United Home Loans, remembers Winton's class as a safe haven. He said it positioned him for lifelong learning.
"Her class was the first exposure to know that it's OK to be different," he said.