An overwhelming majority of the more than 24,000 educators who responded to a statewide survey by the Missouri National Education Association said they believe school districts should not rush to reopen by an arbitrary date this fall and instead should focus on safety.
The survey was conducted from July 17 through Tuesday. The results showed that Columbia educators are just as concerned about the safety of students and school staff as those across the rest of the state. The survey was administered as there was a sharp rise in the number of COVID-19 cases in Missouri.
The Missouri National Education Association released the results of the survey Thursday. It included responses from 24,270 teachers, education support personnel and higher education faculty.
Mark Jones, director of Missouri National Education Association Communications, said educators really want to be in the classroom and they want to be with students safely.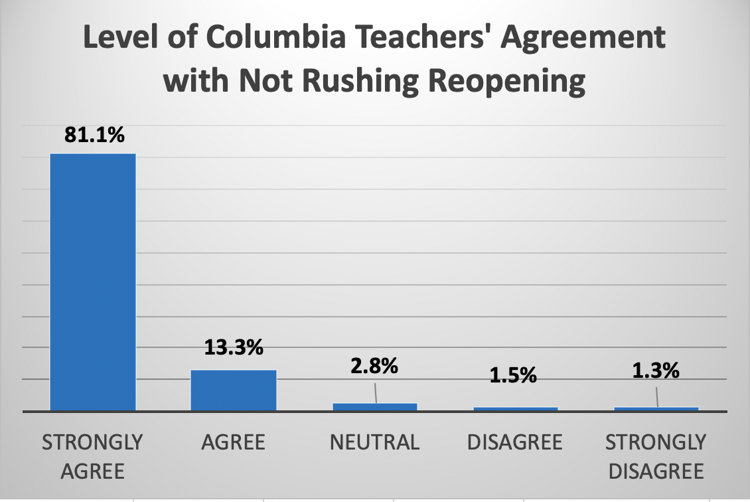 "Students are the center of everything they do," he said. "They would never do something that could harm students' health and well-being. So, we have to be responsible and really focus on starting school in virtual education until such time that COVID-19 cases are lower."
There were 811 responses from Columbia educators, which represented 70.4% of the sample from Boone and surrounding counties. Most work at elementary, middle and high schools.
More than 80% of Columbia educators who completed the survey strongly agreed that Columbia Public Schools should not rush reopening but instead focus on safety, according to the survey. About 650 teachers agreed that any reopening plan should be approved by educators.
Many said they worry about safety issues if the district reopens. Only 22 teachers strongly agreed that the district will provide enough personal protective equipment and cleaning supplies to keep staff safe.
Nearly 82% of Columbia educators who responded said they believe the school district should begin the fall semester teaching virtually.
In addition to safety issues, other concerns such as workload and child care were addressed in this survey.
A large group of teachers said they expect a bigger workload than the workload before the pandemic. Meanwhile, more than half of Columbia respondents said they have children 18 and younger, and 40% said they think it will be very difficult to manage jobs with children at home.
About 80% of teachers feel very stressed about the start of this school year, compared to the start of the previous school year.
About 44% of Columbia respondents said they feel ill-informed about the district's reopening plan, while only about 20% said they were very informed.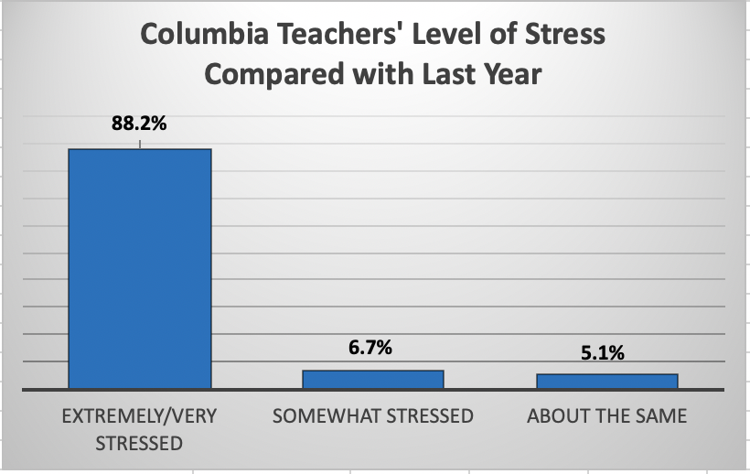 Under the district's current plan, parents can choose between online instruction and in-person classes in the coming year, according to a previous Missourian story. Families were asked to fill out a survey to let the district know their preference.
The Columbia School Board will hold a special meeting Tuesday to discuss the fall reopening plan in the Aslin Administration Building.
Jessie Starbuck, an art teacher from Beulah Ralph Elementary School, is calling on parents, residents and fellow teachers who feel unsafe about returning to school join her in a silent protest outside the Aslin building while that meeting takes place, according to a previous Missourian story.
"I wanted the school board superintendent and community to see that there are teachers that are really apprehensive about in-person instruction because I feel like we haven't been able to express that," she said.
The Columbia Missouri National Education Association earlier this week sent a 14-page report to the school district urging it to delay the start of the fall semester until after Labor Day at the earliest. It offered detailed recommendations for how to keep students and others safe if and when they do reopen and about how to ensure children can get a quality online education.
Kathy Steinhoff, president of the Columbia chapter of the education association, said Friday that she believes the statewide survey is an accurate reflection of Columbia teachers' views and noted that the response rate, representing more than half of Columbia's 1,500 teachers, is good.
Steinhoff said the district is doing its best to address teachers' concerns and will consider their recommendations Aug. 4.