Kathryn Fishman-Weaver had a unique experience last Friday night. The director of academic affairs and engagement at the Mizzou Academy found herself paddling canoes around Sorenson Lake in east Columbia with a student from Congo and an educator from Brazil.
It was her favorite moment of the Mizzou International Experience, a two-week program that wraps up this weekend. As the trio paddled, they talked about lakes around the world while the sun set.
"I was struck by how we had all come from different places around the globe and were here together sharing this moment in Columbia," Fishman-Weaver said.
Mizzou International Experience students — with name tags, black drawstring bags and Mizzou apparel in tow — have been field-tripping across Missouri to learn about American career opportunities.
The program is a part of Mizzou Academy's global school district, housed in the College of Education. Mizzou International Experience Director Thitinun Boonseng links the career-exploration process with self-discovery. Students are called "explorers" by their peers, the coordinators from their home countries and 10 MU student ambassadors who lead them.
The 52 explorers — mostly high school freshmen and sophomores — navigate seven American career industries: agriculture, business, engineering, human services, health care, science, and arts and communication by participating in hands-on activities.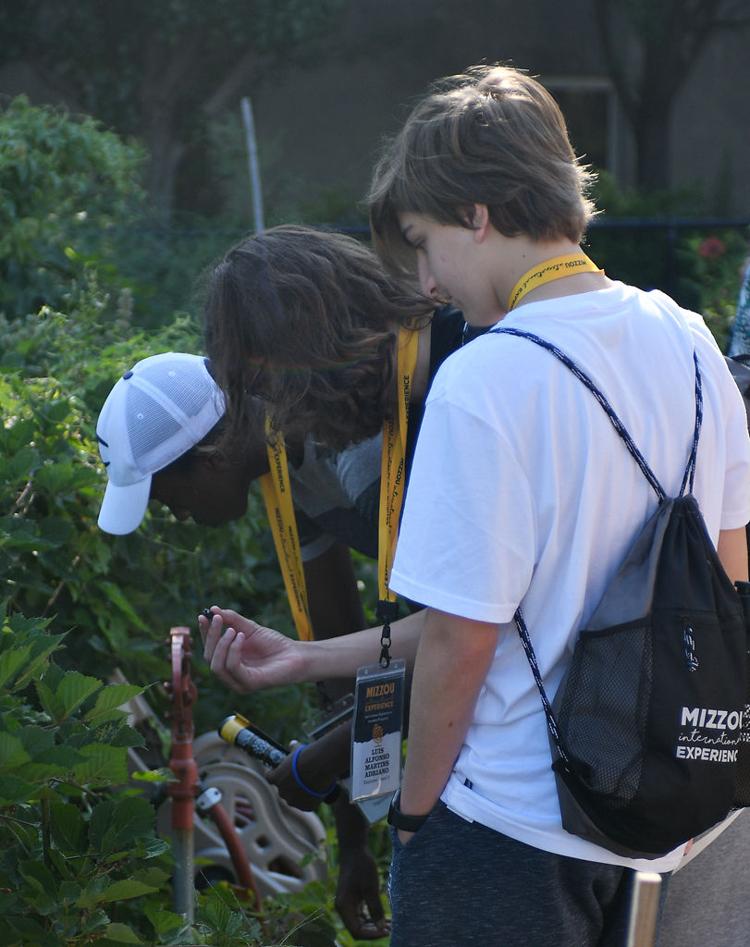 The students this year are from Brazil, Vietnam, Pakistan and Congo. This week, they got a taste of the Midwest. On the evening of the trip to Sorenson Lake Estate, 15-year-old explorer Giancarlo "Gian" Araujo Auriemma of Brazil ate his first s'more.
"The bonfire and the s'mores were pretty magical," Gian said. "I never have had bonfire and s'mores. It's a new thing to me. I loved it."
The students have experienced many American "firsts" during the program.
"It's kind of silly, but I loved being on the highway, like on the bus," Gian said. "I just really liked it."
Phong Hai Nguyen, a 17-year-old explorer who goes by "Meep," had an interesting bird sighting while he was riding the bus.
"I saw a hawk that swooped down on a sparrow and just caught it in one flash of an eye," Meep said. "I was really surprised."
Meep said his home, Hanoi, Vietnam, has much more traffic than Missouri. The bus and the American interstate system are new to Meep and Gian.
Baseball was another American first for many of the students. The group attended a Kansas City Royals game last week.
They've taken many day trips, including visits to the St. Louis Arch, the Venture Out ropes course, the Boeing Center, the Supreme Court of Missouri, the White House Decision Center at the Harry S. Truman Presidential Library and Museum and the Food Bank for Central and Northeast Missouri.
Students eat and sleep in MU's Mark Twain Residence Hall. Meep and Gian said they feel a sense of autonomy and independence living in the hall.
"I got to know myself pretty well," Gian said. "I need to experience more. I've been to London once, but that didn't feel right."
Gian has been to Florida and New York but says Missouri suits him. He can't believe the program will end this weekend.
"I've also learned a lot about myself as a person, as a professional, so I feel like this experience, to me, has been soul-washing." Refreshing, cleansing, restoring.
"I've been experiencing a lot of different things that I would never even (have learned) if I had stayed in Brazil."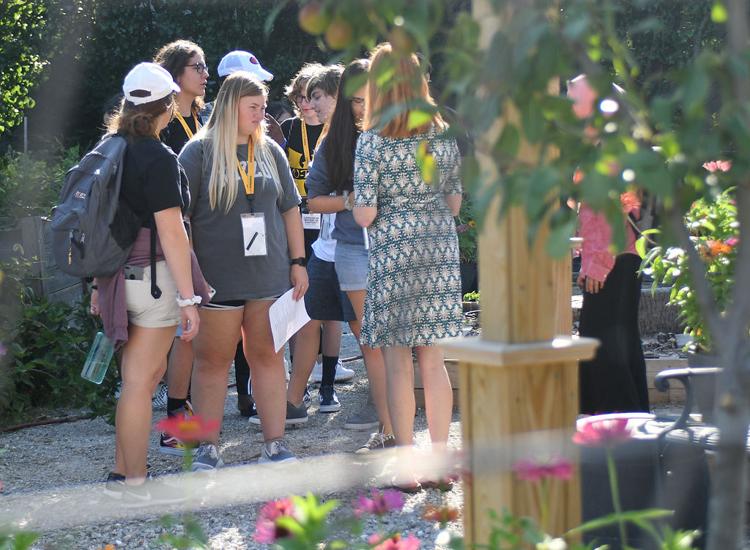 The program's Columbia base allows students to tour three college campuses. Throughout the week, MU professors and staff led students in hands-on, industry-specific activities.
Last Friday, students went to MU's South Farm and Jefferson Farm to learn about careers in agriculture. Gary Cunningham, an agriculture engineer at MU, demonstrated how to make nitrogen-frozen ice cream under the shade of a pavilion on Jefferson Farm. Liquid nitrogen freezes cream much quicker, reducing the size of ice crystals.
"It's sweeter, but it's much more smooth," Pamela Feres, one of the high school coordinators, said as she tasted the product that hot afternoon. "It's really good."
Gardener Marie Pasley led the students through the butterfly house at Jefferson Farm.
In the South Farm's Soil Health Assessment Center, research specialist Donna Brandt and her assistant Eliot Ewers showed students their lab. They talked about erosion, runoff and the many billions of microbes in soil.
"It's sort of a last frontier because we know so little about the microbes," Brandt said.
The students visited the MU School of Law on Monday. Andrea Sanders, coordinator of admissions and recruitment, and law student Sydney Stephens told the students about the law school application process and the admissions test.
They also gave a presentation on the U.S. legal system — using clips from legal dramas as examples — and guided the explorers through a mock trial. The explorers played different roles: attorneys, judge, bailiff, jury and witnesses.
At the Trulaske College of Business on Wednesday, students took on the marshmallow challenge, which challenged teams to use paper, tape and spaghetti noodles to build the tallest tower for a marshmallow to sit on.
Gian's team built a tower more structurally sound than the others' noodle creations. When they finished building it, all of the team members took their hands away swiftly to avoid knocking it over.
"I'm so scared of touching it!" Gian said.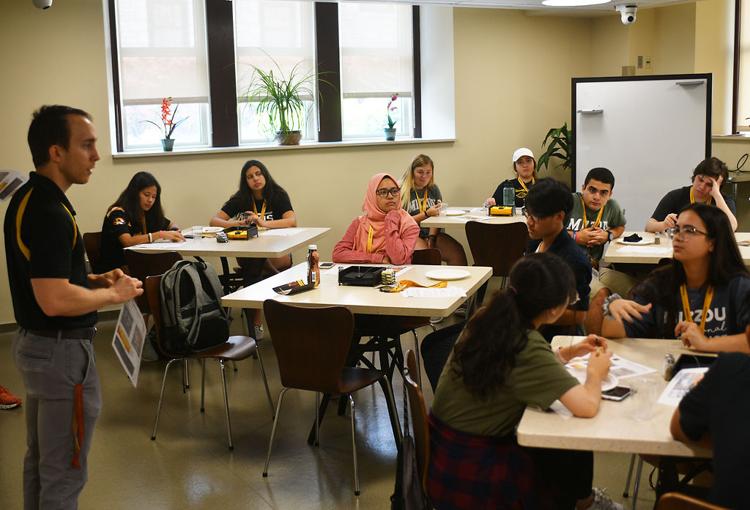 In the second task, teams were given faux bills featuring Truman the Tiger's face to buy the supplies they needed to create duct tape wallets. The groups had differing startup funds, ranging from $3 to $15.
Students had to create a poster including the name of their imaginary wallet company along with a logo, the startup amount of money they had, material costs, sale price and net profit margin if their wallet sold at the price they sought. Afterward, they had to give a sales pitch to market their wallets, and the MU student ambassadors judged.
Huy Xuan Dang, from Vietnam, gave his team's sales pitch. His team had $15 to shop.
"First of all, let me just say, this is not just a wallet," he told the panel of ambassador judges. "It's very innovative. It's new, and it's unique."
Gian gave his team's sales pitch. His team had $3 to shop, meaning they didn't even have enough money to buy scissors. Instead, they ripped the tape with their teeth.
"We are simple, but we are modern," he said. "We've got to show people that they can do whatever they need with their hands."
Gian enjoyed the daily activities.
"I feel really close to the profession, so that truly makes it believable," he said. "It's not just a presentation. Like, they show you what you're actually going to do."
To mark the end of the program on Saturday, each student will present a poster and a "meaningful work statement" about which career paths interest them most. The presentation will be from 10 to 11:30 a.m. Saturday in Memorial Union.