COLUMBIA — Students with disabilities are more often the victims and perpetrators of bullying in schools than students without disabilities, a new study shows.
Chad Rose, MU assistant professor in the Department of Special Education, and Nicholas Gage, assistant professor in the College of Education at the University of Florida, published "Exploring the Involvement of Bullying Among Students With Disabilities Over Time" in the Nov. 4 issue of the scholarly journal Exceptional Children.
From 2011 to 2013, the study surveyed 6,531 students in the third through 12th grades in a large New England school district. The study did not differentiate between students with physical disabilities and those with learning disabilities. 
Overall, 21.6 percent of students with disabilities were bullied versus 14.5 percent of students without disabilities. 
The bullying rate for students with disabilities stayed constant over the years, unlike their peers without disabilities. Rose said he thinks the gap is the result of problems with social and communication skills.
Bullying was reactive on the part of students with disabilities; they were bullied, so they responded in kind.
If students were taught "the hidden curriculum" of social and communication skills in school, Rose said it would help prevent bullying. It's not a cure-all for ending it, he said, but it's a good start and something all schools can do.
When it comes to bullying, Rose said, schools should educate students about what to do, what to say and whom to tell.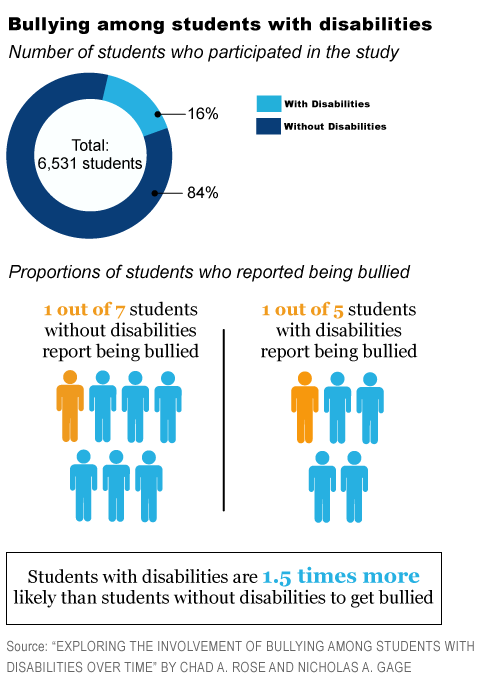 "School is our foundation — education is our foundation for success," Rose said. "When you limit that foundation, you're limiting someone's success." 
Bullying in the classroom was the subject of passionate comments by parents and community members at a Nov. 14 meeting of the Columbia School Board. Several people said they were concerned about a rise in hate speech toward minorities during the presidential campaign and since the election. They said they feared minority students would be marginalized or targeted because of their race or religion.
District spokeswoman Michelle Baumstark said Tuesday there have been no reports of election-related bullying. A handful of kids have made "inappropriate comments," but it was "nothing widespread or systemic related to the election," she said.
District policy prohibits discrimination and harassment of students, faculty or employees based on characteristics of race, religion, gender, gender identity or expression, sexual orientation or national origin. Superintendent Peter Stiepleman sent out emails to teachers throughout the school year reminding them to remain neutral on the election in the classroom and be supportive for students.
A history teacher at Battle High School said she didn't know about any instances of post-election bullying in her classroom, but three students had come to her with concerns about being Muslim or Asian or having a transgender relative.
"I was there as someone they could talk to and express their fears to," teacher Susie Adams said. "They just needed someone to listen." 
As a history teacher with 24 years of experience, Adams said she felt qualified to handle the situation because she could put the election in context.
Rose, who has a child in the Columbia schools, said he talked to a district committee about bullying at the committee's request. He said he doesn't believe districts in general do enough to train teachers about ways to handle bullying.
Rose said if he had to place blame, it would be with state legislatures when they mandate policies without giving schools sufficient resources to implement them.
"Schools try to be in compliance with the legislation, not go above and beyond," Rose said.
Meanwhile, he has become something of an activist. 
"Bullying is a complex process," Rose said. "What I try to do is support schools in providing them opportunities that allow their teachers to get training from somebody who only (addresses) bullying."
Rose, who has taught special education, said he hopes his work can improve the lives of students with disabilities and give them a voice.
"I decided I was going to step up and do something — I hope every day that I wake up I do," Rose said. "That's why I took the step to get my Ph.D. It wasn't to write publications, do studies or get awards. It was ultimately to impact the lives of kids across this country."