COLUMBIA — With only 15 minutes left until the silent auction closed on Sunday at the seventh Fall Into Art in Columbia, Farah Nieuwenhuizen, was busy presenting a necklace and a pair of earrings to visitors at her booth.
Nieuwenhuizen is a local jewelry designer and was the main organizer of the event, which takes place every year. Mid-Missouri artists set up booths at the Parkade Center on Business Loop 70 and showcased their work. More than 60 artists participated over the weekend.
Visitors bid for pieces of art in a silent auction, or if they preferred, they simply donated money. The funds raised will go to the Food Bank for Central and Northeast Missouri. The showcase attracted more than 2,000 people.
"So far I got $45, and I am looking for $5 more," Nieuwenhuizen said. She pointed to a green necklace on her table. "This is called Bismuth crystal; it (is believed to) prevent becoming overwhelmed by all of your responsibilities."
By the time the auction ended, Nieuwenhuizen raised $50 at her booth alone. She won't learn the total amount of money raised until the food bank counts it all up.
"We want to promote the arts," she said. "And we also want to make some money for a charitable organization like the food bank."
About 10 more artists joined the show this year than did last year. Nieuwenhuizen and the other organizers had to open up an extra area of the center to fit all the art.
Heinrich Leonhard, a ceramic artist who has joined the show for the third time, makes bells and figurines. Selling his art is his full-time job.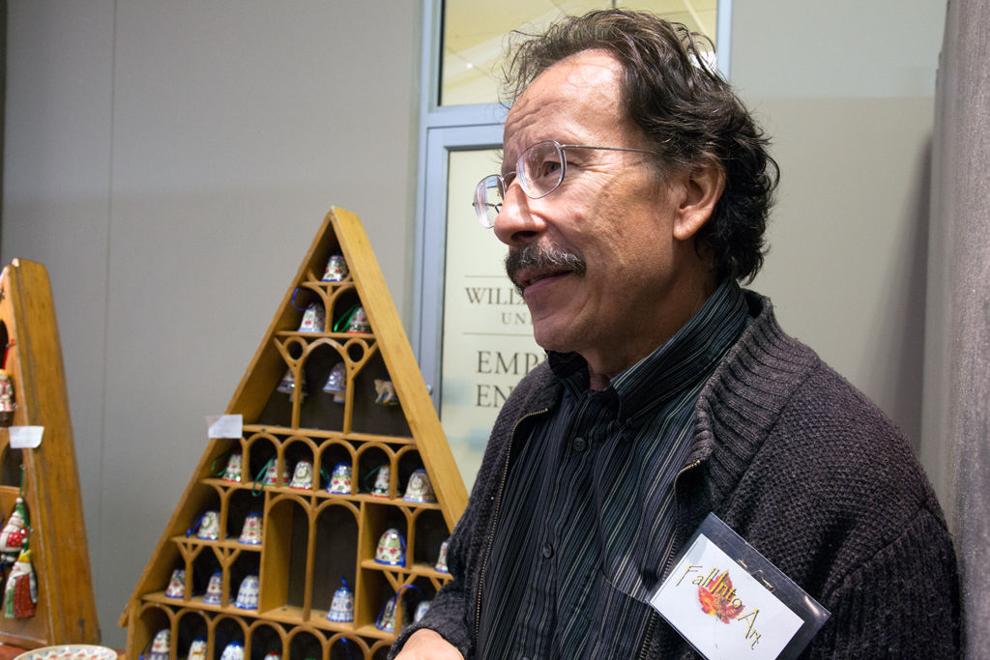 When asked about donating some of his work, Leonhard said, "It's not a big sacrifice." He felt it was for public good.
Sonya Nicholson makes origami cranes, which were either hung from her booth on strings or placed neatly on a shelf. She hoped to get at least a $20 donation for a work named, "Origami Crane Mobile."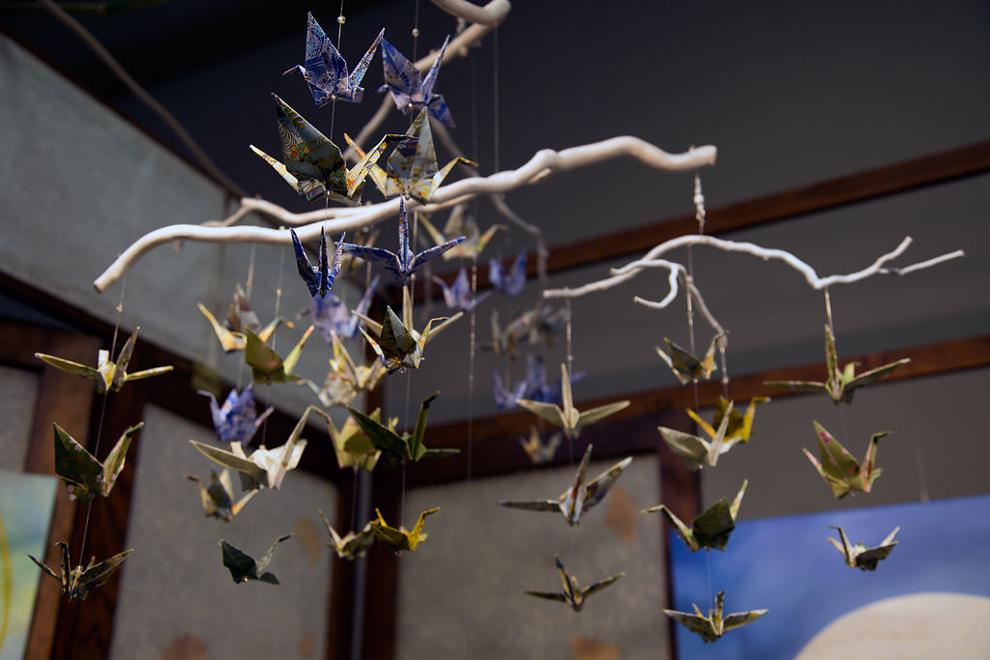 "It's a good cause," Nicholson said. "People need help."
While people browsed through aisles of artworks, a few local musicians played folk music.
For Audra Sergel, a singer and keyboard player, this was her second year performing at Fall Into Art, but the performance wasn't the only thing on her agenda.
"I want to look around for myself," Sergel said. "It's such a variety."
Barbara Stock, who has participated as an artist five times, only went to the showcase this year to shop. Her house flooded earlier this year, and much of her artwork was destroyed. However, she said she was excited to see other people's work, despite not being able to place her own art on display.
"I always want to find artists who are creative and think outside the box, and you can always find them here," Stock said.
Stock participated in the silent auction for the food bank donation when she was one of the artists.
"It's a great opportunity for someone to be able to buy something they really appreciate and love, and they know the money is going to a wonderful purpose, for a wonderful person," Stock said. "It is a great combination."
Supervising editor is Allison Colburn.